Is the Snow Leopard Actually Three Distinct Subspecies? The Wire
Living Large: How Whales Got to Be So Enormous Scientific American
Tech companies invade banks' territory with customer loans FT
CEO Travis Kalanick has started meditating in Uber's lactation room, as his company spins in a whirlwind of bad press Business Insider
Weed Startups Will Make Warehouse Rents More Expensive in L.A. and Boston Bloomberg. Re Silc: "[W]hen is the first weed growing REIT?"
Study reveals that green incentives could actually be increasing CO2 emissions Phys.org. Incentives for electric vehicles.
Brazil court split over whether to accept new evidence in campaign Reuters
The European Union Needs a Radical Reinvention George Soros, Medium
UK Election
Syraqistan
North Korea fires suspected land-to-ship missiles as South Korea delays THAAD Reuters
Pentagon says US now has ability to shoot down ICBMs CNN
New Cold War
Leaked NSA Report Short on Facts, Proves Little in 'Russiagate' Case Scott Ritter, TruthDig (OregonCharles). A deep dive into the NSA document that Reality Winner leaked to The Intercept. The title: "Russia/Cybersecurity: Main Intelligence Directorate Actors [Redacted] Target U.S. Companies and Local U.S. Government Officials Using Voter Registration-Themed Emails, Spoof Election-Related Products and Services, Research Absentee Ballot Email Addresses; August to November 2016." Ritter comments:

The NSA document, both in its title and text, is therefore misleading in the extreme. There is simply no fact-based information provided in the report that confirms that the events reported on were being organized and managed by the Russian GRU [the "Main Intelligence Directorate" Glavnoye Razvedyvatel'noye Upravleniye], despite the document's assertions otherwise.

This lack of confirmation of any fact-based linkage between the GRU and the cyberattacks on the 2016 election in the NSA document is striking in another regard. The NSA has always been assumed to be the agency that possessed "smoking gun" evidence when it came to Russian attribution in the cyberattacks on the American electoral process.

Ritter concludes:

After putting so much capital into accusing Russia and the GRU in meddling in American domestic political affairs—and, by extension, accusing the president of colluding with the Russians in this endeavor—the Democrats had better be able to back up their claims with unassailable, fact-based information. Based upon a close examination of the NSA's latest analysis, courtesy of the leaked Winner document, this intelligence does not exist.

Today's must-read. Worth the cup of coffee.

Hey Intercept, Something is Very Wrong with Reality Winner and the NSA Leak We Meant Well (JN).

* * *

Full text of James Comey's statement to Senate USA Today

Ex-FBI Chief James Comey's Senate Testimony: Live Coverage WSJ

Five takeaways from that explosive Senate Intel hearing CNN

Lawyer: Trump feels 'completely and totally vindicated' by Comey's testimony Boston Globe

Initial Comments on James Comey's Written Testimony Benjamin Witte, Lawfare

'Pressure' Is Not Obstruction Andrew C. McCarthy, National Review

Comey Finally Backs Trump's Account, Too Late to Help Trump Bloomberg

Comey's testimony kind of proves Trump right. It also damns him entirely. Vox. "The question is no longer whether Trump broke the law with Russia. It's whether Trump broke the law with Comey."

Comey's Political Shrewdness Is on Display in Tussle With Trump NYT

Poll: Trump far less credible than Comey — but majorities don't trust either CNN

Top intelligence official told associates Trump asked him if he could intervene with Comey on FBI Russia probe WaPo. "According to officials."

Intelligence Officials Won't Say If Trump Asked About Russia WSJ. "Won't say" in the hearing, that is.
Would You Trust These Men With a Massive Surveillance Dragnet? Marcy Wheeler, Motherboard. Section 702 hearing. Wheeler concludes: "But the rest of the hearing showed that these men have been anything but forthright and diligent." There is likely to be at least some overlap between "these men" and WaPo's anonymous "officials." Eh?
Worried About Election Hacking? There's a Fix for That The Nation. "The SAFE Act reauthorizes the [Election Administration Committee] for a period of 10 years and requires a random audit of precincts/wards in each state to ensure there are no discrepancies between paper ballots and electronic ballots." No. The way to eliminate "discrepancies" between paper and electronic ballots is to eliminate the electronic ballots entirely; "the cheapest, fastest, and most reliable components are those that aren't there" (Programming Proverbs). Hand-marked paper ballots, hand-counted in public is the way to go.
Trump Transition
Guillotine Watch
Exponential Finance Singularity University (RB). Happening now!
Class Warfare
The Thoughts of a Spiderweb Quanta. Fascinating.
Antidote du jour (via):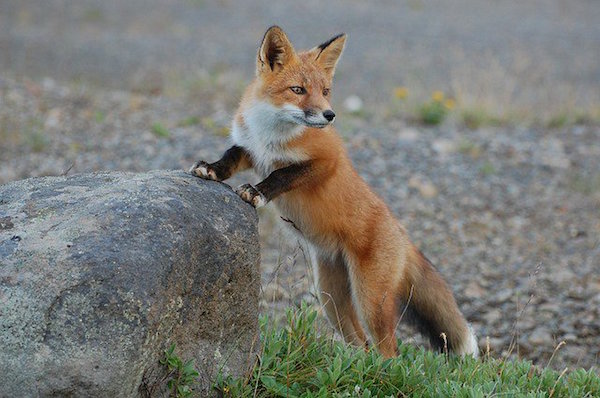 See yesterday's Links and Antidote du Jour here.