Yves here. Note that the original chart at Bruenig's site is interactive, so you can view the values at each data point (as in number of estimated deaths)
By Matt Bruenig, who writes about politics, the economy, and political theory, with a focus on issues that affect poor and working people. He has written for The Washington Post, Los Angeles Times, The Atlantic, The New Republic, The American Prospect, In These Times, Jacobin, Dissent, Salon, The Week, Gawker and at his home base of sorts: Demos' Policy Shop. Follow him on Twitter: @mattbruenig. Originally published at his website
Five separate people were bylined on a Center for American Progress post about how many people AHCA will kill. The post is quite long, but all the authors really do is take the CBO estimates of how many people will lose coverage under AHCA and then divide that number by 830. They do this because there is a study that shows that 1 person dies unnecessarily for every 830 people who lack health insurance.
I have duplicated CAP's efforts here, but rather than focus only on the AHCA, I have also included Obamacare and single payer into the mix. One other difference is that I track cumulative deaths between 2017 to 2026 rather than reporting an annual figure for each year.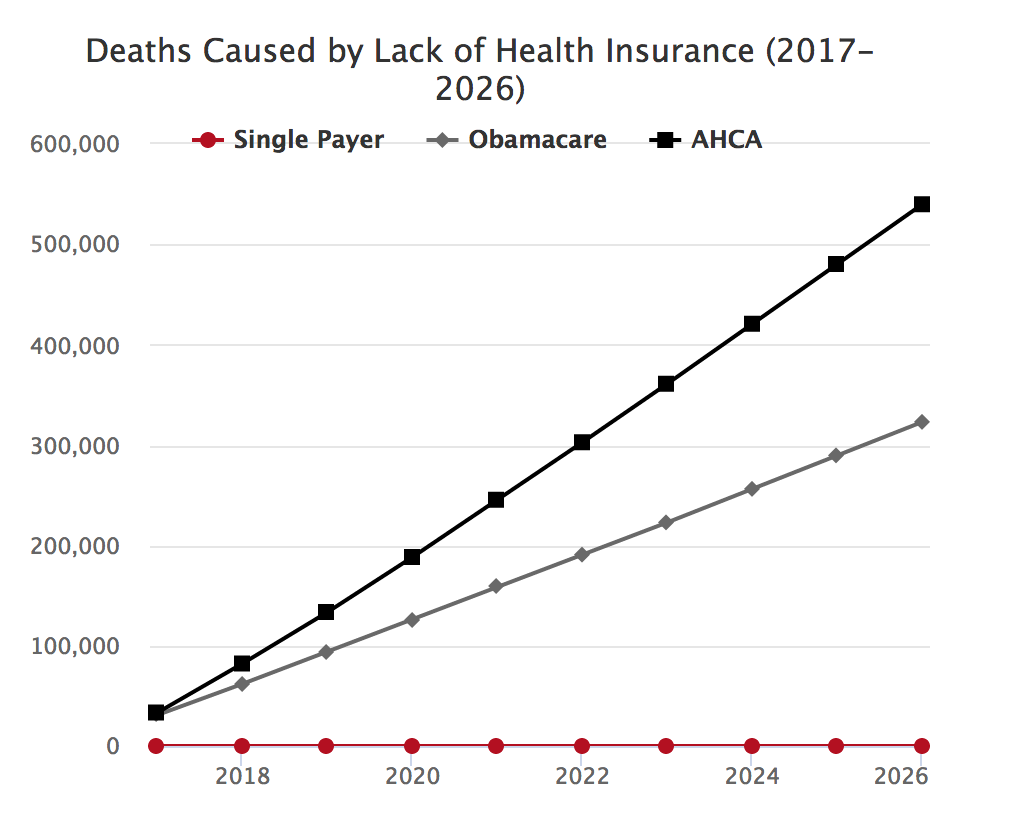 Under AHCA, nearly 540,000 people will die in the next decade because of lack of health insurance coverage. For Obamacare, it is a more respectable 320,000 deaths.