By Lambert Strether of Corrente
Readers, as so often I figure a post will take two hours and then it takes four. So I'll add in a few more links later, mostly not on politics, since the big political news of the day is the defeat of the BCRA, covered here. –lambert UPDATE Done 2:57PM, mostly on The Bezzle.
* * *
I also want to give a quick report on the Portland meetup, where I had a great time, and others seemed to as well. (Those of you who said you'd email me, please tell me you attended the meetup, since I am terrible with names.) Some tidbits suitably anonymized:
1) I ranted on landfills (and one attendee knew where the Lewiston transfer station was!).
2) Two attendees were told by a well-placed friend in the Beltway that the Naked Capitalism meetup was the place in be in Portland that night.
3) Another attendee has managed to keep several people from losing their homes to foreclosure, despite the best efforts of the robosigners, one for nine years. No mortgage payments, no taxes! Not a bad deal, that once I would have been shocked by and disapproving of, but when so many others with so much more power have impunity, why not?
4) Trouble in the mortgage and mortage servicing business started as early as 2001 at Washington Mutual. So the rot was a long time spreading.
5) Sucre, Bolivia, Cuence, Ecuador, and Uruguay were mentioned by some with experience as suitable spots for expatriation. Thumbs down on Guatemala though: Pure capitalism.
6) There are MMTers in the University of Maine professariat.
The venue: The Great Lost Bear was good for beer, and had a terrific wait staff, but I have to say the food was mediocre at best. I wasn't expecting a gastropub, indeed didn't want one, but don't get anything fried. The salads looked good, though. If Al Diamon was there, we didn't see him.
Also, expect an announcement of more meetups soon.
Trade
UPDATE "If something seems too good to be true, it probably is not actually true. But occasionally it is. Michael Clemens, an economist at the Centre for Global Development, an anti-poverty think-tank in Washington, DC, argues that there are 'trillion-dollar bills on the sidewalk.' One seemingly simple policy could make the world twice as rich as it is: open borders" [The Economist]. "There are certainly risks if borders are opened suddenly and without the right policies to help absorb the inflow. But nearly all these risks could be , and many of the most common objections overcome, with a bit of ." Anybody who imagines our elites have any interesting in "mitigating" working class concerns is a fool who should read Case-Deaton and meditate on what it means when a polity allows decreasing life expetancy. Or, since this is The Economist, a clever fool.
UPDATE "U.S. Calls for 'Much Better Deal' in Nafta Overhaul Plan" [New York Times] (original). "The 17-page document the administration sent to Congress echoes Mr. Trump's tough talk on trade by making the reduction of America's trade deficit with its neighbors its top priority. However, it also ." Oh, great.
Politics
Health Care
"Joe Biden: Americans decided health care is for all. The GOP wants to roll that back" [Joe Biden, WaPo]. I wish liberal Democrats would stop lying about this; ObamaCare is not universal. And how do you write an Op-Ed with a headline like that and not mention #MedicareForAll?
Obama Legacy
"MITCHELL: Obama center's golf course plan drawing more complaints" [Chicago Sun-Times].

"Obama Luster Wears Off Library Plans, But Critics Still Split On Problems" [DNA Info].

"THE OBAMA FOUNDATION IS ACCEPTING MILLIONS IN CORPORATE DONATIONS, EVEN THOUGH THE PRESIDENT SPENT YEARS CRITICIZING THEM" [Newsweek]. Ka-ching.
2018
"At the Races: Democrats Announce for Wide Swath of Congressional Races" [Roll Call].
Realignment and Legitimacy
"The Democrats Have Absolutely No Idea About What They're Going to Do in 2018" [Fusion]. As opposed to running as Republicans in wealthy suburbs?

"What does $80 million buy oil and gas interests? Voter profiles, door knocking and influence at local and statewide levels" [Denver Post].

"California Gov. Jerry Brown Is Backing a Climate Bill Full of Giveaways to Polluters" [In These Times].
Stats Watch
Housing Market Index, July 2017: "Home builders are less exuberant as the housing market index fell to a weaker-than-expected 64 in July [Econoday]. "This is the lowest reading since November last year. The report cites the effects of high lumber costs on home builders but the decline in this index joins a run of moderation in other housing data. Today's report does not point to improvement for tomorrow's housing starts and permits data which are nevertheless expected to improve from prior weakness. Mortgage rates remain low but they haven't been giving housing much of a push."
Import and Export Prices, June 2017: "Like consumer inflation, cross-border inflation is flat" [Economic Calendar].
UPDATE Retail: "Alfred Angelo Store Closures Lead to Widespread Bride Panic" [Fortune]. " competitors have began offering discounts to disgruntled customers with Alfred Angelo receipts, including the retailer David's Bridal."
The Bezzle: "Head of troubled Google Fiber steps down" [Financial Times]. Google should stick to its knitting and decrapify search.
UPDATE The Bezzle: "Moovn goes head-to-head with Uber with new deal to reach millions of riders" [Urbangeekz]. "The African-American owned ride-hailing company is already operating in the U.S. and Africa. Now a groundbreaking new deal with telecoms giant Vodacom has positioned the Seattle-based firm to significantly increase its market share in the ridesharing space. The partnership is expected to provide more than 12 million people in Africa access to transportation services through the use of the Moovn app." Is there a reason Moovn would be profitable, where Uber is not?
UPDATE The Bezzle: "From buses to glasses: Silicon Valley's love of non-tech start-ups" [Financial Times]. "Some tech start-ups strain the limits of what it means to be 'tech' or a 'start-up'… Venture backers even tried to disrupt the grilled-cheese sandwich market, with the funding a few years ago of The Melt, a restaurant chain whose backers included Sequoia. Its founder was legendary entrepreneur Jonathan Kaplan, maker of the Flip video camera. But even he could not the toastie, and was replaced as chief executive last year. (The Melt still has some 19 outlets.)" Fine, if that's what the VCs want to do, but why would The Melt be valued as a startup, as opposed to just another restaurant chain? Sounds to me like end-of-cycle stuff, if I have the jargon right. They can't be doing that much innovation in Silicon Valley if they have to put their stupid money into the grilled cheese business.
UPDATE The Bezzle: "Snap, Blue Apron IPO duds underscore hyper private valuations" [Deal Street Asia]. "The company's aspirational $3.2 billion valuation would have been richer than the average of U.S.-listed e-commerce companies. Emphasizing its web-based service, it angled to be valued as a high-growth tech company rather than as a grocery delivery service, people familiar with the matter have said." "Aspirational valuation."
UPDATE The Bezzle: "Bitcoin and three other investments that look like classic bubbles but actually aren't" [MarketWatch]. "'Previously, these bubbles of the past have "inflated 1,000% over 10 years before bursting, cutting prices by more than half in the following two years," [Charles Schwab global strategist Jeff Kleintop] explained. By the time they eventually popped, these investments had become fixtures across investors' portfolio. Hence, the sweeping impact of their implosion…. But what about those deemed bubbly in today's climate? Kleintop says the four most popular candidates are cryptocurrencies, low volatility, internet retailers and central bank assets. He applied his 1,000%/10-year filter to these investments. 'Remarkably, none of these seem to fit the classic profile of a potentially damaging bubble,' he said. 'But that doesn't mean they don't carry risks for investors.'"
UPDATE "Watch this extorted money get lost in the expanse of the blockchain" (fun animation) [Quartz]. "[F]unds appeared to be sent through a bitcoin mixer, also known as a tumbler, which is a complex series of transfers that bitcoin owners can use to obfuscate the paper trail between two or more bitcoin addresses on the blockchain, essentially laundering their money."
UPDATE The Bezzle: "From $2 Billion to Zero: A Private-Equity Fund Goes Bust in the Oil Patch" [Wall Street Journal]. "[EnerVest, a] $2 billion private-equity fund that borrowed heavily to buy oil and gas wells before energy prices plunged is now worth essentially nothing, an unusual debacle that is wiping out investments by major pensions, endowments and charitable foundations.
UPDATE ETFs: "The growth of exchange-traded funds and passive investing since the financial crisis has been so huge they could unwittingly be central to the next major market downturn" [Reuters]. "The structure and size of ETFs, together with the trend-following nature of passive funds, mean the breadth of selling from this investor base when the market does turn south could quickly accelerate."
UPDATE Honey for the Bears "This Expansion Will End in a Fizzle, Not a Bang" [Tim Duy, Bloomberg]. "The Fed is growing increasingly concerned that this expansion will end like the last two, with a collapse in asset prices that brings down the economy. That concern will lead the central bank down the path of excessive tightening. Worse, that logic misses a key point. In both of the last two cycles, there was a sizable imbalance in the economy that extended beyond financial assets themselves. So far, the current environment lacks such an imbalance. That suggests the expansion ends with more of a fizzle than a bang."
UPDATE Honey for the Bears: "Optimism in Financial Markets Fails to Show in Real Economy" [Wall Street Journal]. "Surging optimism in financial markets hasn't translated into a big pickup in economic growth.* Stocks hit records Friday and big U.S. banksreported stronger-than-expected earnings. But new government data showed consumers pulled back spending at mid-year even as markets rallied. Households also grew less optimistic about the future and inflation on consumer purchases softened. Taken together, the indicators pointed to an economy that is entering the ninth year of expansion steady and still creating jobs at a healthy clip, but without obvious additional momentum." * "Surging optimism by tape worms hasn't translated into big weight gain by host."
Honey for the Bears: "GM extends shutdown at Chevy Bolt plant as inventories swell" [Reuters]. "The Bolt is the first electric car in the U.S. market to offer more than 200 miles of driving range per charge at a starting price of around $35,000." $35K seems like a lot of money for a car, but note this: "The automaker also builds the Chevrolet Sonic small car at the Orion plant, and sales of that car are down nearly 37 percent for the year to date."
Today's Fear & Greed Index: 61 Greed (previous close: 67, Greed) [CNN]. One week ago: 41 (Fear). (0 is Extreme Fear; 100 is Extreme Greed. Last updated Jul 18 at 1:39pm.
Gaia
"Baker's yeast can help plants cope with soil contamination" [Instituto Gulbenkian de Ceincia].
Class Warfare
"Immigration raids 10 years ago didn't change this meatpacking town's job market" [Los Angeles Times]. Because the demand for cheap labor doesn't go away.
News of the Wired
"A taxonomic revolution? A Q&A with Sandy Knapp on the impact of e-publications" [BioMed Central]. Classification as gatekeeping…
"Letter of Recommendation: Detroit Techno" [New York Times]. "People often forget that the most visionary musical styles to come from America in the late 20th century — house and techno — are not from the coastal capitals of modern culture but the perennially neglected Rust Belt."
"An award-winning photographer, Paglen has spent his career documenting the clandestine infrastructure of mass surveillance" [The Economist]. Lovely photos.
* * *
Readers, feel free to contact me at lambert [UNDERSCORE] strether [DOT] corrente [AT] yahoo [DOT] com, with (a) links, and even better (b) sources I should curate regularly, (c) how to send me a check if you are allegic to PayPal, and (d) to find out how to send me images of plants. Vegetables are fine! Fungi are deemed to be honorary plants! See the previous Water Cooler (with plant) here. Today's plant (Furzy Mouse):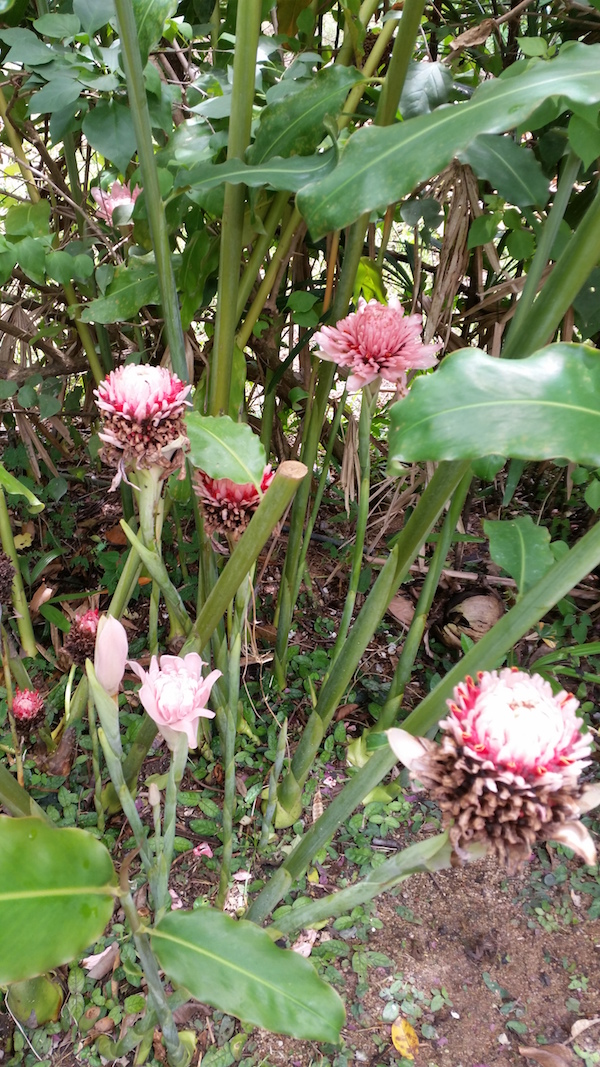 A ginger plant from Furzy's garden in Thailand.
NOTE Readers, if you want your handle to appear as a credit, please put it in the subject line. Otherwise, I will anonymize by using your initials. Thank you!
* * *
Readers, Water Cooler is a standalone entity, not supported by the Naked Capitalism fundraisers. Please use the dropdown to choose your contribution, and then click the hat! Your tip will be welcome today, and indeed any day. Water Cooler will not exist without your continued help.