By Lambert Strether of Corrente
Readers, I'm going to add some more material, since there wasn't a full Water Cooler on Friday, because of the NC meetup in Portland. –lambert. 2:40PM All done.
Trade
Important: "TISA: Foul Play" (PDF) [The World of Work]. "TiSA is especially important for two reasons: 1) its main purpose is to clear the path for the 4th Industrial revolution, or the new wild west of capitalism where a globalised economy is driven by digital technology; and 2) TiSA is the 'last man standing' since the collapse of the TPP and TTIP. … What to do? The TiSA negotiations were unofficially suspended in late 2016 for three reasons: 1) other countries don't know or trust what the Trump administration will do; 2) the EU has an internal fight over protecting privacy in the digitised world; and 3) the texts are nowhere near agreed. But governments are still working behind-the-scenes, urged on by Team TiSA. There is a serious risk that negotiations could start up again without warning at any time. Team TiSA is demanding unlimited rights to supply e-commerce, financial, telecom, and delivery services from outside the country. So it is not surprising they are the targets of TiSA's most potent rules. Very few restrictions currently govern the Internet; Team TiSA wants to keep it that way. TiSA's rules are designed to serve their needs 20 or 30 years from now by removing governments' ability to regulate their technologies, services and practices whatever new technologies may evolve, and irrespective of their economic, social, environmental or development impacts. ." Notice, incidentally, that if you take MAGA seriously as policy, it comprehensively contradicts desires of our TiSA overlords.
"NAFTA NEGOTIATING OBJECTIVES EXPECTED TODAY: Nearly one year ago, Donald Trump accepted the Republican Party's nomination for president with a vow to walk away from NAFTA unless Mexico and Canada agree to completely renegotiate the pact in a way that brings jobs back to the United States. By the end of today, we're expected to get a glimpse of how much he wants to change in the 23-year-old agreement, when the Office of U.S. Trade Representative releases its negotiating objectives" [Politico].
"Techdirt readers will probably recall a long-running saga involving corporate sovereignty, $500 million, the US pharma company Eli Lilly, and drug patents. In its claim against the Canadian government, made using NAFTA's Chapter 11, Eli Lilly insisted it should have been given some drug patents, despite Canada's courts finding that they had not met the requirements for patentability — specifically that there was no evidence that the drugs in question provided the benefits in the patent" [TechDirt]. The Canadian courts dismissed Lilly's claim. "This was a huge win for Canada in particular, and governments in general. At the time, it all felt a little too good to be true. And now… the Supreme Court of Canada has just overturned decades of precedent — and implicitly the Eli Lilly ruling — by making it easier for Big Pharma to gain patents on medicines that don't really work."
Politics
New Cold War
Hoo boy (there's a glitch at the start of the clip, but I double-checked with other sources):

Democrat operative and Clintonite Paul Begala urges that we should be "debating" whether we should "blow up" the KGB "or GRU or whatever," or "retaliate massively" ("massive retaliation" is, of course, a nuclear strategy).

Lambert here: War with Russia (cold or hot) has, IMNSHO, always been the policy argument driving Putin Derangment Syndrome; here we see it stated openly, and by someone we're very much entitled to believe is speaking for the Clinton faction of the Democrat Party. More from The Hill.
Health Care
UPDATE "Despite the tough road ahead, strategists say that McConnell's penchant for cutting deals may be enough to save the BCRA" [Business Insider]. "The best tactic in McConnell's arsenal may simply be to pressure the remaining hold outs on this side. Perhaps the best summation of the McConnell strategy with this side comes from a GOP aide who told Axios' Caitlin Owns a few weeks ago simply: 'Moderates always cave.'"

UPDATE "Don Jr.'s Russia scandal may have one little upside for the White House: Two sources close to the health care negotiations told me they're pleased it has distracted the 'resistance' movement and moved much of the media spotlight away from McConnell & co.'s negotiations" [Axios]. Notice, again, that liberal Democrats are attacking BCRA cuts, but not the cap. Which means they support it. Well played, all.

"The Disturbing Process Behind Trumpcare" [Norm Ornstein, The Atlantic]. "By every past standard, and every logical standard of behavior in a representative democracy, [the BCRA] should be dead. It is not. Why not?… Put it all together, and what emerges is a truly disturbing picture of a failed legislative process built on a deep distortion of representative democracy. A thoroughly partisan, ill-conceived and ill-considered bill, slapped together without the input of experts or stakeholders, done not to improve the health care system but to aid plutocrats, crafted in a fashion that will hurt millions and millions of Americans, by lawmakers doing whatever they can to avoid interacting with their own constituents. Dismaying, even despicable. And worse is that so many senators who should know better, and many who do know better, will actually vote for the monstrosity—and give this illegitimate process their imprimatur." Well worth a read, despite the chin-stroking.

"Police investigating break-in at Dean Heller's Las Vegas office" [Las Vegas Review Journal]. Heller being a defector, hmm. Coincidence? Some College Republican out over their skis? Or something more?

"How the White House and Republicans underestimated Obamacare repeal" [Politico]. "In the meantime, neither the White House nor Congress wants to claim responsibility if it doesn't work out. While lawmakers grumble that Trump should have started with an easier policy goal, White House aides say they assumed congressional Republicans had it under control." Part of the story is that the Trump White House had a very thin team, thin on policy, thin on Congressional liaison. Just like the campaign. But the policy wonk here was Paul Ryan, who, after eight years of Republican opposition to (a Republican law,) ObamaCare, should have had a replacement bill teed up and ready to go. The reason it looks like Republicans can't govern is that they can't. That's different from undoing governance, at which the Trump administration is doing fine, just fine, aided by the liberal Democrat sturm and drang on Russia (although, to be fair, all this is in aid of policy: War with Russia, cold or hot; see Clinton emissary Begala, supra).

"[The stalled BCRA process] is an example of why legislative success depends on operating as a team. You don't abandon your team just because you don't get everything you want (or want left out). You hold your nose and vote for an imperfect measure, sometimes merely because it's politically beneficial and better than the alternative" [Fred Barnes, Wall Street Journal]. "This is especially true in dumping ObamaCare. The Republican alternative is a more free-market health-care system in which people can buy the insurance they want, not what government requires. Sticking with the team makes that possible. ." That underlined portion is interesting, if true…

"As Republicans struggle to find the needed 50 votes, the minority party has been positioning itself as a willing partner in fixing the existing system — so long as Republicans drop their years-long pledge to repeal the law. Democrats' unified opposition to the GOP plan has added energy to their base, as health care is often an emotional and contentious campaign issue" [RealClearPolitics]. "But the process has also highlighted their limited resources as the out party in Washington. These lawmakers are challenged with balancing the ideals of their party — a 'Medicare for all; system has become a recent rallying cry among Democrats around the country — with the political reality at hand." This is either out-of-touch or obfuscatory: "Medicare for All" is not a (liberal) Democrat "ideal"; in fact, they oppose it, as they are ideologically bound to do, regardless of corruption, because unlike ObamaCare and whatever the Republicans come up with, Medicare for All doesn't put markets first.
2020
"Q poll: New Yorkers still say no to Cuomo for president" [Albany Times Union]. "A Quinnipiac University poll released Wednesday shows that 55 percent of voters say the Democrat should not run for president in 2020. Upstate, 65 percent say he shouldn't run, the largest percentage of any region or subdivision of those polled."

UPDATE "Cuomo scoops up Obama staffers" [Crain's New York]. I hope Cuomo brought a baggie…

UPDATE "The Democrats' 'Great Freshman Hope,' Sen. Kamala Harris, is heading to the Hamptons to meet with Hillary Clinton's biggest backers" [New York Post]."The California senator is being fêted in Bridgehampton on Saturday at the home of MWWPR guru Michael Kempner, a staunch Clinton supporter who was one of her national-finance co-chairs and a led fund-raiser for her 2008 bid for the presidency. He was also listed as one of the top 'bundlers' for Barack Obama's 2012 re-election campaign, having raised $3 million."

"Inquiry Into Bernie Sanders's Wife May Tarnish His Liberal Luster" [Yamiche Alcindor, New York Times]. So the Times sends out a reliable hatchetperson. I could wish they weren't so transparent.

UPDATE Timesperson Maggie Haberman piles on, repeating the words Alcindor put in Sanders' mouth:

The phrase "political witch hunt" to describe an investigation is getting a bipartisan workout https://t.co/LK3PrAIHvv

— Maggie Haberman (@maggieNYT) July 16, 2017
Realignment and Legitimacy
UPDATE "The Democrats' biggest donor says the party is blowing it and should get behind Bernie's platform" [Mic]. "'[STEYER:] 'When people say Bernie is crazy, no. Bernie is talking about inequality. That is the burning issue in the United States.' That is a message that progressives, and particularly Bernie Sanders supporters, have been trying to drive home with the leadership of the Democratic party since Hillary Clinton's brutal loss in the 2016 presidential race — often, some have felt, to little avail. But it's no longer a message coming from outside the establishment: it's now the opinion of Tom Steyer, the largest donor to the Democratic party." Best thing Steyer could do is cut off all funding to the Democrat Party, and convince his fellow squillionaires to do the same. Let the battle for the $27 dollar voter begin!

"Is Anybody Really Listening: Pizza with Perez in Youngstown" [New Geography]. Hilarity ensues:

In what has become a familiar practice following a series of defeats in recent state-wide elections, the ODP sponsored a "Listening Tour." On June 12, 2017, the tour came to Youngstown with National Democratic Party Chairperson Tom Perez, who reiterated that Youngstown was a political 'bellwether.'

The event was held at a local pizzeria, Wedgewood Pizza, and billed as "Pizza with Perez." Approximately 75 attendees, mostly loyal Democratic Party supporters, including a number of local and state politicians, . I paid my $25 to find out whether Party leaders were seriously listening to the concerns of voters and to see how they would react.

What I saw was a typical campaign event, with the audience doing the listening while Democratic operatives touted their positions…. When someone asked about why Democrats had lost the election, Perez criticized Republican social and economic policy, but he also acknowledged several mistakes that the Democratic Party had made during the last campaign. 'We could have done a better job of speaking more directly to the pocketbook issues that bring people to the ballot,' he said. Among other things, the Party should have recognized that NAFTA hurt working people and acknowledged its role in that trade bill.

Perez noted that the Party's 'message got muddled,' but he quickly turned to typical campaign trail rhetoric: 'I'm here to say very clearly that the Democratic Party is the party that's fighting for the labor movement. The Democratic Party is the party fighting for quality public education and access to health care and the issues that matter most to the people in the Valley.' But there were very few questions and much of the time devoted to meet and greet. Clearly, no one identified themselves as crossover voters or first time Republican registrants. So much for this being a listening tour.

Ha ha. Betteridge's Law.

UPDATE "Democratic National Committee Chairman Tom Perez transferred $22,270 to key backer Jaime Harrison in March, a month after Harrison dropped out of the race for DNC chair and threw his support to Perez two days ahead of the vote" [Politico]. Ka-ching. And I don't care if it's business as usual.

"Don't Let Our Democracy Collapse" [New York Times]. "The next urgent area of cooperation must be election cybersecurity." No. It's "urgent" to replace electronic voting with hand-marked paper ballots, hand-counted in public. More: "Faced with a serious, imminent threat, Democrats and Republicans should have every reason to work together. Unfortunately, Pew has announced plans to cease its work in election administration at this crucial time, and it is not clear who can step up to take its place. The future is scary. Public confidence in the fairness of the election process is already largely driven by who wins and who loses."

Lambert here: First, liberal Democrats didn't give a tinker's curse about any of this until they lost all three branches of goverment in 2016; so this is all about power, nothing more. Second, the reflexive dependence of liberal Democrats on the national security community ("cyber") is what's really scary; since that tells you where liberal Democrats think true power lies. Third, I've been scared since Jebbie manipulated the Florida voter's list in 2000, followed shortly by Bush v. Gore. Why haven't Democrats?

UPDATE (long, but Foreign Policy is from the heart of The Blob): "Are we living through an era that resembles the 1930s, when authoritarian leaders were on the march, democratic leaders failed to stand up to them, the international system buckled, and the world was dragged into war? Or are we living through something more like the late 1970s, when America, recovering from its long engagement in a losing war and pulling itself out of a prolonged economic slump, began to take the course corrections that allowed it to embark on a period of national recovery and reassert its international ascendancy?" [Foreign Policy]. "So what is the better analogy? Comparing the two periods, in both their similarities and differences, suggests that America — and the world — is closer today to the 1970s than to the 1930s. The international order is not yet crumbling; there are still more reasons for optimism than despair. But the 1930s analogy also yields a critical insight. If the United States and other defenders of the international order lose the willpower to take decisive action in support of the global arrangements that they have worked to construct — as happened during the 1930s — things could go downhill in a hurry. We could end up slipping back, all too rapidly, toward a darker past after all." And here we go: "Yet if the 1970s are far from the perfect analogy, the period does nonetheless illuminate important aspects of the contemporary moment. It reminds us that, today as in the past, America's competitors face long-term challenges that make ours look relatively modest by comparison. Russia is, after all, a declining economic power and a demographic basket case; its military power thus rests on extremely precarious foundations. China is already dealing with slowing economic growth, a rapidly aging population, and a massive debt bubble, and its sense of geopolitical self-confidence hardly conceals its leadership's transparent nervousness about growing social unrest and other signs of dissatisfaction with a corrupt and ruthlessly authoritarian political system."

Lambert here: Foreign Policy's demographic logic is remarkably similar to the liberal Democrat's "coalition of the ascendant." How's that workin' out for ya? The flaw in the latter was to assume that parties do not display adaptive behavior; the flaw in the former might turn out to be the same error, but for states. Foreign Policy is usually pretty suave, so here the warmongering comes out only in tl;dr mode: We can and should muscle Russia and China because they're weak. Will Thucydides pick up the white courtesy phone?

UPDATE "Protests No Longer Work in Today's USA: Change Will Come But We're Losing Control Over How" [The Writings of John Laurits (MR)]. Important. "Though observations by past protesters appeared to support the hypothesis that elected officials can be forced to change policies by organizing a protest big enough to prove the public wants it — the results they achieved have rarely been repeated since the '60s. And when results are not repeatable, either the experiments are flawed — or the hypothesis is flawed. … Demonstrations which result in partial change to public policy 14 – 23 years later cannot be called viable protests for the same reason food which takes a year to cook is not a viable option for tonight's dinner."
Stats Watch
Empire State Manufacturing Survey, July 2017: "A little less strength is probably welcome in the New York Fed's manufacturing sample where gains at times have been unsustainable" (below consensus) [Econoday]. "This report has been very strong this year and well above actual strength in the nation's factory sector." Another survey that doesn't pan out in the data. Is there a reason this divergence is not an open scandal? And: "[T]he second successive positive reading and the fourth-strongest reading of the past two years with the data still indicating firm growth" [Economic Calendar]. But: "I am not a fan of surveys – and this survey jumps around erratically" [Econintersect].
Consumer Price Index (Friday): "In what is one of the very weakest 4-month stretch in 60 years of records, core consumer prices could manage only a 0.1 percent increase in June" [Mosler Economics]. "The Fed continues to fail to meet it's target. They just need a little more time… ;) And coincidentally this is inline with the credit deceleration as previously discussed."
Credit: "Still decelerating, and data releases seem to confirm that the credit deceleration is reflecting something similar in the macro economy" [Mosler Economics]. Handy chart: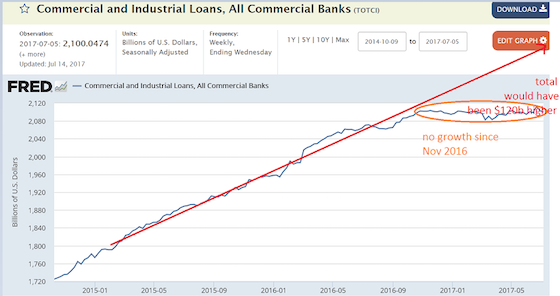 Commodities: "World Still Knee-Deep in Crude Oil Despite Cuts" [Federal Reserve Bank of Dallas]. "In an effort to erode global inventories and support higher prices, 11 OPEC members, along with several non-OPEC nations, in May 2017 extended an agreement to reduce global crude output by as much as 1.8 million barrels per day (mb/d) through March 2018. However, rising output from the U.S, Libya and Nigeria will likely replace most, if not all, of those barrels before the end of 2017. This has led many analysts to conclude that global crude markets will find themselves in surplus again by early next year."
Shipping: "Heavy truck sales really collapsed during the great recession, falling to a low of 181 thousand in April and May 2009, on a seasonally adjusted annual rate basis (SAAR [seasonally adjusted annual sales rate]). Then sales increased more than 2 1/2 times, and hit 479 thousand SAAR in June 2015" [Calculated Risk]. "With the increase in oil prices over the last year, heavy truck sales have been increasing too."
Shipping: "New reports like one last week from DAT Solutions LLC suggest demand is outstripping capacity in the truckload sector, livening up that market and likely triggering changes in shipping volumes and profitability in businesses from freight brokers to intermodal operations. The big question for truckload and less-than-truckload carriers is whether an apparent upturn in the second quarter means that business really is moving into the fast lane through the rest of the year" [Wall Street Journal].
Shipping: "The [forklift] industry's economic contribution to the U.S. gross domestic product (GDP) was $25.7 billion in 2015" [Supply Chain 247]. "The industry's activity supports a total of 209,000 U.S. jobs. Each job within the industry supports 2.5 additional jobs elsewhere in the U.S. economy."
Shipping: "FedEx Struggles to Bounce Back From Cyberattack" [Wall Street Journal]. "Customers waiting for packages abroad are experiencing significant delays as FedEx Corp. continues to reel from the effects of a June 27 cyberattack." FIrst Maersk, now FedEx. (Read the material on TISA in "Trade," above, and imagine what the response might be…
Real estate: "In its research, [industrial real estate firm] CBRE tracked newly-opened (within the past two years) distribution centers smaller than 200,000 square-feet in the top 15 United States population centers" [Supply Chain 247]. "Its chief finding was that these centers are typically between 6-to-9 miles from the population centers they serve, with denser cities more likely to have shorter average distances like San Francisco and Philadelphia at averages of 6 miles and 6.3 miles, respectively…. CBRE Global Head of Industrial & Logistics Research David Egan: 'E-commerce is a big part of it, but it also has to do with the connection we all have through our computers and phones and, broadly speaking, . We want our packages delivered as quickly as possible. We have all changed so much in that we want and expect things to happen so quickly more so now than we ever have.'" The slow food people really did get their values right. Polemecists (if I have this right) reconceptualizing full communism (!) as "the weekend" would do well to look at the slow food movement for values.
Rail: "Precision railroading leaves no time for sleeping on the job, as far as Hunter Harrison is concerned. The CSX Corp. chief executive who took over in March promising to quickly jolt the company's culture has taken one high-profile step by dropping a longtime policy that allowed train conductors and engineers to nap for up to 45 minutes. That puts CSX on a freight rail fault line between scheduling and safety" [Wall Street Journal]. Short CSX, go long methampetamines?
The Bezzle: "Every time it occurs to us that Blue Apron might be the worst stock of all time, it somehow gets worse" [DealBreaker]. "It was hardly a secret that Amazon was intrigued with the "Recipe in a box" model, and that it had the infrastructure all ready to go with millions of Prime subscribers, monsoons of revenue and now Whole Foods, but registering a trademark for a legit foray into that space is tantamount to slapping a death warrant on Blue Apron's already hobbled stock price. Why Amazon would decide to twist the knife in Blue Apron now is unclear. Perhaps Bezos is shorting the stock…." But Blue Apron, like Uber, doesn't make money. So how does going into the "recipe in a box" business affect Amazon's valuation? Will they destroy all local restaurants?
The Bezzle: WeWork is now worth more than real estate investment trusts like Boston Properties and Vornado Realty Trust following the latest funding round that pegged its valuation at $20 billion, according to Forbes" [The Real Deal] (hoisted from comments, and I should have given a hat tip…)
Concentration: "The container shipping hunger games" [Splash 247]. "Splash contributor was predicting there would be just six to eight global carriers by the mid-2020s. Back then there were still 20 global liners in what was a very fragmented industry. Still, even Jensen, the founder of Seaintelligence Consulting, could not have predicted the speed with which the sector consolidated after the logjam that was Hanjin Shipping was taken out of the picture last year."
Rapture Index: Closes up 2 on The Antichrist. "Emmanuel Macron has become a man to watch" [Rapture Index]. Record High: 189, October 10, 2016. Current: 184.
Today's Fear & Greed Index: 69 Greed (previous close: 64, Greed) [CNN]. One week ago: 46 (Neutral). (0 is Extreme Fear; 100 is Extreme Greed. Last updated Jul 17 at 12:07pm. Big swing. McCain's hospital trip?
Guillotine Watch
"#SoCalSoCurious: Who are the cash buyers in SoCal real estate?" [KPCC (EB)]. The answer:
Back then many of those people came from China, but they're just about 5 percent of the cash buyers right now according to the association's research.

Deep pocketed American investors used to buy in all cash, too. But that was mostly right after the housing collapse in 2008 when they lapped up whatever cheap homes they could hoping to turn a profit once the market picked up..

Cash buys are still a thing, though..

Last month, he says 20 percent of all real estate transactions in Southern California were paid for in cash..

So who's outbidding Lauren with cash?.

People with rich parents..

"They're going to mom and dad and saying, 'We really want to buy something and would love it if you give us the money,'" says [Geoff McIntosh, president of the California Association of Realtors]..

Other experts agree.
Class Warfare
"What links Portugal's deadliest wildfire to Grenfell Tower? Economics and neglect" [The Conversation]. "In this event, hot dry weather, scattered villages with a dwindling population insufficiently prepared for fire, surrounded by steep terrain with extensive monocultures of highly-flammable trees and insufficient communication, combined into a tragic loss of life. Yet, as with London's Grenfell Tower fire, the high fire risk was far from unforeseeable. There is much that can be done to reduce the threat from, or even eliminate, highly flammable materials – be it insulation around buildings, or dense forest plantations surrounding villages. In both cases, importants lessons must be learned."
"Group augmentation, collective action, and territorial boundary patrols by male chimpanzees" [Proceedings of the National Academy of Sciences]. "We show that group augmentation theory helps explain one of the most striking examples of collective action in nonhuman primates, territorial boundary patrolling by male chimpanzees: Males bear the short-term costs of patrolling even when they have little to gain immediately because patrolling enhances group size, increasing the male's chances of future reproduction."
News of the Wired
"The cognitive trick that elite athletes use to achieve seemingly impossible goals" [Quartz]. "A wide body of research suggests that minimizing our focus on the self increases our motivation in less heroic, mundane activities as well. An earlier study published in The Academy of Management Review found that hospital janitors who cleaned bedpans and mopped floors derived more meaning from their work when it was framed as helping patients heal." That's a little more than a cognitive trick, eh? And values seems to be the emergent theme for today, oddly. Even though it's all crazy. The janitors are rational actors, atomistically motivated solely by money. It is known.
"CRISPR–Cas encoding of a digital movie into the genomes of a population of living bacteria" (PDF) [Nature]. Yes, scientists spliced a GIF into a gene.
Moderation in all things:
Angry Martin Wolf marauding the comments section is my favourite Martin Wolf pic.twitter.com/d1IgBRfwGF

— Jack Farchy (@jfarchy) July 16, 2017
* * *
Readers, feel free to contact me at lambert [UNDERSCORE] strether [DOT] corrente [AT] yahoo [DOT] com, with (a) links, and even better (b) sources I should curate regularly, (c) how to send me a check if you are allegic to PayPal, and (d) to find out how to send me images of plants. Vegetables are fine! Fungi are deemed to be honorary plants! See the previous Water Cooler (with plant) here. Today's plant (ChiGal):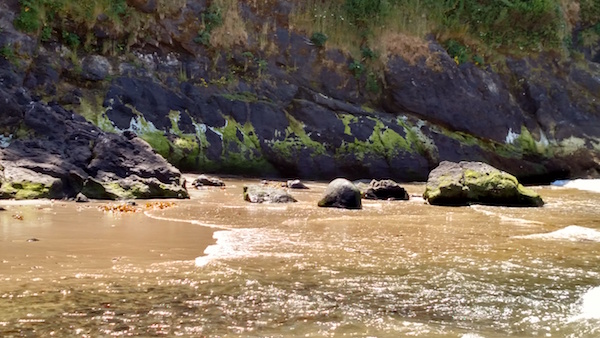 ChiGal writes: "Hope this counts! Lichen on volcanic rock on the beach at Heceta Lighthouse, OR. Just spent a week there and still feeling that Pacific NW vibe."
Lichen, like fungi, are honorary plants!
NOTE Readers, if you want your handle to appear as a credit, please put it in the subject line. Otherwise, I will anonymize by using your initials. Thank you!
* * *
Readers, Water Cooler is a standalone entity, not supported by the Naked Capitalism fundraisers. Please use the dropdown to choose your contribution, and then click the hat! Your tip will be welcome today, and indeed any day. Water Cooler will not exist without your continued help.