By Lambert Strether of Corrente
Politics
Health Care
"Live coverage: Senate heads for dramatic healthcare repeal vote" [The Hill]. "[McConnnell] got a late boost of momentum after Sen. Rand Paul (R-Ky.) signaled he would vote 'yes' (on the Motion to Proceed (MTP). I don't know if Kentucky voters will punish Paul on policy; they haven't before. But they might punish him for being a wuss. Anyhow, the MTP should happen "after lunch."

On the "skinny plan" (see above) this (read from bottom up):

NEW: My 11-13 tweets from last night now appears to be the strategy for Senate.

A new twist to get the votes today. pic.twitter.com/tqG98VyBvE

— Andy Slavitt (@ASlavitt) July 25, 2017

"Obamacare repeal vote still too close to call" [Politico]. "Though McCain's return was being used as motivation for wavering senators, the vote count was unclear as of midday Tuesday." Everybody assumes that McCain wouldn't be coming back unless his vote would put McConnell's count over the top. But nobody seems to be considering the idea that McConnell could have lied to McCain about what the count was, hoping to stampede the defectors with McCain's return.

"And a majority [of mayors] doubt that President Trump, who made dismantling the signature policy of the previous administration one of his top campaign promises, has a clear plan to replace Obamacare if Congress manages to repeal it. If they had their way, most say they would prefer a single-payer plan" [Politico].
2020
"Des Moines political consultant Troy Price was elected chairman of the Iowa Democratic Party on Saturday" [Des Moines Register]. "Price, a former executive director of the party and veteran of Barack Obama and Hillary Clinton's presidential campaigns in Iowa, was chosen by the party's state central committee."

"Twenty-six months later, Sanders-backers have landed positions in Iowa's county and state Democratic parties and are candidates in its governor's race and, in D'Alessandro's case, at least one congressional contest" [CNN]. But not, however, the Democrat Party chair…..
2018
"Why Republicans should keep doing nothing" [The Week]. "In 2018, Republicans will be playing on home turf, with only eight Senate seats out of 33 to defend, six of them impregnably safe. And while the Democrats have an advantage in generic polling in the House, they probably need as much as a five-point lead to have a chance to take over the chamber. In the absence of either a raft of Republican retirements or a "wave" of Democratic enthusiasm, the Republicans can hang on by playing defensively. So why go on offense with a bold agenda? Trying to do things only gives the other party a target to shoot at."
2016 Post Mortem
"As a poll released last week by NBC News and the Wall Street Journal shows, Trump remains fairly popular among Youngstown voters. The stories about meetings with Russians during the election really don't resonate at all. These stories are latched onto by those who hate Trump because his election never made sense to them in the first place. Something corrupt must have happened; how else could Trump have, to their minds, fooled so many voters? Youngstown voters know they didn't vote for Trump because Vladimir Putin wanted them to. They voted for Trump because he promised them jobs, and they believed him" [CNN]. Youngstown is in Mahoning County, which Trump flipped from Obama.

"Trump County Voters Aren't Downtrodden, but They Are Being Left Behind" [NBC]. "The NBC News/WSJ poll looked at 439 counties in 16 states that Trump flipped from Barack Obama 2012 or where Trump beat 2012 GOP nominee Mitt Romney's margin of victory by 20 points or more. The survey showed Trump's support was better in those places than the rest of the nation — 50 percent in those counties approve of the president, compared to 40 percent who said the same in the most recent national NBC News/WSJ poll…. The real concern in the Trump counties is losing ground. In 2000, the average median household income in these places was about $7,000 below the national median. By 2015, the difference between those counties and the national figure was nearly $9,000."
Realignment and Legitimacy
"Democrats don't need 'A Better Deal.' They need Bernie Sanders" [The Week]. No. Reliance on one person is a recipe for disaster. What Democrats need is the Sanders program as opposed to the tepid "Better Deal." More: "the message — and its accompanying slogan — is anodyne, focus-grouped, consultant-generated pablum." If you've got to say it's "bold," it probably isn't.

"The Democrats' 'Better Deal' is a box-office dud" [MarketWatch]. "Typically for the Democrats, however, everything from the message to the messenger to the timing was off. Schumer's enunciation of three fairly anodyne principles, and three specific but limited policies — with promises of more to come — fell with a dull thud on a day dominated by news of Jared Kushner's testimony in the Senate on his Russian contacts…. Schumer has hinted that, in the Better Deal, Medicare for All will be 'on the table.' So why wait, why persist with this drip, drip, drip of policy prescriptions? Could it be they need a few more focus groups on these other policies?" My favorite part of Schumer's "Better Deal" Times Op-Ed: Part of the social contract used to be that you could "… take a every year…." "Modest vacation." Aim high, Chuck! Shoot for the stars!

"This Left Challenger Is Showing How to Use Progressive Economics to Flip Trump Country" [In These Times]. Excellent article on Lancaster County, PA. It's all good, but this on health care:

A wide variety of people here are being impacted personally because they have pre-existing conditions. Many were able to access health insurance for the first time through the ACA exchange and are at risk of that falling apart. So, you hear those personal stories from individuals. But also, when I talk to business owners, part of the challenge for them is inconsistency: not knowing what the rates are going to be next year, what the changes are going to be this next year, what they're going to be able to afford and what their employees are going to be able to afford. When you look at single-payer systems in other developed countries that we can compare ourselves to, it's actually good for business. Businesses can be clear about what to expect. I think people also see this as a common-sense issue, and that's part of what's shifting the narrative around moving toward extended Medicare or a single-payer system. What we have now is so expensive, so wasteful and leaving so many people behind. There's a huge opportunity to be more efficient, more effective, cover more people and do more good.

""Go back to school little girl" [Brittany B, Medium] Leave Joan Walsh a-l-o-o-o-o-o-n-e!!!!! "Now is a good time to remind everyone that these are democrats. Because I told Joan that I think her second wave feminism is toxic and dying, and she took it as a personal attack on her age (it wasn't), she sent her followers to defend her honor. I guess I should have expected that would happen since I criticized a paid propagandist with a blue check. But, I need people to stop trying to say that democrats are better people than republicans; they aren't. Having that D next to your name, isn't some bullet-proof indication that you're a good person."
Stats Watch
Richmond Fed Manufacturing Index, July 2017: "expanded for the ninth consecutive month" "mostly on the back of increases in new orders and employment" [Econoday]. "[T]he Richmond Fed noted the entire series of the index has been revised and seasonal adjustment factors were recalculated to better reflect current economic trends." But: "The Richmond Fed subcategories were mixed, This was a better report than last month – but still not excellent" [Econintersect].
Consumer Confidence, July 2017: "The consumer sentiment report is beginning to head south but not the consumer confidence report which is resuming its march to unusually strong levels" [Econoday]. "Details confirm the strength led by job assessments including the closely watched jobs-currently-hard-to-get reading which is at only 18.0 percent, down from a revised 18.4 percent in June and pointing to another strong employment report for July." And: "'Overall, consumers foresee the current economic expansion continuing well into the second half of this year,' [said Lynn Franco, Director of Economic Indicators at The Conference Board]."
Federal Housing Finance Agency House Price Index, May 2017: "Softest result since January and in line with similar readings in the Case-Shiller report which was also released this morning" [Econoday]. "[D]etails do confirm monthly weakness including a rare contraction, at minus 0.2 percent, for the Mountain region and a very sharp 0.5 percent contraction for the Mid-Atlantic…. Both FHFA and Case-Shiller have large sample sizes and rigorous methodology and though the data lag, they are closely watched as essential gauges of home prices." And: "The national house-price index increased to a fresh record high, 3.2% above the previous peak seen in 2006. The index is also over 27% above the 2012 trough although the 20-city index remains 3.7% below record highs" [Economic Calendar]. "There will be further concerns that overall financing conditions are too loose, especially with overall price increases continuing to outstrip earnings and prices. Evidence of further acceleration in cities such as Seattle will also cause financial-stability concerns."
S&P Corelogic Case-Shiller Home Price Index, May 2017: "Home prices in yesterday's existing home sales report were very strong, in contrast to today's reports from both Case-Shiller and FHFA where moderation is the theme" [Econoday]. "Emerging weakness is clear with 6 of 20 cities, for the second month in a row, posting contraction including sharp declines in May for New York, Boston and Chicago…. Home prices have perhaps been the leading strength of the economy but have, however, been holding down affordability and pushing first-time buyers out of the market. Moderation in prices may be a negative for immediate household wealth but is probably a positive for the housing sector." And but: "Many pundits believe home prices are back in a bubble. Maybe, but the falling inventory of homes for sale keeps home prices relatively high. I continue to see this a situation of supply and demand. It is the affordability of the homes which is becoming an issue for the lower segments of consumers" [Econintersect].
Supply Chain: "Parcels logistics makes major breakthrough with harmonised international labelling system" [Lloyd's Loading List]. "The recently approved Technical Specification (CEN/TS17073) for Postal services – Interfaces for cross-border parcels, is ready for publication by all European National Standardization Authorities as of 21 June." If your dream is frictionless global e-commerce, this is a big deal.
Shipping: "Ultra large containerships look set to dominate Asia-northern Europe trade" [Lloyd's Loading List]. "Boxships of 18,000 teu and above plying the Asia-northern Europe trade will become the vessels of choice by the end of next year, with the potential of around 61% of total capacity taken up by these industry behemoths, say analysts…. '[U]ltra large container vessels lead to an increase in massive bursts of containers to be handled at once, rather than being spread across the week,' [said SeaIntel]. "This can pose a major challenge to ports and terminals.'"
State Street Investor Confidence Index, July 2017: "Continued improvements in global economic growth have reignited the risk appetite of institutional investors, as strong earnings growth expectations and optimism based on an improving economic outlook have taken precedence over the rising anticipation of central bank balance sheet reductions and a more hawkish tone" [Econoday]. "But Europe remains risk-off territory, State Street noted, despite strong corporate data and fading political headwinds. In Asia, concerns about the Trump administration's global trade policies have taken a toll on institutional investor confidence."
Shipping: "Blockchain: Friend or foe?" [Splash 247]. "Forbes notes that in a recent test of blockchain technology completed in collaboration between Maersk and IBM, the journey of a 40-foot RF containing flowers was tracked from its origin in Schneider Electric in Lyon, France, to the Schneider Electric facility in the US. From point A to B, it sounds simple enough, but consider that this shipment of flowers encountered numerous agencies along the way including Customs Administration of Netherlands, US Customs and Border Protection, US Department of Homeland Security, and this is not including the usual stopping points: warehouses, rail yards, container yards, trucking facilities, loading vessels, transhipment ports, transhipment vessels, and more. The implementation of blockchain technology would allow us to view all of these movements on a highly-secure, shared network, which will provide complete transparency to all essential players."
The Bezzle: "A new survey from ReportLinker indicates that 53% of U.S. drivers would purchase a fully autonomous vehicle the next time they buy a car. Another 34% would purchase a partially autonomous vehicle, while just 13% want their next car to be just like their current car when it comes to self-driving capability. A year ago, 46% said they would purchase a fully autonomous car next time, while 46% said they would purchase a partially autonomous vehicle and 18% wanted no part of autonomous vehicles" [247 Wall Street]. So I suppose the trick will be to market Level 4 as if it were Level 5 (fully autonomous), since Level 5 is like 20 years away. Or we could spend a few trillions optimizing the roads for them. And by "the" roads, I mean some roads…. But from the same poll: "When asked if they would feel safe using a self-driving car, just 34% said they would while 67% said they would not." Huh?
The Bezzle: "Uber Tried To Make Biglaw A Gig Economy. Biglaw Told Them To Cram It" [DealBreaker]. "[Being fired as a client] happens when the Ted Talk tactics of selling people on taking less to be in a 'program' that would, theoretically, pay off one day hits the reality of sophisticated professionals who just want their damn money, thank you very much. Frankly, it's astounding that Quinn Emanuel participated in this program for four and a half years! But, as the email from Swedlow makes clear, Quinn kept expecting things to take off. They figured that big matter was right around the corner. It wasn't." Fun!
The Bezzle: "There's a trillion-dollar global black market for fake "designer" chairs" [Quartz].
International Standards: "[In 1889] the International Bureau of Weights and Measures in Paris built an actual reference meter and kilogram" [JSTOR Daily]. "This is a great system if the prototypes are truly inert. However, evidence suggests that the prototypes do change. Despite cleaning, contaminants stick to their surface, and the kilogram is slowly losing mass…. The kilogram, however, remained stubbornly difficult to define; no good immutable physical standard unit of mass was readily available. The kilogram prototype remains in its Parisian vault to this day." So perhaps I am too hard on The Trade Blob for not coming up with a glossary definition for "services"?
Five Horsemen: "Here's why Amazon, Facebook and the gang are not going to take down this market" [MarketWatch]. "The earnings geyser is primed to gush out some big tech reports, after Tuesday's run of household names gets out of the way."
Five Horsemen: "In a reversal of fortunes, Apple soars while Alphabet sinks to meet it" [Hat Tip, Jim Haygood].
The Fed: "This Week, The FOMC Is Gonna Be All WTF" [DealBreaker]. "There are additional reasons for Yellen and other Fed officials to keep their fingers firmly on the pause button until the early autumn, if not into the winter — though a key one falls under the central banking as art, not science, category. Historically, September and October are perilous months for markets, when the days begin to grow short and the problems that have built up in the economy are easier to see without the glare of the summer sun and the Hamptons hangover."
Today's Fear & Greed Index: 82 Extreme Greed (previous close: 72, Greed) [CNN]. One week ago: 62 (Greed). (0 is Extreme Fear; 100 is Extreme Greed. Last updated Jul 25 at 11:49am. Another big swing.
Crapification Watch
"Customer satisfaction declined to 74.3 on [the American Customer Satisfaction Index] 100-point scale, . The e-business segment includes three categories: social media, search engines and information websites, and news and opinion websites" [247 Wall Street]. All those anecdotes in the NC comment section add up, I guess.
"At its core, the Times's internal transformation focuses on upending the paper's copy desk. And while this might seem like a rather small innovation, it is poignant and fraught in a distinctively Timesian manner. For decades, the copy desk has been an all-seeing, all-powerful enforcer of Times standards and verbal peculiarities. As much as the reporters, writers, and editors, it's what makes the Times the Times. The traditional desk structure allowed for multiple eyes to be placed on every story" [Vanity Fair]. "Someone intimately acquainted with the process boiled it down for me like this: in the old model, each story got two-and-a-half edits; in the new model, each story gets one-and-a-half edits, with more emphasis on a story's digital presentation as opposed to its placement in the print edition. (Of course, highly sensitive stories will undergo more laborious roads to publication.)" Of course. So, first The Times picks up a ton of new subscriptions by openly becoming a partisan tool (ka-ching). It uses the money to, first, bring on a bunch of conservative columnists, and then targets " a loyal underclass of newsroom employees" for firing. Oh, and they're also reconfiguring their office space on the open plan, "leaving all but the highest of editors without private offices." Liberals…
The 420
"People Are Now Getting Free Weed to Pick Up Trash" [Vice]. "Over the weekend, dozens of people in Gardiner, Maine, jumped at the chance to spend their Saturday picking up trash around the city, all for the opportunity to score some free weed, WCSH 6 reports. The innovative cleanup plan was launched by local dispensary Summit Medical Marijuana in an effort to make it easier for Mainers to get their hands on recreational weed." Dirigo, baby!
"Uruguay pharmacies start selling cannabis straight to consumers" [Guardian].
Health Care
"Medicaid Expansion Reduced Unpaid Medical Debt And Increased Financial Satisfaction" [Health Affairs]. "[W]e examine how the expansion affected the share of individuals with any bills from a health care or medical service provider that are past due. Again, the expansion and non-expansion states start out in similar positions in 2012, with 47 percent of low-income adults reporting unpaid medical debt in non-expansion states compared with 43 percent in soon-to-expand states… In 2015, the share with medical debt fell 7 percentage points in non-expansion states, again perhaps reflecting an improving economy and falling uninsurance due to other mechanisms. In contrast, medical debt fell by almost twice as much, 13 percentage points, in expansion states."
"When Health Law Isn't Enough, the Desperate Line Up at Tents" [New York Times]. "Mr. McAuliffe, a Democrat, shook hands with Larry McKnight, 37, an out-of-work auto mechanic whose nerve-damaged shoulder makes it impossible to lift his 11-month-old baby. 'I really think they don't have any clue what's going on,' Mr. McKnight said of Washington politicians. 'You watch the news and it's two sides pitted against each other, which in turn makes them pitted against us, the normal person.' 'I really think the only thing that could truly help the country is single payer,' he said."
Imperial Collapse Watch
"My first ride on the Elizabeth line" [Ars Technica]. "This seven-carriage Class 345 train is the first of 70 that are being built for the Elizabeth line—the new train line, constructed by Crossrail, that will eventually stretch from Reading and Heathrow in the west to Shenfield and Abbey Wood in the east, with some massive new tunnels below central London in the middle." Meanwhile, here in The Greatest Country On Earth, we can't dig a single train tunnel under the Hudson, even though we know the existing tunnel is failing, and when it does, the Acela Corridor will come to a grinding halt.
Class Warfare
"Low-income families are still unable to accrue enough savings to see themselves through a period of joblessness. Some 37% of those households are "liquid asset poor," based on the latest U.S. Census Bureau data, meaning they don't have enough money in their bank account or other assets to replace three months of income at the poverty level (that's just $6,150 for a family of four)" [MarketWatch]. "'This inability to save stems in part from the increasing number of jobs that don't provide a reliable stream of income, leaving many working families vulnerable to jarring ups-and-downs in their take-home pay,' the report [from the Washington, D.C.-based Prosperity Now] concluded. It also found that one-in-five households experienced 'moderate to significant income volatility' from month-to-month during the past year due to irregular jobs." And if the global elites have their way, one-in-five will increase to (say) four-of-five.
"Revealed: the insidious creep of pseudo-public space in London" [Guardian]. "Pseudo-public space – squares and parks that seem public but are actually owned by corporations – has quietly spread across cities worldwide. As the Guardian maps its full extent in London for the first time, Jack Shenker reports on a new culture of secrecy and control, where private security guards can remove you for protesting, taking photos … or just looking scruffy."
"How Kids See the World Depends a Lot on Genetics" [NIH]. "The findings come from experiments that tracked the eye movements of toddlers watching videos of other kids or adult caregivers. The experiments showed that identical twins—who share the same genes and the same home environment—spend almost precisely the same proportion of time looking at faces, even when watching different videos. And when identical twins watched the same video, they tended to look at the same thing at almost exactly the same time! In contrast, fraternal twins—who shared the same home environment, but, on average, shared just half of their genes—had patterns of eye movement that were far less similar." Next: Put lead in the drinking water of just one twin, come back in a decade.
News of the Wired
"Ten Years of Worthless Side Projects" [Medium].
Retro:
Blade Runner Gets Re-Created, Shot for Shot, Using Only Microsoft Paint https://t.co/E7irREOIEg pic.twitter.com/ujjy6EDPXB

— Open Culture (@openculture) July 25, 2017
* * *
Readers, feel free to contact me at lambert [UNDERSCORE] strether [DOT] corrente [AT] yahoo [DOT] com, with (a) links, and even better (b) sources I should curate regularly, (c) how to send me a check if you are allegic to PayPal, and (d) to find out how to send me images of plants. Vegetables are fine! Fungi are deemed to be honorary plants! If you want your handle to appear as a credit, please put it in the subject line. Otherwise, I will anonymize by using your initials. See the previous Water Cooler (with plant) here. Today's plant (Chris):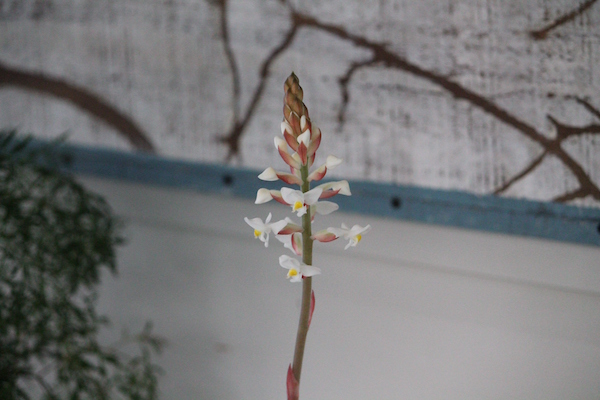 Chris writes:
A few years ago, I was in Fiji and went to see Perry Mason's old property near Nadi. He loved his orchids and the garden was a very special place. As you know, I am fortunate to, currently, live in part of the world where they can be grown. This is a picture of Jewel Orchid. The flowers open slowly and the top one has been flowering for about 2 weeks, still not fully open.
* * *
Readers, Water Cooler is a standalone entity, not supported by the Naked Capitalism fundraisers. Please use the dropdown to choose your contribution, and then click the hat! Your tip will be welcome today, and indeed any day. Water Cooler will not exist without your continued help.