By Lambert Strether of Corrente
Readers, I had to do a router reset at the exact moment I was about to press the Submit button. And I will return (unapologetically) in an hour or so with UPDATEs. –lambert. P.S. 3:02PM, all done.
Trade
"The Office of the U.S. Trade Representative and British trade officials will begin their Trade and Investment Working Group today, with the hope that it could lead to a bilateral trade agreement after the United Kingdom officially exits the European Union. However, the two days of talks are likely to focus on a raft of near-term measures the two sides could achieve, according to business sources briefed on what to expect" [Politico]. "A U.S. trade official told Morning Trade the talks will lay the groundwork for 'commercial continuity,' adding that early discussions will also explore ways to strengthen trade ties that are consistent with the U.K. trade obligations as an EU member."
"'I see three ways you can adjust a bilateral trade deficit: one is tariffs, one is quotas and one is managed trade. If those are put on the table, I don't see how either of our trading partners are going to continue. I look at the impending NAFTA negotiations and I see some very rough sledding coming up,' [Nelson Cunningham, president of McLarty Associates] said" [Politico]. "That's particularly true for Mexico, since the United States had a $63.2 billion trade deficit with that country in 2016. 'You take $60 billion of the Mexican economy, that is hugely significant,' Cunningham said."
Politics
New Cold War
Hysterical hysteria:

Someone's been getting into the wrong, uh, Tito's, if you know what I mean. pic.twitter.com/qRQkqAZtNc

— Jacob Bacharach (@jakebackpack) July 21, 2017

"Forensic studies of 'Russian hacking' into Democratic National Committee computers last year reveal that on July 5, 2017, data was leaked (not hacked) by a person with physical access to DNC computers, and then doctored to incriminate Russia" [Consortium News]. "Key among the findings of the independent forensic investigations is the conclusion that the DNC data was copied onto a storage device at a speed that far exceeds an Internet capability for a remote hack." This is from the Veteran Intelligence Professionals for Sanity, and so highly credible; they did good work back in the Iraq WMD days. Indeed, IMNSHO, VIPS, not being torturers (Brennan) or perjurers (Clapper) are some of the few members of the intelligence community with any credibility at all. WARNING: The scope of the post is limited: "We focus specifically on the July 5, 2016 alleged Guccifer 2.0 'hack' of the DNC server."
Health Care
"Following a week of high-level negotiations among GOP senators, Republican leadership is planning a Tuesday vote on the motion to proceed to the House-passed American Health Care Act (AHCA) — the vehicle for their health care reform efforts. The process has been shrouded in confusion and uncertainty, as it still remains unclear what legislation Senate leaders ultimately hope to move forward. And while knowing what's in the Senate bill may be, as Senate Whip John Cornyn said, a "luxury we don't have," it's worth acknowledging that there's still a narrow path towards passage" [RealClearPolitics]. "The fallout early last week is indicative of the deep divisions among Senate Republicans on health care reform. While little has changed that dynamic, a renewed effort from the White House and an injection of $200 billion in additional funding could provide a needed boost to GOP leaders. Recall that a mere $8 billion in additional funding introduced by Rep. Fred Upton (R-MI) was enough to lift the House bill over the finish line. The likely absence of Sen. McCain this week and the intransigence of Sen. Collins will make threading the legislative needle a difficult — almost impossible — task for GOP leaders. But the BCRA could make one last gasp for revival before we finally write its eulogy. And if Leader McConnell writes the right prescription, it has an outside chance at survival." Ka-ching.

UPDATE This thread, from the Washington DC director of MoveOn, is a good guide to the Parliamentary mechanics involved in passing a health bill (any health care bill) in the next few says. Start here:


The first big tell is Tuesday morning, when Republicans need 50+1 votes to start final debate on… something bad, don't know what yet. 2/

— Ben Wikler (@benwikler) July 24, 2017

UPDATE Neera throws #TheResistance under the bus:


If we defeat Trumpcare it will be because of the courage of a few GOP (woman) Senators who are willing to put country over party.

— Neera Tanden?? (@neeratanden) July 24, 2017

As readers know, I think you can give an account of the AHCA/BCRA voting that doesn't include demonstrations at all. But I'm not the well-paid liberal CEO who pushed those tactics!
2018
"Five poll numbers that should make Democrats uneasy" [CNN]. "Democrat favorables haven't budged since the 2016 conventions. [And] Trump supporters aren't going anywhere."
Realignment and Legitimacy
"Chuck Schumer: A Better Deal for American Workers" [New York Times]. The top level summary:

First, we're going to increase people's pay. Second, we're going to reduce their everyday expenses. And third, we're going to provide workers with the tools they need for the 21st-century economy.

Some very quick reactions:

1) Schumer doesn't address debt. What's the point of increasing pay that doesn't increase quality of life, since the increase is passed right through to (say) the student loan people or the medical debt collectors?

2) Schumer, by not addressing Medicare for All, suppresses it. Isn't that really the best way to reduce "every day expenses"?

3) Schumer's focus on worker's tools is a jobs guarantee for the professionals who will do the training, but says nothing about the nature of the 21st-century economy. Why isn't the best "tool" for workers a union?

4) Schumer seems never to have heard about Case-Deaton. How will Democrats reverse the trend of declining life expectancy in the working class?

Then Schumer goes into detail. Again, quick, not especially thought-through reactions:

On Monday we are announcing three new policies to advance our goals.

On a day the entire Beltway is going nuts over health care? WTF?

Right now, there is nothing to stop vulture capitalists from egregiously raising the price of lifesaving drugs without justification.

Well, except for Democrats like Cory Booker voting against the most minor reform possible: Importing drugs from Canada.

We're going to fight for rules to stop prescription drug price gouging and demand that drug companies justify price increases to the public. And we're going to push for empowering Medicare to negotiate lower drug prices for older Americans.

First, please drop the "fight for" (and "push for") rhetoric. Democrats always virute signal about fighting for, but they never deliver. Second, if "empowering Medicare to negotiate lower drug prices" works, then why not just empower Medicare to negotiate everything, and move straight to single payer? Third, why limit this to "older Americans"? Why not all citizens?

Right now our antitrust laws are designed to allow huge corporations to merge, padding the pockets of investors but sending costs skyrocketing for everything from cable bills and airline tickets to food and health care. We are going to fight to allow regulators to break up big companies if they're hurting consumers and to make it harder for companies to merge if it reduces competition.

First, "fight to," "make it harder." Second, although there are some who are very excited about this, it's a stretch, even discounting "words are wind," to call this the start of a populist movement, since the populist movement was driven from the bottom up by a wave of well-organized discontent, as opposed to being created from the top down by Democrat consultants and strategists. Third, Schumer still puts markets first; he just wants to tweak them. Hence, he's squarely in the neoliberal mainstream; the "consumer" framing does this, too. Fourth, show me concrete material benefits. Suppose we break up the giant health care insurance companies. Is that really the answer to universal health care? And do we have another couple of decades to experiment on the health of the American people when there's a proven solution sixty miles north of Burlington, VT. Fifth, Schumer pointedly does not mention the following ginormous monopolies: Google, Facebook, Amazon. Why? Sixth and finally, it's hard to see the Democrat Party moving forward on any policies that benefit the working class (i.e., most voters) unless they adopt a funding model like the $27-contribution Sanders campaign. Otherwise, Democrats are simply beholden to squillionares Schmidt, Zuckerberg, and Bezos, and will "fight for," and not deliver, again and as usual.

Right now millions of unemployed or underemployed people, particularly those without a college degree, could be brought back into the labor force or retrained to secure full-time, higher-paying work. We propose giving employers, particularly small businesses, a large tax credit to train workers for unfilled jobs. This will have particular resonance in smaller cities and rural areas, which have experienced an exodus of young people who aren't trained for the jobs in those areas.

"Tax credits." Hold on to your hats, folks. I'm so excited.

Chuck Schumer goes big for antitrust!!!! https://t.co/UKxb9OI8dw

— Zephyr Teachout (@ZephyrTeachout) July 24, 2017

This voter adopts the correct attitude:

We off that. It's $25, now. https://t.co/xxYV6PkF5Z

— Ella Septima-Hamer (@Jbrous14) July 23, 2017

"Chuck, what have you done for us lately?" No reason the ratchet effect can't work both ways….

UPDATE "The 4 Types Of Constitutional Crises" [FiveThirtyEight]. This:

True constitutional crises are rare. The Constitution is set up so that power is shared between the president, Congress and the courts, and between the federal government and the states. This cuts down on vacuums where no one has clear authority, instead creating situations where multiple people or institutions are empowered to act. Serious constitutional crises occur when our institutions are rendered ineffective, which is usually about politics more than process, and often has less to do with how institutions were designed than with how legitimate they are perceived to be.

The last type of constitutional crisis — when different parts or branches of government are at loggerheads — might be the one we are most likely to see during Trump's administration. If Trump continues to strain democratic norms and push political boundaries, Congress, the courts or even members of his own administration could push back. Those conflicts could be resolved deliberately and thoughtfully, with an eye toward what the founders would do. Or not.

Oddly, or not, the authors leave out the intelligence community, clearly players, and clearly trying to take advantage of a power vacuum.

UPDATE "51st state question answered "no" in 6 of 11 counties contemplating secession" [Denver Post]. "In five of the 11 counties where the secession question appeared on the ballot, the measure passed by strong margins."
Stats Watch
Purchasing Managers Index Composite Flash, July 2017: "Markit's U.S. samples are reporting the best strength, though still moderate, so far this year" [Econoday]. "The manufacturing PMI shows the most acceleration… Strength in new orders, especially for services which hit a 2-year high, is the leading plus in today's report with output and employment also positives. Price data are mixed with wages up but fuel bills down and selling prices soft."
Existing Home Sales, June 2017: "The slip in pending home sales was no false signal as existing home sales fell" [Econoday]. "Rising prices and thin supply, not to mention low wages, are offsetting favorable mortgage rates and holding down sales. Housing data have been up and down and unable to find convincing traction so far this year." And: "Total housing inventory available declined 7.1% on the year having fallen for 25 months in succession" [Economic Calendar]. And: "This was slightly below the consensus expectations. For existing home sales, a key number is inventory – and inventory is still low" [Calculated Risk].
UPDATE Supply Chain: "Wal-Mart Stores Inc.'s latest investment move shows the growing significance of the warehouse in retail competition. The country's biggest store operator secured the right to invest in logistics-equipment provider Plug Power Inc. along with a pact to roll out more of the company's forklifts and other vehicles at its distribution centers" [Wall Street Journal].
The Bezzle: "Indoor vertical farming is on the rise, if a recent funding round for San Francisco startup Plenty is any indication. The company just scored what they say is the largest agriculture technology investment in history. Plenty has attracted attention – and quite a lot of money – from well-known tech greats like Amazon CEO Jeff Bezos and Alphabet Executive Chairman Eric Schmidt" [Inhabitat]. Well, how are the cities gonna secede if they can't grow food?
The Bezzle: "Abuses Hide in the Silence of Nondisparagement Agreements" [New York Times]. "As more harassment allegations come to light, employment lawyers say nondisparagement agreements have helped enable a culture of secrecy. In particular, the tech start-up world has been roiled by accounts of workplace sexual harassment, and nondisparagement clauses have played a significant role in keeping those accusations secret. Harassers move on and harass again. Women have no way of knowing their history. Nor do future employers or business partners." Non-disparagement wouldn't be on my list of the best way to ensure coding quality, either, but that's not up for discussion…
The Bezzle: "Canada: Supreme Court Clears Way for Facebook Privacy Lawsuit" [Global Legal Monitor]. "In 2011, Facebook created Sponsored Stories as a new advertising product that uses the name and the profile picture of the users. When a user "likes" the Facebook page of a company that purchases the Sponsored Stories, his name and photo will be associated with the company or their product and will be used to advertise on Facebook and externally. (Douez v. Facebook, Inc., ¶ 6.) According to the British Columbia Privacy Act, this practice is illegal and can be actionable without proof of any damage."
The Bezzle: "Is a More-Enlightened Social Media Possible?" [Lion's Roar (Rainbow Girl)]. Rainbow Girl comments: "Interview with Dan Zigmond, a zen priest. Also (drumroll) 'director of analytics for FB newsfeed'."
As the director of analytics for Facebook's News Feed, Dan Zigmond works on the algorithms that decide what more than a billion people read each day. That's a big responsibility.

Does your background in Buddhism inform, or dovetail with, your work on the News Feed?

From the Buddhist context, we're all inherently interconnected. One of the great illusions is the sense of an independent self that's disconnected from the world. Connecting with people can help us break down that illusion and understand that inherent connectedness. In our daily lives, it's very important to interact with people you meet as if they are a part of you and you are a part of them.
Rainbow Girl: "A quick read illustrating profound smarminess. No mention of how he manipulates what information people receive, i.e., facilitating delusion, traditionally one of the three main 'poisons' that cause suffering in dharma philosphy."
Today's Fear & Greed Index: 72 Greed (previous close: 73, Greed) [CNN]. One week ago: 67 (Greed). (0 is Extreme Fear; 100 is Extreme Greed. Last updated Jul 24 at 1:19pm. One year ago: 85, Extreme Greed. Good times…
Health Care
"The Company Behind Many Surprise Emergency Room Bills" [New York Times]. "Before EmCare, about 6 percent of patient visits in the hospital's emergency room were billed for the most complex, expensive level of care. After EmCare arrived, nearly 28 percent got the highest-level billing code." Credentialism and corruption… (see NC on medical coding here and here).
UPDATE "Some of the most powerful people in the US are talking about a massive change to healthcare" [Business Insider]. [Aetna CEO Mark Bertolini] told Aetna employees at a town-hall-style meeting in May that he thought 'we should have that debate' about single-payer 'as a nation.' … Bertolini did not support a total government-run single-payer system but used in some nations. "So the industry has always been the back room for government," Bertolini said. "If the government wants to pay all the bills, and employers want to stop offering coverage, and we can be there in a public private partnership to do the work we do today with Medicare, and with Medicaid at every state level, we run the Medicaid programs for them, then let's have that conversation." Why? I see what's in it for Bertolini (ka-ching) but what's in it for us?
UPDATE "If Jesus did anything, he offered health care wherever he went — and he never charged a leper a co-pay. Like most Americans, I know the Affordable Care Act is not perfect. In considerable measure, this is because over twenty states sabotaged the ACA by refusing to expand Medicaid. Its main shortcoming is that it needs to be transformed into a single payer system with universal healthcare for all [William Barber, Think Progress] (Barber is "chief architect" of North Carolina's Moral Mondays).
Our Famously Free Press
UPDATE "Newsweek Settles with Journalist Smeared by Kurt Eichenwald" [Paste Magazine]. The background:
In October, Paste reported on a disturbing story involving Newsweek's Kurt Eichenwald and Sputnik editor Bill Moran. The former, it appeared, sought to silence the latter through the use of bribery and threats.

For the uninitiated, Moran had written a piece based on a Twitter user's misattribution of a damning Eichenwald quote about Benghazi to longtime Clinton ally Sidney Blumenthal. Wikileaks had just dumped Clinton campaign director John Podesta's emails, and there was a mad dash among journalists and non-journalists alike to find a big story in them. One of those emails had Blumenthal sending the Eichenwald story to Podesta.

Upon realizing his mistake roughly twenty minutes after publication, Moran took the article down. However, then-GOP candidate Donald Trump used the misattributed quote in a speech to attack his opponent.

From these facts, Eichenwald inferred that the only possible means by which Trump could have come across the misattributed quote was purposeful collusion with the Russians, and that the Wikileaks documents themselves had been altered. This conclusion led him to write a piece, "Dear Mr. Trump and Mr. Putin, I Am Not Sidney Blumenthal," in which he wove a sordid web connecting the GOP candidate to Russia.

The piece went viral, earning the Newsweek journalist a top spot on various cable news shows. Moran was fired.
A sad victim of Putin Derangment Syndrome.
Gaia
"Solve Antarctica's sea-ice puzzle" [Nature]. "Researchers are struggling to understand these stark differences5. Why do Antarctica's marked regional and seasonal patterns of sea-ice change differ from the more uniform decline seen around most of the Arctic? Why has Antarctica managed to keep its sea ice until now? Is the 2017 Antarctic decline a brief anomaly or the start of a longer-term shift? Is sea-ice cover more variable than we thought? Pressingly, why do even the most highly-rated climate models have Antarctic sea ice decreasing rather than increasing in recent decades? We need to know whether crucial interactions and feedbacks between the atmosphere, ocean and sea ice are missing from the models, and to what extent human influences are implicated."
UPDATE Earthquakes in the colonies, far from the metropolis:

Animation of equakes in Okla. & parts of adjoining states, 2004-16. Size of dots and volumes are proportional to equake strengths. #okquake pic.twitter.com/5qmgZKqKs5

— USGS in Oklahoma (@USGS_Oklahoma) July 20, 2017
Class Warfare
UPDATE "The gig economy of the 18th Century" [BBC]. "The diaries of three men in 18th-Century Britain that I have found give a fascinating insight into how middle class people – the supposed beneficiaries of today's gig economy – made multiple employments work. Edmund Harrold, a resident of Manchester in the early 18th Century was a barber by training and title. He rented a small shop, shaved customers' heads, bought and sold hair, and crafted wigs. In the hours unfilled by this he worked as a book dealer, and eventually as an auctioneer, selling various items in alehouses within Manchester and in outlying towns. He lent out money when he had it, earning 10% interest on his holdings." Whatever "middle class" means…
UPDATE "Robots are closing in on a new breakthrough—picking up an object and putting it in a box. It's a seemingly modest action that marks a big step in warehouse automation" [Wall Street Journal]. "The e-commerce surge has raised the role that backroom handling plays in the sales supply chain, and pushed warehouse operators to fine-tune operations that have long been geared toward handling industrial-scale materials while human workers took over for the 'picking' of individual items to fulfill orders. With companies under pressure to deliver online orders faster, warehouse bottlenecks have become the focus of more research."
News of the Wired
UPDATE Wait 'til other countries start doing this:
This is now part of the US non-immigrant visa application. This is obnoxious, absurd and threatens freedom of speech. pic.twitter.com/lnpLmC5v4I

— Nima Fatemi (@mrphs) July 22, 2017
The applicant is from Iran, but still.
"James Frederick Housel | July 28, 1951 – March 11, 2017" [San Juan Journal (MR)]. A second obituary of Isolato.
Margaret Hamilton: NASA's First Software Engineer (video interview) [Makers].
"Ten Ways to Organize Your Bookshelf" [The Millions]. "It could be argued that every bookshelf, like every piece of writing, is autobiographical, even with its veneer of objective organization, but I admit I can see the nostalgic appeal in consciously organizing my books according to the stages of my life." Why not just a heap of books next to one's bed?
UPDATE Zeitgeist watch:
Nothing to see here. keep playing. pic.twitter.com/6VpXW2PBjn

— SabrPictorial (@SABRPictorial) July 23, 2017
* * *
Readers, feel free to contact me at lambert [UNDERSCORE] strether [DOT] corrente [AT] yahoo [DOT] com, with (a) links, and even better (b) sources I should curate regularly, (c) how to send me a check if you are allegic to PayPal, and (d) to find out how to send me images of plants. Vegetables are fine! Fungi are deemed to be honorary plants! If you want your handle to appear as a credit, please put it in the subject line. Otherwise, I will anonymize by using your initials. See the previous Water Cooler (with plant) here. Today's plant (via, proposed by Richard Smith):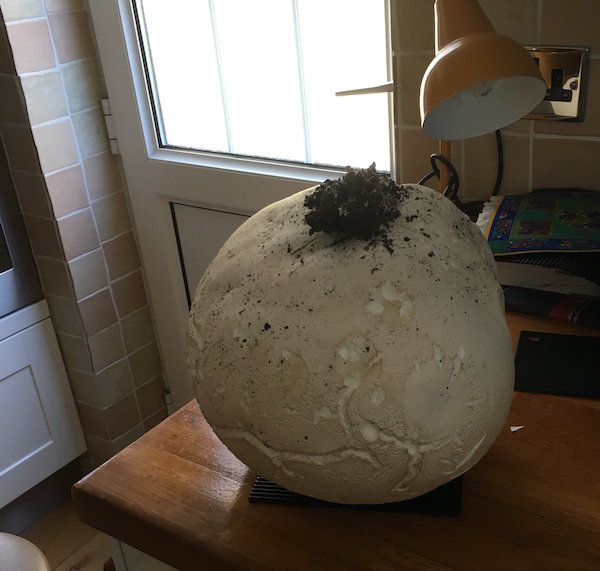 Mmmm, dinner!
* * *
Readers, Water Cooler is a standalone entity, not supported by the Naked Capitalism fundraisers. Please use the dropdown to choose your contribution, and then click the hat! Your tip will be welcome today, and indeed any day. Water Cooler will not exist without your continued help.