By Lambert Strether of Corrente
Trade
"President Donald Trump got elected last year railing against NAFTA and other trade agreements. But a new letter from the 32 Republicans who were elected to the House for the first time last year shows that is a lonely position within the party…. Twenty-seven of the 32 signatories are from parts of the country that Trump won in last year's election, including Rust Belt states like Pennsylvania and Michigan where his anti-NAFTA message seemed to resonate the most. The letter was led by Reps. Roger Marshall of Kansas and Mike Gallagher of Wisconsin, whose states Trump also won" [Politico].
"British officials have discussed with their U.S. counterparts the possibility of negotiating a plurilateral agreement on services, preparing for a scenario in which the Trade in Service Agreement negotiations remained unfinished because the European Union could not rectify internal divisions over data flow provisions, sources said. The UK, however, could not formally take part in negotiating such a deal until it formally leaves the European Union, a process that is expected to extend into mid-2019" [World Trade Online].
"AFL-CIO PROMISES NAFTA OFFENSIVE SIMILAR TO TPP: The AFL-CIO's Executive Council issued marching orders to members on Wednesday promising to "mobilize with the same level of intensity as our campaign to defeat the TPP" [Politico]
Politics
Health Care

"Senate Republicans don't just have to write a "skinny repeal" bill that can get at least 50 Republicans. They also have to write one that meets their savings targets under budget "reconciliation" rules — and they're not there yet, as of this morning. The Congressional Budget Office estimates released yesterday suggest that the bill, at least as originally described, could be as much as $55 billion short of the savings target, according to Loren Adler, a budget expert at the Brookings Institution" [Axios]. Apparently, they're writing the bill over lunch, with the vote-a-rama this evening. (Presumably, however, the deals being cut behind the scenes include language, so this isn't quite as random as it seems.)

"Here's what's in 'skinny repeal'" [Axios]. Even if all this is the functional equivalent of a professional wrestler's feather boa:

Senate Republicans are still editing their "skinny repeal" of the Affordable Care Act, but it's changed since yesterday to include slightly more than the law's mandates but no repeal of the law's industry taxes, per two senior GOP aides.

Here's what's now in it:

Individual mandate repeal
Partial repeal of the employer mandate
A one-year defunding of Planned Parenthood
More money for community health centers
A provision addressing the ACA's 1332 innovation waivers. The Senate replacement bill would have made them much more flexible, allowing ACA regulations like essential health benefits to be waived. It's unclear how much more flexible they'll be under skinny repeal, especially because it remains unclear whether the original expanded waivers complied with budget rules.

What's not in it: A repeal of the ACA's medical device tax.

Caveat: They're still working. Leadership needs to see how much money is available and what members want to do. It's going to be a long day.

The community health centers item is new. I wonder who that bribes? (CNN says the money comes from defunding Planned Parenthood.)

UPDATE "Senate Republicans predict their 'skinny repeal' of Obamacare will never become law if they pass it through their chamber. But their colleagues in the House — and their own leaders — aren't making any promises" [Talking Points Memo]. Good Senate cops pass the bill to a conference committee, where Bad Freedom Caucus cops gut it. "There's no reason to think a conference committee will have any better luck finding a bill that 50 GOP senators and 218 GOP congressmen can support. At that point, there's a real possibility that whatever the Senate passes would be passed into law by desperate House Republicans before the Senate ever gets to touch it again."

"All of the reconciliation bills listed below — those that went to conference committee after being passed in some form by both chambers — were subsequently approved by both chambers, after coming out of the conference committee. Not all of them became law — a few were vetoed by the president — but the vast majority did. Still, successful passage in the past doesn't mean that the same thing will happen this year, with potentially major differences between the two chambers' bills" [FiveThirtyEight].

"Killing Obamacare Softly" [Thomas Edsall, New York Times]. "[T]he Trump administration has conducted a sustained war of attrition designed to inflict fatal damage on Obamacare. This war, often operating below the radar, entails the use of a quintessentially conservative strategy, and the cooperation of Congressional Republicans. In a way, it's pretty simple: You cut the budget, impose debilitating regulations, track the subsequent missteps and then attack the program as a failure." For example:

Most recently, with little fanfare, the Trump administration terminated contracts for health care "in person assisters" in 18 cities, including Chicago, Dallas, Cleveland, Miami and Philadelphia. These "assisters" are personnel trained to guide Obamacare applicants through the multipart A.C.A. enrollment process

Can we agree that a law that requires a whole new job category to explain it to people probably has real problems?

UPDATE Democrat Establishment: There is never a good time to support single payer [Vox]. From The Department of How Stupid Do They Think We Are:

But there's still not much appetite in the party to talk about single-payer right now. Instead, Senate Democrats say their focus has to be on defending the Affordable Care Act. ", but right now we're still fighting the battle of making sure they don't succeed in repealing Obamacare," Sen. Mazie Hirono (D-HI) told me outside the Capitol on Tuesday. "I support single-payer — but in this environment? In this environment?"

Added Sen. Richard Blumenthal (D-CT) in a separate interview: "Single-payer will happen — if you're talking in ."

"It would not be good to spend our time focusing on what happens a few years from now," Sen. Chris Murphy (D-CT) told me on Tuesday when I asked about single-payer. "."

Right! Just like in 2009, when Democrats had control of the the Presidency, the Senate, the House, and Max Baucus wouldn't put single payer advocates on his panel, and had them arrested when they protested!
2020
UPDATE Sounds legit:


Cuomo now announcing that he will allow corporations to sponsor subway stations, much as corporations can sponsor public park upkeep

— Dana Rubinstein (@danarubinstein) July 27, 2017
2018
"We are a million years away from the midterms. A whole lot can–and will–happen between now and then. Most of what will happen is completely out of the control of candidates and the parties–regardless of their best laid plans and messaging strategies. The most important factor in the fate of Democratic candidates in 2018–as well as Republican ones–is the President's approval rating. Popular presidents hold/gain seats (see Clinton 1998 and Bush 2002), while unpopular ones lose them (Bush 2006 and Obama 2010/2014). About the only thing candidates can control is their own campaign and their own message. It really is that simple" [Cook Political Report]. And here's CAP's view on Schumer's "Better Deal": "The strategic imperative for progressives should be reassembling the Obama coalition and re-inspiring African Americans to turn out in the ways they did in 2012, and both of those things are more achievable than changing the minds of people seduced by Trump's nationalistic appeals to racial resentment." Keep digging.

"As of the end of June, 209 Democratic challengers had registered with the FEC and raised at least $5,000. That more than doubled the previous high mark since 2003. In 2009, the Republicans had 78 challengers with at least $5,000. The early GOP challengers in 2009 foreshadowed the party's regaining majority control. The question is whether the same will hold true for the Democrats in 2018" [Brookings]. "The number of challengers at six months is truly remarkable. And the candidates are not simply bunching up in a few primaries…. So the Democrats are putting themselves in a strong position to take advantage of a national tide in their direction, if there is one. This is important. No matter how strong a tide may be nationally, congressional elections are decided in districts. The party riding a wave cannot win in a district unless it puts up a credible candidate. You cannot beat somebody with nobody. Finding a credible candidate has to come first."
2016 Post Mortem
"Bernie Sanders Doesn't Have a Black Problem—He Has a Pundit Problem" [Paste Magazine]. "But the dog whistling that once only suggested that Bernie was anti-black (because his supporters were allegedly mostly white) has blossomed into the explicit accusation that Bernie 'dismissed' black voters and that he is 'bad for blacks.' Given the importance of Sanders' economic message to future of black America, that is an accusation that I have difficulty ignoring." Whoever in the liberal Democrat axis that's paying for this messaging should stop.

"Hillary Clinton's book, 'What Happened,' makes for hilarious R-rated internet" [MarketWatch]. A twitter compilation, where "R-Rated" means some non-family blog appropriate verbiage. At the end: "'In the past, for reasons I try to explain, I've often felt I had to be careful in public, like I was up on a wire without a net,' Clinton says in the book's introduction. 'Now I'm letting my guard down.'" I can hardly wait. What Happened hits the stands on September 12. I can hardly wait.

"Wasserman Schultz kept paying tech expert suspected of stealing House computers" [McClatchy]. "[Imran Awan] was well-paid during his time in Congress. He made $164,000 in 2016 and $170,000 in 2015, according to congressional payroll records."
Trump Transition
"Trump is quietly moving at a furious pace to secure 'the single most important legacy' of his administration" [Business Insider] (and see link immediately below). One of the reasons I wish the press and liberal Democrats would turn the outrage knobs down from 11 is that really important stories like this get lost in the noise. Also: An administration that can set this process in motion so effectively is not "incompetent." Stop that meme.

"Circuit Court Nominees In The Trump Administration: The Latest News And Rumor (Part 1)" [Above the Law]. And part 2.

"The Trump administration and lawmakers will issue "guiding principles" for tax reform on Thursday, Vice President Mike Pence told a business group. Pence told the National Federation of Independent Business that details will continue to be worked out, "but rest assured: we're going to cut taxes, and we're going to cut taxes this year." Top congressional Republicans and Trump administration officials have been meeting for months on a tax overhaul" [MarketWatch].

"Here's Trump's dilemma. His tax reform must be revenue neutral. That's a political imperative: with corporations sitting on trillions of dollars in cash while ordinary Americans are suffering, lowering the average amount of corporate taxation would be unconscionable — and more so if taxes were lowered for the financial sector, which brought on the 2008 crisis and never paid for the economic damage" [Joseph Stiglitz, Project Syndicate]. "Moreover, Senate procedures dictate that to enact tax reform with a simple majority, rather than the three-fifths supermajority required to defeat an almost-certain filibuster by opposition Democrats, the reform must be budget-neutral for 10 years."
Realignment and Legitimacy
UPDATE "Redneck Revolt: The Armed Leftwing Group That Wants to Stamp out Fascism" [Alternet]. "Wooly liberals, they're not. Redneck Revolt is a nationwide organization of armed political activists from rural, working-class backgrounds who strive to reclaim the term "redneck" and promote active anti-racism. It is not an exclusively white group, though it does take a special interest in the particular travails of the white poor. The organization's principles are distinctly left-wing: against white supremacy, against capitalism and the nation-state, in support of the marginalized…. Redneck Revolt began in 2009 as an offshoot of the John Brown Gun Club, a firearms training project originally based in Kansas. Dave Strano, one of Redneck Revolt's founding members, had seized upon what he saw as a contradiction in the Tea Party movement, then in its infancy. Many Tea Party activists were fellow working-class people who had endured significant hardships as a result of the 2008 economic crisis which, in his eyes, had been caused by the very wealthy. And yet, Tea Partiers were now flocking in great numbers to rallies funded by the 1%." This is such an enormous country, with so much going on beyond the Acela Corridor…

"[T]here is ample cause to scrutinise Mr Trump's history of business dealings with Russian counterparts…. The further Mr Mueller progresses, the more Mr Trump panics. His reactions betray his motives. No reasonable observer could conclude that Mr Trump is willing to open his books. Having refused to release his tax returns, he risks a constitutional crisis to stop US law enforcement officers from looking into his business dealings. The two are obviously connected. Sooner or later, serious investigators end up following the money. Mr Mueller is nothing if not thorough. Mr Trump is nothing if not ruthless" [Ed Luce, Financial Times].

"Our Revolution, the group that grew out of Bernie Sanders's presidential campaign, along with the National Nurses Union, Fight for 15, People's Action, and others launched the "Summer for Progress," an activist push to get at least half of the Democratic House caucus to endorse the "People's Platform," another stab at an economic agenda for Democrats [besides Chuck Schumer's "Better Deal"]. The contrast between the two documents reveals the both the scope and the limits of the new Democratic consensus" [Robert Borosage, The Nation]. "Many popular progressive policies that are not in the "Better Deal" can be found in the "People's Platform"—like Medicare for all, tuition-free public college for those with family incomes under $125,000 a year, and a financial speculation tax to help pay for it. One helpful feature of the People's Platform is that the proposals are attached to a real piece of legislation that has already been introduced, or will be soon. The People's Platform includes other reforms that are outside the boundaries of the leadership's document, including automatic voter registration, elimination of private prisons (Justice is Not for Sale Act), and protection of equal access to abortion in public and private health insurance (the Each Woman Act)…. The People's Platform lacks the "Better Deal"'s initiative on monopoly and antitrust, however. Many of its authors would have surely supported it, but it didn't make it into the document."

"The Real Civil War in the Democratic Party" [New York Times]. "As Democrats try to unite around their new "Better Deal" agenda, the supposed battle between the "socialist" left and the "corporatist" center seems to have collapsed into a bland but serviceable slogan, with a reasonably progressive economic agenda that both Senators Elizabeth Warren and Charles Schumer can get behind. So much for that overhyped party civil war." Ha ha. See above. But more: "I did find one area of notable discord between Clinton and Sanders supporters — their degree of disaffection with political institutions. Support for the political system correlated with positive feelings toward Mrs. Clinton, while voters who felt negatively toward the political system tended to feel positively toward Mr. Sanders… What if, instead of spending billions on consultants, TV ads and mailers engineered to stoke zero-sum partisanship, party leaders and affiliated funders invested in increasing the paid staff of local party organizations, and then sought their input and advice?"
Stats Watch
Chicago Fed National Activity Index, June 2017: "Production made for a roughly as expected 0.13 point gain in the national activity index for June, helping to offset a downwardly revised 0.30 fall in May" [Econoday]. " The 3-month average best distills the overall direction of the economy right now, rising but only very modestly by 0.06." And but: "The report sounds strong on the surface, but the ratio of improving to deteriorating might still signal some slack to some readers" [247 Wall Street]. "All four broad categories of indicators that make up the index posted improvements from May, and the three production-related indicators led the way to the monthly recovery. Of Thursday's report, 40 of the 85 individual indicators made positive contributions to the index in June, and 45 individual indicators made negative contributions. Of the 85 in all, 56 individual indicators showed an improvement and 28 deteriorated from May to June (with just one unchanged). Of the indicators that improved, 21 made negative contributions."
Chemical Activity Barometer, July 2017: "The Chemical Activity Barometer (CAB), a leading economic indicator created by the American Chemistry Council (ACC), ticked up 0.1 percent in July following a flat reading in June and a 0.2 percent gain in May. Gains during the second quarter averaged 0.2 percent following average gains of 0.5 percent during the first quarter. Compared to a year earlier, the CAB is up 3.6 percent year-over-year, an easing from recent year-over-year gains" [American Chemistry Council].
Durable Goods Orders, June 2017: "when excluding transportation equipment that includes a 131 percent surge in civilian aircraft, orders could manage only a 0.2 percent gain which is below the 0.4 percent consensus and just making the low estimate" [Econoday]. "core capital goods [are] moving back into the negative column at minus 0.1 percent. Other areas of weakness include motor vehicles which have been suffering and where the June decline is a sizable 0.6 percent…. But for forward momentum, the weakness in June doesn't point to building strength for July. Durable orders have not been consistently strong this year though there are more favorable aspects to today's report than unfavorable with the second-half outlook for the up-and-down factory sector now a bit more upbeat." And: "Civilian aircraft were the main headwind this month. If one removes aircraft – this is a soft report. This series has wide swings monthly so our primary metric is the unadjusted three month rolling average which improved" [Econintersect].
International Trade in Goods, June 2017: "Net exports in second-quarter GDP look to get a break as June's goods deficit is a smaller-than-expected $63.9 billion vs expectations for $65.0 billion" [Econoday]. "Exports surged 1.4 percent in June led by food products but also including a big gain for capital goods exports and also vehicle exports. Imports of goods fell 0.4 percent with sizable declines for industrial supplies and consumer goods…. The burst in exports is a positive not only for GDP but for a factory sector which, as reflected by this morning's durables report, is still mixed but looking better."
Retail Inventories [Advance], June 2017: "Retail inventories will be adding to second-quarter GDP, rising 0.6 percent in both June and May. Rising inventories are a plus for GDP but a challenge for retailers where sales have been flat and suggest that the inventory build may be unwanted" [Econoday].
Wholesale Inventories [Advance], June 2017: "Wholesale inventories in June are a plus for second-quarter GDP, rising a sizable 0.6 percent following May's revised 0.4 percent build" [Econoday].
Bloomberg Consumer Comfort Index, week of July 23, 2017: "The consumer comfort index has been unusually bumpy, rising 1 point in the July 23 week to a 48.6 level that is now safely above the 9-month low of 47.0 that was hit back in the July 9 week" [Econoday]. "Readings on consumer spirits all show optimism but have been mixed including this report and a falling consumer sentiment report that is offset by outstanding strength in the consumer confidence report." So the surveys don't match the data any more, and contradict each other, too?
Kansas City Fed Manufacturing Index, July 2017: "Manufacturers in the Kansas City region are reporting strong conditions" [Econoday]. "New orders are also at 10 and are being fed by domestic orders as export orders remain weak, at minus 2 in July. Total backlog orders are also weak at minus 1 following June's minus 6. But most other indications are solid with employment at a very strong 15 for a second straight month and with both inventories rising and delivery times slowing." And: "The Kansas City region was hit hard by the sharp decline in oil prices, but activity started expanding last year when oil prices increased. Now growth is moderate with oil prices mostly moving sideways" [Calculated Risk].
Jobless Claims, week of July 22, 2017: "The outsized 14,000 decline in the prior week is reversed by an outsized 10,000 rise in the July 22 week for initial jobless claims which, at 244,000, came in 4,000 higher than the Econoday consensus" [Econoday].
Housing: "California homeowners are getting older and taking homes into the grave. Property turnover has fallen substantially since 2000" [Dr. Housing Bubble]. "The Taco Tuesday baby boomer crowd is dominating the ranks of homeowners. This trend is new and because of key items like Prop 13 and Millennials living with parents, very few homes are turning over. The first time home buyer in California is simply getting older and older contrary to the house humping cheerleaders talking about the days of "sucking it up" and having to save to buy a home. Of course many were not contending with hot global money, limited inventory, artificially low interest rates, and a delusion of crap shack grandeur. " See this handy chart: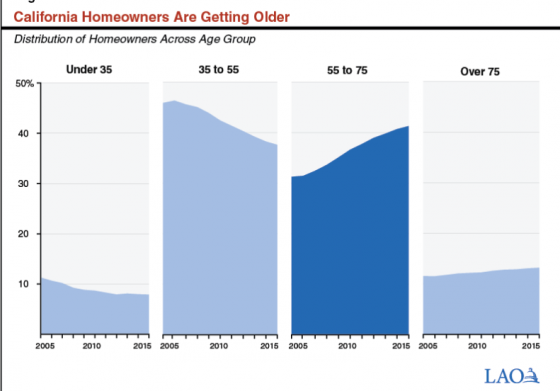 Retail: "Amazon increased the number of apparel and accessory products on its site by 87 percent last year and its apparel sales reached $16.3 billion, according to an Internet Retailer report. What's more, Amazon will add $50 billion in apparel sales in the next five years" [Sourcing Journal].
Supply Chain: "Another example of Amazon's innovation machine: more jobs" [Logistics Management]. Who wrote that headline? Marty Baron? More: "Amazon is hiring for tens of thousands of full-time opportunities at its fulfillment centers across the U.S. for employees who will pick, pack and ship customer orders. More than 10,000 of these opportunities will be part-time jobs at the company's sortation centers throughout the US. These positions will sort and consolidate customer packages to enable superfast shipping speeds and Sunday delivery for customers. Part-time positions offer flexibility for individuals looking to earn money during windows of availability in their schedules. Employees who work more than 20 hours per week receive benefits, including life and disability insurance, dental and vision insurance with premiums paid in full by Amazon, and medical insurance."
The Bezzle: "As the world grows more connected, freight does too. The first stop, according to many of the experts, is truly global sales, with technology bridging language and legal obstacles. It also means better connectivity, with IOT ' real-time network integration across the ,' according to AllCargo's chief digital officer Amol Patel" (allow me to helpfully underline the bullshit tells) [Splash 247]. "But as digital transformation extends beyond internal IT systems, it will require partner and customer integration. As Troels Stovring, Twill Logistics (Damco) CEO says, 'Ports will start connecting and sharing, containers will start getting tracking devices, truckers will have a standard to share real-time tracking features.'" The globalist elite's utopian dream… And speaking of IoT "driving" "seamless real-time network integration across the ecosystem players":
a nice bedtime tale

of a coffee machine

TAKING DOWN A CHEMICAL FACTORY'S NETWORK

?https://t.co/Z3JOYGieP9 pic.twitter.com/jirAlqWR7D

— Internet of Shit (@internetofshit) July 24, 2017
The Bezzle: "Autonomous trucks could spell the end for railroads' intermodal cost advantages. But the jury on self-driving vehicles is still out" [DC Velocity]. "For any number of reasons, the image of driverless trucks rumbling down the nation's highways doesn't sit well with many folks. For the nation's railroads, whose intermodal operations do battle each day with truckers for shipper dollars, the notion of autonomous vehicles could be well nigh intolerable…." More: "The use of an autonomous vehicle with no driver—known in federal safety lingo as a "Level 5" operation—is years away, if it ever happens at all. A more feasible near-term scenario is the adoption of a "Level 3″ threshold, where a driver turns over control of a vehicle but remains ready to take over its operation should problems with the system arise. Or it could be something less technologically daring such as a driver-assisted platoon system where trucks travel in close formation and communicate electronically to coordinate vehicle speed and braking, technology that platoon supporters say will reduce drag and save fuel. As it is tentatively envisioned today, platoons would assemble near a highway on-ramp for the tandem move and then disengage at pre-arranged exits for the vehicles to deliver locally. Marc Althen, president of Reading, Pa.-based third-party logistics service provider Penske Logistics, reckons platooning could become a reality within two to three years." Very interesting article.
The Bezzle: "The Drone Company That Fell to Earth" [Wired]. "The story of Lily [Drones] is about two ambitious college students with smarts and personality who wanted to change the world—or at least photography. But they didn't have the right tools, and didn't listen to those who did."
The Bezzle: Various bitcoin tree and graph structures over time [Map of Coins].
Earnings: "Beyond cutting spending and selling more expensive ads, Facebook must start finding revenue from its younger properties to offset any slowing growth in the core social network, as it may be doing already with Instagram. Facebook's earnings call was dominated by analyst questions about how and when the social media giant will see revenue from its other properties, especially its messaging apps, Facebook Messenger and WhatsApp" [MarketWatch]. "Chief Executive Mark Zuckerberg and Chief Operating Officer Sheryl Sandberg both pointed out that it will be a few years before the company starts to see real revenue from those properties."
Earnings: "The social-media platform reported second-quarter earnings Tuesday morning, beating earnings and revenue expectations, but it was their user numbers that disappointed, as Twitter reported 328 million monthly active users, the same number as last quarter. Additionally, it reported 12% year-over-year growth in daily active users, which is less than the 14% increase it reported in the prior quarter" [MarketWatch].
Earnings: " In another first since the crisis, Citi's market price finally inched past its book value, making it the last of the major banks to do so" [DealBreaker].
The Fed: "Following its latest policy meeting, the Federal Reserve Open Market Committee (FOMC) left interest rates unchanged with the Fed Funds rate still in the 1.00-1.25% range" [Economic Calendar]. "There was a unanimous 9-0 vote for the decision which was also in line with market expectations with no significant expectations that the Fed could decide to lift interest rates once again."
The Fed: "FOMC Snoozefest" (chart) [Tim Duy's Fedwatch]. "[P]ay attention to the '12-month' language that first appeared in the May statement. Pay close attention. They Fed is telling us to stop paying attention to all those year-over-year inflation charts we like to make. They have accepted that level effects from inflation shortfalls in the first half of this year will live in the year-over-year numbers until next year. Pay attention to the path of the month-over-month numbers."
Five Horsemen: "Facebook soars off the chart on earnings news, as Bezos of Amazon becomes the richest person on the planet" [Hat tip, Jim Haygood].
Today's Fear & Greed Index: 80 Extreme Greed (previous close: 81, Extreme Greed) [CNN]. One week ago: 74 (Greed). (0 is Extreme Fear; 100 is Extreme Greed. Last updated Jul 26 at 12:21pm.
Gaia
"News Feature: Can animal culture drive evolution?" [Proceedings of the National Academy of Science]. "Animal populations essentially have two streams of information, genetic and cultural, explains ecologist and whale researcher Hal Whitehead of Dalhousie University in Canada. In the case of the cultural stream, he says, "things are being learned, sometimes from the mother, possibly from the father, as well as from peers and unrelated adults." Whitehead and others want to understand how these streams interact. Lactose tolerance in humans is a classic example. Studies suggest that adult production of lactase—the enzyme necessary for digesting the sugar lactose in milk—coevolved with the cultural practice of dairy farming in Europe in the last 10,000 years."
"Supreme Court quashes seismic testing in Nunavut, but gives green light to Enbridge pipeline" [CBC]. Because Enbridge conducted its process with with indigenous groups appropriately, it seems.
Class Warfare
"This regime, in which corporate executives have essentially been granted immunity, is relatively new. After the savings-and-loan crisis of the nineteen-eighties, prosecutors convicted nearly nine hundred people, and the chief executives of several banks went to jail. When Rudy Giuliani was the top federal prosecutor in the Southern District of New York, he liked to march financiers off the trading floor in handcuffs. If the rules applied to mobsters like Fat Tony Salerno, Giuliani once observed, they should apply "to big shots at Goldman Sachs, too." As recently as 2006, when Enron imploded, such titans as Jeffrey Skilling and Kenneth Lay were convicted of conspiracy and fraud" [The New Yorker].
"Something has changed in the past decade, however, and federal prosecutions of white-collar crime are now at a twenty-year low." Thanks, Obama!
"This Is the Way the College 'Bubble' Ends" [The Atlantic]. "The higher-education market is not bursting, like a popped soap bubble; but it is leaking, like a pierced balloon. What's going on? The explanation is a little bit of weak demand, a little bit of over-supply, a big crackdown on for-profit colleges, and, perhaps, a subtle shift in culture." Leaving behind a massive debt overhang…
News of the Wired
"Doing Mathematics Differently" [Inference Review]. I can't even see the author's dust on this, but some NC readers may discuss and enjoy!
* * *
Readers, feel free to contact me at lambert [UNDERSCORE] strether [DOT] corrente [AT] yahoo [DOT] com, with (a) links, and even better (b) sources I should curate regularly, (c) how to send me a check if you are allegic to PayPal, and (d) to find out how to send me images of plants. Vegetables are fine! Fungi are deemed to be honorary plants! If you want your handle to appear as a credit, please put it in the subject line. Otherwise, I will anonymize by using your initials. See the previous Water Cooler (with plant) here. Today's plant (b1whois):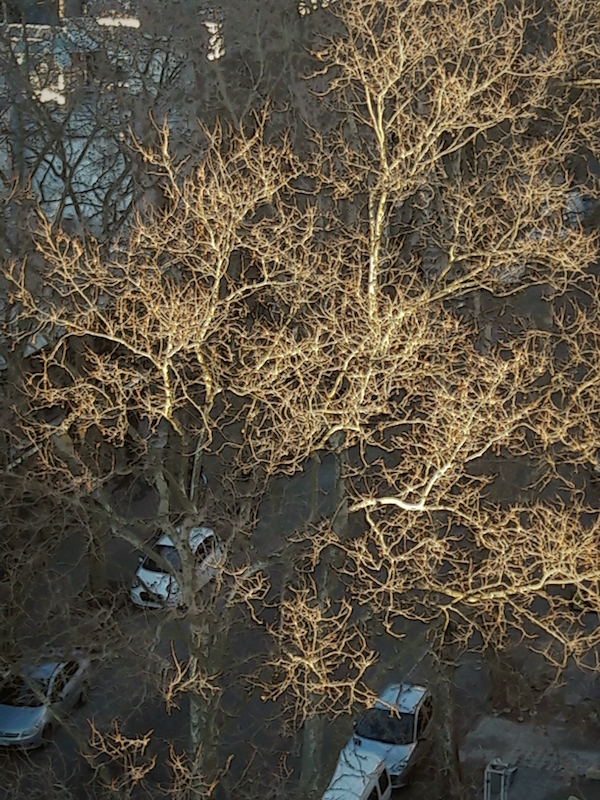 b1whois writes: "This picture taken from my 10th floor Airbnb in the city of Montevideo, Uruguay shows bare trees, which perfectly communicates the intense cold this week. Even though the temperature is only in the 40s, it is a wet (read saturated) and windy cold. Piercing to the bone: a bone which feels as bare as these trees."
* * *
Readers, Water Cooler is a standalone entity, not supported by the Naked Capitalism fundraisers. Please use the dropdown to choose your contribution, and then click the hat! Your tip will be welcome today, and indeed any day. Water Cooler will not exist without your continued help.