By Lambert Strether of Corrente
Readers, I'm going to add some more UPDATEs; I'm still catching up on health care. –lambert P.S. Done, 3:01PM.
Trade
"Amid resistance, Trump backs away from controversial trade plan" [WaPo]. "President Trump said Tuesday that his administration is delaying a long-awaited verdict on whether to restrict imports of foreign steel, again punting on a decision that has divided U.S. industries and his own administration, as well as strained ties with some of the country's closest allies and trading partners. '[W]e're waiting till we get everything finished up between health care and taxes and maybe even infrastructure," the president told the Wall Street Journal.'"
"Canadian Prime Minister Justin Trudeau, setting up a dispute with the U.S., says it is "absolutely essential" a revised North American trade pact includes a dispute-resolution panel" [Wall Street Journal].
Politics
Health Care
"Senate Republicans need to aim for the 'lowest common denominator' to keep the Obamacare repeal and replacement drive alive, Health and Human Services Secretary Tom Price told CNBC on Wednesday" [CNBC]. "'What gets us to 50 votes so that we can move forward on a health-care reform legislation … that's what needs to happen. And that status quo isn't working out for folks out there in the real world,' he said on 'Squawk Box.'" I guess we have to pass the bill to know what's in it..

"The Senate's Health Care Travesty" [Editorial, New York Times]. "That committee would hash out a compromise behind closed doors, sending whatever it comes up with to both chambers, which would then vote with limited public debate and no opportunity for amendments. This is far less transparent than the process that produced the A.C.A. and that the Republicans have been complaining about for seven years." Tellingly, the Times leads with process issues. Adding, maybe if the Democrats had been as ruthless with process in 2009, we would have gotten a better bill? The sooner liberals stop whinging about norms violations, the better, so far as I'm concerned.

UPDATE "Who Knew Senate Health Bill Debate Could Be So Complicated?" [Kaiser Health News]. On the "vote-a-rama" (the orgy of amendments that culminates with McConnell doing whatever he's going to do, in the final amendment): "According a report by the Congressional Research Service (a nonpartisan research group that provides background briefs to Congress), the Budget Act, which sets the reconciliation rules, 'requires that all amendments be germane to the provisions in the bill.' What does that mean? Says CRS, 'amendments cannot be used to introduce new subjects or expand the scope of the bill.'" So I suppose an amendment that struck all the text of whatever bill is on the floor and replaced it with single payer would expand the "scope," and hence not be germane? Then again, why play Mr. Nice Guy?

UPDATE "Boehner predicts Republicans will 'never' repeal and replace Obamacare" [WaPo]. "'When it's all said and done, you're not going to have an employer mandate anymore, you're not going to have the individual mandate,' Boehner said. 'The Medicaid expansion will be there. The governors will have more control over their Medicaid populations and how to get them care, and a lot of Obamacare taxes will probably go.'"

* * *

"Rep. Mo Brooks, a Republican running in a special Senate election in Alabama, said he will not vote to keep Sen. Mitch McConnell of Kentucky as majority leader if he wins the race" [Wall Street Journal]. Hmm.

Murkowski via:

MURKOWSKI responds to Trump's tweet in interview w/ @kasie: "I am in an position where I'm not looking to a reelection until 2022…" pic.twitter.com/QJ6ypcEyRX

— Frank Thorp V (@frankthorp) July 26, 2017
2020
"New York Subway Failures Begin to Cost Cuomo Politically" [Bloomberg]. And so they ought to.
Trump Transition
"Questions and answers on Trump's transgender military ban" [MarketWatch]. I'll have more to say on this in due course, but for now, let me say that on a personal basis, I'm far more comfortable in a culture with 15 genders, three legally recognized, like Thailand's (handy chart).

Lambert here, speaking for Lambert: As readers know, I view anything that takes the focus away from universal concrete material benefits, especially for the working class, as a distraction.* (Another way of saying that is that my concept of justice includes ideas like avoiding tens of thousands of excess working class "deaths from despair" yearly. A third way of saying this is asking "Are we really saying that Medicare for All, tuition-free college, a Post Office bank, a Jobs Guarantee, and a Debt Jubilee — just spitballing here — wouldn't benefit [The Identity of Your Choice]?") And so, repellent though Trump's remarks are, building as they do on the stellar work of the reactionaries in charge of the North Carolina Republican Party, they are a distraction, and the liberal Democrat reaction to Trump poking them in the eye with a sharp stick, is an equal and opposite distraction (since they have no positive message to deliver, the "Better Deal" not, apparently, having the firepower to be deployed as a defense). And so we see how liberals and conservatives "work together" against the left. (Republican Establishment figures doing the right thing on this issue also cements Trump's image as an insurgent figure, so this isn't necessarily a stupid move on his part, politically.)

* On reflection, though distraction is the right word for the political effect in our bipolar liberal/conservative, it would be better to frame them as "tasks" within the larger, "universal" left project.

"'Sounds like cowardice': Chelsea Manning reacts to Trump transgender military ban" [McClatchy]. She's right!
Realignment and Legitimacy
UPDATE "The Democrat tax-credits for job training idea… is so face-palmingly dumb that it's almost impossible to believe they made the cut. This idea has been popular with Democratic and Republican politicians since the Reagan years, despite a wealth of evidence that this doesn't work" [Boing Boing]. So much for that aspect of Schumer's "Better Deal." (I keep thinking that for the liberal Democrat leadership, it's more like Baah-ter, Baah-ter, Baah-ter… (And no comments about "sheeple," please; I said leadership.)

News from Cuomo territory:

"Progressives push to change bylaws at Democratic meeting" [Politico]. "[Sanders supporter] Kelleigh McKenzie, a committee member from the Hudson Valley who was elected last year, has proposed five amendments to the committee's bylaws that would decrease the influence of elected party leaders over its executive committee and require more input over hiring the party's executive director." A keen observer comments (paraphrasing): Two minor rules passed. The leadership will almost certainly fight the remaining three changes in October. There was clearly significant (dare I say "pained"?) effort perform "unity" and play nice. On the floor, there was a lot of support for the changes, even among those who did not support Sanders.

"Teachout gets seat on Cuomo's Democratic State Committee" [Politico]. "The post is not particularly powerful or prestigious. But it's a step back into electoral politics for Teachout — who harnessed progressive Democrats and Cuomo antagonists three years ago — onto the governor's own turf."

* * *

UPDATE "[O]ne must understand Wisconsin, a so-called purple state with a stark urban/rural divide, if one is to understand the national rage that swept Trump into the White House" [In These Times]. Two books on Wisconsin: Amy Goldstein Janesville, and Katherine J. Cramer's The Politics of Resentment. This:

Goldstein's straightforward narrative gives the lie to a beloved neoliberal bromide: that a person's hard work—no matter the shape or structure of the economy—will guarantee a tolerable standard of living. Lose your job? Get new training. No jobs in your town? Move to another one. When the market self-corrects, the argument goes, workers must self-correct along with it, retraining for new jobs in an ever—changing economy. But what Goldstein's book captures is the limits of these individual self-corrections: Without a broader social safety net, the citizens of Janesville struggle to stay afloat no matter what type of skills they acquire.

Of course, "social safety net" is itself one of those neoliberal mind-[family blog]s: Why should life be like a tight-rope, anyhow? More:

Goldstein doesn't editorialize, but the stories she relates inescapably support the left's conclusion that charity and worker retraining are no real substitutes for the redistribution of wealth. The people in towns like Janesville need a stronger welfare state: Policies like single-payer health care, a higher minimum wage, and some combination of a universal basic income and a federal jobs guarantee would stretch a safety net over the abyss.

There's plenty more in this perceptive article; and no, working class people don't hate unions (because they know unions deliver concrete material benefits). Well worth a read.
Stats Watch
MBA Mortgage Applications, week of July 21, 2017: "Purchase applications for home mortgages fell a seasonally adjusted 2 percent to the lowest level" [Econoday]. "Applications for refinancing rose 3 percent as homeowners took advantage of a drop in interest rates. Despite the week's decline, purchase applications were 8 percent higher than in the same week a year ago."
New Home Sales, June 2017: "New home sales are steady near the best levels of the expansion" [Econoday]. "New home sales at least didn't move backwards as did Monday's existing home sales data. Low mortgage rates and high levels of employment are important positives for the sector which, despite up-and-down readings since the Spring, is still a positive force for the economy." Makes me wonder if there's a conversion formula between new home sales and their substitute, home improvement (where sales are up, we see below in Retail). But: "This month the backward revisions were moderately down, and the rolling averages significantly declined. Because of weather and other factors, the rolling averages are the way to view this series – and the rolling averages are at the lower levels seen since the beginning of 2016" [Econintersect].
New Home Sales: "Following the housing bubble and bust, the 'distressing gap' appeared mostly because of distressed sales. The gap has persisted even though distressed sales are down significantly, since new home builders focused on more expensive homes" [Calculated Risk]. Handy chart: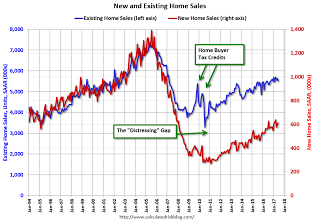 "I expect existing home sales to move more sideways, and I expect this gap to slowly close, mostly from an increase in new home sales. However, this assumes that the builders will offer some smaller, less expensive homes. If not, then the gap will persist."
Consumer Confidence (yesterday): "Consumer confidence (soft data) up for the month but retail sales (hard data) continue to decelerate" [Mosler Economics]. Handy chart: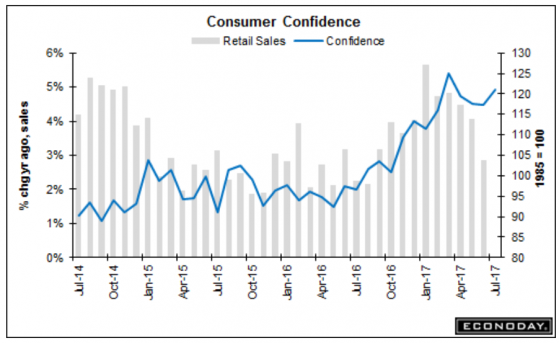 Survey vs data again, one of the many unacknowledged scandals of our times….
Retail: "Americans Pour Record Sums Into Home Improvements" [Wall Street Journal]. "A shortage of new single-family homes across the U.S. is pushing up prices and locking many buyers out of the market. The silver lining: a boom in renovations of existing homes."
Shipping: "Container shipping's consolidation is 'creating an oligopoly'" [Lloyd's Loading List]. "Speaking in a webinar yesterday, Philip Damas, director of Drewry's Supply Chain Advisors, said the bankruptcy of Hanjin last year and frantic liner merger and acquisition (M&A) activity in the last few years constituted a fundamental structural shift in the carrier base and the competitive forces in container shipping. Most noticeably, he said, this was evident in . This restructure would force shippers and suppliers to look for new strategies when doing business with shipping lines, and help lines manage excess supply and, potentially, prices in the coming years. 'This is a significant decrease in the number of global carriers,' said Damas. 'And this, we suggest, will have deep repercussions on the entire industry – on shippers, on suppliers, shipyards and also on the level of competition between the carriers, because .' 'This will give carriers much more control than they have had in the past." Martin Dixon, director of research products at Drewry, said[:] 'We're forecasting that rates will rise on average by 16% this year – this is on average across all the different trade routes, head-haul and back-haul, east-west and north-south. So it's quite an unprecedented rise in overall rates.'"
Supply Chain: "Supply chain sector faces potential 'global talent crisis'" [Lloyd's Loading List]. "Highlighting the sector's high recruitment demands in the years to come, Harrington quoted a global study that estimates that demand for supply chain professionals exceeds supply by a ratio of six to one. She said the situation is exacerbated by the exodus of baby boomers from the workforce, up to one-third of the current supply chain workforce being at or beyond retirement age, with the backfill pipeline inadequate to satisfy replenishment demand."
Supply Chain: "In its report, Alix Partners noted how 'whether it is making an acquisition, striking a big trade deal with a major brand, or introducing a new product or service, Amazon will never stop innovating or taking risks. Amazon's assortment and growing list of offerings continue to attract new customers, and its massive infrastructure helps it execute with speed and precision. And . Investors are betting on an Amazon future, and customers now expect the services that Amazon pioneered from all their retailers, not just Amazon'" [Logistics Management]. Hmm. It's almost as if Amazon's price is being driven by a utopian, totalizing dream…
Supply Chain: "President Donald Trump is pledging big changes in Apple Inc.' supply chain —'big, big, big' changes. The president told The Wall Street Journal in an interview that Apple Chief Executive Tim Cook has committed to build three big plants in the U.S…. a dramatic upgrade on Apple's plan for U.S. work that would help fulfill his administration's economic goal of reviving American manufacturing. Mr. Trump said Mr. Cook promised him Apple would build 'three big plants, beautiful plants,' but he wouldn't elaborate on where and when those factories would be built" [Wall Street Journal]. "Apple, which declined to comment, has said it would create a $1 billion fund to invest in U.S. companies that do advanced manufacturing. Apple now depends on contract manufacturing, most of it in China and a small share at three sites in the U.S. In the interview, Mr. Trump said people in states without jobs will have to move to states like Wisconsin, Iowa and Colorado that are adding 'these massive plants.'" The JFK-style jawboning didn't work out well with Carrier, so we'll see how this works out with Apple. Go long American-made suicide nets, I suppose…
Supply Chain: "The Low Pay Commission founding member tasked with enforcing workers' rights has pledged to jail rogue bosses and investigate failing industries as part of the government's latest response to workplace scandals uncovered at companies including Sports Direct" [Guardian]. "Other areas under consideration include examining how supply chains as a whole can be made to adhere more rigorously to employment laws, perhaps by mirroring rules in the US where top brands can be made jointly liable for infringements further down the supply chain, including by recruitment agencies, even if they did not directly employ the workers."
Energy: "Batteries and renewables to start displacing gas in South Australia by 2025" [Mining.com]. "By 2025, wind, solar and battery costs will fall by 15%, 25% and 50% respectively. By then, renewables and batteries could offer a lower cost alternative to combined-cycle gas turbine plants, which are commonly used to manage base load power generation in South Australia." (There seem to be a number of battery wall projects in Australia, not just Tesla's.)
The Bezzle: "Blue Apron Shocks Market By Going Almost A Whole Month Before Executive Shakeup" [DealBreaker]. "Lock up your CFO, Blue Apron, these things happen in patterns."
The Bezzle: "Seventeen years after billions of dollars followed the Pied Piper of dot-com over the cliff, the cycle appears poised to repeat. Only this time, the target is the freight brokerage business" [DC Velocity]. "Money has a short memory. Seventeen years after billions followed the Pied Piper of dot-com over the cliff, the cycle appears poised to repeat, only this time it's tied to the dubious quest to disrupt freight brokerage. Nary a week goes by that we don't run one or more stories of logistics IT startups landing significant capital with the mission to bring brokerage to heel using the latest digital tools. … There is room for IT innovation in brokerage, and we don't doubt that a handful of startups will endure and flourish. But we're old enough to have lived through the past, and we see it pretty much as prologue to what lies ahead." And why doesn't Uber offer services from Ladies of Negotiable Affection directly, instead of through the driver? Surely there's an app for that?
The Bezzle: "All the signs Silicon Valley isn't nearly as awesome as it thinks it is" [Moneyish]. Read for the stats, but I found this quote interesting:
And for some — like Ryan Farley, the co-founder or [sic] — shunning Silicon Valley in favor of Austin was about avoiding the culture there. "I wanted to live in a tech hub, but I didn't want tech to dominate my whole life. When I visit the Valley, nearly every conversation revolves around topics such as the hottest consumer app, which startup got funded, or what the latest and greatest programming framework is," he tells Moneyish. "It's a bit of an echo chamber."
So what the heck is "Lawn Starter," you may ask? (Leaving aside the issue of whether lawns should be started, or eliminated?) Just what you might think: "LawnStarter helps consumers find, schedule and manage lawn care services" (I'm not going to link to the PR drivel masquerading as a blog post on their site.) It's just like Uber going into the taxi business. Or the grilled cheese start-up. Where's the margin? How are these technical? What is it with Silicon Valley stupid money, anyhow?
The Bezzle: "Officials arrest suspect in $4 billion Bitcoin money laundering scheme" [Ars Technica]. "Police in Greece have arrested a man wanted in the United States for allegedly running a massive Bitcoin-based money laundering operation, according to the Associated Press. Authorities say the 38-year-old Russian man was responsible for converting $4 billion in illicit, conventional cash into virtual currency." $4 billion? That's, er, real money!
The Bezzle (?): "Investors unhappy as Alphabet shells out more to drive traffic" [Reuters]. "Google-parent Alphabet, which has enjoyed revenue growth rate of over 20 percent for the past five quarters, said on Monday that TAC, or traffic acquisition costs, jumped 28 percent to $5.09 billion in the second quarter. That is the highest percentage increase in TAC in nine years and analysts said they expect it to continue to weigh on margins even as the company's fundamentals remain strong. Traffic acquisition costs were 22 percent of advertising revenue in the second quarter. Net ad revenue rose 16 percent, compared with 18 percent last quarter." Google, idea: Make your search engine work, and don't crap up the results page with your ads and those screen real-estate devouring "cards" that I don't want to see or, worse, already know about. A 1995-style list of blue links will do fine, just fine. Simple, fast, informative, respectful of the user, just as the web was designed to be before corporate weasels infested it. harrumph..
Five Horsemen: "Amazon über alles — it's about to bust off the top of the chart" [Hat tip, Jim Haygood].
Today's Fear & Greed Index: 80 Extreme Greed (previous close: 81, Extreme Greed) [CNN]. One week ago: 74 (Greed). (0 is Extreme Fear; 100 is Extreme Greed. Last updated Jul 26 at 12:21pm.
Class Warfare
"3 reasons so many Americans are getting the hell out of the Northeast" [Moneyish]. "[T]he No. 1 financial fear of people who live in the Northeast is that they will have to live in debt forever; the Northeast is the only region of the country that ranked this as No. 1. (The other regions put retirement as their No. 1.) And no wonder they're worried. The cost of living across the region is among the highest in the nation." CoL seems simple-minded to me; surely salaries are much higher, too? I'm filing this here, however, because any seriously — dread word — intersectional class analysis must take geography into account (the difference between, say, a board game and actual warfare).
"n the early 1990s, career advice in the United States changed. A new social philosophy, neoliberalism, was transforming society, including the nIature of employment, and career counsellors and business writers had to respond. The Soviet Union had recently collapsed, and much as communist thinkers had tried to apply Marxist ideas to every aspect of life, triumphant US economic intellectuals raced to implement the ultra-individualist ideals of Friedrich Hayek, Milton Friedman and other members of the Mont Pelerin Society, far and wide. In doing so for work, they developed a metaphor – that every person should think of herself as a business, the CEO of Me, Inc. The metaphor took off, and has had profound implications for how workplaces are run, how people understand their jobs, and how they plan careers, which increasingly revolve around quitting" [Aeon]. "The CEO of Me, Inc is a job-quitter for a good reason – the business world has come to agree with Hayek that market value is the best measure of value. As a consequence, a career means a string of jobs at different companies. So workers respond in kind, thinking about how to shape their career in a world where you can expect so little from employers. In a society where market rules rule, the only way for an employee to know her value is to look for another job and, if she finds one, usually to quit."
News of the Wired
"If you really love your work and want to do a good job at it, the last thing you should do is sacrifice sleep. In the early 2000s, then-groundbreaking research out of Harvard University found that it is during sleep that you retain, consolidate, store, and connect information. In other words, your mind doesn't grow and make leaps when you are at work, but rather when you are at rest" [New York Magazine]. "The world's best musicians, athletes, artists, intellectuals, and entrepreneurs tend to consider rest an essential part of their jobs. They think about rest not as being something that is passive (i.e., nothing is happening, you're wasting time) but rather as being something that is active (i.e., your brain — or if you're an athlete, your body — is growing and getting better), and thus, they're far more liable to respect it." Maybe I should have filed this under Class Warfare; I'm guessing the precariat has a hard time getting enough sleep, ironic when so many precarious jobs are billed as being "creative," or (through flex time) supporting creativity…
* * *
Readers, feel free to contact me at lambert [UNDERSCORE] strether [DOT] corrente [AT] yahoo [DOT] com, with (a) links, and even better (b) sources I should curate regularly, (c) how to send me a check if you are allegic to PayPal, and (d) to find out how to send me images of plants. Vegetables are fine! Fungi are deemed to be honorary plants! If you want your handle to appear as a credit, please put it in the subject line. Otherwise, I will anonymize by using your initials. See the previous Water Cooler (with plant) here. Today's plant (EdL):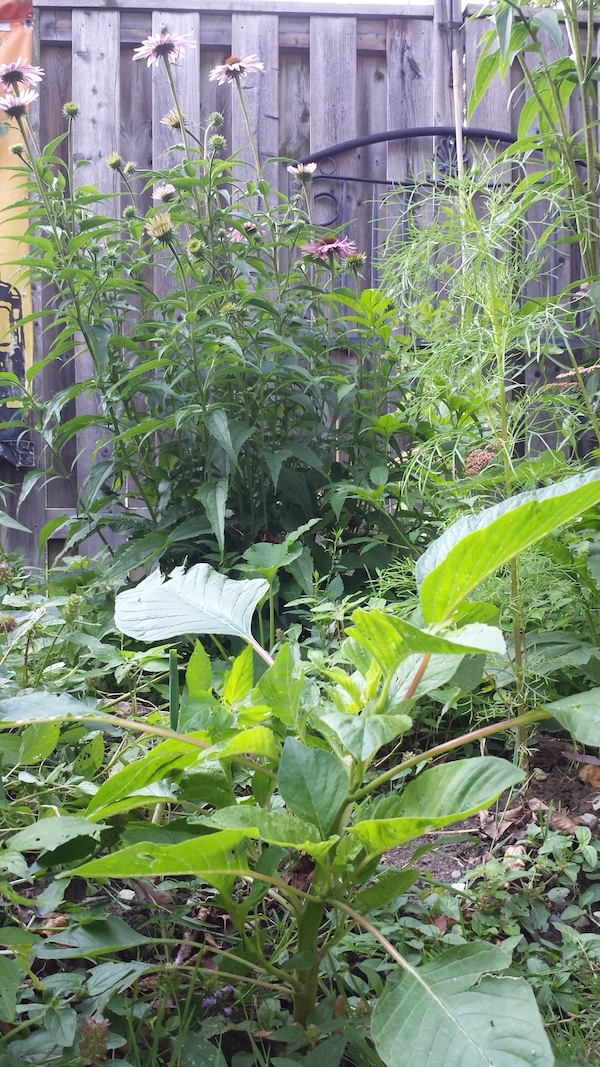 EdL: "In the foreground is a callaloo plant and in the back is a flower that my landlord can't remember the name of." If you've ever wondered what a callaloo plant looks like — it sounds like something out of Jabberwocky — now you know!
* * *
Readers, Water Cooler is a standalone entity, not supported by the Naked Capitalism fundraisers. Please use the dropdown to choose your contribution, and then click the hat! Your tip will be welcome today, and indeed any day. Water Cooler will not exist without your continued help.