By Lambert Strether of Corrente
Readers, I'm going to add a little more but not too much; I've got to do some weeding this sunny afternoon because my "habitat" is totally out of control. –lambert. P.S. 2:45PM All done!
Trade
"Since NAFTA, Mexico has become a country that relies on foreign corn and foreign food. Since growing corn was the basis of the economy, almost all Mexican peasants (except the Indigenous autonomous communities ) are now completely relying on foreign food. They cannot produce their own – it is too expensive" [Counterpunch]. "NAFTA only increased immigration to the United States, activating the U.S. economy with cheap, almost slave labor." As I keep saying, open borders = cheap labor. That's what the policy is for.
"One big problem that hurts U.S. export competitiveness are WTO rules that treat direct and indirect taxes differently, [Terry Stewart, managing partner at the law firm of Stewart and Stewart], said. Every country that runs a significant trade surplus with the United States has significant indirect taxes that are assessed on imports and rebated on exports, putting U.S. goods at a price disadvantage, he said" [Politico]. "Stewart also argued the WTO has inadequate rules for dealing with large state-directed economies like China. In addition, it is unable to fix errors made by its dispute settlement panels or the WTO Appellate Body. Both problems, he said, hurt the United States."
"New protections for American steelmakers will have to wait, thanks to the complicated nature of supply chains and global trade. Commerce Secretary Wilbur Ross told Congress that President Donald Trump's pledge to quickly provide big import tariffs has gotten bogged down in 'complexity,'… [Wall Street Journal]. "The focus on the potential difficulties of imposing new limits on foreign steel highlights how the administration has gotten bogged down in the details of implementing what was originally portrayed as a simple, clear solution to a stark problem of cheap foreign steel. The tariff threat has also displayed the fissures in business, with some manufacturers concerned that their costs would rise while agriculture producers and other exporters worried about retaliation. The European Union has signaled possible new limits on inbound U.S. consumer goods and other nations also could respond. The bigger concern is overproduction in China, but the movement and processing of Chinese steel around the world only adds to the complexity." Politics! And how are we going to produce ginormous defense boondoggles without steel? (Or aluminum… (or semiconductors…))
Politics
2020
Please kill me now (1):

"Generals Love Him. Top Democrats Despise Him. Can He Be President Anyway?" [Politico]. "Every politician, of course, has enemies. But it's [two-term Massachusetts Congressman Seth] Moulton's allies who make him atypical—military leaders like David Petraeus and Stanley McChrystal, experienced political minds like David Gergen. These people look at Moulton and see the face of the future of the Democratic Party, a social progressive who's fiscally more moderate." Oh, great. Socially progressive fiscal moderate counterinsurgency team leaders are the future of the Democrat Party. (To be fair, if another Occupy comes along, that last element in Moulton's toolkit might come in handy.)

Please kill me now (2):

Speaking truth to power sometimes makes people uncomfortable. But it's those moments when we grow as a society.

— Kamala Harris (@KamalaHarris) July 30, 2017

"White House Laying Groundwork for 2018, 2020" [RealClearPolitics].
2018
"How Randy Bryce, the Iron Stache, Plans to Take Down Paul Ryan" [Daily Beast]. "[W]hile Bryce may have more name ID than past opponents, his prior electoral history isn't exactly confidence-inspiring. Bryce has lost his three attempts to seek elected office in the state: a 2012 bid for a state Assembly seat, a 2013 primary for Racine County Board of Education, and a 2014 state Senate race." The Working Families Party has him doing national fundraising (albeit at the $50-a-plate level).

UPDATE "But with a historically large presidential field taking shape, more than a dozen prominent Democrats — including governors like Terry McAuliffe and Steve Bullock, and senators like Cory Booker, Elizabeth Warren and Kamala Harris — have recognized the need to distinguish themselves from the crowd. And they are already working hard to advance their brands while helping to reinvigorate the dilapidated party infrastructure in advance of the midterm elections" [Politico]. Moar strategists. Moar consultants. Ka-ching. Right on cue: "'A major consideration for who the party nominates next is going to be whether they have a commitment to really rebuilding the party from the ground up, and that their commitment is to not just their own election but to bringing the party with them,' said Zac Petkanas, a former senior strategist for the Democratic National Committee and Hillary Clinton. 'It is a way to get some early on among people who are going to be influential in the next nominating contest.'" In other words, walking around money. Why is one of the guys who helped Clinton flush a billion dollars down the toilet of her wretched campaign being quoted as an authority?
Health Care
"It was easy for Republicans to vow to repeal Obamacare when they knew they couldn't actually do it. Now that they have the numbers and the White House, they've learned that not all of them actually want to undo two of the fundamental changes wrought by the act: letting states extend Medicaid to more lower-income people largely at federal taxpayers' expense, and barring insurers from favoring healthy customers over sick ones in the non-group market" [Los Angeles Times]. Once more, with feeling: ObamaCare is the worst possible Republican plan.

"Government-Run Health Care: Democrats' New Litmus Test" [NBC]. "Government-run health care" is the UK's National Health Service, not single payer. (Another way of saying this is that single payer is centrist by world standards.) Note a Republican has the same "confusion": "'This single-payer, it's the gold standard for the Democrats,' said Sen. Steve Daines, R-Mont. 'President Trump, the Republicans, want to make America great again. The Democrats want to make America like England again.'" (Daines is the guy who introduced single payer as an amendment during the Senate health care debacle.) More:

A majority of the Democrats in the House — 115 out of 194 — are now co-sponsors of Conyers' bill, including three members of the moderate Blue Dog caucus. One of them, Rep. Jim Cooper, D-Tenn., is a deficit hawk who prominently withheld support for the 1990s Clinton White House health plan because he worried it was being written by "disappointed single-payer advocates" who "believe the old-time religion that only Canada works."

At a town hall in April, Cooper explained his change of heart.

"I've thought about holding out and not co-sponsoring [Conyer's bill] until they could get some Republicans on board, because I've always been a firm believer that health care needs to be bipartisan," he said. "But I've finally given up that fight…The Declaration of Independence promises us life, liberty and the pursuit of happiness, and you really can't have any of those three unless you have health care."

UPDATE "Centrist lawmakers plot bipartisan health care stabilization bill" [Politico]. "The Problem Solvers caucus, led by Tom Reed (R-N.Y.) and Josh Gottheimer (D-N.J.), is fronting the effort to stabilize the ACA markets, according to multiple sources. But other centrist members, including Rep. Kurt Schrader (D-Ore.), and several other lawmakers from the New Democrat Coalition and the GOP's moderate Tuesday Group are also involved. Their plan focuses on immediately stabilizing the insurance market and then pushing for Obamacare changes that have received bipartisan backing in the past. The most significant proposal is funding for Obamacare's cost-sharing subsidies. Insurers rely on these payments – estimated to be $7 billion this year — to reduce out-of-pocket costs for their poorest Obamacare customers." (The "problem solvers" frame reminds me of the "No Labels" crowd.)
Trump Transition
"Secret donations are helping to boost President Trump's agenda, fights with investigators" [USA Today]. I hate to go "Everybody does it…" but everybody does it, at least in the liberal and conservative trines (as I suppose I must call them, there being, oddly, no equivalent for each of three parts as "quadrant"). And nobody wants to give the left money at all, so that's sorted.

"Anthony Scaramucci Answers Socratic Questions at HLS" [DealBreaker]. My only issue is presenting Louise Mensch fanboi Larry Tribe as some sort of liberal Lycurgus, or at least a voice of sanity.

"Amtrak's $630m Trump budget cut could derail service in 220 US cities" [Guardian]. "But even if the Sunset Limited and other routes survive Trump's axe this time, supporters fear an annual battle to keep unprofitable long-distance train travel alive while lawmakers provide the bare minimum in financial support, causing a slow roll into the sidings: a lack of investment that leads to reduced reliability and declining passenger numbers." This is framed as Trump screwing over his voters in the flyover state, but my reading is that free-market loons always push for this — they, after all, ride the Acela along with the hated liberals — and then Senators from those states put the kibosh on it. Readers?

"The Party Establishment Wing Of Trumpworld Collapses" [FiveThirtyEight]. Eight power centers in the Trump administration (one of which just collapsed). More:

So we knew that Trump would have an unusual administration. But its evolution, at least in its early stages, has been, frankly, kind of weird. Trump is executing a small government and conservative moral values agenda on domestic issues with a skew towards more nationalist policies on race and immigration but a somewhat pro-Russia foreign policy. That is an unusual mix. His chief of staff, press secretary and a deputy chief of staff have already left, and there have been rumors that his attorney general, chief strategist and secretary of state will quit in frustration or be pushed out, all while his daughter and son-in-law occupy secure roles. That too is unprecedented. Trumpworld still has a lot of of competing power centers, and it's still not clear exactly which one dominates.

Sounds rather like the campaign, which fired its way to success. (I grant governing is not campaigning — though I do remember Obots pushing the line that Obama's brilliant 2008 campaign presaged a brilliant Presidency, which quickly morphed into "He's only been President __ months, give him a chance" — but that doesn't mean Trump doesn't think it does.)
Realignment and Legitimacy
"Ep. 22: Race, Class and DSA w/ Adolph Reed, Jr" (podcast) [Dead Pundit Society]. Though lengthy, an excellent listen, and very important:

[Reed is] a prolific commentator on black politics and has been on the socialist left for 50 years, so he's just the man to talk to about the upcoming DSA convention. In particular, we'll be addressing the proposal to establish an autonomous "Afro-socialist and Socialists of Color Caucus." The full resolution can be found here: https://drive.google.com/file/d/0B5P0FbY9YTM-UlVwTzRSTGhQRG8/view

UPDATE Lambert here: Crucial issue for the direction of the DSA, right out of the box. Interestingly, one of the caucus demands is "Endorsement of BYP 100s agenda." The Black Youth Project (BYP) is out of the University of Chicago. I spent a few minutes poking round for funding sources, but while the site is heavy on funding opportunities, it's notably light on documenting funding sources (see e.g. here). But I'm sure they're all amis du peuple. (I'm torn because there's lots of stellar academic work on slavery being produced, for example. That doesn't imply that programs developed by professional academics are appropriate for a political party, any political party.)

UPDATE "During an appearance on Fox News Sunday, host Chris Wallace asked Pelosi to estimate the chances of Democrats winning back the lower chamber in 2018 and whether she would run again for Speaker if they did. 'That's so unimportant. What is important is that we have the lively debate on a better deal,' Pelosi said" [The Hill]. "'Better pay. Better jobs and a better future. And that's what we look forward to having. And we have unity in our party. You saw it with the fight on the Affordable Care Act in the House and in the Senate.'" A "lively debate." Pelosi says, of the "Better Deal": "I don't think people want a new direction… What we want is a better connection of our message to working families in our country." Odious "working families" framing aside MR SUBLIMINAL I feel e-r-a-a-a-a-a-s-e-d! what is the "lively debate" supposed to be about, then? The messaging?

More: "Wallace during the interview also asked Pelosi if Democrats need new leaders, noting that the members of her party's House leadership are all over 75. 'I am a master legislator. I know the budget to the n-th degree. I know the motivation of people,' responded Pelosi, who has faced criticism from some in her party recently." Maybe I should have filed this under Please Kill Me Now.

"Sally Yates: Protect the Justice Department From President Trump" [New York Times]. The way for the Justice Department to protect itself would have been to jail some banksters. Too late for that now.

UPDATE "Who Hacked the Election? Ad Tech did. Through "Fake News," Identify Resolution and Hyper-Personalization" [Medium]. Lots and lots of (literal) connected dots in chart form. Analytically:

scores of highly sophisticated technology providers — mostly US-based companies that specialize in building advanced solutions for audience "identity resolution," content tailoring and personalization, cross-platform targeting, and A/B message testing and optimization — are running the data show behind the worst of these "fake news" sites. scores of highly sophisticated technology providers — mostly US-based companies that specialize in building advanced solutions for audience "identity resolution," content tailoring and personalization, cross-platform targeting, and A/B message testing and optimization — are running the data show behind the worst of these "fake news" sites.

You mean [gasp] the whole "Russki fake news" narrative is a distraction from domestic efforts to manipulate the election? With fake news? Say it's not so!

UPDATE One reaction to McConnell's health care debacle:

Last night proved, once again, that there is no anxiety or sadness or fear you feel right now that cannot be cured by political action.

— Chris Murphy (@ChrisMurphyCT) July 28, 2017

Be careful what you wish for….
Stats Watch
Dallas Fed Mfg Survey, July 2017: "The Dallas Fed rounds out another month of mostly strong regional reports on manufacturing" [Econoday]. "Anecdotal reports on the economy, as they have all year, remain unusually strong and have yet to be matched by equal strength in actual data on the economy."
Chicago Purchasing Managers Index, July 2017: "Chicago's PMI sample reports a very welcome slowing in what still may be unsustainably strong growth. July's index slowed nearly 7 points to 58.9 which is still far past breakeven 50 to indicate very strong monthly growth. New orders, which were above 70 in June, are now at 60.3 which still indicates that a very strong share of the sample is reporting month-to-month gains" [Econoday]. And: "The results of this survey continue to agree with district Federal Reserve manufacturing surveys – and aligns with the overall trend of the ISM manufacturing survey" [Econintersect].
Pending Home Sales, June 2017: "After three straight declines, the pending home sales index posts a gain and a strong one" [Econoday].
Pending sales have fallen for 3 months in a row, correctly telegraphing what has been a soft patch for existing home sales." But: "The rolling averages are in negative territory and did not change month-over-month. The data is very noisy and must be averaged to make sense of the situation. There is no signs of a surge in home sales, and the downward trends remain in play" [Econintersect]. Also: "This was above expectations of a 0.9% increase for this index. Note: Contract signings usually lead sales by about 45 to 60 days, so this would usually be for closed sales in July and August" [Calculated Risk].
Employment Situation: "Historically, when employment growth drops to current levels the party's over?" [Mosler Economics].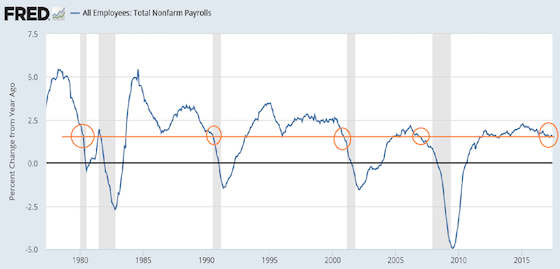 GDP: "GDP Growth Seems to be Normalizing" [Econintersect]. "Concurrent with this report the BEA revised all of their data back through 2014… Although in general the revisions tended to smooth the growth data between adjacent quarters, it is notable that late 2015 and the most recent prior two quarters were revised downward… (by $74 per annum). At the same time the household savings rate was reported to have dropped by -0.1% from a sharp downward revision (-1.2%) to the prior quarter. It is important to keep this line item in perspective: ." And you can bet the pain isn't evenly distributed, either. Thanks, Obama!
Shipping: "The increasing concentration of market share among an emerging 'oligopoly' of major container shipping groups and alliances is already reducing service standards for customers and could drive up freight rates further, according to shipper representatives" [Lloyd's Loading List]. Fabien Bequelin, Maritime policy Manager at European Shippers' Council:
Bequelin was responding to recent reports highlighting the growing power of lines within the container shipping industry, which is due to return to profitability this year on the back of an "unprecedented" 16% estimated increase in average global freight rates, according to Drewry. However, the analyst said pricing was now being supported by oligopolistic behaviour due to recent industry consolidation which has seen the number of global shipping lines fall from 20 to 11 in just two years.

"First are the operational concerns," Bequelin said. "It becomes more and more complicated to organise transport operations with fewer and fewer partners − some are not taking dangerous goods or not serving a precise port, for example.

"Then it is a concern in terms of the mindset of carriers. Unfortunately, where they take decisions for their own interest without considering customers, the interest of the goods, or even any other stakeholders in the chain, which is a big problem."

"When looking at North Europe to Asia and back, we can say that there is no competition − or very little − in the market with so few alliances. The problem is that there is no competition outside the market that could drive the carriers to be customer-minded.

"There is no real alternative in term of capacity available or in terms of price competitiveness. So shippers are forced to use one of the three players in the market.

"Furthermore, if you look into the detail, the market is even worse because many port-to-port pairs are only served by one alliance, so in many cases you don't have any choice."
Sounds like the airline industry….
Rapture Index: Closes down 1 on inflation. "Slow economic growth is putting downward pressure on prices" [Rapture Ready]. Record High, October 10, 2016: 189. Current: 182.
Today's Fear & Greed Index: 72 Greed (previous close: 70, Greed) [CNN]. One week ago: 72 (Greed). (0 is Extreme Fear; 100 is Extreme Greed. Last updated Jul 31 at 12:28pm.
Water
"Court rules Flint residents can sue city, but not Snyder over lead water" [mLive]. "While residents impacted by the water crisis can sue specific state employees and the city of Flint, Snyder and individual state agencies are protected. Judge Jane Stranch, who wrote the opinion, said the 11th Amendment gives the state immunity against damages sought by private citizens."
Class Warfare
"Philly is about to get the 'Uber of restaurant staffing': Introducing Jobletics" [Billy Penn]. " platform offers an on-demand labor force, connecting hospitality companies in need of workers with people in need of work. When restaurants could use an extra hand — whether it's because a regular employee took an unexpected sick day or a big catering job is coming up — they post on the service, which then matches them with a person ready to fill in where needed, either front or back of the house…. "There's a high amount of turnover in our industry," [Peter Hwang, proprietor of Rittenhouse Korean gastropub Southgate] said. "Anywhere we could get competent people at quick notice is probably a good resource. Line cooks are tough [positions to keep filled], so are dishwashers. Even things like hostesses — there's a lot of turnover." "Things"….
"The world's ultra-high net worth population — individuals with $30 million or more in assets — grew by 3.5% to 226,450 individuals in 2016 after a sharp fall a year earlier, according to recent data by global wealth consultancy Wealth-X. Their combined wealth also increased in 2016 by 1.5% to $27 trillion. There were sharp regional fluctuations in dollar-denominated wealth creation last year, with North America (up 5.1%) recording the only significant rise in wealth, followed by Asia (up 3.5%)" [MarketWatch]. "While the number of people with $30 million or more increased last year, billionaires didn't fare so well. Their net worth fell for the first time since the Great Recession, Wealth-X reported. The number of the world's billionaires fell by 3% last year to 2,397. Some 283 people — 10% of total billionaires — lost their billionaire status in 2016, and 207 new billionaires emerged to join the club. Their wealth fell by nearly 4% to $7.4 trillion in wealth last year after rising 5% to $7.7 trillion the previous year…. The biggest concern for the world's superrich was "succession and inheritance issues" (67%), another survey by global real estate consultants Knight Frank found." Hmm. One might ask what a focus on concentration and monopoly power would do about this, if anything, and if anything needs to be done…
"When Jimmy Hoffa Vanished, He Took Union Strength With Him" [JSTOR]. Don't be naive, Kay…
Our Famously Free Press
"Is The New York Times vs. The Washington Post vs. Trump the Last Great Newspaper War?" [Vanity Fair]. Betteridge's Law applies. The deck: "Breaking story after story, two great American newspapers, The New York Times and The Washington Post, are resurgent, with record readerships." No. Russia War Fever and Putin Derangement Syndrome are source driven; in other words, we're looking at a particularly debased form of access journalism. Very little "reporting" is going on at all. That said, you can see the economic benefit a well-placed source, or a cabal of sources, can convey. Ka-ching. This sounds like James Risen's beat. Maybe he can write a tell-all, now that the Times management has defenestated him.
News of the Wired
"A Look into NASA's Coding Philosophy" [Student Voices]. Very interesting, and sheds a whole new light on "government work." Suffice to say that "fail fast" isn't an appropriate management or programming philosophy for, say, launch control system software….
* * *
Readers, feel free to contact me at lambert [UNDERSCORE] strether [DOT] corrente [AT] yahoo [DOT] com, with (a) links, and even better (b) sources I should curate regularly, (c) how to send me a check if you are allegic to PayPal, and (d) to find out how to send me images of plants. Vegetables are fine! Fungi are deemed to be honorary plants! If you want your handle to appear as a credit, please put it in the subject line. Otherwise, I will anonymize by using your initials. See the previous Water Cooler (with plant) here. Today's plant (gee):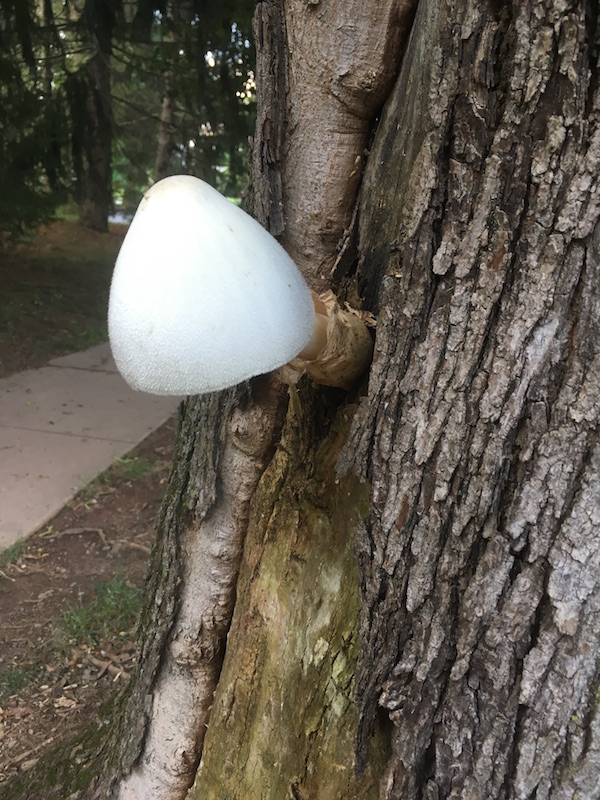 This looks like the sort of photo one would take on one's daily walk….
* * *
Readers, Water Cooler is a standalone entity, not supported by the Naked Capitalism fundraisers. Please use the dropdown to choose your contribution, and then click the hat! Your tip will be welcome today, and indeed any day. Water Cooler will not exist without your continued help.