By Lambert Strether of Corrente
Readers, I'll have more on the late night in the Senate in a bit; for now, I've added primary sources and some hot takes. Quite a night! –lambert
Trade
"United States trade with its North American Free Trade Agreement (NAFTA) partners Canada and Mexico headed up 9.4% annually to $98.2 billion in May, the most recent month for which data is available, according to the Department of Transportation's Bureau of Transportation Statistics (BTS)" [Logistics Management]. "This represents the seventh consecutive month in which there has been an annual increase."
"Steel tarriff threat cools down: President Donald Trump's plans to hit steel and aluminum imports with tariffs and/or quotas will be put on ice for a while longer, according to House lawmakers briefed Thursday afternoon by Commerce Secretary Wilbur Ross" [Politico].
"R.I.P., border adjustment tax: White House and congressional leaders agreed to drop a controversial border adjustment tax proposal as they try to move forward with a broader tax reform effort. The proposal, which would have placed a blanket tax on all imports, had been an integral part of House Republicans' tax reform blueprint as a way to pay for a corporate tax cut" [Politico].
Politics
Health Care
UPDATE As I keep saying: "ObamaCare is the worst possible Republican plan." Now watch for a bipartisan group of conservatives and liberals to join together against the left to try and deep-six single payer yet again.

"How John McCain Saved Senate Republicans From Themselves" [NBC News]. The press l-o-o-o-v-e-s them some McCain, so it's not surprising this headline captures the congealing conventional wisdom, which (happily for McCain) erases the role of the two women (Collins and Murkowksi) who stood staunch throughout the process (and didn't fly back to DC to first personally fan the flames, and then douse them).

"Sen. Collins' Statement on Health Care Vote" [Senate.gov].

"Murkowski Statement on Motion to Proceed Vote" (from July 25) [Senate.gov]

"STATEMENT BY SENATOR JOHN McCAIN ON VOTING "NO" ON "SKINNY REPEAL" [Senate.gov].

A charmless and graceless statement from McConnell:

Full McConnell statement on repeal failure: pic.twitter.com/9KXjm7BdxW

— Phil Mattingly (@Phil_Mattingly) July 28, 2017

Note how scared they all are of "single payer" (toward the end). Note also which venues focus on that, and which don't. (Apparently, McConnell put the bill back on the Senate calendar. You know the zombie hand always thrusts up from the earth covering its grave…)

UPDATE "Schumer expresses hope for bipartisan ObamaCare fixes" [The Hill]. "'I hope we can work together to make the system better in a bipartisan way,' Schumer said at a press conference." Of course, some conservatives are coming round to the idea of single payer, so one can only hope that those are the Republicans Schumer chooses to work with (who am I kidding?)

Trump's reaction:

3 Republicans and 48 Democrats let the American people down. As I said from the beginning, let ObamaCare implode, then deal. Watch!

— Donald J. Trump (@realDonaldTrump) July 28, 2017

"Sanders Statement on Defeat of Republican Health Care Bill" [Senate.gov]. Video of Sanders on Capitol Hill immediately after the vote.

* * *

Hot takes:

"Why The Senate's Obamacare Repeal Failed" [FiveThirtyEight]. "I'm not sure which of these factors best explains what happened Friday. The particular way this health care bill failed, with a fairly conservative senator (McCain) deciding to vote it down, was perhaps just a kind of black swan event. McCain, if not a maverick, is a wild card. On the other hand, Senate Republican leaders — and Trump to some extent — built a bad foundation: an unpopular bill that was probably bad policy too and didn't have any real constituency beyond the 49 senators who voted for it. Ultimately, that foundation cracked." Plus Republicans, after 8 years in opposition, and umpty million votes to repeal ObamaCare, not having a plan teed up and ready to go that would pass? Honestly, what were they doing with their time? Clearly not preparing to become a serious governing party. (I forgot to say: I was pleased with FiveThirtyEight's coverage of the drama. They used a short-form, dynamic format that was better than tweets, but more topically organized than a live blog.)

"GOP blame-game begins after Senate sinks health care drive" [AP]. "House leaders had no hesitation about blaming the Senate for the collapse of one of the GOP's paramount priorities. In a statement, Speaker Paul Ryan, R-Wis., pointedly said 'the House delivered a bill' and said he was 'disappointed and frustrated.' Nearly three months earlier, the House approved its health care package after several embarrassing setbacks." Gridlock is our friend!

UPDATE "As for Senate Majority Leader Mitch McConnell, last night's defeat is probably as low a moment as we can remember for him. Don't be surprised if the health care process — no hearings, no subcommittee work, no regular order — cost him capital with his fellow Republican senators, who might demand more input in running the Senate GOP ship" [NBC News]. McConnell, with his strategy of massive resistance to all Democrat initiatives — which Obama, et al., were too weak, too complaisant, too arrogant, to, er, resist, and too much in fundamental agreement, as good neoliberals (assuming good faith) — was the architect behind the Republican capture of all three branches of the Federal goverment. But politics ain't beanbag. "What have you done for me lately?

"GOP Health Care Drive Ends Not With a Bang But a Whimper" [Ed Kilgore, New York Magazine]. "If the GOP chooses to blame it all on three senators who refused to vote for a bill no one actually wanted to see enacted, their road back to relevance on health-care policy will be very long." Ditto for Democrats bloviating about bipartisanship, but that has yet to play out. Obama managed to kick the single payer can down the road for eight years, to the great benefit of the donor class. Will the Democrat and Republican leadership combine to do the same again?

UPDATE Here's a handy chart to help the bipartisan process along:


What is sad is that no one is publishing the facts of the healthcare debate.

Here is a comparison table. #SinglePayerNow #ThursdayThoughts pic.twitter.com/EFNa1hm6kK

— RoseAnn DeMoro (@RoseAnnDeMoro) July 27, 2017
Realignment and Legitimacy
UPDATE What Chris Arnade said (see the whole thread):

A midnight vote is what made you question your faith in our institutions? 1/

— Chris Arnade (@Chris_arnade) July 28, 2017

"PARTY UNITY IS FOR RUBES" [Current Affairs]. Well worth a read! This caught my eye:

Doesn't this permanent internecine warfare render a party ineffective against its opponents? To answer that question one need only look to the Republicans. The Republican Party is an ideologically diverse coalition incorporating ethnonationalist populists, billionaire libertarians and family-values evangelical conservatives, and since the advent of the Tea Party its factional strife has been far deeper and more intense than the Democrats'. The Koch network and the Tea Party movement have been conducting what amounts to an incredibly well-financed all-out civil war with the Republican establishment, doing things like primarying Eric Cantor, felling John Boehner and forcing Republican Congressional leadership to drive the nation to the brink of default. (Imagine if the Sanders wing of the Democrats successfully primaried Nancy Pelosi or shut down the government over single-payer.) Yet if this has hurt the GOP electorally, it's hard to see how; in the same timespan that this civil war has intensified, the Republicans have achieved a level of electoral dominance over their Democratic opponents not seen in a century.

Pragmatically, then, the left should intensify its battle for single payer, not moderate it.

"Better Deal" vs. "People's Platform":

DNC @TomPerez used barricades in front of @ninaturner story by @msainat1 @TheRealNews https://t.co/PBEdXXzli2

— Tezlyn Figaro (@TezlynFigaro) July 26, 2017

Stay classy, DNC! "That People's Platform includes Medicare for all, free college tuition, the raise the wage act for worker's rights, automatic voter registration act, – Equal Access to Abortion Coverage in Health Insurance (EACH Woman) Act of 2017, a climate change bill for renewable energy, Justice is Not For Sale Act of 2017 for criminal justice reform and immigration rights, and and the Inclusive Prosperity Act to hold Wall Street accountable" [The Real News]. Much of it already embodied in legislation, unlike Schumer's white paper with bullet points.

UPDATE "[T]he Our Revolution movement that grew out of Vermont Senator Bernie Sanders's 2016 presidential campaign, Democratic Socialists of America, Democracy for America, the Working Families Party, National Nurses United, Good Jobs Nation, and a dozen other groups have launched a "People's Platform" that gets down to details" [The Nation]. "On Tuesday, the groups launched a "Summer of Progress" campaign that seeks 'to move the Democratic Party to the left.' . Bills have been introduced—most of them authored and introduced, sponsored, and co-sponsored by members of the Congressional Progressive Caucus." This is very, very good. The press should really stop treating "A Better Deal" seriously until it's embodied in legislation. For now, it's just a white paper with bullet points (wrapped with some wishful thinking by policy wonks).

"Trump Rules by Gut, Not Brains" [Charles Cook, Cook Political Report]. "It's ironic that what makes Donald Trump so authentic to his supporters is what is keeping him from being an effective president. His supporters love that he is not a career politician, that he hasn't spent decades working in Washington, that he doesn't think or behave the way ordinary politicians do." More:

[T]he newness and freshness that Trump's supporters like so much also means that he is learning about governing from scratch. How does the legislative process work? How does the federal budget process work? How does the national security decision-making process work? Repealing and replacing Obamacare is easy—you can do it in a matter of days, right? You mean it doesn't work like a family business?

Through the campaign, his message resonated with Everyman and Everywoman because . Trump had not spent the last few decades going to symposia on these issues at think tanks in Washington and New York. He hadn't whiled away his weekends reading Foreign Affairs. He peeked at The New York Times, but the New York tabloids satisfied his print needs. Trump connected with these voters because he knew the same things and reacted to events the same way.

Hold it right there, Charlie. First, if you look at the policy disasters since, say, 2000 — Iraq, an out-of-control surveillance state, the Crash, generic impunity for elites, and (for many) ObamaCare — they were initiated and managed by policy elites who went to (or presented to) "symposia MR SUBLIMINAL Damn! He knows the proper plural for symposium [displays deference] at think tanks in Washington and New York," read (or wrote for) Foreign Affairs, and — [cough] Judy Miller — read (or wrote for) the New York Times. If they're so smart, why are the results so bad? Second, if you look at Trump voters, the Republican suburbanites who form Trump's base don't get their news from cable, and many of their opinions are formed not merely by FOX, but by Cook's symposia. And the Trump voters who voted for "hope and change" in 2008 and then flipped to "MAGA" in 2016 don't need to watch [family-blogging] cable to know that the $12-an-hour job they have as a Walmart greeter isn't nearly as good as the $35-dollar-an-hour union job they used to have before the lanyard class of symposia P.O.S. poseurs MR SUBLIMINAL Puns! attendees deindustrialized their communities and their friends, relatives, and children started dropping from "deaths from despair." So don't get me started.
2016 Post Mortem
"In an election that close, anything and everything could have changed the outcome. The question is: Why was it so close to begin with?" [The Week]. "And the answer is: Because Hillary Clinton was a deeply flawed candidate who ran an atrocious campaign and should never have been anointed as the presumptive nominee by the Democratic National Committee in the first place."
Stats Watch
GDP, Q2 2017 (advance): "The second quarter was healthy, growing at an as-expected 2.6 percent annualized rate" [Econoday]. "[T]he consumer spending component also healthy and as expected, at a 2.8 percent rate. Business investment, at 5.2 percent, was once again very strong and offset a bounce lower for residential investment which fell at a 6.8 percent rate. Inventories were slightly negative for the quarter while net exports improved and proved a slight positive. Government purchases added slightly to the quarter. Inflation was very weak, at only a 1.0 percent rate. The core is similar, at 1.1 percent and down from 2.4 percent in the first quarter." Tailwind for Trump in 2018, if it keeps up. And but: "Personal consumption expenditures (PCE) increased at 2.8% annualized rate in Q2, up from 1.9% in Q1. . Equipment investment increased at a 8.2% annualized rate, and investment in non-residential structures increased at a 5.2% pace" [Calculated Risk]. I think Obama finally used up the last of the goodwill FDR put on the Democrat balance sheet for being better on the economy. And: "The data overall is unlikely to trigger a major shift in expectations with a solid underlying expansion and little evidence of inflationary pressure" [Economic Calendar]. And but: "The consumer spending improved, but the real improvement came from using a lower inflation deflator. I am not a fan of quarter-over-quarter exaggerated method of measuring GDP – but my year-over-year preferred method showed moderate acceleration from last quarter" [Econintersect].
Employment Cost Index, Q2 2017: "Employer costs slowed in the second quarter, rising a quarter-on-quarter 0.5 percent vs an outsized 0.8 percent in the first quarter" [Econoday]. " The year-on-year rate is steady at a moderate 2.4 percent. The split between wage & salary costs and benefit costs is balanced, at respective quarterly growth of 0.5 and 0.6 percent and respective yearly rates of 2.3 and 2.5 percent. Price readings on labor have been subdued this year and now include employer costs. ." "Are becoming?" BWA-HA-HA-HA-HA-HA!!! "Unwanted"? By whom?
Consumer Sentiment, July 2017 (final): "Consumer sentiment edged higher the last two weeks of this month… Still, the result is noticeably lower from June's 95.1 and reflects weakening in expectations [Econoday]. "This report has been moving south in contrast to the consumer confidence report which has been holding firm."
Retail: "Amazon is Working Around Brands to Obtain Stock—And It's Legal" [Sourcing Journal]. "To boost its offerings, the Internet juggernaut recently contacted sellers that use its Fulfillment by Amazon service, alerting them that in some cases Amazon may want to purchase product from them that it will then resell." And:
The issue is, Amazon is operating the way many Silicon Valley companies do.

There's a saying that goes: it's better to ask for forgiveness than permission. And while it's unlikely that Amazon will bother to seek the former, it's definitely not going to wait for latter.

"There's Internet business ethics, and then there's other business ethics," [Jeff Trexler, attorney and associate director of the Fashion Law Institute at Fordham Law School] said. You can see it at play with companies like Uber and Airbnb, which continue to run their businesses despite what local laws might dictate. Ultimately, he said, they see their businesses as providing a service that's for the greater good. Trexler said they think 'we have these archaic laws, so let's smash them and have the rest of the world catch up to us. We are the future.'

While that rational might be ethical from an Internet business standpoint, brand owners are looking through a very different lens. For them, they have to protect their retail partners, maintain consumer trust and abide by compliance laws.'

The best course of action, according to Richardson is for brands to button up the legal documents they have with retailers.
"Despite what local laws might dictate." Of course, in dreams, especially globalist elite dreams of utopia, there are no laws. That's the point of a dream!
Shipping: "[Amazon's] sales growth is a big contrast with financial reports from the big store-operating retailers, but Amazon also saw the costs of getting those online orders delivered soar" [Wall Street Journal]. ", measures that reflect both Amazon's growing share of the retail market and its drive to control its own logistics and shipping operations. The retailer is plowing its cash back into product development, warehouse building and delivery infrastructure, as well as overseas expansion and video content. The logistics investment will continue as the company gets its fulfillment operation aligned with sales for the fourth quarter holiday rush, when Amazon's promises of faster delivery times could push the company's spending on shipping beyond $7 billion." And the other side of the coin–
Shipping: "Parcel carriers have struggled to turn stronger shipping volumes from online sales into profits, and UPS last month detailed a new add-on fee aimed at the flood of shipments that rises in the period leading up to Christmas. Prices are holding up even without the fees: Average revenue per piece in UPS's domestic package network rose 3%, and rose slightly more in the ground operations that carry most of the e-commerce shipments. The bottom line was a 9% gain in profit to $1.38 billion, but the 14.3% improvement in domestic operating margin may be more important in the long run" [Wall Street Journal]. All things considered, I prefer to have my parcels delivered by unionized UPS (or USPS), as opposed to non-union FedEx, and whatever combination of precariat, robots, and (one assumes, ultimately) scabs that Bezos concocts.
Shipping: "Politicians approve 'Magna Carta' for Filipino seafarers" [Splash 247]. "House Bill 5685 seeks to improve seafarers' working conditions and terms of employment and career prospects and to uplift the socio-economic well-being of their families. The bill covers all Filipino seafarers engaged, employed, or working in any capacity onboard Philippine registered ships operating domestically or internationally, as well as those onboard foreign registered ships. The Philippines remains by a considerable margin the world's largest provider of crews to the merchant fleet. Under the bill, seafarers shall have the right to a safe and secure workplace, as well as decent working and living conditions onboard a ship. Seafarers shall also be provided with medical care, welfare measures, and other forms of health and social protection…."
The Bezzle: "How to Tell the Truth" [Andreessen Horowitz]. Why now? One might ask… More: "The truth about telling the truth is that it does not come easy for anyone. It's not natural or organic. The natural thing to do is tell people what they want to hear. That's what makes everybody feel good . . . at least for the moment. Telling the truth, on the other hand, is hard work and requires skill." All VCs are liars, eh?
The Bezzle: "̌In Dramatic Show Of Contrition, Ex-Execs Cover 0.3 Percent Of Deutsche Bank's Post-Crisis Fines" [DealBreaker]. "this ritual isn't designed to be material in an accounting sense. It's a symbolic move, a sort of exorcism of bad juju designed to signal to shareholders that the old gods have been tamed and a new order of justice and probity now obtains. And lacking good news in substance, Deutsche shareholders can use all the symbolic victories they can get."
Five Horsemen: "Facebook rockets on as the Fubar Four crumble." [Hat tip, Jim Haygood].
Today's Fear & Greed Index: 69 Greed (previous close: 73, Greed) [CNN]. One week ago: 73 (Greed). (0 is Extreme Fear; 100 is Extreme Greed. Last updated Jul 28 at 11:57am. Mr. Market thinks there'll be no tax reform?
Class Warfare
"The New Working Class" [Dissent]. I like this a lot. Key passage:
To imagine that we should look for "class" and see hard-hats mistakes a particular historical manifestation—the industrial working class—for a general category whose ranks are always changing. But while the idea of a new working class is not yet widely accepted, its distinguishing features are, on their own terms, familiar. We can reduce them down roughly to feminization, racial diversification, and increasing precarity: care work, immigrant work, low-wage work, and the gig economy. There's also a host of interlinked forces shaping working-class life from outside the workplace: policing and punishment; housing insecurity; indebtedness; the costs of education; and the difficulties of caring for the young, the disabled, the sick, the addicted, and the old. A set of shared experiences coheres here, and a potential set of shared enemies: landlord, lender, bill collector, manager, cop. Racialized and gendered unevenness in exposure to these forces is real, but that portion of experience that is shared appears, quite clearly, to be growing year by year at the intensifying intersection points of race, gender, and class. This, the growing stock of common experience, is the process called "class formation."
And:
Neoliberalism destroyed the old working class, transforming the Democratic Party into its accomplice as it did so. It also reorganized working-class experience in profound ways. When I made some commentary along these lines on Twitter, I suggested that socialists would need to learn about new forms of grievance and frustration in place of the old touchstones, and suggested understaffing, needlesticks, and depression as examples of new grist for conflict. None of my Twitter followers, it turns out, had heard of needlesticks—accidental injury by sharps in hospitals and nursing homes—despite the fact that they're one of the main occupational hazards in the largest sector of the labor market. Can one imagine never having heard of black lung?
Excellent point on needlesticks. Can readers comment?
"Report: More than a third of California households have virtually no savings, are at risk of financial ruin" [San Jose Mercury News]. "More than 37 percent of California households have so little cash saved that they couldn't live at the poverty level for even three months if they lost a job or suffered another significant loss of income."
"Couple caught in 'financial spiral' jump to their deaths" [New York Post]. "'Patricia and I had everything in life,' the man's note read. But it also touched on the couple's 'financial spiral' and how 'we can not live with' the 'financial reality,' sources said." And so they took it out on themselves. Others have not been so generous.
"̌The company that has operated a private prison in Estancia for nearly three decades has announced it will close the Torrance County Detention Facility and lay off more than 200 employees unless it can find 300 state or federal inmates to fill empty beds within the next 60 days, according to a statement issued Tuesday by county officials" [Sante Fe New Mexican].
News of the Wired
"Wasabi Fire Alarm Alerts the Deaf with the Power of Scent" [Inventor Spot]. Good idea?
"Asking the Tough Questions With an 18th-Century Debate Society" [Atlas Obscura]. "'Then as now, New York's original 18th-century social clubs were formed, in part, to enhance the social status of their members. At a time when few people had access to intensive education, young men of ambition started forming clubs to improve their minds and enhance their reputations as political and literary movers and shakers. /'Writing and publishing meant asserting their political worth in the new republic,' writes Andrew L. Hargroder, a graduate student in history at Louisiana State University."
"Was Graceland Elvis' Greatest Aesthetic Masterpiece?" [JSTOR Daily].
"Satirical maps of the world" [British Library]. Here's a famous map from 1976, when the neoliberal dispensation had just gotten started (via):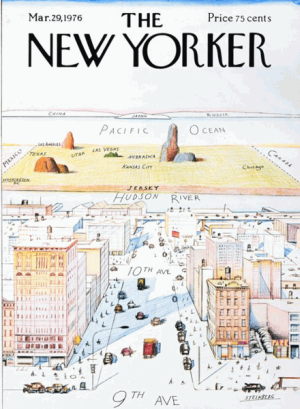 Still true today! Although there needs to be a second one looking East from Silicon Valley.
Release of Ring 1.0 – « Liberté, Égalité, Fraternité » (a GNU package) [Ring]. "Ring is a free and universal communication platform which preserves the users' privacy and freedoms." Interesting! From Quebec, interestingly enough. Readers? So many, many times the next communication platform has turned out to be funded by shady "intelligence community" characters, and riddled with backdoors. It would be nice if this wasn't.
* * *
Readers, feel free to contact me at lambert [UNDERSCORE] strether [DOT] corrente [AT] yahoo [DOT] com, with (a) links, and even better (b) sources I should curate regularly, (c) how to send me a check if you are allegic to PayPal, and (d) to find out how to send me images of plants. Vegetables are fine! Fungi are deemed to be honorary plants! If you want your handle to appear as a credit, please put it in the subject line. Otherwise, I will anonymize by using your initials. See the previous Water Cooler (with plant) here. Today's plant: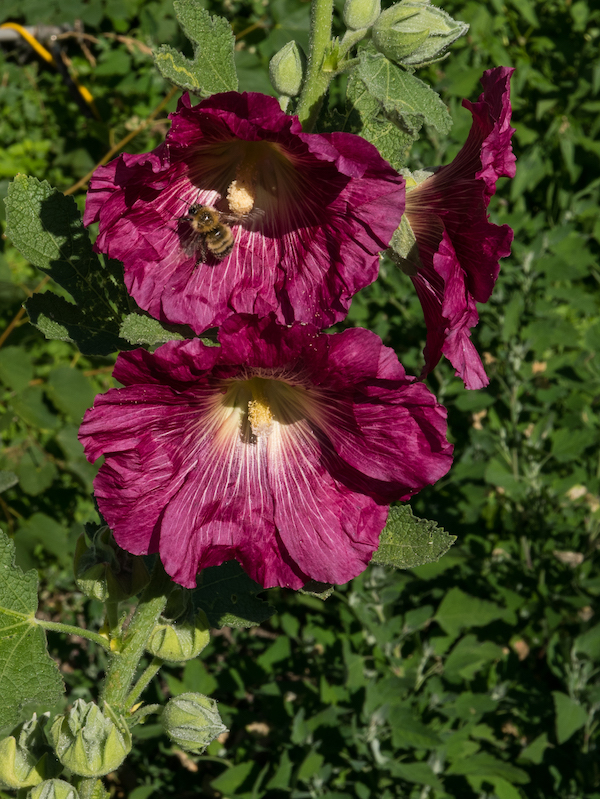 Hollyhocks are out!
* * *
Readers, Water Cooler is a standalone entity, not supported by the Naked Capitalism fundraisers. Please use the dropdown to choose your contribution, and then click the hat! Your tip will be welcome today, and indeed any day. Water Cooler will not exist without your continued help.