By Lambert Strether of Corrente.
Yesterday, Saturday, I had to go the mall to make a purchase, and since the four-hour round trip gives me plenty of time to read, I bought a copy of The New York Times and read it carefully. I came away discouraged. There is a lot of ruin in a great newspaper.
I used to work "the newspaper business," several careers ago, albeit on weeklies and in production. And I came away with the sense of what a wonderful production — all senses — a newspaper is; how intricately and carefully the pieces fit together, and the craft that goes into assembling the news into a pattern that's easily grasped by the reader. Day after day! Indeed, hundreds of years have gone into perfecting the craft of composing pages, and I still feel reading a printed, broadsheet newspaper is a more productive use of my time — if comprehension and stories I would otherwise miss or skip be the goal — than reading on a laptop, let trying to get a sense of the news flow through the teensy keyhole of a cellphone's screen.
Media criticism has the term "blooper," an embarrassing error. Seeking bloopers is usually a mild form of voyeurism, where on-screen indiscretions by announcers and performers are detected and ridiculed. But bloopers can also be "technical," as when the shadow of a boom appears in the shot, or the blood-spewing machine malfunctions. Naturally, the cheaper the show, the greater the chance of bloopers. I think the ongoing ruination of the Times is shown in the bloopers I am about to present. I'm going to start with some technical bloopers in the Arts Section, and then move on to what I might term Cognitive Bloopers in the Business Section. (I'm using images that I took when I got back to the house, partly because the images make the sheer scale of the times enterprise so clear, and partly to honor the craft of print production.)
Arts Section: Technical Bloopers
Here's a page about New York's Metropolitan Opera; I've captioned the bits I want to draw attention to.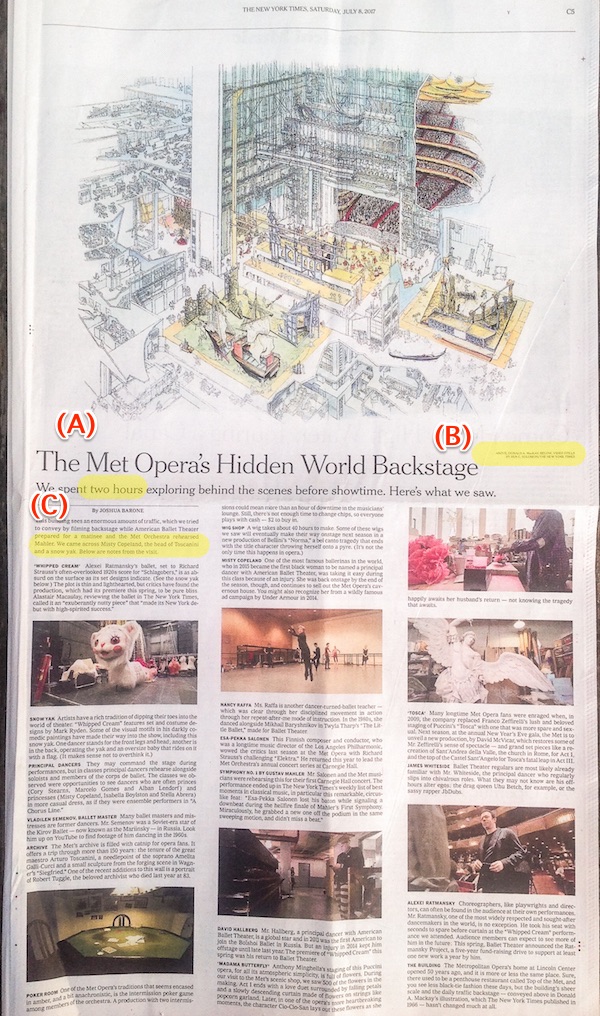 And here are enlarged clips; (A) is informational; (B) and (C) are bloopers.
First, let's look at this page from the production standpoint, since we know that technical bloopers stem from production. Clearly, this page must have been very cheap to produce! On the editorial side, Donald A. MacKay's (wonderful) image was not commissioned, but plucked from the Times archives; it originally appeared in 1996. And as clip (A) tells us, the wide-eyed "reporters" were only there for two hours, on their own account encountering random stuff, which they then wrote up in the form of a listicle except without clickbait headlines; and nobody produced any copy to explain the image of the Met's backstage; the production appears to be using three stages (colored pale yellow). How to account for that intriguing fact? Silence. It looks like the editors plunked the image down based on how pretty it was, without thinking, or helping readers to think, what it might mean. Further, still on the theme of producing the newspaper of record on the cheap, we know that Times ownership is gutting the copy editing function, and so we would expect to see copy-editing bloopers. Indeed we do.
Blooper (B). Times house style puts photo credits in small caps[1]. So how did "DONALD A. MKAY" slip by?
Blooper (C). Readers will know where I'm going with this: "We came across Misty Copeland, the head of Toscanini and a snow yak." A hasty reader (me) first understood "head" to be the head of a department, and only to be later tripped up by Copeland's second career as a snow yak. Would it have been that hard to add a comma after "Toscanini," especially for the sake of an international readership?
Bottom line: This is a cheap page, cheaply put together, very evidently seeking to minimize cost rather than maximize the value to readers.
Business Section: Cognitive Bloopers
Here's the front page of the Business Section (and again note the masterful page makeup; probably that will be the last skill to go).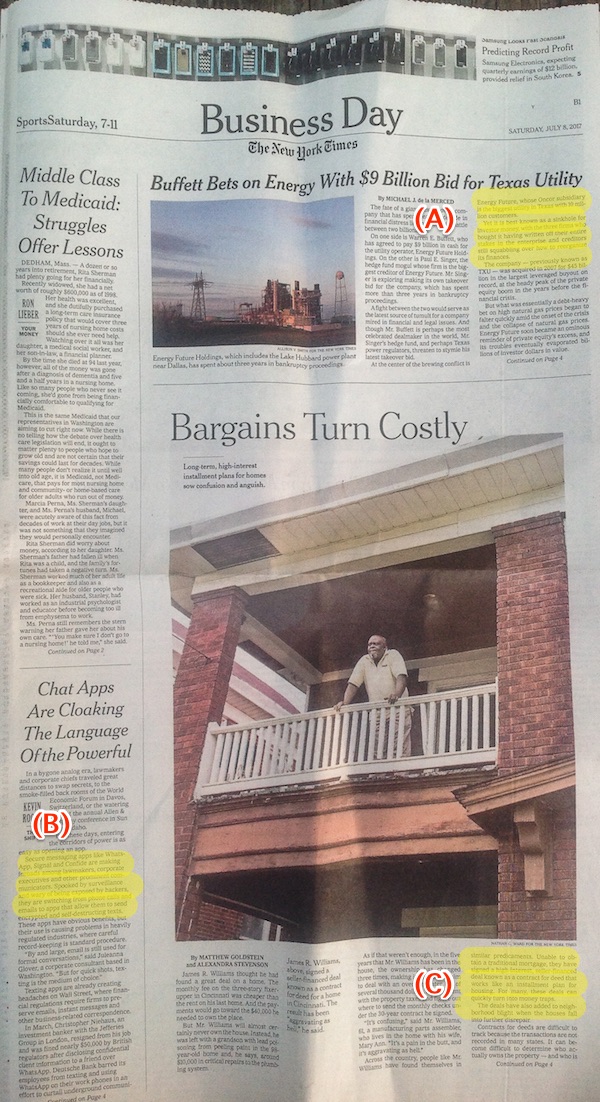 And here are enlarged clips. All are informative; putting them in context — context which ought to create cognitive dissonance at The Times, but apparently does not — creates the bloopers.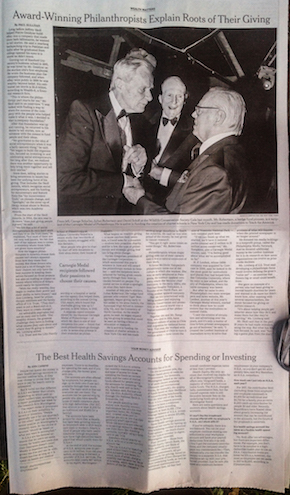 Clip (A): "…[T]he heady peak of the private equity boom in the years before the financial crisis…." Naked Capitalism readers know all about private equity!
Clip (B): "[Corporate executives and other prominent communicators] are switching from phone calls and emails to apps that allow them to send encrypted and self-destructing texts. These apps have obvious benefits, but their use is causing problems in heavily regulated industries, where careful record-keeping is standard procedure."
Clip (C): "Unable to obtain a traditional mortage, they have signed a high-interest, seller-financed deal known as a contract for deed, that works like an installment plan for housing. For many, these deals can quickly turn into money traps."
A hasty reader of the front page of the Times Business Section might conclude that the world of business is driven by financial blowback from crooks in the 90s, executives who seek to avoid scrutiny at all costs, and the same sort of scams that led to the foreclosure crisis (fortunately not levered (I assume)).
Flipping further into the Business Section we come to our first cognitive blooper: An entire page[2] (at right) of hagiography on squillionaire philanthropists, whose clever ownership structures have apparently insulated them from all the crookedness and sleaze (laudably) exposed on the Section's front page. (Unless philanthropy exists for reputation laundering, of course. Not that there's anything wrong with that!) But how does the Times live with the cognitive dissonance?
And if we scan elsewhere in the paper, we find more cognitive bloopers:
| | |
| --- | --- |
| DNC | Intelligence Agencies |
| | |
Clip "DNC": "… did deny investigators access to their servers. But it gave the bureau information that later pointed…"
Clip "Intelligence Agencies": "… something American intelligence agencies have testified they know took place."
In what world do we have "prominent communicators" (clip (B) above) evading regulatory scrutiny by using encrypted, self-destructing communications channels while simultaneously mere oaths from intelligence officials, and unverifiable information from the DNC are both regarded as dispositive? Apparently the world that Times editors and publishers live in, since they are responsible for the entire newspaper, read all of this, and their heads haven't exploded![3]
Conclusion
An institution that displays adaptability by systematically crapifying its product and encouraging executive doublethink may indeed be long for this world. But if it is, I'm not sure I want to live in that world. And that's a loss; I love newspapers. Anyhow, I hope if you read the Sunday Times this afternoon, you'll have fun finding more bloopers!
NOTES
[1] At least insofar as I can determine by inspection; I don't actually have a copy of the Times style guide, assuming there still is one.
[2] Sorry for the plastic bag that snuck into the frame at right.
[3] A professional media critic would say "intracranial splatterfest."