Top cat: Alaska mourns Stubbs, feline mayor of Talkeetna Deutsche Welle
U.S. Foresaw Better Return in Seizing Fannie and Freddie Profits Gretchen Morgenson, NYT
Collapse of 'safe-haven asset' bubble looms Nikkei Asian Review
Two top Wall Street chiefs celebrate $314m share bonanza FT. "Dimon and Blankfein lead way with stock gains boosted by Trump effect on markets." Ka-ching.
Going Cashless? Bad for Tax Cheats, Privacy, Poor Bloomberg. Correction: Bad for the sort of tax cheat who doesn't have an acountant or tax lawyer.
Uber-rival Grab rakes in $2.5bn in fresh investment FT. Grab is in Southeast Asia. Are the economics different from Uber's, for any reason?
The balanced budget paradox Real World Economics Review (MT).
Yes, ancient civilizations on Mars sounds crazy. And yet… Ars Technica. Well, Podesta believes in UFOs….
Syraqistan
Brexit
Do UK readers agree with Cheung's tweet? And who is Damian Green?

The government's new list of Cabinet committees and members seems to confirm Damian Green's new role as de facto Deputy PM pic.twitter.com/HCxe1ewuP6

— Aron Cheung (@Aron_Cheung) July 21, 2017
Frankfurt Is the Big Winner in Battle for Brexit Bankers Bloomberg
Macron's Francafrique Al Jazeera (MT).
China?
In China, Herd of 'Gray Rhinos' Threatens Economy NYT

My journey to a Ugandan ghost town The Economist

VPN crackdown 'unthinkable' trial by firewall for China's research world CNBC
Lost your phone in Japan? You'll probably get it back Al Jazeera
New Cold War
* * *
Trump Transition
Health Care
5 reasons why health care bill would fail, 3 why it may not WaPo

Obamacare vote short on details: 'I don't even know what we're proceeding to next week' Chicago Tribune

Trump to visit WV for Boy Scout Jamboree Williamson Daily News. Sen. Shelley Moore Capito, R-W.Va, BCRA defector: "'I'm thrilled President Trump will be making his first trip to West Virginia as president on Monday,' Capito said in a release. 'At the Jamboree, the president will have an opportunity to see the future leaders of our country. I look forward to welcoming him to the Mountain State.'" It's a private event, but so if Trump wishes to bring pressure to beat on Capito, it's unlikely to be in front of the Boy Scouts…

How Behavioral Economics Can Produce Better Health Care NYT. Of course! [slaps forehead]
Our Famously Free Press
Google's New News Feed Is Scary-Good at Personalization Slate

Leftwing Breitbart? Chapo Trap House is strong new voice in resistance to Trump Guardian
Democrats in Disarray
Dems to announce 'A better deal' economic agenda on Monday: report The Hill. Right as the health care battle swells to a crescendo…

Dems want to rebrand as the economic party Axios (Re Silc). Re Silc: "Dump the war party part too, please." Lambert: "Show me the money."

'This Week' Transcript 7-23-17: Jay Sekulow, Sarah Sanders, and Sen. Chuck Schumer ABC. Dayen: "There is something happening in the Democratic Party." Maybe:

STEPHANOPOULOS: Some may wonder [if the new Democrat "Better Deal" agenda is] going to be bold enough. I mean even your New York colleague, Senator Kirsten Gillibrand, talking about health care, says if you really want to get prices down, you have to go to single payer health care.

Will Democrats unify behind single payer health care?

SCHUMER: Well, our economic agenda — .

Or maybe not.

SCHUMER: Then we're going to look at broader things — single payer is one of them…

STEPHANOPOULOS: So that is…SCHUMER: — Medicare…

STEPHANOPOULOS: — on the table?

SCHUMER: — well, a — sure. Many things are on the table. Medicare for people above 55 is on the table. A buy-in to Medicare is on the table. A buy-in to Medicaid is on the table.

"Many things are on the table."

Democrats Want a Socialist to Lead Their Party More Than a Capitalist Newsweek. Change vs. more of the same…
The Millennials are the American Earthquake Corey Robin (MR). Must-read. Note that both Sanders proposals for free college and Medicare for All enable voters to avoid getting into debt, but totally write off the already indebted. A debt jubilee would accomplish that, but that's not "on the table," or anywhere near it.
When student debt payoff becomes complicated by identity theft LA Times
Oh, Jeremy Corbyn Medium. Same issue as in this country; college debt.
In the state with the highest medical debt, it's the middle class who carries the burden STAT
Wisconsin Company First In US To Microchip Employees Mankato Times (DC Blogger).
Herointown, N.J.: The dead, 5,217 and counting Newark Star-Ledger (Re Silc). Jackpot…
Class Warfare
Brazilians funneled as "slaves" by US church, ex-members say AP

San Antonio death toll in 'horrific' human trafficking reaches 9 San Antonio Express-News

* * *

National Weather Service cancels its union contract AP

The GOP debate over a minimum wage for cops and deputies Atlanta Journal-Constitution

Next Leap for Robots: Picking Out and Boxing Your Online Order WSJ (Re Silc). Re Silc: "Zero jobs except prison guards and cops soon."

* * *

America's hidden philosophy Aeon (MT)

Distributism Isn't Outdated The American Conservative. "For Chesterton, ownership is a self-evident good, which therefore shouldn't be abolished but widely distributed."

General Equilibrium Effects of (Improving) Public Employment Programs: Experimental Evidence from India (PDF) Karthik Muralidharan, Paul Niehaus, Sandip Sukhtankar.

Forty mayors go back to school The Economist. "The school for mayors is not about promoting any particular policy… Instead, the programme is more about how to think like a CEO."
For Whom the Wall Fell? A Balance Sheet of the Transition to Capitalism Branko Milanovic, The Globalist
Competence to Stand Trial Evaluations of Sovereign Citizens: A Case Series and Primer of Odd Political and Legal Beliefs Journal of the American Academy of Psychiatry and the Law. Surprisingly good background on "sovereign citizens," and well worth a read.
The Mystery of Why Japanese People Are Having So Few Babies The Atlantic
Cleveland doulas fight infant mortality in their neighborhoods, one birth at a time: Saving the Smallest Cleveland Plain-Dealer
Wonder Woman Is Propaganda TNE
The artificial glacier growing in the desert CNN. Not really glaciers: ice stupas.
Live-tweeting the #Detroit67 riots, 50 years ago today Detroit Free Press
'Game of Thrones' recap: In 'Stormborn,' the battle for the Seven Kingdoms truly begins WaPo
Antidote du jour (via):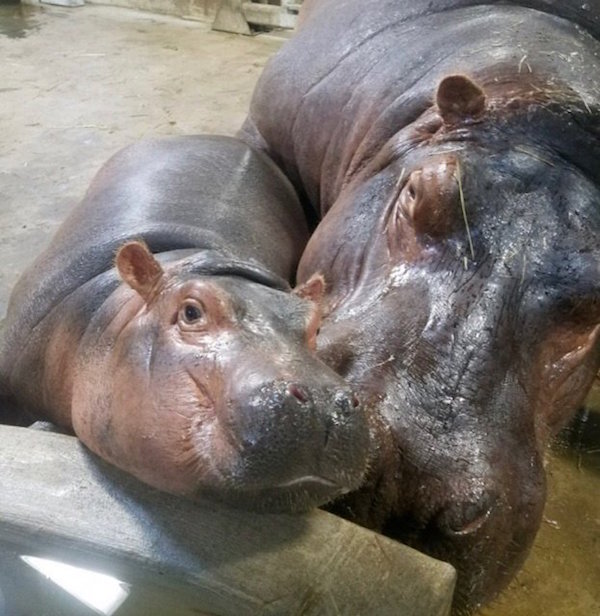 Fiona and Bibi.
See yesterday's Links and Antidote du Jour here.