Dear patient readers,
Please give a round of applause to Lambert, Jerri-Lynn, and Outis who sorted out, within hours of my telling them I couldn't read or post as a result of an eye injury incurred in Los Angeles (which led to emergency room visits in LA and San Francisco, ugh) how to divvy up the work I was supposed to do over the next few days, and then early this week, to keep you all fed with your daily ration of information, analysis, and animal pictures.
While I did get my Los Angeles and San Francisco meetups done, and I think the readers enjoyed each of them a great deal, the rest of the trip was a bit of a bust. I felt particularly bad about the dinner meeting I had right after the LA meetup, in which I quickly got into so much distress (scratched cornea, and trust me, they are incredibly painful and I have a very high pain threshold) that I had to bail out when the appetizers arrived. One of my hosts (wife of an MD) took me to Cedars Sinai and stayed with me for 5 hours while (among other things) I saw 2 doctors and had my eye flushed out with a huge bag of saline solution. I also learned a lot about the state of eye technology (even when I am in bad shape, I always make the doctors explain what they are doing in quite a bit of detail).
The LA session wound up being a big group discussion of many current political topics, with a lot of the participants interested in further discussion and potentially some focused activism. The participants created a list for future communication and meetings. I know some readers were unable to come due to the date and location not fitting their calendars. If you would like to be included in the NC Los Angeles mailing list, please write me at yves-at-nakedcapitalism.com with "Los Angeles Group" in the headline, and I will forward your message to the organizer.
One-Third of British Columbia's Oil and Gas Wells Are Leaking Significant Levels of Methane The Ecologist (Micael)
Judge Orders Apple To Pay $506 Million For A-Series Processor Patent Infringement HotHardware
EU Commission sets deadline for Facebook, Twitter, Google unfair terms and conditions New Europe (Micael)
Watching Silicon Valley sweat over EU regulatory discipline is sexier than you might imagine. https://t.co/FbI7oSvOuY

— David Carroll (@profcarroll) July 26, 2017
Travelers' electronics at US airports to get enhanced screening, TSA says ars technica
Did antidepressants help make this man a mass-murderer? BBC
Finishing course of antibiotics could harm you, doctors say The Times. Lordie. How many years have doctors been prescribing antibotics, and no one knows how long a "course" should be? Help me. Here is the underlying study: http://www.bmj.com/content/358/bmj.j3418
China?
CIA analyst: Beijing poses a greater threat than Russia Asia Times

For China's Global Ambitions, 'Iran Is at the Center of Everything' New York Times (Sid S)
European Cities Are Reclaiming Public Services From the Private Sector Vice Impact (Sid S). From earlier this month, still germane.
EU warns Poland on voting rights suspension amid judicial reforms DW
Poland hits back at EU 'blackmail' over judicial reforms Guardian
The international effects of ECB's monetary policy Bruegel
EU-Canada agreement on passenger names declared illegal: ECJ New Europe (Micael)
Brexit
Amazon and Starbucks take reputation hit from tax avoidance publicity Independent
Rogers and Todorov: New UK law creates liability for gross human rights abuses FCPA Blog
BATTLE TO OPPOSE WATER PRIVATIZATION RETURNS GREECE TO FRONTLINES OF E.U. CRISIS Occupy.com
The EU's Avoidable Greek Tragedy Social Europe (Micael)
Venezuela
Can Venezuela Resurrect Its Economy? Council on Foreign Relations

Venezuela opposition starts 48-hour nationwide strike Aljazeera (Micael)

Clash between Venezuelan government and opposition raises threat of civil war WSWS (Micael)
Syraqistan
New Cold War
Big Brother is Watching You Watch
Trump Transition
This SST post probably won't go over well with much of the NC commentariate but it does reflect how experienced combat soldiers, and especially commanding officers, look on these things. Trump's statement regarding transgender people follows logically from Mattis's memo of last Friday as described in the following SST post yesterday:

http://turcopolier.typepad.com/sic_semper_tyrannis/2017/07/mattis-get-unnecessary-training-off-warfighters-backs-ttg.html#comment-6a00d8341c72e153ef01b8d299c390970c
Obamacare
Why Some Insurance Plans Limit Specialized Treatments Knowledge@Wharton
Democrats Smear Jill Stein Black Agenda Report (Darius)
Housing, battling racism and a municipal bank top agenda for L.A. council president Los Angeles Times (Joe Costello). A municipal bank for LA?
Teen allegedly harassed by police for mowing lawns in affluent neighborhood Fox23 (resilc)
Kill Me Now
Clinton book to double down on Russia, Comey message The Hill. Let us not forget that her last book was mainly pulped…but we'll be unable to avoid encountering headlines of reviews.
Taibbi: Government Misled Public on Fannie/Freddie Takeover Rolling Stone (resilc)
Four Lloyds Bank workers and three 'bespoke money launderers' who raided £750,000 from the accounts of rich clients and lavished it on luxury lifestyles are jailed for 38 years Daily Mail. Look at how the authorities pounce on people who steal from the wealthy! Too bad for the rest of you.
New York Subsidy To Lure Aetna Benefits A Cuomo Donor International Business Times
Amazon has a secret health care team called 1492 focused on medical records, virtual doc visits CNBC
Wells Fargo Lawyer Who Released Client Information Wants It Back Bloomberg. Chuck L: "Another Wells Fargo innovation in customer disservice."
FOMC Review: No Hike, No Balance Sheet Move, Timing Clearer Roubini Global Economics
Class Warfare
Skyrocketing Rents in California Signal a Broader US Housing Crisis Truthout

How work changed to make us all passionate quitters aeon (Chuck L). A must read. IMHO this is a big reason productivity isn't growing. Turnover is a big cost to a business. And employees with their eye on the door won't go that extra mile for their company. By contrast, Goldman has very low turnover and it is very adept at getting employees to invest psychologically in the firm.
Antidote du jour. Stephen who was at the SF meetup promised cat pics. This is Willow, who likes climbing in bed.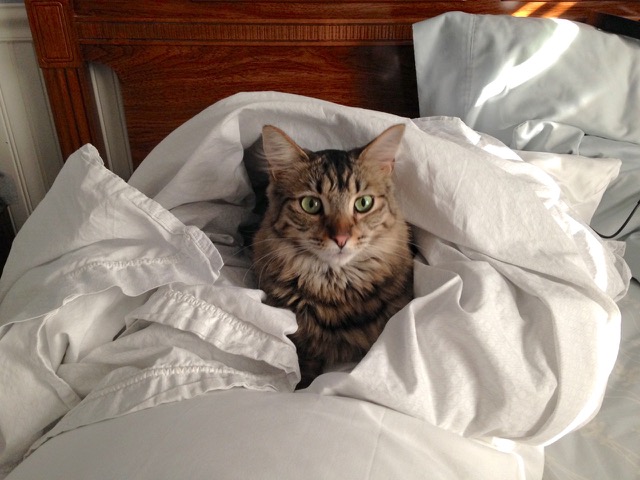 And Richard Smith and I loved this one but Lambert really didn't:
http://www.fox23.com/news/trending-now/teen-allegedly-harassed-by-police-for-mowing-lawns-in-affluent-neighborhood/572401721?utm_source=fark&utm_medium=website&utm_content=link&ICID=ref_fark
See yesterday's Links and Antidote du Jour here.