Originally published at Flip Chart Fairy Tales
Andy Haldane's speech in Bradford this week made headlines because of his comments about interest rates but what he said about stagnating wages is much more interesting.
He looked at the evolution of the Phillips curve, which shows the relationship between wage inflation and unemployment. In what we used to think of as normal times, if unemployment went up, wages fell. As demand for labour picked up, the reverse happened  because employers had to pay more to attract people from a shrinking pool of labour. Worker bargaining power increased as unemployment fell and reduced as it rose.
At least, that's what used to happen. As Mr Haldane said, somewhat mischievously:
Historically, there has been a reasonably strong and stable relationship between unemployment and wage growth – the so-called Phillips curve. As unemployment has fallen recently, this Phillips curve relationship would have led us to expect wage growth to pick up. That, plainly, has not happened. Over recent years, the Phillips curve relationship has been anything but strong and stable (Chart 3).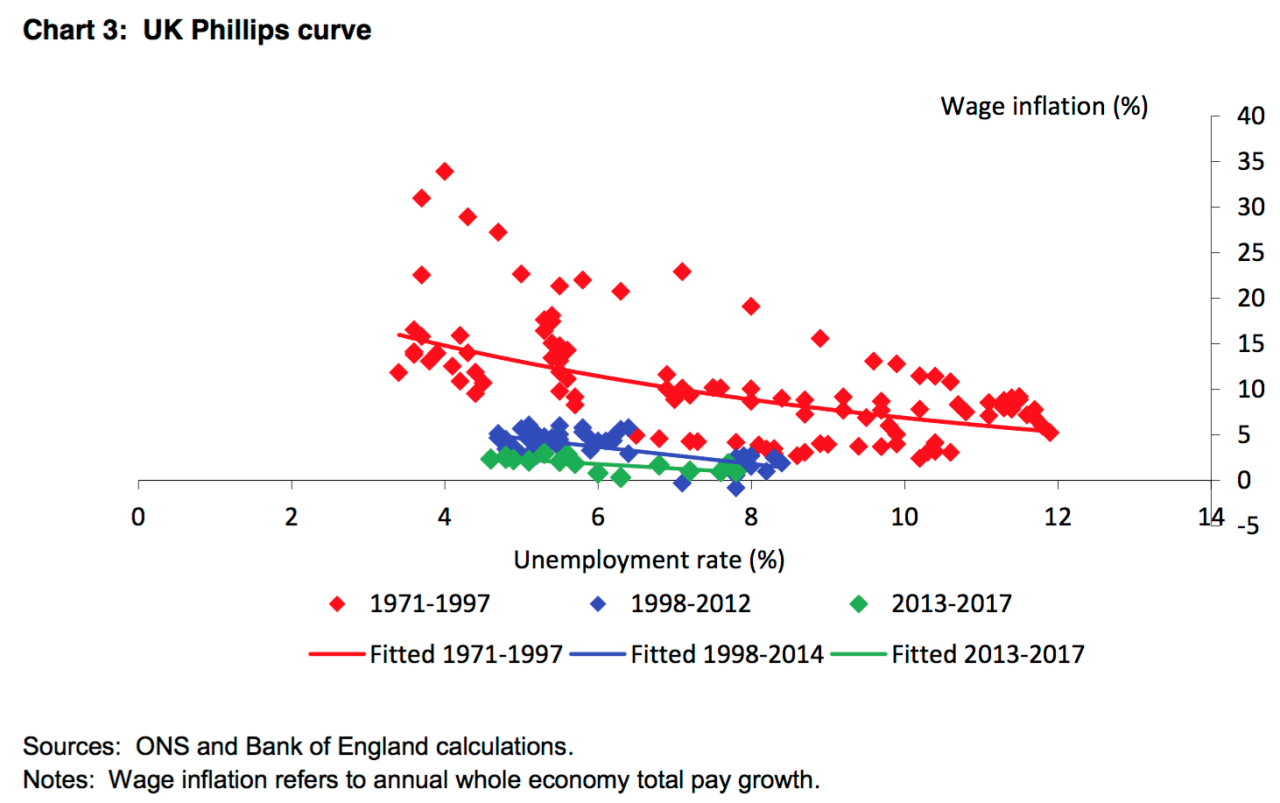 In the last couple of decades, and especially since the recession, the unemployment rate doesn't seem to have had much impact on wages at all. Whatever else has happened, pay has stagnated.
Something similar, seems to have happened before the industrial revolution. The data we have available seem to indicate that there was a long period before the industrial revolution when there was little wage inflation and not much of a link between pay and unemployment. The Phillips curve for this period was also flat.
Chart 11 plots UK Phillips curves over three periods: 1500-1700 (pre-Industrial Revolution); 1860-1950 (post-Industrial Revolution); 1950-1977 and 1977 to date (post-war period). In each case, wage inflation is measured on the y-axis and an estimate of the output gap on the x-axis. In the post-war period, the Phillips curve conforms to type. Since 1950, it has a clearly positive slope (less slack in the economy is associated with higher wage inflation) and an intercept which is positive (reflecting positive trend inflation)
The post-Industrial Revolution Phillips curve has a conventional upward slope, similar to that operating after 1950. Higher growth or lower unemployment is associated with higher rates of wage and price inflation. The pre-Industrial Revolution Phillips curve is altogether different; it is as flat as a pancake. Indeed, it bears a close resemblance to the Phillips curves which have operated, in the UK and globally, since 2008.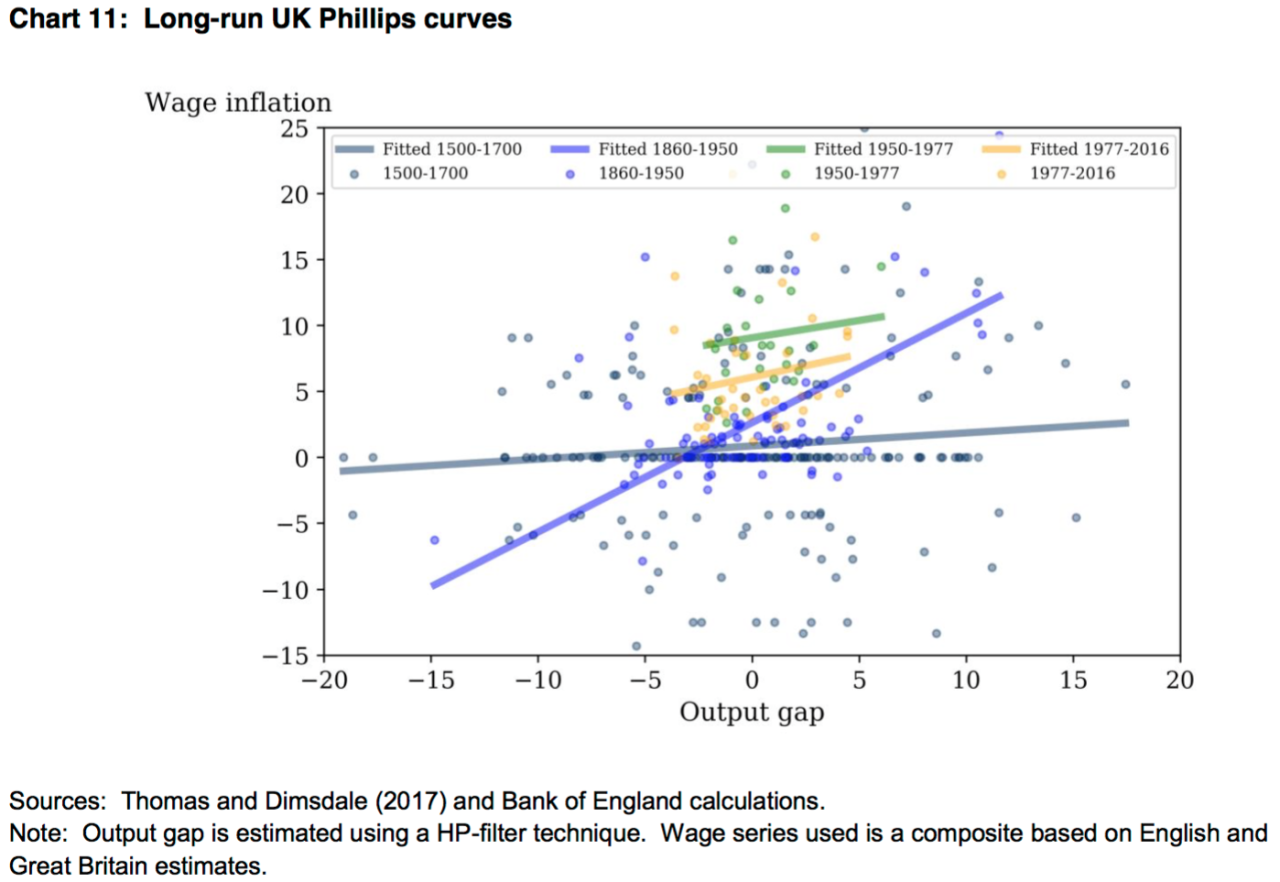 Could we be seeing a return to the power imbalances of the pre-industrial period? The pattern of the last few years, says Mr Haldane, looks remarkably similar to that of pre-industrial Britain:
The move towards greater self-employment and less unionisation is, in some respects, a shift back to the future in the nature of work. Prior to the Industrial Revolution, and indeed for some years after it, most workers were self-employed or worked in small businesses. There were no unions. Hours were flexible, depending on what work was needed to collect the crops, milk the cows or put bread on the table. Work was artisanal, task-based, divisible.

While the read-across to work patterns in the 21st century is far from exact, there are some parallels. That being the case, one question is how wage- and price-setting behaviour operated during this earlier period of more "divisible" labour markets. Were any of today's wage patterns evident then? The data we have on wages and output in earlier centuries are partial and imperfect, but nonetheless tell an interesting story.
The difficulty he identifies in comparing today's work patterns with those of the 18th and 19th centuries may go some way to answering his question. As Simon Deakin said, employment contracts are a 20th century development. Our forebears would not have understood work relationships in the same terms. From the 16th century until 1875, employment was governed by master and servant law. The feudal idea that workers were bound to their masters was a long time dying.
In today's language, probably the best way of understanding employment under master and servant law is as a series of fixed-term contracts. These could vary in length and often started and finished on quarter days. In theory, they gave a measure of security to workers who would at least know that they had a job until Michaelmas. In practice, as Professor Deakin explains, the courts often found that, while the worker was bound to the employer, the employer was not bound to provide work or wages:
The employer was found to have an implied right to lay off without wages, even in the case of an annual pit bond binding the workers to a year's exclusive service. In this sense, long- service agreements effectively benefited only the employer; the worker was bound without having the protection of security of income or employment.
To make life that bit more difficult for the workers, they didn't even have the same rights in court as their masters. As Paul Johnson points out:
A master sued by a worker could be a witness in his own defence, but until 1867 a worker prosecuted by an employer could not give any evidence on his own behalf.
But the power imbalance doesn't stop there. Under master and servant law, workers were subject to criminal sanctions for breaches of their contracts while masters were only subject to the civil law. In cases of breaches of contract, workers had to pursue employers through the courts, while employers had the entire apparatus of criminal law enforcement at their disposal.
According to Professor Johnson, there were around 10,000 prosecutions a year for breach of contract in the mid-19th century. These were concentrated in the industrial areas so the likelihood of a worker knowing someone who had been brought before the court was high:
The annual chance of a working-class household suffering criminal prosecution for breach of labour contract lay between 1 in 150 and 1 in 200 – a sufficiently high rate for knowledge of the risk to be well known within working class communities.
And, of course, where contracts were for a fixed term, breach of contract could simply mean leaving your employer for another job. Suresh Naidu and Noam Yuchtman studied the master and servant prosecutions during the nineteenth century and found that most were brought for absconding.
The typical goal of a prosecution was to use the threat of incarceration and hard labor to prevent workers from leaving an employer, and to pursue and punish those who were not deterred.

The threat of prosecution was credible; not only were prosecutions common but they were also largely successful.
The use of the word absconding reflects the attitudes of the time. Workers were deemed to be bound to their masters. Those who tried to improve their wages by looking for work elsewhere could expect severe punishment, backed up by the criminal law.
The penalties could be harsh and, during the late 18th and early 19th centuries, the Master and Servant Acts became more punitive. Usually workers were ordered back to their masters or were forced to pay compensation but in some cases imprisonment and even beatings could be imposed. The law was reformed in 1867, replacing the more brutal punishments with fines. However, as most of these workers were poor, the effect of a fine may simply have meant that they later ended up in prison for being unable to pay it.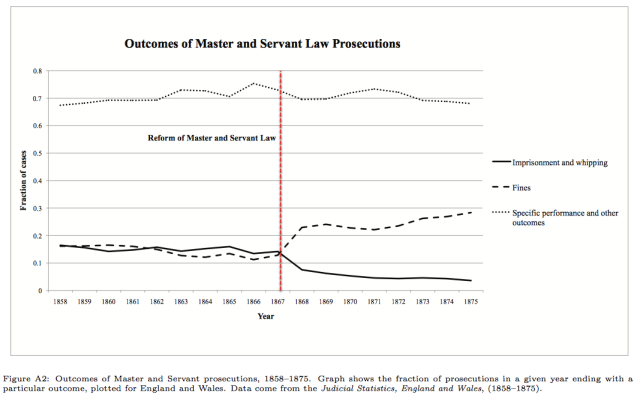 Chart by Suresh Naidu and Noam Yuchtman
Perhaps unsurprisingly, Naidu and Yuchtman also noticed a relationship between the level of unemployment and the incidence of prosecutions:
[P]rosecutions and the unemployment rate move in opposite directions throughout the period for which we have data.
They also found that, once master and servant law was abolished in 1875, wages rose fastest in the counties with the highest rate of prosecutions.
This, then, might account for the different shape of the Phillips curve after 1860. Once criminal sanctions were removed for workers who tried to seek employment elsewhere, the labour market outcomes began to reflect supply and demand more closely. The rise of trade unions, who played a major role in the campaign to abolish master and servant law, increased the bargaining power of labour.
To put it another way, it is likely that Phillips curve was held flat until the 1860s by draconian labour laws. It is difficult enough for workers of limited means to challenge their employers at the best of times but laws preventing them from giving evidence against their employers and imprisoning them for leaving their jobs made for a very lopsided balance of power. Any countervailing power that falling unemployment might have given to the workers could be neutralised by the criminal law. Servants who got above themselves could, quite literally, be captured and brought back. If we think there is an imbalance of power in the workplace now, it's nothing compared to the mid 19th century. In those days, trying to get a pay rise was a very dangerous game.