By Lambert Strether of Corrente
Meetup reminder: Burlington, VT Thursday, August 17 at 8:00PM; Montreal, Quebec Friday, August 18, at 6:00PM. Hope to see you there!
I'll add a few more items on Politics shortly. –lambert. P.S. 2:30PM, all done.
* * *
Politics
New Cold War
UPDATE "How Russia Used Racism to Hack White Voters" [The Root]. A fine example of "In a crisis, everything correlates," eh? The crisis, in this case, being that Democrat liberals are desperate to hang onto their "Southern firewall," because without that, they got nuthin'. Hence the doubling down, the "any stick to beat a dog," etc.

UPDATE You go, Liz:


Estonia has learned a lot about orchestrated cyber-attacks. Their expertise is critical to deter & defend against Russian cyber-operations. pic.twitter.com/0D5VHGNKtC

— Elizabeth Warren (@SenWarren) August 10, 2017

Rattle that sabre!

But:

Now that the truth is unraveling about #Russiagate Dems are like "OMG look over here instead! Bombs. War. Impeachment!" ? https://t.co/bxjevtMAfd

— Kaydee King (@KaydeeKing) August 11, 2017
North Korea
"'China is not willing to put the kind of regime threat pressure that we think is necessary because they don't want to cause a Korean collapse,' said Joseph DeThomas, a former U.S. diplomat who specialized in sanctions and non-proliferation issues" [Politico]. "The prospect of millions of refugees pouring into China, economic instability in its northern provinces and a possible war on the Korean peninsula are more pressing realities for Beijing than North Korea's development of nuclear weapons, experts say… China took a big step this week when it agreed to a United Nations resolution prohibiting the purchase of some of North Korea's major exports – coal, iron ore, seafood and other items. Yet the legitimate and illicit trade that flows back and forth across the Yalu River every day is a stark reminder that China's view of the problem differs greatly from the U.S."

"The United States and South Korea still have not announced a date for initial talks on potentially amending their bilateral free trade agreement to try to reduce the U.S. trade deficit with its Asian ally, one month after U.S. Trade Representative Robert Lighthizer asked for a meeting within the next 30 days. The U.S. trade chief also proposed holding the special session of the KORUS Joint Committee in Washington" [Politico]. "South Korea's new minister of trade, industry and energy, Paik Ungyu, replied on July 25 asking for a delay and proposing that the talks be held in Seoul instead. Paik explained that South Korea was reorganizing its bureaucracy to create a separate position of minister of trade, who would be Lighthizer's co-chair for the talks. A few days later, South Korean President Moon Jae-in gave the new job to Kim Hyun-chong, a veteran trade official who negotiated the KORUS agreement."

UPDATE The lighter side:


Threatening nuclear war on Twitter feels like a terms of service violation

— Pablo S. Torre (@PabloTorre) August 11, 2017
2016 Post Mortem
UPDATE "Federal judge orders State Department to search for more Clinton Benghazi emails" [CNN]. Judge Amit Mehta, who is (a) of color, and (b) nominated by Obama had this to say: "[T]his matter is a far cry from a typical FOIA case. Secretary Clinton used a private email server, located in her home, to transmit and receive work-related communications during her tenure as secretary of state." And then threw away half of them before turning the server over to the FBI, claiming they were related to scheduling her yoga lessons and Chelsea's wedding. "This is normal," I guess.

UPDATE "Blowback from staffer scandal burns Wasserman Schultz" [Politico]. "' and stop being so public by doubling down on negative stories,' said Nikki Barnes, a progressive DNC member from Florida, who believes Wasserman Schultz left the national party 'in shambles' while chair, culminating with the hack of DNC servers and the release of embarrassing internal emails by WikiLeaks in the 2016 campaign. As for Wasserman Schultz's defense, Barnes said 'none of this makes sense. It doesn't sound like racial profiling … .'" Yikes!

UPDATE "Hillary Clinton's Response To Honduran Coup Was Scrubbed From Her Paperback Memoirs" [HuffPo]. A blast from the past, but one worth remembering; whenever you hear the word "competent," ask yourself "competent at what?"
2018
"A new low: Texas Democrats don't have candidate for governor" [PBS]. "After high-profile candidates lost decisively in the last two elections, though, the party now finds itself in unprecedented territory for the 2018 ballot: with no major candidate to run. Democratic leaders haven't yet lined up a substantial name to represent the party and its message despite months of trying." Note how the so-called "coalition fo the ascendant" has utterly failed, since they are in this pickle despite "[A] booming Hispanic population and the party's dominance of the state's largest cities." Isn't it time for the Democrat Establishment to accept the awful truth that they simply aren't a national party any more?

"Even if Democrats were to win every single 2018 House and Senate race for seats representing places that Hillary Clinton won or that Trump won by less than 3 percentage points — a pretty good midterm by historical standards — they could still fall short of the House majority and lose five Senate seats" [Cook Political Report]. "In the last few decades, Democrats have expanded their advantages in California and New York — states with huge urban centers that combined to give Clinton a 6 million vote edge, more than twice her national margin. But those two states elect only 4 percent of the Senate. Meanwhile, Republicans have made huge advances in small rural states — think Arkansas, North and South Dakota, Iowa, Louisiana, Montana and West Virginia — that wield disproportionate power in the upper chamber compared to their populations." You would expect the colonies to vote against the metropolis, no?

"Obama to reemerge in 'delicate dance' with Dems" [The Hill]. "Delicate" is one of those Beltway words (like "concern"). I've never been quite sure about the connotation, but I think it means something like "Don't go anywhere near this unless you're prepared to get sucked into a vortex of #FAIL." More:

"It's wise for both Clinton and Obama to hang back at this point," one Democratic strategist said. "Otherwise our party will have an even harder time rebounding.

"We already lack a party leader, we lack a vision, we lack an identity," the strategist said bluntly. "We can't remain stuck in the past."

Really?
Realignment and Legitimacy
UPDATE "The Democratic Party's Looming Fundraising Crisis" [Politico]. "The party has a serious fundraising crisis. Over the first six months of 2017, the Republican National Committee pulled in $75 million—nearly twice as much money as the Democratic National Committee, which raised $38 million. The predicament isn't simply that there is a funding gap between the parties; it's what kind of money they attract. Republicans have quietly taken a decisive edge over Democrats when it comes to small-dollar fundraising." And more:

Some of the Sanders campaign's most effective fundraising emails were ones that highlighted specific small-dollar donors—like, for instance, a note from a small-dollar donor explaining why they contributed. It gave our supporters a sense that they mattered to us and reminded them that working people formed the backbone of our efforts. Trump did the same, once writing to supporters that "I want you to see this message I got from one of our strongest donors." Trump included a quote from a woman named Vonnie who contributed $6, and said that "her $6 contribution was a BIG sacrifice." You feel motivated, part of something bigger than yourself.

Compare that approach to the one the DNC has taken in the Trump era. Most of the party's recent emails to supporters focus on simply opposing the GOP health care bill, using subject lines like "Tell the GOP to back off!" and "Tell Senate Republicans to show us the bill." Another significant portion of the party's emails are about Trump's Russia connections. "BREAKING: Donald Trump Jr.'s emails," reads one DNC fundraising email. Another asks readers to "demand answers" about Trump's connections to Russia—answers from no one in particular.

There's nothing wrong with talking about issues in emails—in fact, it can really motivate supporters. But without a positive context, .

And the author is just getting started. If you've ever gotten any DCCC mails, this post really is a must-read; the DCCC is truly vile.

"Delaware voters soon will cast their ballots on new voting machines" [Governing]. "A coalition of civic groups is now urging the task force to complete its work soon so the Legislature can include funding for the new equipment in its next year's budget. Those groups include the state chapters of the American Civil Liberties Union, the League of Women Voters and the Sierra Club." If it's digital, it's hackable. The ACLU, LWV, and the Sierra Club should be supporting hand-marked paper ballots, hand-counted in public, as opposed to chimerical Silicon Valley "solutions."
Stats Watch
Consumer Price Index, July 2017: "Consumer prices remain very soft, failing to match what were modest Econoday expectations for July" [Econoday]. "Is the dip in inflation the result of one-time effects that will soon pass? Or is it the result of weak wages and general global disinflation? Lack of inflation remains the central trouble in the Federal Reserve's policy efforts. Today's results will not be improving expectations for the beginning of balance-sheet unwinding at the September FOMC." And: "4th Successive Headline Miss" [Economics Calendar]. And: "Using these measures, inflation was soft again in July. Overall these measures are mostly below the Fed's 2% target (Median CPI is slightly above)" [Calculated Risk]. But look at the silver lining: Deflation is bad for debtors!
Retail: "The announcement Thursday that the parent company of Applebee's and IHOP plans to close as many as 160 restaurants underscores the financial pressure many casual restaurant chains are under. Many chains grew too aggressively as Americans pulled back on dining spending" [247 Wall Street].
Retail: "Maine is adopting rules about daily fantasy sports games that classify the contests as games of skill and create a tax structure for them" [Governing].
Retail: "Amazon sees that a product is selling well, and may decide to work with manufacturers to make the product itself—it's a tactic that is already worrying vendors, and can't bode well for partnerships in the long run. But those are the obvious instances. Now, Amazon is selling products across a wide array of categories, using a host of brands that do not exist outside the confines of amazon.com and do not make it clear that they are Amazon-made products" [Quartz].
Leading Indicator: "Both ECRI's and RecessionAlerts indicies are indicating moderate growth six months from today. Both indices are showing growth but the intensity is different" (Econintersect indices) [Econintersect]. See also the gradual rise in the Baltic Dry index and tracks "stuff." "Stuff" is the real economy, of course; last I checked, nobody ever crashed the economy by moving a boatload of grain from point A to point B (though people who make claims about the boat, the grain, and/or points A and B certainly have!
Commodities: "Glencore PLC is riding a commodities turnaround now, but the Swiss mining and trading giant sees electric cars helping drive its future earnings. The company is deepening its investments in some raw materials…, after it reported a $2.5 billion net profit in the first half of 2017 following a loss a year ago. The results follow similar strong reports from mining companies including Rio Tinto PLC and Anglo American PLC, and the financial strength in the commodities world is brightening prospects in the beleaguered dry bulk shipping sector" [Wall Street Journal].
Shipping: "The rise and fall of Vale as a shipowner" [Splash 247]. "The rise and fall of Vale as a shipowner stands as another cautionary tale in the long line of failed industrial shipping plays. The global financial crisis and a failure to navigate Beijing's power hierarchy consigned the fleet of 400,000 dwt ore carriers, the biggest bulkers ever built, to economic oblivion." Industrial romance gone horridly wrong!
Supply Chain: "What is a $10 billion factory for technology goods really worth? The question is raising new heat in Wisconsin as the state considers the costs of drawing Foxconn Technology Group to build a manufacturing facility employing up to 13,000 people. Gov. Scott Walker defends Foxconn's $3 billion tax incentive package, telling the WSJ's Shayndi Raice the deal will be "transformational" for Wisconsin, even as criticism arises over the hefty tax bill. " [Wall Street Journal]. That's quite some planning horizon, there. "The debate highlights questions around the field of site selection that is critical to supply chains. Big manufacturers and logistics companies often seek significant local and state tax breaks, but critics say the incentives aren't always worth it, and may just move jobs around rather than spurring overall job growth. Mr. Walker insists the Foxconn deal carries bigger benefits, and will help spur a larger eco-system of technology research, manufacturing and employment." "Ecosystem" is another bullshit tell. Markets, in and of themselves, are not ecosystems. So "ecosystem" is a metaphor. It is a good one?
The Bezzle: "Why Everyone Is Hating on IBM Watson—Including the People Who Helped Make It" [Gizmodo]. "The splashy vision of Watson has been integral to IBM's branding since the groundbreaking question-answering system made its debut in 2011 on Jeopardy! Now, thanks to billions of dollars of investment and years of aggressive marketing, Watson has come to represent AI in the popular imagination….. 'IBM Watson is the Donald Trump of the AI industry—outlandish claims that aren't backed by credible data," said Oren Etzioni, CEO of the Allen Institute for AI and former computer science professor. 'Everyone—journalists included—know[s] that the emperor has no clothes, but most are reluctant to say so.'" Hoo boy.
The Bezzle: "In addition to its investment in Uber, Benchmark [the VC firm that's suing them] was an early investor in Snap, Twitter, GrubHub, Yelp, Zillow and eBay. The venture capital firm also has invested in dozens of firms that were acquired, including Instagram (Facebook), Vudu (Walmart), Ariba (SAP) and OpenTable (Priceline)" [247 Wall Street].
The Bezzle: "The technology world is scrutinizing Snap as an indicator of whether smaller social media companies can compete with behemoths like Facebook. And Wall Street is using Snap to gauge whether investors will embrace other unprofitable tech companies if they go public" [New York Times]. "Snap has not delivered on either front."
The Bezzle: "One of the nation's oldest and most famous retailers and one of tech's most recent IPOs have something in common. Snap Inc. and Macy's Inc. have been the victims of 'disruption,' another word for being trounced by larger and more innovative companies. Each share another thing. They cannot make comebacks in light of the overwhelming competition" [247 Wall Street].
The Bezzle: "Careful: Robo advice isn't necessarily conflict-free" [MarketWatch]. There's a copy editing problem with the headline: "isn't necessarily" should read "is necessarily not." Reflect on the opaqueness of algos, and then see Akerloff and Shiller on phishing equilibria.
The Bezzle: "Sundar Pichai Should Resign as Google's C.E.O." [David Brooks, New York Times]. "Either Pichai is unprepared to understand the research (unlikely), is not capable of handling complex data flows (a bad trait in a C.E.O.) or was simply too afraid to stand up to a mob. Regardless which weakness applies, this episode suggests he should seek a nonleadership position." I'm going to ignore the merits, if any, of the case Brooks is making. What strikes me is that the moral panic about sexism at Google parallels the moral panic about sexism at Uber: In each case, the fundamentals of the business are untouched, indeed erased (suggesting that moral panics have their uses, eh?). In Uber's case, Uber's inherently unprofitable, hence fraudulent, business model is erased from the discourse; in Google's case, its status as a ginormous monopoly and handmaiden of Stasi-like censorship. Apparently, those aren't legitimate topics. It's rather as if we heard an enormous explosion in a downtown bank building, and then saw a crowd of masked characters emerge with bulging sacks of loot, and run for it. The cry goes up: "But they're not diverse!" Please, can we have a little intersectionality, here?
Mr. Market: "Emerging market ETFs on track for worst week of the year amid U.S.-North Korea clash" [MarketWatch].
Five Horsemen: "Big Tech enjoys a modest bounce, as Amazon Fever cools" [Hat tip, Jim Haygood].
Today's Fear & Greed Index: 29 Fear (previous close: 31, Fear) [CNN]. One week ago: 64 (Greed). (0 is Extreme Fear; 100 is Extreme Greed. Last updated Aug 11 at 11:54am. I can't find the exact quote, but I remember reading a story about a legendary trader during the Cuban Missile Crisis: Trader Flunky: "What do I do? [thinking: The world's about to blow up!" Trader Manager: "Buy the dip! There's no downside, because if the world blows up we won't have to pay!" (Disclaimer that Naked Capitalism doesn't provide investment advice, and you'd be daft to listen to me, because I'm a permanent Maine bear.)
Gaia
"Antarctic Heritage Trust conservators found a 100 year old fruit cake among the artefacts from Cape Adare" [Antarctic Heritage Trust]. Look out, Mars!
"Researchers on Vancouver Island have developed an analytical method that allows them to use snow, soil and trees to identify buried mineral deposits. According to their findings, the new series of techniques could help reduce the impact of mineral exploration work while lowering costs and increasing efficiency" [Mining.com]. "Working at British Columbia's Mount Washington gold-copper-silver prospect and the Lara zinc-copper-lead-silver-gold showing, the geologists were able to measure the concentration of the halogen elements fluorine, bromine, chlorine and iodine in samples such as fluids given off by trees -which they collected by trapping 'tree sweat' in plastic bags-; bits of soil recovered using buried collectors left in the ground over several months to passively absorb ions; and a few grams of snow."
"MSU team looks back at 25 years of exploring a new frontier in Earth's crust" [Bozeman Daily Chronicle]. "Twenty-five years ago, the late astrophysicist Thomas Gold predicted scientists would find microorganisms in the extreme heat and hard rocks of Earth's crust…. Among other things, Gold speculated that scientists would discover a "deep, hot biosphere" in Earth's crust. This life would extend down for several miles until it became too hot to support life…. He was right about that, [Eric Boyd, assistant professor in the Department of Microbiology and Immunology] said. [Montana State University] has found bacterial microbes living in the cracks of 2.7-billion-year-old rocks in the Beartooth Mountains; 360-million-year-old rocks in the Henderson Mine in Colorado; and 100-million-year-old rocks in the country of Oman…. Gold also predicted that microbes living in the hot rocks of the crust would be able to live off of hydrocarbons such as oils that could be replenished from Earth's mantle with no biological processes involved. He was wrong on that, Boyd said, which means, among other things, that oil supplies cannot be replenished." (PNAS podcast; original Gold "deep, hot biosphere" paper.)
Guillotine Watch
"What I Learned About Produce Growers While on Top of the World, Mount Everest" [SupplyChain 247]. Anybody who has read Into Thin Air will recognize this piece for C-class puffery in its purest and crassest form. There are times when I think we have the stupidest elites in the world, bar none, and including "the developing world" into which we are rapidly devolving. One can only wonder how many frozen corpses and coproglacies this dude passed by on his way to the top.
Class Warfare
"Housing is too expensive for low-skilled workers to move to cities with the highest-paid jobs" [Quartz]. It's one thing to put Momma in a home so you can move to get a job, as 10%-ers insist people should do. It's another thing to put Momma in the home, move, and find out you can't really afford to live there. Here's the NBER Paper. From the abstract:
The past thirty years have seen a dramatic decline in the rate of income convergence across states and in population flows to high-income places. These changes coincide with a disproportionate increase in housing prices in high-income places, a divergence in the skill-specific returns to moving to high-income places, and a redirection of low-skill migration away from high-income places. We develop a model in which rising housing prices in high-income areas deter low-skill migration and slow income convergence. Using a new panel measure of housing supply regulations, we demonstrate the importance of this channel in the data.
"A blueberry farm abruptly fired more than 100 migrant farm workers Sat., Aug. 5, amid allegations of unsafe conditions that workers say contributed to the death of a coworker days after he collapsed in a field" [Cascadia Weekly]. "More than 80 of the displaced Sarbanand Farms workers set up a makeshift camp at a Sumas residence over the weekend, and roughly 80 remained there Monday. Citizens, farmers and local businesses flocked to the Telegraph Road home, scrambling to fulfill the most basic needs of the workers—who came to the United States under H-2A visas that promised employer-provided food, housing and transportation."
"Elon Musk May Be a "Visionary," But His Vision Doesn't Seem To Include Unions" [In These Times]. "It's hard to know exactly what constitutes "manufacturing hell," but it might also be difficult to ever find out. That's because, since last November, Tesla has required employees to sign confidentiality agreements which prevent them from discussing workplace conditions." Holy moley.
News of the Wired
"The Wartime Origins of Farmers Markets" [JSTOR Daily]. "By John Brucato's count there were more than 200 people standing in the empty lot at the corner of Market and Duboce streets in San Francisco at 6:30 that Thursday morning in August 1943. Each streetcar that arrived disgorged more housewives. Many carried empty shopping bags; others bought boxes from enterprising street vendors. Within an hour, Brucato estimated, the crowd had grown to a thousand people. Someone cried out: 'The farmers are coming!' But it was a false alarm. The people were getting impatient, and Brucato, who had helped to organize the unusual gathering, was worried: Had the farmers encountered foul play on their trip from Sonoma County? There had been threats. Finally, just after 8:00, Joe Sanchetti's pickup truck came into view, piled with crates of fresh California pears. He led a short parade of five fellow farmers—Brucato had originally hoped for 60—all of whom had been watching their pears and apples rot in the fields. The war was on, and the small farmers had been unable to sell their harvest to shorthanded canneries. Meanwhile, in the city just 50 miles away, affordable produce was scarce. Families hoarded ration coupons and tended to victory gardens. When Sanchetti came to a stop, the waiting customers clamored to untie the produce boxes…." Life during wartime….
"Small Functions considered Harmful" [Cindy Sridharan, Medium]. "Inasmuch as it's impossible to abstract perfectly, the best we can do abstract well enough insofar as we can. Defining "well enough" is hard and is contingent on a large number of factors…."
"HyperCard On The Archive (Celebrating 30 Years of HyperCard)" [Internet Archive]. I love HyperCard… It's too bad we don't have an Internet-enabled version of HyperCard today. It would slay the browser.
Anecdote: I took the bus into a Bangor this morning, and a very old but thin sharp and feisty lady got on with her walker, apparently having fallen the day before. "Norma, go slow! Go slow!", her helper, having helped her onto the bus, urged her before alighting. Anyhow, "Norma" needed to get off downtown, so I helped her, with her walker, off, and then decided to walk with her to her destination. (To my discredit, I probably wouldn't have decided that if I hadn't been so near my destination.) Another gentleman appeared, and he on the right, and I one the left walked Norma four blocks over bumpy sidewalks to her destination. (Norma didn't really roll the walker; sometimes she lifted it up to go over an obstacle, so you can see how she fell.) Anyhow, when we were close to her destination, I heard the other gentleman say, in response to something Norma said that I did not hear: "I couldn't live that near to a synagogue." Having left Norma happily sitting on a sunny bench in front of her doctor's — the walk took perhaps fifteen minutes — he and I walked off together, and I asked him: "Were you just a random passer-by, like me?" He said yes, and added "It was white of you to help her." I said, "I don't know if it was white… " So, et in arcadia ego….
* * *
Readers, feel free to contact me at lambert [UNDERSCORE] strether [DOT] corrente [AT] yahoo [DOT] com, with (a) links, and even better (b) sources I should curate regularly, (c) how to send me a check if you are allegic to PayPal, and (d) to find out how to send me images of plants. Vegetables are fine! Fungi are deemed to be honorary plants! If you want your handle to appear as a credit, please put it in the subject line. Otherwise, I will anonymize by using your initials. See the previous Water Cooler (with plant) here. Today's plant (Will C):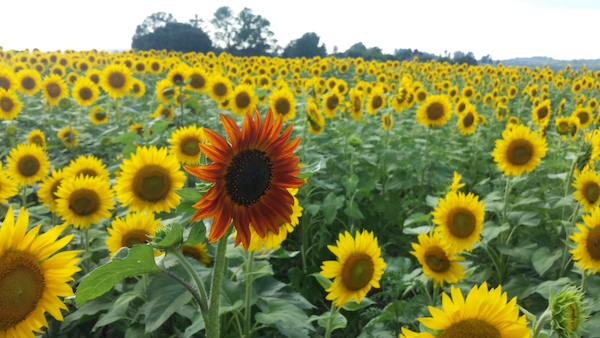 Will C writes:
Hey Lambert, here's a plant picture for you. There's a story behind this. Our local carwash owner plants this field of sunflowers every year. Here's an article about him: https://www.carwash.com/sunflower-field-brings-public-to-carwash/ It's just something he does and has become a community tradition.

There were about twenty people taking photos the day my wife and I were there, but yesterday, there were at least a hundred. In previous years he let people take the heads, but I think this year he's trying to let them reseed.

This particular photo shows an orange one among the many yellows. It's really gorgeous and an awesome community feature.
The photo is also an exercise in the Rule of Thirds and a creative depth-of-field (both senses) decision. (I also had great success with reseeding sunflowers this year.)
* * *
Readers, Water Cooler is a standalone entity, not supported by the Naked Capitalism fundraisers. Please use the dropdown to choose your contribution, and then click the hat! Your tip will be welcome today, and indeed any day. Water Cooler will not exist without your continued help.