By Lambert Strether of Corrente
Meetup reminder: The Burlington, VT Thursday, August 17 at 8:00PM; Montreal, Quebec Friday, August 18, at 6:00PM. Hope to see you there!
I'll be back with some UPDATEs after I move out of my frigid garden — 64°F — and into a warmer area. –Lambert. 3:37PM. Done. And a bit of sun, at last!
Trade
"[T]he Office of the U.S. Trade Representative appears to have dropped, without explanation, a World Trade Organization case challenging China's subsidies for primary aluminum producers. The case filed late in the Obama administration was not included in a report on USTR's enforcement agenda sent to Congress last week, although two other late Obama-era cases targeting China's agricultural policies were listed in the report" [Politico].
Politics
2018
UPDATE "Sen. Warren honing campaign pitch as GOP eyes 2018 campaign" [AP]. "The conservative political action committee America Rising has been dogging Warren, most recently charging her with waffling about whether she supports a single payer health plan."

UPDATE "Skelton uses populist techniques to try to flip historically red 50th" [Missourian]. "The 50th District has been a safe GOP seat since its boundaries were drawn in a 2011 redistricting. Since then, Republican Caleb Jones had held the seat, and no Democrat dared to challenge him." Skelton is relying on small donors, which makes sense, since this is exactly the kind of seat that national Democrats don't want to challenge.
New Cold War
Larry Tribe seems to be losing his mind:

Pretty astonishing that you just retweeted something from the Palmer Report. I thought you were a law professor of some kind?

— Mattathias Schwartz (@Schwartzesque) August 7, 2017

And then there's this:

Sanders is now going after @KamalaHarris exactly the way he once went after @elizabethforma! At long last, Senator, have you NO shame?

— Laurence Tribe (@tribelaw) August 7, 2017

"[H]ave you NO shame?" is, of course, Joseph Welch's famous rhetorical question to Joe McCarthy, so Larry is putting himself in Welch's place, making Sanders McCarthy. And I don't know which aspect of that analogy is more ludicrous: Louise Mensch-fanboy Larry as paragon of integrity, or Sanders as smear artist. Honestly, it's like Harris passes one donor class audition in the Hamptons, and Democrat liberals like Tribe anoint her the presumptive nominee. Because the real problem Clinton had was that she didn't wrap up the nomination early enough.
Health Care
UPDATE "Inside Bernie Sanders's campaign to save Obamacare" [Vox]. "But at least during the Obamacare repeal fight in Congress, Sanders was a team player. He brought crowds to dozens of rallies with Senate Democrats who had once opposed him. He shut a Republican attempt to expose Democrats' divisions, despite the interest of some of his team. And, perhaps most importantly, he marshaled his resources and newfound star power in defense of Democrats' top priority: showing what it might look like for his movement to be incorporated into the party apparatus, rather than having it try to knock down its gates. 'Our job today is to defend the Affordable Care Act,' Sanders said at several of his rallies this year. 'Our job tomorrow is to create a Medicare-for-all single-payer system.'" Which is a legitimate political judgement call; that's what we want from Sanders, after all. What's fascinating — I was about to write "remarkable," but nah — is that Democrat liberals are (a) unwilling to say "single payer tomorrow," and (b) continue to smear Sanders anyhow, despite the help he gave them; see Larry Tribe at work above.
Trump Transition
"Trump White House quietly courts Democrats for tax overhaul" [Politico]. "The Trump White House is quietly courting a few dozen House Democrats on tax reform… Even as congressional GOP leaders largely embrace a partisan path on taxes, White House officials have been wooing 15 to 20 centrist House Democrats since early summer. At a mid-June dinner at the White House with four centrist House Democrats, President Donald Trump expressed interest in a bipartisan package combining tax reform with infrastructure spending, multiple sources said. Since then, Treasury Secretary Steven Mnuchin, chief economic adviser Gary Cohn and top White House staff have huddled with conservative Democrats in the Blue Dog Coalition and the bipartisan Problem Solvers Caucus." I suppose that makes the Blue Dogs Russian stooges and white supremacists? I'll expect the Blue Dogs to be drummed out of the party forthwith. Not. Why, it's almost enough to make you think liberal Democrats are power seekers of the most trivial and abortive sort….
Realignment and Legitimacy
"Regardless of the outcome of upcoming elections, the political math reveals the challenges facing each party. The United States has evolved to two distinct political coalitions: A Republican hammer-lock in the South and the nation's heartland, which provides 219 electoral votes in 24 states— all of which are contiguous except for Alaska; A Democratic coalition based on the Atlantic and Pacific coasts, where they hold a solid grip on 203 electoral votes in 16 states; and 116 electoral votes in 10 states in the Great Lakes region and Southwest that are up for grabs" [Cook Political Report]. Well worth a careful read. Note well: "In the House, many Democrats expect that their best opportunity to regain control will come in 2022 following the decennial Census." With this handy map:

"So, it is time to ask: If this city [Washington] brings Trump down, will the rest of America rejoice?" [Patrick Buchanan, RealClearPolitics]. "What will be the reaction out there in fly-over country, that land where the 'deplorables' dwell who produce the soldiers to fight our wars? Will they toast the "free press" that brought down the president they elected, and in whom they had placed so much hope? My guess: The reaction will be one of bitterness, cynicism, despair, a sense that the fix is in, that no matter what we do, they will not let us win." Buchanan, the old reprobate, asks a good question (one that Sanders supporters have asked as well).

UPDATE "[F]or Democrats willing to pull to the left and identify as socialists — or at least support socialist issues like single-payer health care, a raise in the minimum wage to at least $15, criminal justice reform and a rejection of corporate influence over politics — the DSA is staffing campaigns with hundreds, perhaps thousands of volunteers" [Mic. "'We step in analogously to being hired consultants, except we do it for free,. DSA deputy director David Duhalde said in an interview… The DSA is not a party. Instead, they provide candidates and manpower, sometimes for their own candidates, and sometimes for Democrats. When local DSA chapters decide to support a candidate, they swoop in, set up volunteer networks, tap into a national network of phone banks and bring in a media team that can make images, posters, videos and graphics." And more:

— a loss ultimately, but one that gave birth to a new paradigm for political organizing. Duhalde identified two lessons mainstream Democrats can learn from Sanders' campaign model — a model which shattered fundraising records and garnered Sanders unexpected wins in states like Michigan.

The first is the DSA's . The Sanders campaign used a combination of apps like Slack, virtual call centers and online forums to quickly convert rank-and-file volunteers into organizers who then become responsible for their own, new network of volunteers.

The DSA learned many of its lessons on running effective campaigns from volunteering for Bernie Sanders' presidential run.

The other takeaway is a point that Berniecrats have been drilling Democrats on since the 2016 election loss: coming out with instead of defining themselves by what they're not.

Very interesting! Note that the Sanders' campaign's combination of an organizing model and with ambitious goals has aleady been replicated by Sanders activists training the Momentum activists for Jeremy Corbyn (report from the NC London meetup).

UPDATE "Four days with America's socialist party" [The Outline]. Except the DSA is not a normal political party; see link above. That said: "The newly elected National Political Council] is, in large part, the most ambitious that the DSA has ever seen. Despite several contentious votes, the convention saw its dues, its organizational structure, and its internal policy procedures begin to pivot toward the degree of seriousness required to build a movement that lasts longer than an election cycle or a fad. Even where the proceedings became tedious, or a vote came out contrary to what I thought would have been wiser, or the procedural machinations descended into the inevitably parody of any unruly body operating under Robert's Rules of Order, the very fact of a real and at times contested display of political organizing will help transition what has for many been a largely online tendency into a real task worth dedicating a life to." And while I'm not big on generational analysis — Sanders is, after all, an old codger — the NPC isn't a Breshnevian gerontocracy, either. Then again: "What we are proposing is the most difficult task in the history of the world. Nothing will ever be harder." Not hyperbole.

UPDATE "Polling done earlier this year by the American Culture & Faith Institute found that 37 percent of American adults now say they prefer socialism to capitalism. Among millennials, the divide is even sharper. A Harvard University survey taken last year found that 51 percent of respondents between the ages of 18 and 29 no longer say they support capitalism" [The Intercept].

UPDATE "American socialists once governed great cities, helped to define the politics of states across the country, and played a critical role in setting the national agenda. The Socialist Party of Eugene Victor Debs and Norman Thomas influenced presidents and Congresses, and was covered on the front pages of newspapers on a daily basis" [The Nation]. "That party had many bases of strength, and indeed exists to this day, along with DSA, Socialist Alternative, and an array of other socialist organizations, some old and some new. From 1910 to 1960, the 'hotbed of socialism' in America was Milwaukee, Wisconsin. At the time it was one of the largest and most prosperous cities in America—and it was run by Socialists." Since the blue cities of the metropolis are disproportionately under the control of liberal Democrats, expect pushback.

"New Orleans' DSA chapter is unlikely to issue endorsements in New Orleans' fall municipal elections, explains chapter member Joshua Lewis" [Best of New Orleans]. "'New Orleans' Democratic party is pretty all-powerful,' Lewis says. 'You don't get a lot of candidates for [City] Council who are going to rock the boat because it's so critical for them to have the support of the party. … Over time, hopefully that will change, and the more political engagement you have in the city, and more people paying attention, the more possibility for different kinds of candidates becoming successful.'"

"Why A Trump Pivot Might Backfire" [FIveThirtyEight]. "[G]iven how political coalitions are currently constructed, Republicans have some structural advantages in the way seats and votes are distributed in both Congress and the Electoral College. So Trump has every incentive to play the long game. If he were to really and truly pivot [to the center] and sustain that new course, perhaps some of the 47 percent of voters who are currently in the 'strongly disapprove' camp would eventually become reluctant supporters, after stopping in the 'somewhat disapprove' category along the way. But if Trump is looking for a short-term fix, a pivot probably won't work."

UPDATE "The enemy as animal: Symmetric dehumanization during asymmetric warfare" [Public Library of Science]. "This study illuminates the striking potency and symmetry of blatant dehumanization among those on both sides of an active asymmetric conflict."

UPDATE "The Political Payoff of Making Whites Feel Like a Minority" [The New York Times]. "The data show that race is less important* to white Americans' sense of self than to nonwhites — more white people say being white is not at all important to their identity relative to the numbers who say so in other groups. But Mr. Trump's continued efforts to remind white Americans of their group status may increase the number of white people who think of themselves through a racial lens." What could go wrong? Since the "Obama Coalition" (so-called) was explicitly built on Ruy Teixeira's theory of "the coalition of the ascendant," where the "ascendant" were explicitly non-whites, it would have been quite remarkable had an equal and opposite reaction not taken place. * To be fair, that's because hitherto, that "ascriptive identity" hardly need to be ascribed; it was the default setting, as it were.

UPDATE "If Only There Were An Organization That Could Do Something About This" [Mike the Mad Biologist]. "Alabama does not have to notify tens of thousands of former felons that they recently regained the right to vote, a federal judge ruled Friday." I'm sure the Democrat Party will pick up the ball on this.
Stats Watch
Gallup US Consumer Spending Measure, July 2017 (yesterday): "Americans' daily self-reports of spending averaged $109 in July, the sixth month in a row in which spending has averaged $100 or more. This is the highest spending average since May 2008" [Econoday]. "This is the last report of consumer spending. Gallop will no longer be producing it going forward." Another one bites the dust.
Consumer Credit, June 2017 (yesterday): "Though growth in headline consumer credit, at $12.4 billion, came in lower than expected, the component for revolving credit posted another sizable increase, at $4.1 billion vs $6.9 billion in May" [Econoday]. "This component, which is where credit card debt is tracked, has been on the rise this year raising the question whether financial firms are beginning to lend to less qualified borrowers. Whether or not gains here are good for credit quality, they are a plus for short-term consumer spending." But: "Less than expected as the deceleration continues. I read this as reflecting a drop in consumer spending. The savings rate has been down, and the personal income curve has been bent lower as well, and retail sales have also slowed" [Mosler Economics]. "So it can all be read this way:
The consumer has less real disposable income, has cut back on spending, and has been 'forced' to put some of that reduced spending on his credit card, though less than the prior month, which doesn't bode well for future spending."
Labor Market Conditions Index July, 2017 (yesterday): "As of August, the Federal Reserve's Labor Market Conditions Index has been discontinued. The report released in July for June is the last of the series" [Econoday]. The Fed: ""We decided to stop updating the LMCI because we believe it no longer provides a good summary of changes in U.S. labor market conditions. Specifically, model estimates turned out to be more sensitive to the detrending procedure than we had expected, the measurement of some indicators in recent years has changed in ways that significantly degraded their signal content, and including average hourly earnings as an indicator did not provide a meaningful link between labor market conditions and wage growth."
NFIB Small Business Optimism Index, July 2017: "The small business optimism index rose 1.6 points in July to 105.2, as significant gains in hiring activity pushed the reading to the highest level since February and just short of the 12-year high set in January" [Econoday]. "The solid increase surprised most analysts, surpassing not only the consensus forecast but the upper limit of the range of forecasts. And it was strong consumer demand that gave a boost to the index, according to the NFIB, which noted that business owners are feeling better about the economy because customers are feeling better about it…. Obscured by the high optimism expressed by small business owners in the survey, however, are also elements of frustration. The NFIB said that 87 percent of the 60 percent of small business owners trying to hire in July had a tough time trying to find workers with specific skills, a problem most severe in construction and manufacturing. Thus, while a tight job market may point to higher wages and rising consumer spending down the road, which is also good for small businesses, the current expansion efforts by small business owners are being choked by their difficulties in hiring and keeping workers." If only there were a market-based solution for that… And amazingly: But: "No sign of Trumped up expectations fading here" [Mosler Economics]. And: "Fifty-seven percent reported capital outlays, unchanged. Of those making expenditures, 38 percent reported spending on new equipment (down 2 points), 24 percent acquired vehicles (up 3 points), and 17 percent improved or expanded facilities (up 4 points). Five percent acquired new buildings or land for expansion (up 1 point) and 13 percent spent money for new fixtures and furniture (up 2 points). There is still little evidence that capital spending, which raises worker productivity, is going to increase its contribution to growth anytime soon" [EconIntersect].
JOLTS, June 2017: "Job openings rose sharply in June, to 6.163 million from 5.702 million in May. Hires, however, fell sharply, to 5.356 million from 5.459 million" [Econoday]. This data set can be volatile but the underlying theme is a separation between openings and hiring which points to tightness in the labor market and the risk, at least theoretically, of wage inflation." And: "JOLTS had been showing little year-over-year job openings growth – but this month there was a significant improvement. Historically, this indicates stronger employment growth" [EconIntersect]. But and: "Hires fell, which most are saying indicates a lack of supply of workers. But the low wage growth and low participation rates tell me it's more likely about low aggregate demand" [Mosler Economics]. (Note that the last employment situation numbers are heavily tilted toward part-time work.) But and amazingly: "Minneapolis Fed President Neel Kashkari told business leaders on Monday that companies should be raising pay aggressively if that is the case" [MarketWatch]. "'Are you really struggling to find workers? If so, the proof for me is you are raising wages. If you are not raising wages, then it just sounds like whining,' he said." Since when did Kashkari take out a Communist Party card?
Leading Indicators: "The U.S. is set for steady economic growth, while the U.K. and Russia appear to be heading for slowdowns, according to leading indicators released Tuesday by the Organization for Economic Cooperation and Development" [MarketWatch]. "The leading indicator for the U.S. was unchanged at 99.7 for the third straight month, signaling that its growth outlook has steadied, albeit at a weaker rate than normal. This is an improvement on indicators published in July, which hinted at a U.S. slowdown, and implies global economic prospects could be boosted as U.S. trade flows pick up. The Paris-based research body's gauge of future activity, based on data for June, continued to point to faster growth in Germany, France, China and Brazil."
Concentration: "Aerospace-industry suppliers are looking at big steps as jet makers take over bigger parts of their supply chains" [Wall Street Journal]. "Boeing and Airbus have moving into the aftermarket business to capture more revenue for themselves, putting them on a collision course with suppliers. Consolidating will make those suppliers bigger and, they believe, put them on stronger footing as they work with their heavyweight customers."
Shipping: "The trustee for the remnants of the business says Hanjin has raised about $220 million since its bankruptcy filing jolted the maritime world nearly a year ago" [Wall Street Journal]. "Just a fraction of the claims against the defunct operator that now total more than $10.5 billion.
Shipping: "Trustees have been unable to confirm when distributions to [Hanjin] creditors will start" [DC Velocity]. When the money drops from the sky?
Shipping: "Hot demand could push Internet of Things (IoT) providers to triple production by 2022 of the electronic devices used by companies to track their assets, a report released Wednesday says" [DC Velocity]. "Much of the growth is being driven by technology changes over the past three years, such as better long-range communications, extended battery life that allows a device to run for years on a single charge, and lower prices for tracking modules."
UPDATE Shipping: "The risk of cyber attacks targeting ships' satellite navigation is pushing nations to delve back through history and develop back-up systems with roots in World War Two radio technology" [Reuters]. "Ships use GPS (Global Positioning System) and other similar devices that rely on sending and receiving satellite signals, which many experts say are vulnerable to jamming by hackers. About 90 percent of world trade is transported by sea and the stakes are high in increasingly crowded shipping lanes. Unlike aircraft, ships lack a back-up navigation system and if their GPS ceases to function, they risk running aground or colliding with other vessels."
Auto: "Electric cars now make up only about 0.2% of the U.S. automobile fleet, and they're not fighting for the roughly 44,000 available public charging stations. Analysts say if growth predictions come close to panning out, current charging infrastructure will offer little support for new cars, including for the city dwellers with the income and impetus to buy the vehicles. Experts say the biggest challenge in building out charging infrastructure is that no one can predict how demand will grow. Charging providers should figure that out over time, of course, but then they'll face another infrastructure question: how to meet the demand on the electrical grid" [Wall Street Journal].
The Bezzle: "How Many Accounts Does Wells Fargo Actually Have?" [DealBreaker]. "But the biggest problem seems to be that wherever Wells looks, it finds more unauthorized accounts opened for its benefit at the expense of the person for whom the account was allegedly opened."
The Bezzle: "Why Germans pay cash for almost everything" [Quartz]. "No one knows precisely why Germans have such a strong preference for cash, though survey data offer some hints. German respondents suggested that using cash makes it easier to keep track of their money and spending [pdf]." Can't have that!
The Bezzle: "To assess how vulnerable cities' budgets could be, Governing conducted the first national analysis of how city revenues might be affected by autonomous vehicles. For the 25 largest U.S. cities, we requested and obtained revenues for parking collections and fines, traffic citations, traffic camera fines, gas taxes, vehicle registration, licensing and select other fees. In all, these 25 cities collectively netted nearly $5 billion in auto-related revenues in fiscal 2016, or about $129 per capita" [Governing]. "Estimates of just how much city revenues may eventually diminish vary considerably. Cities identified as most likely to incur the steepest revenue losses in our analysis were densely populated localities where parking comes at a premium… Most big cities maintain large and diverse enough revenue streams to absorb such hits to their budgets. But for some smaller jurisdictions, sizable financial shortfalls may lie ahead." Smaller jurisdictions like Ferguson, for example, will have to ramp up "law enforcement for profit" in other areas, probably code enforcement.
The Bezzle: "Tesla Using Debt Financing To Fund "Manufacturing Hell" And No One Really Cares" [DealBreaker]. "Holy sh*t, Tesla is tacitly admitting that an auto company with an almost $60 billion market cap is incapable of projecting its own cash burn rate and will use debt to finance its most ambitious rollout ever because it apparently really needs about one and a half billion dollars to make a shit-ton of cars that it is going to go through 'Manufacturing Hell' to make."
The Bezzle: "A class action lawsuit filed last week in the federal district court for Northern California alleges that Walt Disney Co. (NYSE: DIS) and its partners violate the Children's Online Privacy Protection Act (COPPA) and seeks an injunction prohibiting the companies from either collecting or disclosing the data with the parental consent. The lawsuit also seeks punitive damages and legal fees" [247 Wall Street]. "Disney and its partners — Upsight, Unity and Kochava — are alleged to have created mobile apps that illegally collect data about the apps' users, including users under the age of 13. That collected data may then be used for advertising or other commercial purposes…. A total of 42 apps were named in the lawsuit. Many are wildly popular." Of course, if you're in the entertainment business and you want to make your brand "sticky" over a consumer's entire lifetime, than trafficking in children's data would be the way to go, and the younger the better. Why not force Disney to erase the data entirely?
Five Horsemen: "Apple's silver spaceship lifts off to new highs" [Hat tip, Jim Haygood].
Rapture Index (yesterday): Closes down 1 on unemployment. "The official jobless numbers are at a 7 year low" [Rapture Ready]. Record high: October 10, 2016: 189. Current: 181.
Today's Fear & Greed Index: 68 Greed (previous close: 63, Greed) [CNN]. One week ago: 66 (Extreme Greed). (0 is Extreme Fear; 100 is Extreme Greed. Last updated Aug 8 at 11:47am.
Corruption
"Who says crime doesn't pay? The Pennsylvania Supreme Court" [Morning Call]. As I read it, the Pennsylvania Supreme Court just decided convicted fraudsters don't have to make restitution — if they defrauded the state.
"That's a lesson of "The Misfortune of Marion Palm," a new novel about a Brooklyn Heights mom on the lam after embezzling a small fortune from her kids' private school. Out August 8, Emily Culliton's debut effort has already been the subject of much buzz in publishing circles due to her readable portrayal of the financial travails of New York's creative class" [Moneyish].
"Take the Generic, Patients Are Told. Until They Are Not" [New York Times]. "Out of public view, corporations are cutting deals that give consumers little choice but to buy brand-name drugs — and sometimes pay more at the pharmacy counter than they would for generics… Generic drug makers say they have seen an increase in efforts by manufacturers of brand-name drugs to fight to retain sales after they lose patent protection…. Consumers taking other medications said they had experienced the same phenomenon." Readers?
Police State Watch
News you can use:
MY PROFESSIONAL ADVICE
to anyone ever serving on a jury.

NEVER, EVER, give more credence to the testimony of the… https://t.co/hMVvIGYl1c

— CaptainRayLewis (@CaptainRayLewis) June 22, 2017
Our Famously Free Press
"How America Lost Its Mind" [The Atlantic]. "The word mainstream has recently become a pejorative, shorthand for bias, lies, oppression by the elites. Yet the institutions and forces that once kept us from indulging the flagrantly untrue or absurd—media, academia, government, corporate America, professional associations, respectable opinion in the aggregate—have enabled and encouraged every species of fantasy over the past few decades…. Our whole social environment and each of its overlapping parts—cultural, religious, political, intellectual, psychological—have become conducive to spectacular fallacy and truthiness and make-believe. There are many slippery slopes, leading in various directions to other exciting nonsense. During the past several decades, those naturally slippery slopes have been turned into a colossal and permanent complex of interconnected, crisscrossing bobsled tracks, which Donald Trump slid down right into the White House."
"I was reading all this Trump stuff, and it doesn't feel like we're reading news for the reason we used to, which was to get a better sense of what's going on in the world and to enrich yourself by being aware. It's like reading about what happened on Monday Night Raw. When you take a step back, it all just seems so sensationalized. Trump's gonna get impeached! No, he's not. None of that sh*t's happening. But you are going to read all the articles. So if you take yourself out of it, you're not infected with this toxicity all the time. Also, guess what? Everything is fine! [Interview with Aziz Ansari, GQ]. It seems like "we're reading wrestling rumors" because it's kayfabe.
Class Warfare
The Bezzle: "Why Facebook should pay us a basic income" [Financial Times]. "If, as the saying goes, data are the new oil then we may have found a 21st-century revenue stream. Data could do for the world what oil has done for Alaska… Mr Zuckerberg's concern for the marginalised in society is commendable, as is his commitment to building strong communities. Unlike most of the rest of us, he has the personal influence to help tackle the problems of our age. He runs one of the world's most valuable companies and has a ready-made digital pulpit from which he can make his case to Facebook's 2bn global users. He should now live up to his rhetoric and launch a Facebook Permanent Fund to cover a broader universal basic income experiment. He should encourage other data businesses, such as Google, to contribute too." Is it possible this is a trial balloon?
"[I]n 2016 CEOs in America's largest firms made an average of $15.6 million in compensation, or 271 times the annual average pay of the typical worker" (PDF) [Economic Policy Institute]. There are 261 work days in a year, so those CEOs make more in a day than the average worker does in a year. To be fair, putting your pants on two legs at a time is a unique talent, well worth paying for.
"Part of the challenge for public officials is that "the opioid epidemic" is really a fight on two very separate fronts: the increased use of heroin in young adults in urban and suburban areas, and older adults abusing prescription drugs like Oxycontin in more rural areas" [Governing]. "[S]ome health experts say that cities and states need to reframe the whole way they think about the opioid outbreak. It's not simply about the rise of a new class of addictive drugs that now take the lives of some 91 Americans every day. The opioid crisis is a jobs crisis; it's an affordable housing crisis. The same forces that have reshaped the economy over the past decade have left a void that's been filled, in many places, by opioids. A University of Pennsylvania study after last November's election found that President Trump had overperformed in counties with the highest rates of 'deaths of despair,' which include suicide, drug overdose and alcohol poisoning. It supports the fact that there are many Americans who feel left behind by the changing economy, and who fundamentally don't believe the current political and policy framework is helping them." It's good to see Case-Deaton recognized, if not cited, but I have the sinking feeling that the opioid crisis will only be addressed when it can be fully medicalized, and only then if the professional classes who would provide treatment decide that saving the lives of "deplorables" is worth it. No sign of that so far from their party.
"Widening Disparities In Infant Mortality And Life Expectancy Between Appalachia And The Rest Of The United States, 1990–2013" [Health Affairs]. "We compared infant mortality and life expectancy disparities in Appalachia to those outside the region during the period 1990–2013. We found that infant mortality disparities widened for both whites and blacks, with infant mortality 16 percent higher in Appalachia in 2009–13, and the region's deficit in life expectancy increased from 0.6 years in 1990–92 to 2.4 years in 2009–13."
News of the Wired
"Soon, Popper quit his job, moved to a smaller house*, and launched his own firm, SciFutures. Today, his network of a hundred or so authors writes customized stories for the likes of Visa, Ford, Pepsi, Samsung, and NATO. Popper calls their work 'corporate visioning'" [New Yorker]. I'm sure this is a fascinating article, but I couldn't bear to read on. Anyhow, Gibson has it covered.
"The Summer of Love/The Counter Culture: Toward an Intellectual History" [Society for US Intellectual History].
Hail Hydra! Mighty Hydra:
Photo of the Day [via @marshalljulius] pic.twitter.com/3V1ZHV5zcF

— Steve Silberman (@stevesilberman) August 6, 2017
We shall never be destroyed! Cut off one limb, and two shall take its place! We serve none but the Master — as the world shall soon serve us!
* * *
Readers, feel free to contact me at lambert [UNDERSCORE] strether [DOT] corrente [AT] yahoo [DOT] com, with (a) links, and even better (b) sources I should curate regularly, (c) how to send me a check if you are allegic to PayPal, and (d) to find out how to send me images of plants. Vegetables are fine! Fungi are deemed to be honorary plants! If you want your handle to appear as a credit, please put it in the subject line. Otherwise, I will anonymize by using your initials. See the previous Water Cooler (with plant) here. Today's plant (JG):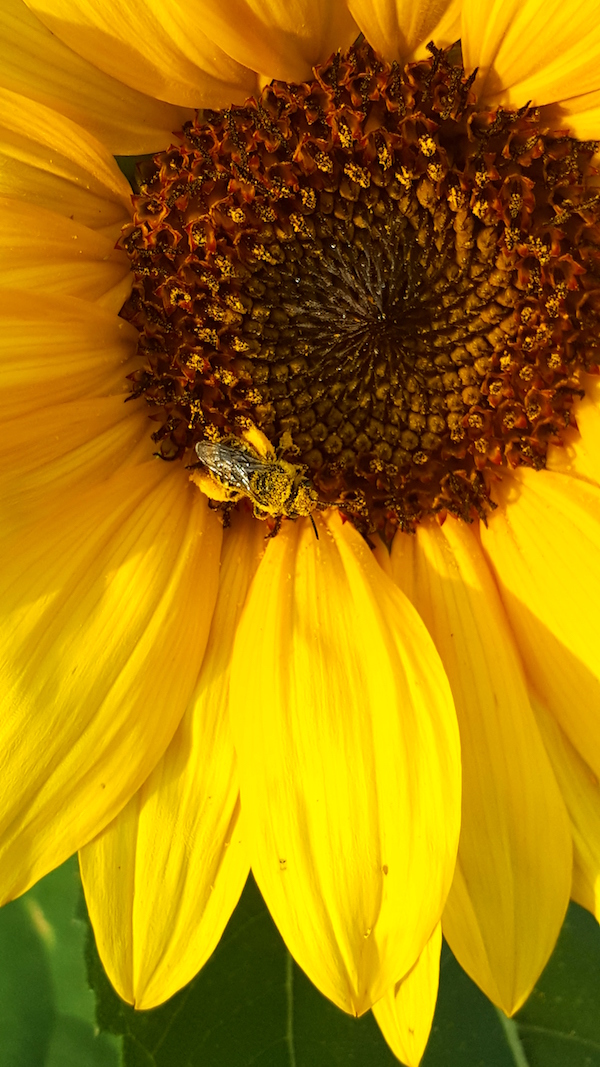 * * *
Readers, Water Cooler is a standalone entity, not supported by the Naked Capitalism fundraisers. Please use the dropdown to choose your contribution, and then click the hat! Your tip will be welcome today, and indeed any day. Water Cooler will not exist without your continued help.