By Lambert Strether of Corrente
Trade
"Some of the biggest cheerleaders of free trade, including the U.S. Chamber of Commerce and National Foreign Trade Council, aren't biting on a Trump administration request for comments on its review of trade agreement violations and abuses" [Politico]. "'Preparation of this annual report is required by statute,' the Chamber said in its comments. 'U.S. Chamber member companies and associations have long contributed extensively to the preparation of this report, which is and should be the default resource for the administration as it considers the next steps in its trade policy actions.'"
Politics
2020
"The First 2020 Candidate Is … Hold On, I Had The Name Right Here … John Delaney" [FiveThirtyEight]. "Democratic U.S. Rep. John Delaney of Maryland has declared that he is running for president. You heard that correctly: A serious elected official has declared his candidacy just six months into President Trump's term. Trump still has another 3.5 years to serve." Bio: "John is Chairman Emeritus of CapitalSource. Prior to CapitalSource, he founded HealthCare Financial Partners, a successful company that was started in 1993 and became a public company in 1996."

"Obama's Inner Circle Is Urging Deval Patrick to Run" [Politico]. Harris is Clinton 2.0. Patrick is Obama 2.0. Please do continue to circle the drain!

"Bernie Sanders's Campaign Isn't Over" [The New Yorker]. Pretty good for The New Yorker. "Since the election, he has staged events in Michigan, Mississippi, Maine, West Virginia, Arizona, Nevada, Ohio, Kentucky, Wisconsin, Pennsylvania, Montana, Florida, Iowa, Maryland, and Illinois. At every one, he speaks about the suffering of small-town Americans, and his belief that the Democrats can help them…. Sanders is not a storyteller. His speeches, blunt and workmanlike, depend upon dramatizing social statistics." And on the so-called "Better Deal":

Last week, in a small town in northern Virginia, Chuck Schumer, the Senate Minority Leader, announced the Party's platform for 2018, "A Better Deal," which is aimed at winning back working-class voters. The platform includes a fifteen-dollar minimum wage and a trillion-dollar investment in infrastructure, plans that Sanders has long promoted, often with little support. Many people in the Democratic Party believe that, when it comes to policy, Sanders has prevailed. Sanders does not see it that way. He told me,

And:

When the Democratic Party fractured, in the primaries, it was like a bone cracking

Yeah. And sometimes you have to re-break a bone for it to heal properly. "The Democrat Party presented with a malunion fracture…."
Obama Legacy
Discussion of whether Obama ever bullied anybody:

I agree with many of your arguments re concentration but you seem to make lots of unsubstantiated arguments on twitter. How did Obama bully?

— Neera Tanden?? (@neeratanden) August 1, 2017

Example: "OBAMA: 'Got the little single payer advocates up here.'" Amazing that somebody as well-paid and influential and woke as Tanden is so ignorant (assuming good faith).
2018
"I asked a smart, veteran campaign Republican consultant what advice he was giving clients in competitive races on how to best navigate between Trumpism and traditional Republicanism. 'Localize the race without needlessly antagonizing Trump or his supporters,' he said" [Charles Cook, Cook Political Report]. "It should be pointed out that the above advice is exactly the approach that Karen Handel employed in her come-from-behind victory in Georgia's 6th Congressional District special election last month. Candidates need to be able to thread the needle, not taking on the burdens of Trump but not alienating his supporters either." As for Democrats: "It's fashionable these days to say that Democrats have to stand for something if they're going to win a House majority and break even in the Senate. Balderdash. I have never seen a party win a midterm election on the issues; midterms are always a referendum on the party in power."

Lambert here: Personally, I don't see why Cook's claim ("balderdash") has to stay valid; see the Sanders link above. The next election is always the focus of the strategists and consultants because they get their cut from that election, as do influence-peddling Flexians; and today's liberal Democrat Establishment can be reduced, without loss of generality, to those two subclasses. So, for them, and for — much as I enjoy reading him — horse-race touts like Cook, the next election is paramount; that's their rice bowl. For voters, however, policy really is important — Trump, after all, fought and won the 2016 election on policy, crude as it was — and policy can only be determined and fought for over many elections. Schumer's flaccid "Better Deal" is a back-handed tribute to this view; Our Revolution's "People's Platform", by contrast, is a good faith effort. At some point, and for good or ill, the voters' obvious demand for visible, skin-in-the-game, policy-based strategy — my candidate is universal concrete material benefits, especially for the working class — is going to break through, and some institution/candidate will ride the ensuing flood. I'm sure the Whigs were all about winning the next mid-term, too. That worked. Until it didn't.

UPDATE "Democrats snub new party message" [Politico]. "Chuck Schumer, Nancy Pelosi and other Democratic leaders on Capitol Hill will spend the next 15 months talking up the "Better Deal" economic message they unveiled last week….' Just as there isn't one kind of Democrat, there [is] not just one kind of message that works,' said California Rep. Jim Costa, a Blue Dog Coalition co-chair. 'One size doesn't fit all. We have an economically diverse country.'" So if there's no reason for Democrats to say together — other than ka-ching, ka-ching — why not just break up the party for parts, as if it were the sort of conglomerate that subtracts value from its components? (Of course, Costa is simply wrong, since the brute fact of wage work is not "diverse" but universal and hence — one would think! — the interests of wage workers are universal or at least electorally maximal, despite the best efforts of identity politicians to obscure that fact.) And then: "̌'If you're not in the majority, there shouldn't be a coordinated message,' said another Democratic consultant who is working on a wide range of 2018 races, acknowledging that arguing against a unified message is unfashionable at the moment. "The message should be: The other guy sucks, or The Iraq War sucks, depending on the decade.'" Yeah. "Contract with America." What a debacle that was for Gingrich! Oh, wait…
Health Care
"Meet the Democrats Running on Single-Payer Health Care" [Rolling Stone].
Trump Transition
"Alongside":

Looking forward to serving alongside John Kelly as we work for the American people. General Kelly is a true American hero. pic.twitter.com/XQLuFaS3ce

— Ivanka Trump (@IvankaTrump) July 31, 2017

"The Trump administration expects tax reform legislation to move quickly through Congress this fall, advancing through the House in October and clearing the Senate in November, legislative director Marc Short said Monday. Markups will begin in September, he said during an event hosted by a pair of conservative political groups backed by the billionaire Koch brothers — Freedom Partners and Americans for Prosperity" [Politico]. How cozy.
Realignment and Legitimacy
"Former Clinton Staffer Pleads Guilty in Scheme to Pay Off Primary Challenger" [Observer]. Admirably simple and direct. Why not? Markets in everything!

"Don Willett's Lone Star Legal Show" [Governing]. Re: Patel v. Texas Department of Licensing and Regulation: "The state's regulatory requirements were not just extreme, [Patel] concluded, but 'preposterous.' To pursue the low-paying job, prospective eyebrow threaders had to pay thousands of dollars in fees and were required to complete more than five times as many hours of initial training as emergency medical technicians. 'If these rules are not arbitrary,' Willett wrote in a concurring opinion, 'then the definition of 'arbitrary' is itself arbitrary.'" I can think of a lot of low-paying jobs that require thousands of dollars in fees — anything at all that requires a credential, including a B.A. — so Willet's opinion would deregulate a lot of labor markets besides eyebrow threaders. Anyhow, eight or twelve years down the line, I'm picturing Willet on the dais of a Constitutional Convention….

"Recent constitutional scholarship has demonstrated that the permissive vision of a broad right to carry emerged in the antebellum South, frequently in decisions rendered by pro-slavery judges. Given this fact it is not surprising that Wrenn's justification for a right to carry cites these southern cases to support its gun rights conception of the Second Amendment. The only non-southern case cited, Thompkins v. Johnson, deals with a slave owner trying to recover a runaway slave in Pennsylvania. In that case the court concluded that the slave owner had a right to both arm himself and travel armed so that he could recapture his slave. In its opinion, the court reminded Americans: 'the law of the land recognizes the right of one man to hold another in bondage, and that right must be protected'" [Take Care]. "If the Wrenn court seriously believes that this sordid part of the American legal tradition ought to be made the lodestar of modern Second Amendment jurisprudence, then the court needs more than a lesson in history, it needs to take a class in basic ethics and morality."

"LePage rallies his supporters against Susan Collins" [Bangor Daily News]. "The governor railed against the moderate Republican senator at a Saturday pig roast put on by the Somerset County Republican Committee in Canaan, where an attendee said LePage repeatedly mentioned working to defeat Collins if she runs for governor next year."
Stats Watch
Personal Income and Outlays, June 2017: "It's hard to detect much life in any part of the personal income & outlays report" [Econoday]. "The weakness in income, at least for June, isn't due to weakness in wages & salaries which rose 0.4 percent following, however, only a 0.1 percent gain in May. Propreitor income fell in the month with interest income flat and rental income and transfer receipts up. The breakdown for spending shows a second straight 0.3 percent gain for the largest component which is services but 0.4 percent declines for both durable and non-durable goods. What little spending did appear in June may have come from savings, at least slightly, as the savings rate fell 1 tenth to a thin 3.8 percent rate. There are plenty of jobs in the economy but wage growth is sub par and with it both consumer spending and inflation are flat. These results do not point to much consumer momentum going into the third quarter." Generally Econoday waves at least one pom-pom, so this is a bit dispiriting (and real data, too — for some definition of real — not a survey). Fear of a rate hike? And but: "The latest release was close to expectations, although a slightly higher than expected reading for the core data will offer some reassurance to the Federal Reserve. There will still be underlying uncertainty unless there is evidence of a significant upturn in the inflation data" [Economic Calendar]. And but: "This is an annual update month, and everything seems to have been revised downward" [Econintersect]. "Consumer spending with this revision shows it is far outpacing income – not good news. And the savings rate has been significantly revised downward. Inflation grew this month. The backward revisions this month SIGNIFICANTLY affected the year-over-year rate of growth for income and expenditures…. Looking at the inflation adjusted 3 month trend rate of growth, disposable income growth rate trend is decelerating while consumption's growth rate is also decelerating." On the other hand: "The increase in personal income was below expectations, and the increase in PCE was close to expectations" [Calculated Risk].
Purchasing Managers' Manufacturing Index, July 2017: "Markit's US manufacturing sample continues to report moderate growth with a rebound in new orders a highlight for July with lack of inflation pressures, however, a continuing concern" [Econoday]. "This sample has been running at a much more subdued pace than ISM's manufacturing sample, adding credibility perhaps to July's respectable results."
Institute For Supply Management Manufacturing Index, July 2017: "Another month and another strong report" [Econoday]. "If the nation's factory sector could only live up to this report, strong acceleration through the second half would be the call. However this report, unlike the PMI manufacturing sample released earlier this morning, has been running at unusually strong rates all year." More modified rapture. And but: "Slightly below consensus expectations" [Economic Calendar]. "The overall survey rhetoric was generally positive and there were further reports of labour shortages, especially in the transport sector and these shortages are likely to hold back output growth over the next few months." And but: "ISM manufacturing index movements have correlated with Industrial Production Manufacturing index only half the time in the last 12 months. Based on this survey and the weak district Federal Reserve Surveys, one would expect the Fed's Industrial Production index to be unchanged in June. Overall, surveys do not have a high correlation to the movement of industrial production (manufacturing) since the Great Recession" [EconIntersect]. On the other hand: "This was slightly below expectations of 56.4%, and suggests manufacturing expanded at a slower pace in July than in June"" [Calculated Risk]. "Still a solid report."
Construction Spending, June 2017: "June's construction spending report has much in common with June's personal income and outlays released earlier this morning: lack of any apparent life" [Econoday]. "Spending fell an unexpected 1.3 percent in June with a 3 tenths upward revision to May only a minor offset." No pom-poms here, either. And: "There was significant backward revision starting in April 2017. The rolling averages declined. Also note that inflation is grabbing hold – and the inflation adjusted numbers are showing no growth" [Econintersect]. And: "This was well below the consensus forecast of a 0.5% increase for June, and spending for previous months were revised down. A weak report" [Calculated Risk].
Housing: "The growing underclass of the Orange County Bubble: You need to earn an hourly wage of $28 to afford a basic one-bedroom apartment but 68 percent of OC jobs pay less than that amount" [Dr. Housing Bubble]. "And finally, the vast majority of the new building is focusing on higher income housing."
Commodities: "Aluminum may not be turning into the new steel, after all. Auto makers are stepping up their use of aluminum as they look for lightweight alternatives to the heavier sheet metal in many vehicles, but… that search is giving way to a patchwork of materials as a fundamental part of the automotive supply chain is bent into new configurations" [Wall Street Journal]. "Producers are responding, however, with moves to new materials including magnesium and carbon fiber, and steelmakers have rolled out stronger but lighter steels. That's slowed the growth of some aluminum producer."
Commodities: "Nebraska governor says NioCorp's Elk Creek a 'high-priority' project" [Mining.com]. "In a letter to the White House, [Governor] Pete Ricketts said that green-lighting Niocorp's huge superalloy project in southeast Nebraska could help the country produce American-made 'super steels' for infrastructure projects across all 50 states. 'We need niobium, Mr. President, yet we don't mine a single pound of it in the US today,' governor Pete Ricketts wrote."
Commodities: "Commodity-focused companies are looking stronger, although not entirely because of a turnaround in underlying business. The past year has seen mining, energy and other commodity businesses lead a surge in corporate bonds that have reached investment grade… in part because those companies have slashed costs, sold assets and cleaned up balance sheets" [Wall Street Journal]. "Energy and basic materials businesses accounted for 85% of the bonds moving into to Bank of America Merrill Lynch's high-grade index, opening those companies to lower-cost borrowing."
Commodities: "Scientists find evidence for the formation of thinnest possible diamond" [Mining.com] (original). when a pair of graphene sheets are squeezed to pressures around tens of thousands of times that of Earth's atmosphere and in the presence of specific chemical groups such as hydrogens, the crystal structure appears to morph from graphite to diamond." If I'm translating correctly, graphene sheets are "atom thick," so yes, "thinnest possible."
Shipping: "With voting by longshore workers complete, early returns show a majority of International Longshore and Warehouse Union members agreeing to a three-year contract extension with the Pacific Maritime Association" [Logistics Management]. "This contract extension, which would be the first of its kind, would cover workers at all 29 West Coast ports."
Shipping: "'Once burned, twice learned' appears to be the cliche of the day as West Coast dockworkers and waterfront management closed in late Friday on an extraordinary step to extend their collective bargaining agreement for three years, despite being just halfway through their current compact" [DC Velocity]. Less measured language than Logistics Management!
Shipping: "The major recent investments in innovation and technology by a number of large third-party logistics providers (3PLs) may limit the opportunities of digital start-ups in the sector, some of whom may decide their future lies in niche sectors or partnering with 'bricks and mortar' rivals rather than remaining independent" [Lloyd's Loading]. "That's the view of leading industry analyst Evan Armstrong, president of 3PL market research company Armstrong & Associates, who told Lloyd's Loading List: 'In third-party logistics, technology can disrupt and create competitive advantage until it is replicated and becomes commonplace across multiple 3PLs. This adaptation tends to take from six months to two years. 'Startups need to act fast to build on technological advantage before it is replicated. The other option is to sell to a 3PL.'"
Shipping: "The path towards oligopolisation in container shipping took another step forwards with the proposed $6.3 billion sale of Hong Kong-based Orient Overseas International Ltd. (OOIL) to Chinese state-owned Cosco Shipping Holdings Ltd. (Cosco) and Shanghai International Port Group Co. (SIPG), announced a couple of weeks ago" [Lloyd's List].
Supply Chain: "Boeing Co. is taking more complete control of critical pieces of its aircraft manufacturing supply chain. The jet maker is creating a unit to develop and build aircraft avionics systems…. moving more deeply into the electronics behind planes as the company expands its strategy of insourcing key technology to cut costs. The move takes Boeing further into the territory of big suppliers, following its push to get more involved in the aftermarket service and maintenance business of big engine providers" [Wall Street Journal] "Steep changes are underway in aerospace supply chains. Boeing is hoping to reduce costs with more vertical integration of its manufacturing, but the actions may also provide more control of production and a tighter grip on revenue from its aircraft sales."
The Bezzle: "500 Startups shuts down its Canada fund" [TechCrunch]. "Following sexual harassment allegations that led to the resignation of 500 Startups co-founder Dave McClure, it's now emerged that the troubled VC firm has abandoned its Canada fund. According to reports in The Globe and Mail and BetaKit, the saga made it difficult to move forward with the next phase of 500 Canada, where it had a profit-sharing relationship."
Mr. Market: "A third of millennials think now is the time to jump into the market" [MarketWatch]. Noted without comment.
Five Horsemen: "Facebook rules the roost, while Apple's silver spaceship fails to achieve liftoff from 'market performer' status" [Hat tip, Jim Haygood].
Today's Fear & Greed Index: 66 Greed (previous close: 70, Greed) [CNN]. One week ago: 81 (Extreme Greed). (0 is Extreme Fear; 100 is Extreme Greed. Last updated Aug 1 at 11:55am.
Health Care
"Big Medicare Advantage Bonus Scam Alleged" [Center for Public Integrity] (the headline is from RCP; I think it's more to the point). "United Healthcare Services Inc., which runs the nation's largest private Medicare Advantage insurance plan, concealed hundreds of complaints of enrollment fraud and other misconduct from federal officials as part of a scheme to collect bonus payments it didn't deserve, a newly unsealed whistleblower lawsuit alleges." As I keep saying, Medicare has a really bad neoliberal infestation. Even #MedicareForAll may only storm the outer walls of the citadel, if any of the phishing equilibria that encourage fraud like this are allowed to exist.
Guillotine Watch
"How Rent Spikes Are Creating Fine Dining 'Deserts' In New York City" [Bloomberg]. The URL: "high-rents-in-union-square-west-could-create-a-food-desert." The writer had "fine dining" confused with "food," so the editor fixed it…
"… this is coming from someone who ordered a bookcase from Amazon that sat unopened for months until I hired a TaskRabbit…. "[New York Magazine]. "A TaskRabbit." Nice.
Class Warfare
"'It's time to win back our government and put it to work for all of us. Corporations and right-wing politicians have rigged the political system, and we've had enough. Together, we are building a cross-class, multiracial movement in Durham that is 10,000 people strong,' the Durham For All website states. 'This rigged system only works when the majority of people aren't taking action together. When democratic participation is small and people are divided, the wealthy and powerful win. To be successful, our movement needs to be massive and stand up for all of us. Our goal is to bring 10,000 people into action, because 10,000 is the number of people we need to elect or un-elect local elected officials'" [Durham Herald Sun].
"A group of high-profile Democratic Senators, led by Sherrod Brown of Ohio, wrote letters to the nation's top retail CEOs Monday, demanding they crack down on trucking companies that turned their workers into modern-day indentured servants" [CNBC]. "The call to action comes in response to a yearlong USA TODAY Network investigation that found port trucking companies in California forced their drivers into debt, pressured them to work up to 20 hours a day and paid them pennies per hour."
News of the Wired
"Dynamics of medieval cities" [Understanding Society]. "Cities provide a good illustration of the ontology of the theory of assemblage (link [this is interesting — lambert]). Many forms of association, production, logistics, governance, and population processes came together from independent origins and with different causal properties. So one might imagine that unexpected dynamics of change are likely to be found in all urban settings…. This study presents a fascinating contemporary test of a thesis that would surely have interested Pirenne almost a century ago: did medieval cities develop spatially in ways that reflect a reasonable degree of freedom of choice among residents about where they lived and worked? And the data seem to confirm a 'yes' for this question." Sounds better than Manhattan today. Or London in Sloan Square or Kensington (particularly the Grenfell Tower area).
"Behavioral self-organization underlies the resilience of a coastal ecosystem" [Proceedings of the National Academy of Sciences]. "Our paper provides clear experimental evidence that spatial self-organization profoundly increases the ability of ecosystems to persist in the face of disturbance."
"Is There a Giant Planet Lurking Beyond Pluto?" [IEEE]. Yes. That's where the aliens set up their Interstellar Customs and Quarantine Station.
* * *
Readers, feel free to contact me at lambert [UNDERSCORE] strether [DOT] corrente [AT] yahoo [DOT] com, with (a) links, and even better (b) sources I should curate regularly, (c) how to send me a check if you are allegic to PayPal, and (d) to find out how to send me images of plants. Vegetables are fine! Fungi are deemed to be honorary plants! If you want your handle to appear as a credit, please put it in the subject line. Otherwise, I will anonymize by using your initials. See the previous Water Cooler (with plant) here. Today's plant (Samuel Conner):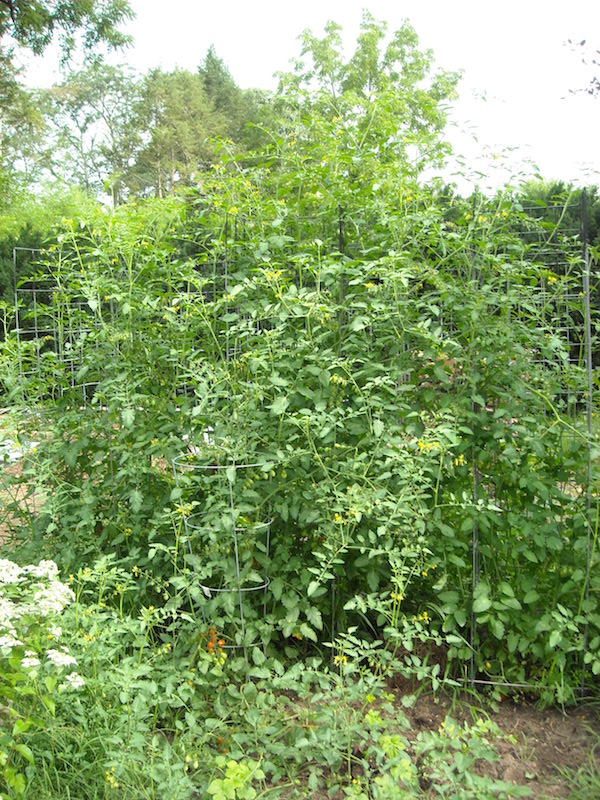 Samuel Conner writes:
The attached plant photo is not particularly unusual or attractive, but might be of interest to home gardeners among your readership. The cages are unusual and very cheap compared to pre-fabs, which are hard to find as tall as this. This is my first year of really good (by my standards) veggie production, and it's mostly by accident. I basically haven't been gardening long enough to have enough useful bad (and occasional accidental good) learning lessons.

This is a row of four Montesino grape tomato plants, supported by Tractor Supply 4'x8′ "handy panels" bent into "U"-shapes to form roughly 18″ by 8′ cages, and a conventional "cone" cage to help a drooper that rooted. The 2nd plant from right has outgrown the tall cage; it's approaching 9′ high. These plants have grown much more luxuriantly than other tomatoes in my garden; the reason seems to be that I planted them in part of my weed-grass patch (which at the moment I think is Bermuda grass, a disagreeable diagnosis). I dug this part very deep to get the deep storage tubers. These four plants are in what is basically a double-dug bed while the others, which are doing much less well, are single-dug. I have a dense clay pan about a foot down, and breaking that up in the double-dug area may have really helped these plants, particularly in the dry conditions this Summer. The last time I tried to double-dig, about a decade ago, it was so disagreeable that I promised myself to never do that again, but the weed-grass changed that, with an unexpected happy outcome.
I'm always interested in gardening projects like this one, and if other readers have similar projects, my contact info is above. I was a bad person yesterday; I didn't weed….
* * *
Readers, Water Cooler is a standalone entity, not supported by the Naked Capitalism fundraisers. Please use the dropdown to choose your contribution, and then click the hat! Your tip will be welcome today, and indeed any day. Water Cooler will not exist without your continued help.