Colombia Celebrates World Laziness Day teleSUR (micael)
Narwhals Are Helping NASA Understand Melting Ice and Rising Seas Bloomberg (furzy)
How Much Are Dog and Cat Owners Willing to Spend on Their Companions? LendEdu. Cat owners are not so nice :-(
Farmed salmon 'heading to every river in Puget Sound' Seattle Herald (roger s). This is terrible.
Are they safe to eat? Debate continues over escaped Atlantic salmon Bellingham Herald
Mathematical secrets of ancient tablet unlocked after nearly a century of study Guardian. This is really cool.
Hunting a Killer: Sex, Drugs and the Return of Syphilis New York Times (resilc)
Intensifying Harvey On Track to Hit Texas as Major Hurricane Weather Underground (martha r)
IRS Now Has a Tool to Unmask Bitcoin Tax Cheats Daily Beast. Chuck L: "Are prosecution futures about to come into the present?"
A German supermarket emptied its shelves of foreign goods to make a point about racism Independent (Kevin W)
Bill Gates and Richard Branson Back Startup That Grows 'Clean Meat' Bloomberg (furzy)
China?
China's reliance on infrastructure stimulus at record high Financial Times
Yingluck trial: Thai ex-PM fails to show for verdict BBC
Schaeuble nods on Macron's calls for ESM reform New Europe (micael). Important.
Brexit
EU 'increasingly doubtful' Brexit talks will move to phase 2 in October Politico. Consistent with our post earlier this week. Key remark by Andrew Duff, a former British MEP: "It is clear that so far the British have failed to be sufficiently precise and sufficiently constructive on the three separation issues [movement of people, exit bill, Irish border]."
Yanis Varoufakis's Account of the Greek Crisis: a Self-Condemnation — Part One: Proposals Doomed to Fail CADTM
Roger Bootle of @telegraph is mistaken about the European Parliament. We explain why. Thread

— Europarl UK (@EPinUK) August 24, 2017
100,000 Persons of Significant Control are so shy, they break the law. Will Companies House even try to collect its £100Mn fines windfall? pic.twitter.com/fphKQKIlsB

— Richard Smith (@ncsmiff) August 23, 2017
The U.S. is Fanning the Flames of Violence in Mexico Defend Democracy
New Cold War
Fake News on Russia and Other Official Enemies Monthly Review (Sid S)

Mattis: US 'actively reviewing' sending weapons to Ukraine The Hill. Lambert: "Oh, good."
Syraistan
The Russian-Saudi rapprochement and Iran Aljazeera (micael)
Imperial Collapse Watch
Trump Transition
Obamacare
Every county in the US set to have an ObamaCare option The Hill (UserFriendly)
The new Obama': will Abdul El-Sayed be America's first Muslim governor? Guardian. JTM: "NOOOOOOOOOOOO……."
'Dishonest' Media? Underreporting of the Democratic IT Staffer Scandal Validates Trump's Attack Mediaite
UC ripped again in latest audit that finds bungling of payroll upgrade SFGate. The "upgrade" is going to cost a billion dollars, over three times the original budget, and deliver no cost savings, versus the original promise savings of over twice the cost. Bill C: "Napolitano, Obama Capo. Secret slush funds corrupt privatization, she's a full service Neoliberal."
San Francisco Dockers Call Strike to Confront White Nationalist Rally Its Going Down (Sid S)
Corncob? Donut? Binch? A Guide to Weird Leftist Internet Slang Vice
How "Both Sides" Forge U.S. Supremacy: The Nationalistic Hypocrisies of "Violence" and "Free Speech" Black Agenda Report. Resilc: "Very cool graphic."
The Confederate General Who Was Erased Huffington Post (Abigail F)
Someone Drove Through a Crowd of Demonstrators at Vigil in Missouri Splinter News. Moi: "The police defended the guy!!! White impunity." UserFriendly: " Oh… The protesters were protesting the murder of a trans women…. by a cop."
Blacks Should Not Become Uncle Sam's Clean-Up Crew Black Agenda Report (UserFriendly)
Workers May Have Just Killed Missouri's Right to Work Law In These Times (Sid S)
What Dallas, Houston, Louisville & Rochester can teach us about widening freeways: Don't! City Observatory. Darius: "Urban freeways kill cities."
"Swell": Bernanke to Give Keynote Speech at October Cryptocurrency Event Michael Shedlock (EM)
U.S. retailers hit as immigration worries weigh on Hispanic spending Reuters (Kokuanani)
Breaking: The U.S. Power Market Is Cracking Bloomberg (resilc)
Dallas Fed chief rejects looser curbs on big banks Financial Times
Fearful of awakening market bears, Yellen and Draghi to tread softly at Jackson Hole MarketWatch (JTM)
This Map Shows Which U.S. States Have Recovered from Recession (and Which ones Haven't) HowMuch (resilc)
These 4 Charts Show Why You Should Run Away From The S&P 500 John Mauldin
Apple Iowa Jobs:Tim Cook speech reveals $1.3 billion data center CNBC. Resilc: "It will create 50 permanent jobs."
Guillotine Watch
Emmanuel Macron spent €26,000 on makeup in three months Politico. This is not "makeup" per se but "makeup artist". Still…I've seen makeup artists do men for TV and it isn't much.

Did Steve Mnuchin fly on a private government jet just so he could watch the eclipse? Salon (Dr. Kevin)
Class Warfare
Even With Affirmative Action, Blacks and Hispanics Are More Underrepresented at Top Colleges Than 35 Years Ago New York Times (resilc)

Amazon Clobbers Grocers With Price Cuts at Whole Foods Wall Street Journal

Amazon to Cut Prices at Whole Foods After Acquisition Closes Bloomberg. The gimmick at Whole Foods, IMHO, was to get customers in with the promise of organic produce and meats, have them recoil in horror at most of the prices, and then buy the prettily-displayed and overpriced conventional produce and meats, as well as buy some other things because you'd made the trip and weren't going to leave empty-handed (although I have done that more than once). I've been to Whole Foods in five cities (a few stores in NYC, and then stores in SF, Plano, Portland (Maine) and Birmingham. The problem with the two NYC stores nearest me are not going to be fixed by lowering prices. The salad bars are really inferior even to the one at the small footprint store in SF. Staff is disagreeable (not just my opinion, online reviews are consistent on this issue), lousy and confusing layout, and poor housekeeping in the store. In NYC, the nearby Fairway has a big organics selection, better prices, is much easier to get in and out of and staff is more cheerful and helpful. In Birmingham, the Publix regularly stocks organic tomatoes and they are never to be found at Whole Foods. Organic berries are also cheaper at Publix.

Shorter: while Bezos' moves will boost sales at the expense of profits, will he really turn Whole Foods into a category killer? Whole Foods has only 400 stores, some of them with not-large footprints that limit how much they can increase sales without driving off supposedly upscale customers (the lines at stores in NYC and SF are annoying even at off hours). Contrast that with over 4000 for WalMart. Publix, which is only in the Southeast, has over 1100 stores.

So even if some grocers go into defensive price cutting mode, they can probably limit it to stores close to Whole Foods. People overwhelmingly like to look at and pick out the produce and meats and fish they buy (Whole Foods has long had God-awful "fresh" fish, visibly old in every story I've visited) so the idea that Amazon can use Whole Foods as food distribution centers for home deliveries seems overstated. Groceries in my area now take phone orders and deliver in 2 hours. And this isn't a much used feature even in well-heeled Manhattan, where people place a big value on their time. What's the magic value added here?

Having said that, organic foods have higher margins that conventional foods, so there is room for price cutting there. So while Amazon will do damage, Whole Foods has a limited footprint plus a specific (at least historically) product focus. Unless Bezos gets a lot more stores, this is a narrow threat, analogous to a Southwest Airlines competing on specific routes.

A Bag of Hot Dogs Got Tossed in My Prison Cell and All Hell Broke Loose Vice
From MGL:
My niece, Maya, is holding a small squid she came upon in a freshwater/estuary-like creek (Humpy creek) as we tide-pooled around Humpy Creek, Kachemak Bay, AK in June 2017.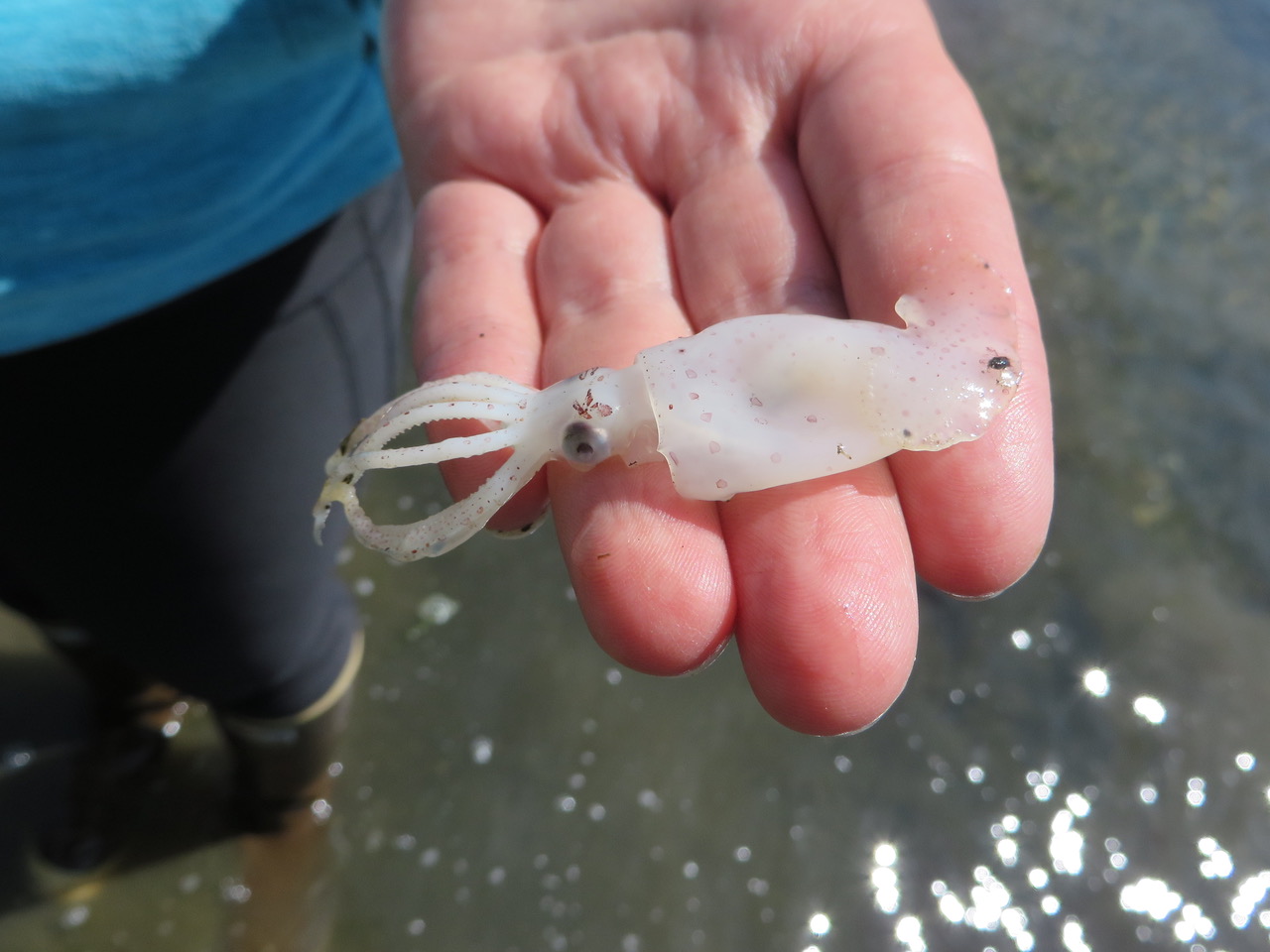 And a bonus video from YY, Roger B, and resilc:
See yesterday's Links and Antidote du Jour here.