Bear breaks into Colorado house, plays the piano but not very well Alaska Dispatch News
New Home Sales Plunge to Lowest Annualized Pace in Three Years MishTalk. It's a volatile series, but read all the way to the end.
Vanguard Group is America's new landlord Philadelphia Inquirer
The great Silicon Valley land grab FT
Exclusive: Inside Uber's financials Axios. Interesting if true.
The $199 billion problem: Ten US companies that could devastate Silicon Valley Pando. Uber isn't the only unicorn with valuation problems.
Silicon Valley is using H-1B visas to crowd out American minorities St Louis Post-Dispatch (UserFriendly).
Investors pour back into crisis-era credit product FT (Kokuanani). "Bespoke tranches."
Wall Street Banks Warn Downturn Is Coming Bloomberg (Re Silc).
What happened to the 'too big to fail' banks? FT
Governments Are Turning to Banks for Easy Money Governing. What could go wrong?
Syraqistan
Emmanuel Macron's Waning Support Shakes Bid to Overhaul French Economy WSJ
France's Macron, seeking to re-shape Europe, heads east Reuters
Italy's economy could soar with a parallel currency MarketWatch
Uneasy Stalemate in Postelection Kenya Council on Foreign Relations
China
The U.S. Can Not Be Trusted – Case XXXIV: Trump Cheats On China Sanction Deal Moon of Alabama

"Merchants of War and Peace: British knowledge of China in the making of the Opium War" by Song-Chuan Chen Asian Review of Books

Chinese cities are saying "enough already" to bike-sharing services run rampant Quartz
Imperial Collapse Watch
Korea, Afghanistan and the Never Ending War trap Pepe Escobar, Asia Times

Pentagon makes a 20-year plan, while Washington outsources its color revolution The Saker (MT). Interesting if true…

Three Questions Arising From Recent U.S. Navy Collisions RealClearDefense
Charlottesville
Why those Confederate soldier statues look a lot like their Union counterparts WaPo. Because this is America:

Many of the South's Silent Sentinels turn out to be identical to the statues of Union soldiers that decorate hundreds of public spaces across the North. Identical, but for one detail: On the soldier's belt buckle, the "U.S." is replaced by a "C.S." for "Confederate States."

It turns out that a campaign in the late 19th century to memorialize the Civil War by erecting monuments was not only an attempt to honor Southern soldiers or white supremacy. It was also a remarkably successful bit of marketing sleight of hand in which New England monument companies sold the same statues to towns and citizens groups on both sides of the Civil War divide.

BWA-HA-HA-HA-HA-HA!!!!!
Police State Watch
Another staged body cam leads to 43 more dropped Baltimore prosecutions Ars Technica

Boston Police Protected Far-Right Rally-Goers, Clashed with Black Counterprotesters The Intercept
Beyond the 'Bernie bro': Socialism's diverse new youth brigade Chicago Reader
A strong opinion: Stop counter-protesting Salon
An Intimate History of Antifa The New Yorker
The Public Face of Antifa Slate
the kind of sacrifice required in nonviolence Peter Levine
How Undercover Activists Cost Breitbart, White Nationalist Sites, Their Advertising And Platforms International Business Times
Trump Transition
* * *
2016 Post Mortem
Here Are the First Excerpts From Hillary Clinton's New Book The Cut (Re Silc).

This County Was a Democratic Stronghold. Then Came Trump. Washington Monthly (Re Silc). Readers will recognize Luzerne County as a county that flipped from Obama to Trump, as descibed six months ago at NC here.
Former FBI Director Comey Joins Howard University For Lecture Series NPR. Life's little ironies…
Lawsuit: Indiana's Method of Purging Voters Violates Federal Law Brennan Center for Justice
Federal Judge Bars Enforcement Of Texas' Voter ID Laws Buzzfeed
Democrats in Disarray
Don't Coddle Liberal Politicians Like Kamala Harris—History Shows They Should Be Pressured In These Times (MT).
Our Famously Free Press
Are alt-weeklies dying or just moving online? Poynter Institute

Wall Street Journal Editor Admonishes Reporters Over Trump Coverage NYT
Health Care
Uninsured Americans may be one broken bone from bankruptcy Des Moines Register

Iowa's ACA waiver plan would redistribute subsidies from the poor to wealthier people Modern Health Care

The IRS Is Still Enforcing The Individual Mandate, Despite What Many Taxpayers Believe Health Affairs
A Texas-size flood threatens the Gulf Coast, and we're so not ready Grist
MAP: How Much Climate Change Will Cost Each U.S. County Governing
Harvard researchers say Exxon misled public on climate science Reuters
Green finance for dirty ships The Economist. "By burning heavy fuel oil, just 15 of the biggest ships emit more of the noxious oxides of nitrogen and sulphur than all the world's cars put together."
California pollution permits sell at highest price ever Laredo Morning Times (GlennF). Cap-and-trade may be working?
Class Warfare
I was hacked TechCrunch
The Intellectual Achievement of Creating Questions Daily Nous (MT).
Scientists Figured Out the Optimal Length of Time to Dunk an Oreo Grub Street
How New York City became the capital of the Jim Crow North WaPo
Review: "Cities and the Wealth of Nations" by Jane Jacobs Ian Welsh (MR).
Antidote du jour (EM):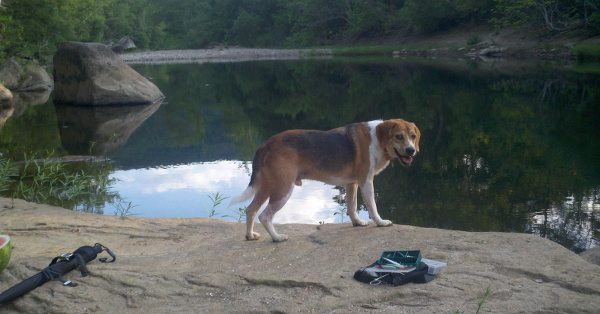 That's a happy dog, but I also like the slightly surreal paraphernalia: The umbrella, the watermelon…
See yesterday's Links and Antidote du Jour here.