Bees are first insects shown to understand the concept of zero New Scientist (Robert M)
I can't find the honey bee queen, what now? Spreadcasts. Will C:
We let one of our hives raise a new honey bee queen. Later, when I opened up the hive, I saw she'd been very busy laying eggs.

The circled cell has not one but two eggs. This is pretty normal for a new queen. Call it excitement or maybe just nerves. Workers will eat the supernumerary eggs so that there's no "bee twins".

The bonus feature of the photo is the two workers in the upper left trading food, aka trophallaxis.
Iditarod Sled Dogs Are Racing to Early Graves (Video) Alternet :-(
Fido And Fluffy Are Ruining The Environment, UCLA Study Says Patch (Chuck L). Not clear if it backs amount the amount of meat that would not be used for human consumption that winds up in pet food, or that beef is far more costly in environmental terms than chicken. Not disputing that pets have a cost, the question is how the study made its estimate.
Extreme weather 'could kill up to 100,000 a year' in Europe by 2100 BBC
Just trading beef for beans could get the United States near its CO2 goal. Grist
Interview: The First Naked Ascent of El Capitan Climbing Magazine (Bill C)
Boeing Dreamliner crew draws enormous outline of their plane in the sky Minnesota Public Radio News (Chuck L)
Banning Nuclear Weapons: The Beginning Portside (Sid S)
6-Monsanto-Consultant-Protests-Ghostwriting.pdf Baum & Hedlund Law (Chuck L). From "Monsanto Secret Documents" in the Roundup multidistrict litigation.
Circumventing machine-gun controls with a robotic glove that automates faster-than-human trigger-pulls Boing Boing (resilc)
Why We Can't Have the Male Pill Bloomberg (Chuck L):
"The joke in the field is that the male contraceptive has been five years away for the last 40 years," says John Amory, a research physician at the University of Washington School of Medicine who has been working on the challenge for two decades.
China?
How much trade transits the South China Sea? China Power

Chinese chatbots apparently re-educated after political faux pas Reuters (Chuck L)
Brexit
Irish PM tells May to tear up Brexit plan The Times

Is Britain's 'Brexit chaos' a cunning ploy? Financial Times (Richard Smith). Betteridge's Law strikes again. And while what the author presents is sufficient to make the case, there's another set of failings he is too polite to admit to: the Foreign Office is woefully undermanned, having been hollowed out over decades. Individually competent officials can't make up for far too few seasoned hands on deck to manage a massively complex set of tasks.
Toronto Housing Bubble Pops. "Genuine Fear" of Price Collapse Wolf Richter
New Cold War
Go look at the replies to this tweet to see how much support there is for free speech in America. As Lambert has said, this is not the behavior of a confident elite.

The @nytimes reports on evidence that Russia is trying to get the U.S. National Security Advisor fired.https://t.co/dMgS36qUkE pic.twitter.com/ChJxm3Hj5e

— Sahil Kapur (@sahilkapur) August 5, 2017
Syraqistan
Our generals reveal why we lost in Afghanistan, and will continue to lose Fabius Maximus. Resilc: "The BEST generals have not won since Truman."
Big Brother is Watching You Watch
That Drone Hovering Over Your Home? It's the Insurance Inspector Wall Street Journal. Drones presented as a consumer benefit, natch. Glad I live in an apartment building with super tight security (the permanent residence of the Egyptian ambassador is two floors above mine, and they've had that entire floor for fifty years).

You Are the Product London Review of Books. On Faceborg.
Trump Transition
Obamacare
Meet the Democrats Running on Single-Payer Health Care Rolling Stone (resilc)

Republican donor from Virginia Beach sues GOP, accusing the party of fraud over failed Obamacare repeal Virginia Pilot (resilc)
The Scandal That Matters Wall Street Journal (UserFriendly). Key paragraph:
Because based on what we already know, the Awan story is—at the very least—a tale of massive government incompetence that seemingly allowed a family of accused swindlers to bilk federal taxpayers out of millions and even put national secrets at risk. In a more accountable world, House Democrats would be forced to step down.
Police recover car stolen from senior couple, then try to auction it Boing Boing (resilc)
New McCarthyism
It's Getting Real – Google Censors the Left. And Us. Bruce Dixon, Black Agenda Report
Black Injustice Tipping Point
NAACP Travel Warning for Missouri Is a Sad Fact of 2017 Esquire (UserFriendly). Ugh: "The NAACP says this is the first travel advisory ever issued by the organization, at the state or national level."
Kill Me Now
What Does 'Late Capitalism' Really Mean? Atlantic (UserFriendly)
Why 'Pharma Bro' Martin Shkreli Is Swaggering Into Jail Bloomberg
July Part-Time Work Jumps by 393,000; Full-Time Employment Down 54,000 Michael Shedlock
'Nobody's immune': More retail bankruptcies are looming Business Insider
Wells Fargo Clients Want Credit Repair for Insurance Debacle Bloomberg
Wells Fargo says fake accounts scandal may widen Financial Times:
The US bank has been trying to overcome a crisis since it was revealed that employees, under pressure to hit targets, set up as many as 2.1m accounts without customer authorisation over a period of about four years.

The bank has been reviewing the extent of the malpractice over an additional three-year period, as far back as 2009 — and on Friday Wells confirmed that this review "may lead to a significant increase in the identified number of potentially unauthorised accounts".
Class Warfare
The opioid epidemic, explained Vox

Kalanick looks to keep back seat role at Uber Financial Times

Self-Driving Taxis Will Become the Most Disgusting Spaces on Earth The Truth About Cars
Antidote du jour (MGL). The well-known Larry, No. 10's mouser-in-chief, taking a pose. From the Telegraph's Meet the cats of Westminster. But it turns out Treasury has dogs.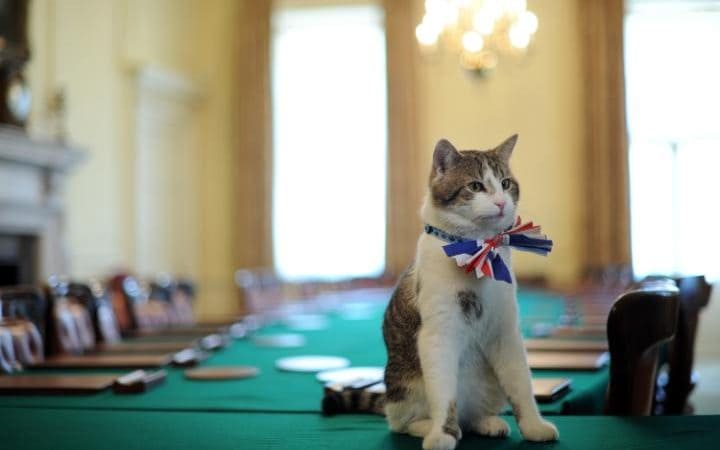 Another Viahalhaven Sightings image via Robert H:
And a bonus video thanks to Richard Smith:
Just a rhino charging at traffic, while an Indian couple commentate with Hank Marvin on the radio. That's all.

— Ste.A (@sarm0161) August 4, 2017
See yesterday's Links and Antidote du Jour here.