Bangor, Maine Meetup: There will be a Bangor NC Meetup on Friday, September 15, 6:00pm, at Giacomo's with me, Lambert. (I realize I'm "outing" myself to any locals who haven't made the connection, but at this point my online identity is sufficiently gauzy — certainly to a professional — that it probably doesn't matter much anyhow.) If anybody wishes to contact me, here's my email: lambert [UNDERSCORE] strether [DOT] corrente [AT] yahoo [DOT] com.) Looking forward!
By Lambert Strether of Corrente
Trade
"The government of British Prime Minister Theresa May is mounting an all-out effort to persuade U.S. aircraft manufacturer Boeing to drop a high-stakes trade remedy case against Canadian rival Bombardier because of the detrimental impact the dispute could have on jobs in Northern Ireland, where Bombardier subsidiary Short Brothers is based" [Politico]. Remember that Theresa May is owned by Northern Ireland's Democratic Unionist Party. Everything is deeply intertwingled.
"The U.S. International Trade Commission will vote Sept. 22 on whether the U.S. solar industry has been injured by low-cost imports, according to an announcement posted to the ITC website Tuesday. The case has the solar industry on tenterhooks, as domestic companies that install cheap foreign-made panels believe raising equipment costs will choke off their business. A Trump administration official has already signaled Trump would likely impose tariffs if the ITC determines there has been injury" [Politico]. Didn't work with steel (so far), might work with solar. Hard to begrudge the Chinese the fruits of their intelligent industrial policy on solar, but that's where we are.
Politics
2016 Post Mortem
"This makes Clinton a more unusual figure than she gets credit for being: Not only does she refuse to paint an inspiring vision of a political process rid of corruption, partisanship, and rancor, but she's also actively dismissive of those promises and the politicians who make them.'" [Ezra Klein, Vox]. Interesting that Klein puts "corruption, partisanship, and rancor" all in the same bucket; I would expect a level of rancor, for example, to be necessary to eliminate Democrat corporate funding (and the strategists who launder it) in favor of the $27-dollar approach pioneered so successfully by Sanders. sAlso interesting that even people the Clinton camp considers friendly — see the Podesta mails — end up flagging comments like this.

"Clinton: 'I would have been seen as a genius' if I won" [The Hill]. Clinton is right; our famously free press always hails the winner as a genius.

UPDATE I debated where to put this:

Theory vs. Practice pic.twitter.com/4lDMHVPfR9

— Academia Obscura (@AcademiaObscura) September 9, 2017

"Revenge of the PUMAs" [Michael Graham, Progressive Army]. This is fun and worth a read, but I think Graham has the PUMAs wrong; they were not driven by racism, at least not as a personal animus, but by a combination of feminism as understood by professional women, loyalty to Clinton the person, and by outrage at cheesy institutional game-playing by the Obama campaign (Texas caucus fraud; Rules and Bylaws vote). In addition, as the only venue for what we would today call "resistance" to Obama's faction, they became the catch-basin for an enormous variety of people, many with ill intent, across the political spectrum, which caused enormous stress to all concerned. It was an interesting historical moment, now past, and I think Graham vastly over-estimates the institutional power of the PUMA phenomnon. Oh, and there was an enormous amount of sexist anti-PUMA commentary, which really didn't help matters.
2018
"NEW ALABAMA POLL: MOORE LEADS STRANGE BY 14 POINTS" [Ballotpedia]. Damn. What's that warbling noise?
2020
"Former Maine Gov. John Baldacci wants Stephen King to run for office: 'You've got a winner there'" [Washington Examiner]. King — a humanities major — has done a lot for the great state of Maine, including unsung but important efforts like grants for libraries and dental care, but Baldacci is a corrupt machine politician and a horrible human being.
Health Care
UPDATE "Bernie Sanders explains why he thinks everything short of Medicare-for-all is failure" [Vox].

So the question that we have got to ask ourselves is: Should health care in the year 2017 in the United States of America be a right of all people? Or is it just the privilege of wealth? In other words, if you got the money, you can go out and get pretty great health care. [If] I don't have the money, well, I don't get that health care.

Or should we join the rest of the industrialized world and say that it doesn't matter whether you're rich or poor, young or old, healthy or sick — health care is a right. Every other major country on Earth has decided that health care is a right, and we've got to do the same. That's No. 1.

No. 2: a very important question, which is virtually not discussed by the media or discussed here in Congress, and that is why is it that despite all those without any health insurance or who are underinsured, we end up spending almost twice as much per capita per person on health care as the people of any other nation?

Relatively fair treatment from Vox, which is interesting…

Beware of wonks bearing gifts:

I kinda think Bernie should rehire @StephanieKelton and just lean into the whole "don't pay for things" concept.

— Matthew Yglesias (@mattyglesias) September 13, 2017

Beware especially of liberal wonks who hope to hand the left enough rope to hang themselves. At some point, the political class has to be brought to an understanding of how money is created and the role of taxes, but it's not clear to me what venue would be appropriate to do that, and a politician — one with both good political antenna and intellectual integrity — needs to take the first leap. Such politicians do exist, but they're rare.
Realignment and Legitimacy
UPDATE Hmm:

This will fly under the radar today, but the House majority leader just proposed eliminating the filibuster on spending bills.

— Matt Fuller (@MEPFuller) September 13, 2017

One reason we can't have nice things is that Democrats declined to do this back in the halycon days of 2009, when they controlled all three branches of government and "hope and change" hadn't yet evaporated.

"Meet the Juggalos Joining the Far-Left Resistance" [Mel Magazine]. Tempermentally, I am pro-Juggalo, but I don't know enough about them to form any kind of judgment. Basically a declassé Burning Man? Without Silicon Valley's self-regard and criminality?

"Himes, Blumenthal and Murphy Address Indivisible Greenwich on Resisting Trump Agenda" [Greenwich Free Press]. I rarely see Invisible in the press, as opposed to on the Twitter, so here is a story.

"What Today's Democratic Party Can Learn From Yesterday's GOP" [Governing]. This is an interesting comparison, so let me quote a great slab of it:

The GOP of 1977 offered no coherent message of any sort. President Richard Nixon had worked hard to fashion a law-and-order appeal to Southerners and the urban working class, but this had collapsed with his resignation in 1974. Three years later, the Republican Party was essentially saddled with its residual image as a country club enterprise dominated by corporations and affluent suburbanites, preaching little of consequence besides a visceral dislike of the New Deal and the Great Society. It was easy to say what Republicans were against. It was almost impossible to describe what they were for.

Ronald Reagan was a candidate skillful enough to erase the Republican message problem. Reagan's 1980 campaign demonstrated that free markets and lower taxes, when wrapped in a package of genial optimism, constituted a tangible agenda that the average voter could grasp. But Reagan taught his party something even more important about the whole question of strategy: He showed Republicans that there was no need to choose between economic and social conservatism. The party could be made large enough, and policy choices could be made skillfully enough, to accommodate both strains of ideology. When the factions challenged each other, they could be brought together by the hard-line Cold War foreign policy that every strand of the Republican Party subscribed to in those years.

Democrats today are the party of racial and ethnic minorities and the urban professional elite. This is not enough.

As in 1977, there are two obvious strategies for the struggling party to propose. The first is to run as the party of the civil center, hoping to expand its urban professional base into the vote-rich and socially moderate suburbs of cities such as Detroit, Milwaukee and Philadelphia. This is essentially what Democrats did in 2006 and 2008, and it worked beautifully for them…

But the formula failed. Most of the centrist Democrats elected on Republican turf in 2006 and 2008 were wiped out in the 2010 elections for Congress and the state legislatures. Those who remained were almost all defeated in 2014 and 2016. The anxiety that affluent suburbanites felt about conservative doctrine in the closing Bush years ceased to bother them very much as soon as Bush was gone, and has shown few signs of returning. That is the main reason Democrats now control 31 legislative chambers to the Republicans' 68 and have lost nearly 1,000 legislative seats in the past eight years.

You'd think centrism and civility would work for the Democrats in many places amid the embarrassments of the Trump presidency, but it doesn't seem to be happening…. [T[he summer months produced a blizzard of op-ed columns, blog posts and speeches arguing that centrism was a dead end for Democrats and that the only viable alternative was a sharp turn toward plan B: a noisy and indignant populist crusade aimed at winning back the factory-town working class and struggling inner-suburban constituency that had defected to Trump in 2016. Bernie Sanders was the most visible champion of this idea. The Democratic Party, he wrote in The New York Times, 'must make clear to the working families of this country that it is prepared to stand up for their rights,' and 'it must take on the powerful corporate interests.'

Could a populist politics of this sort possibly succeed? There are lots of reasons to be skeptical…. Nevertheless, it seems that the populist strategy is going to get a chance. .

My own suspicion, though, is that the most important test of Democratic strategy next year will lie in the quality of candidates who can be persuaded to run for Congress and for state legislative seats.
Which is why, especially if you are on the left, the work that Our Revolution, DSA, and allied groups are doing at the state and local level is so important and interesting.
Bitter:
Not the con artists, they're cashing checks. The rest of you stupid fucks writing the 27 dollar checks.

— Armando (@armandodkos) September 13, 2017
Presumably this reflects Kos editorial policy…
Stats Watch
Producer Price Index (Final Demand), August 2017: "In a report not affected by Hurricane Harvey, producer prices once again couldn't live up to expectations" [Econoday]. "Though energy costs are a major wildcard right now, this report speaks to what is a persistent lack of price pressures in the economy, in this case at the base of the economy. Today's report won't be firming up confidence for tomorrow's consumer price report where a rebound, like that expected for this report, is the call." But: "[T]he impact of a weaker dollar and firm tone in internal demand will exert upward pressure on prices over the next few months" [Economic Calendar]. And: "The Producer Price Index surprisingly surged year-over-year. I would assume this is a Hurricane Harvey affect [i.e., taking refinery capacity offline]. Here is what the BLS said in part: 'The Producer Price Index surprisingly surged year-over-year. I would assume this is a Hurricane Harvey affect. Here is what the BLS said in part: 'Three-quarters of the August increase in the final demand goods index can be traced to prices for gasoline, which jumped 9.5 percent. The indexes for jet fuel, industrial chemicals, potatoes, home heating oil, and light motor trucks also moved higher.'" [Econintersect]. And then ther's this: "Over half of the August increase in the index for final demand services can be attributed to prices for consumer loans (partial), which advanced 1.7 percent." Consistent with the overall decrease in lending…
MBA Mortgage Applications, week of September 8, 2016: "Declining interest rates are invigorating mortgage activity, with purchase applications for home mortgages rising a seasonally adjusted 11 percent in the September 8 week after adjustment for the Labor Day holiday, while applications for refinancing, which are not seasonally adjusted, rose 9.0 percent" [Econoday]. But only building permits affect the real economy (though I'm not sure if post-purchase renovation is even tracked anywhere).
Retail: "The [new iPhones] are shipping into a lackluster market: Research group Gartner says the global smartphone market grew 6.7% in the second quarter, boosted mostly by emerging markets, and that Apple's sales slipped 0.2%" [Wall Street Journal].
Retail: "Will an old-fashioned flip phone give my clients with iPhones the wrong impression?" [MarketWatch]. Betteridge's Law. That said, if using a phone that doesn't track your every move and send the data off to Silicon Valley presents the "wrong impression," by all means feel free to purchase a smart phone. Or if you don't want to spend the $999, a dummy smart phone.
Retail: "IPHONE X FACIAL RECOGNITION: FACE ID DOESN'T WORK IN MIDDLE OF HUGE APPLE EVENT" [Independent]. Presenter: "But the reality of it in your hand? It's really something epic." No. Epic is Bronze Age warriors butchering each other with swords and spears in Homeric verse. Epic is most definitely not a [family blog] phone, for pity's sake. Oh, and the line is "It works at home!"
Retail: "The iPhone X is designed for a generation of selfie takers" [The Verge]. At its price point, 10% and up selfie-takers. If you shop at Hefty Mart, the iPhone Ex is not for you.
Retail: "How Secure Is the iPhone X's FaceID? Here's What We Know" [WIRED]. "[Marc Rogers, a security researcher at Cloudflare who was one of the first to demonstrate spoofing a fake fingerprint to defeat TouchID[,] says he has no doubt that he—or at least someone—will crack FaceID. In an interview ahead of Apple's FaceID announcement, Rogers suggested that 3-D printing a target victim's head and showing it to their phone might be all it takes. 'The moment someone can reproduce your face in a way that can be played back to the computer, you've got a problem,' Roger says. 'I'd love to start by 3-D-printing my own head and seeing if I can use that to unlock it.'" Or, if a collective all used the same Nixon mask, they could get away with using one phone.
UPDATE Retail: "[A] theme that bugged me throughout Apple's announcements today: how involved you need to be to use your phone. The iPhone X demo focused on facial recognition and mapping — transferring user expressions into the phone's software and mapping it onto other functions, like Face ID, or Animoji. This stuff is cool, but it means that if you want to take advantage of Apple's new marquee features, " [New York Magazine]. Well, this is the attention economy…
Shipping: "Can anyone issue a House Bill of Lading..??" [Shipping and Freight Resource]. If you're a shipping wonk, you'll love this. If you're a software developer, this presents one simple set of information flows to be managed.
The Bezzle: "Facebook and Twitter are the main names in [the social media] group, with one hitting all-time highs while the other is holding near its low. Despite being the preferred communication channel for the current U.S. commander-in-chief, Twitter still has been unable to monetize its platform, which has investors growing ever more concerned. However, Twitter's most recent earnings report has restored some faith in the stock. On the other hand, Facebook has been steadily expanding and is taking a sizable piece of the online advertising pie" [247 Wall Street]. If you believe Facebook's numbers.
The Bezzle: "Are top US startups really startups?" [Om Malik]. "Pitchbook, a data research company has come up with a list of top 14 most valuable startups in the United States. There are no real surprises — they are all ranked by valuation and they all are valued at north of $4 billion. They are all household names – barring Outcome Health and Samumed. And they have been around forever. They have thousands of employees and many have billions in revenue. What they are not is liquid on public markets. They have not IPO'd. In a different Silicon Valley, they will all be public companies and they won't be deemed startups." Uber is on the list, naturally.
The Bezzle: "SoFi Scandal Turning Quickly From 'Nothing Was Sexual' To 'Everybody Is Having Sex With Everybody'" [DealBreaker]. "But after contact with a former SoFi employee, it seems like a reckoning within the online lender has been a long time coming. According to our source, the corporate atmosphere inside SoFi's Bay Area offices were so riven with batshit sexual impropriety and intense employee over-management that it makes Uber look like Hobby Lobby…. 'People would leave with a manager, go to the parking lot, have sex in the car, come back in and get promoted,' says our insider." Hoo boy. And: "In February, SoFi brought in $500 million from investors including Silver Lake Partners at a reported $4.3 billion valuation. In 2015, Softbank led a $1 billion funding round" [CNBC]. Since Silicon Valley is a small and incestuous commmunity that trades on inside information, it's hard to imagine that investors, most especially including the VC investors, were ignorant of this. Therefore, they encouraged it. Uber was the same.
The Bezzle: "Washington is starting to move on self-driving vehicles. The Department of Transportation issued updated guidelines on regulating autonomous road technology…, even as Congress steps closer to writing legislation on self-driving trucks. . The approach so far has allowed several states to work with companies advancing autonomous technology in trucking" [Wall Street Journal]. "Light touch." Hoo boy. We know what that's code for; I knew if I Googled "'light touch' regulation debacle" I'd find something! Let's just wait 'til somebody gets killed, although, to be fair, it will have to be the right sort of person…
Fodder for the Bulls: "Momentum Appears To Have Swung Upward For Economy" [Federal Reserve Bank of St Louis]. "One of the keys to faster real GDP growth is a sustained rebound in nonresidential fixed investment (business capital expenditures, or capex), which grew very slowly in 2015 and then declined slightly in 2016. In the first quarter of 2017, capex rose at a brisk 7.1 percent annual rate." A capitalist political economy that doesn't invest in fixed capital is cruisin' for a bruisin'…. More: "Although capex growth slowed moderately in the second quarter to 5.2 percent, several developments suggest that business investment is on the upswing. These include a strengthening manufacturing sector, an improving global economic outlook, a rebound in corporate earnings and profits, and a modest retreat in economic uncertainty. If these trends continue, firms may soon scramble to keep up with rising demand; that's because many have delayed capital expenditure projects in the previous two years, when U.S. and global economic conditions were weaker and uncertainty was higher."
Fodder for the Bulls: "The long slump for dry-bulk shipping companies may be ending. The Baltic Dry Index, the key measure for the cost of moving commodities like coal and iron ore, is hovering near its highest point in nearly three years" [Wall Street Journal]. "[S]hip brokers say an improving global economy along with China's moves to limit its own production of industrial materials are fueling the upturn." (On the other hand…)
Demographics: "According to the [Census Bureau] report, the CPS/ASEC-based estimates of the number of US households in March 2017 was 126.224 million, just 405,000 above the 125.819 million estimate from the previous year's report. This meager gain, if 'accurate,' would reflect a sharp slowdown in household growth" [Calculated Risk]. "As folks who regularly read my report know, however, part of this sharp slowdown in growth reflects the substantial downward revisions in US population estimates that were released at the end of last year. To remind folks, late last year Census released its '2016 vintage" population estimates, which incorporated an improved methodology for estimating net international migration that resulted in material downward revisions of the US resident population, as shown in the table below."
Today's Fear & Greed Index: 62 Greed (previous close: 53, Neutral) [CNN]. One week ago: 36 (Fear). (0 is Extreme Fear; 100 is Extreme Greed). Last updated Sep 12 at 12:17pm. Finally!
Guillotine Watch
This (via a Women's Wear Daily interview with Anna Wintour) reminds me of something: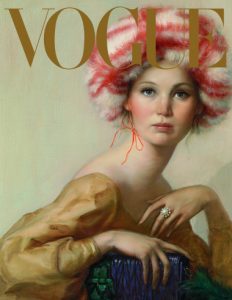 (Caption: Vogue's John Currin cover of Jennifer Lawrence. According to Wintour, the painting is in Currin's possession. Currin's works fetch upwards of $2 million at auction.") Of this:
Candy! Of course, Wintour is a very smart lady, and no doubt the reference is knowing and ironic. So what the heck are our elites thinking?
Class Warfare
"The myths of recovery: Why American households aren't better off" [MarketWatch]. "Off the top, the figures published by the U.S. Census Bureau on Tuesday are encouraging…. As this chart clearly illustrates, notionally, we are in the 'new historical peak' territory…. . And here are the reasons why the tangible matters probably more than the notional":
1) Consider the following simple timing observation: real incomes took 17 years to recover from the 2000-2012 collapse. And the Great Recession, officially, accounted for only $4,031 in total decline of the total peak-to-trough drop of $5,334. Which puts things into a different framework altogether: the stagnation of real incomes from 1999 through today is structural, not cyclical. : their life-cycle incomes, pensions, wealth are permanently damaged and cannot be repaired within their lifetimes.

2) The Census Bureau data shows that bulk of the gains in real income in 2016 has been down to one factor: higher employment. In other words, . American median householders are working harder at more jobs to earn an increase in wages. Which would be OK, were it not down to the fact that working harder means higher expenditure on income-related necessities, such as commuting costs, child-care costs, costs for caring for the dependents, etc. In other words, to earn that extra income, households today have to spend more money than they did back in the 1990s. Now, I don't know about you, but for my household, if we have to spend more money to earn more money, I would be looking at net increases from that spending, not gross. Census Bureau does not adjust for this. There is an added caveat to this: caring for children and dependents has become excruciatingly more expensive over the years, since 1999.
There are more reasons, but these will do to go on with. This is an excellent antidote to mainstream tub-thumping and pom-pom waving, and a must-read. Oh, and if anyone is wonder why both 2008 and 2016 were "change vs. more of the same" elections, this is why.
News of the Wired
"Why Hotel Wifi connections are a hacker's dream come true" [International Business Times].
UPDATE Winter is coming:
Here are snowblowers with Mig-15 jets attached. They use those to melt ice on runways and train tracks in #Russia. @simonstalenhag deja vu. pic.twitter.com/2zbcSzUpvt

— geektweet (@randomtweetor) August 31, 2017
* * *
Readers, feel free to contact me at lambert [UNDERSCORE] strether [DOT] corrente [AT] yahoo [DOT] com, with (a) links, and even better (b) sources I should curate regularly, (c) how to send me a check if you are allergic to PayPal, and (d) to find out how to send me images of plants. Vegetables are fine! Fungi are deemed to be honorary plants! If you want your handle to appear as a credit, please put it in the subject line. Otherwise, I will anonymize by using your initials. See the previous Water Cooler (with plant) here. Today's plant: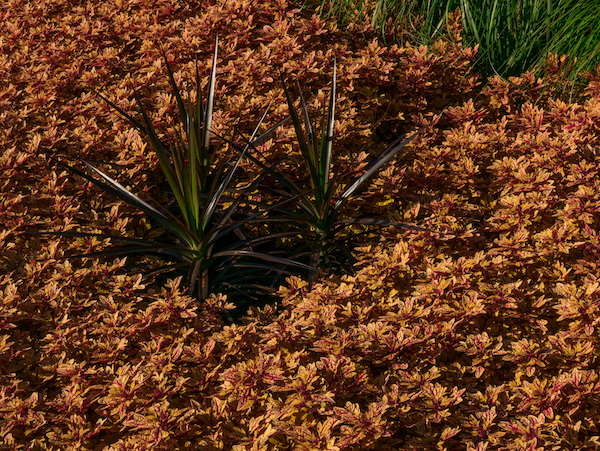 From the Coastal Maine Botanical Gardens, here is a second example of "painting with plants," which I would tend to file under "Interesting Ideas" because I don't like the color combination much.
Query: Now that it's Fall, I need to figure out what to do with my ginormous sunflower patches. I think a normal gardern would root them up, because they'll look messy and neglected in the snow, but that sounds like work. Also, they seem to be bending earthward all on their own, no doubt, like us, because of gravity working on their weakening fibers, and if they do that, and rot in place, not only will their minerals rejoin the earth in which they grew, their seeds will implant themselves there. What do readers think?
Readers: Do feel free to use the dropdown and click the hat to make a contribution today or any day. Here is why: Regular positive feedback both makes me feel good and lets me know I'm on the right track with coverage. When I get no donations for five or ten days I get worried. More tangibly, a constant trickle of small donations helps me with expenses, and I factor that trickle in when setting fundraising goals. So if you see something you especially appreciate, please click the hat!