Bangor, Maine Meetup: There will be a Bangor NC Meetup on Friday, September 15, 6:00pm, at Giacomo's with me, Lambert. (I realize I'm "outing" myself to any locals who haven't made the connection, but at this point my online identity is sufficiently gauzy — certainly to a professional — that it probably doesn't matter much anyhow.) If anybody wishes to contact me, here's my email: lambert [UNDERSCORE] strether [DOT] corrente [AT] yahoo [DOT] com.) Looking forward!
By Lambert Strether of Corrente
Trade
"In other KORUS news, South Korea's ambassador to the United States said on Monday that Washington and Seoul have yet to establish the scale of the renegotiation and a date for the second round of talks on possible changes. 'Let's go step by step, rather than just jumping the gun,' Ambassador Ahn Ho-Young told reporters…" [Politico]. "While it's possible the Trump administration could seek a full-scale renegotiation, as it is currently doing with NAFTA, Trump would have to notify Congress before doing so — a step that has not yet been taken, Ahn noted."
Politics
2016 Post Mortem
"Hillary Clinton's book has a clear message: don't blame me" [Thomas Frank, Guardian]. "To her credit, and unlike many of her most fervent supporters, Hillary Clinton doesn't deny that this web of class-related problems had some role in her downfall. When she isn't repeating self-help bromides or calumniating the Russians she can be found wondering why so many working-class people have deserted the Democratic party…. But by and large, Clinton's efforts to understand populism always get short-circuited, probably because taking it seriously might lead one to conclude that working people have a legitimate beef with her and the Democratic party." Frank concludes:

I wish that another crop of elite college grads were what we needed. I wish Hillary's experts and her enlightened capitalist friends could step in and fix this shabby America we inhabit today, where racists march in the streets and the Midwest falls apart and cops shoot motorists for no reason and a blustering groper inhabits the White House.

I wish it were all a matter of having a checklist of think-tank approved policy solutions. But I know for sure it isn't. And voters knew that, too.

"Clinton made mistakes. But she got a raw deal, too. My point is that nearly any Democrat is going to get that same raw deal in 2020 unless the party has expanded the image of what and who it is and represents" [Michael Tomaskey, The Daily Beast]. "It can't be just a party of educators and lawyers and civil servants and a few other categories whose members are concentrated in a few cities and states." Thomas Frank says it can be and is. If only there were a candidate who could change that…

"Hillary, time to exit the stage" [The Hill]. "When I worked with Clinton, she shifted from the left to the center and lost to Barack Obama as a centrist. In this past election, she shifted back to the left and lost again. Now she's blaming her defeat on Sanders and Trump for having more compelling messages, and on Comey, who had every right to possibly indict her. She ought to look at herself and not others."

"Transcript: Hillary Clinton's Full Interview With NPR's Rachel Martin" [NPR]. Hoo boy. "CLINTON: I find this criticism from Sanders supporters to be so off base. He's not even a Democrat. That's not a slam on him. He says it himself. . He's not supporting Democrats now. I know a lot of Democrats. I've been working on behalf of Democrats, to be elected, to be re-elected, for decades." Clinton should really stop lying about this; Sanders has raised significant amounts of money for Democrats, for years. And if it takes an outsider to execute a hostile takeover followed by a management purge, then so be it.

UPDATE "For Clinton, though, the possibility of running again is all but ruled out in What Happened.
'That doesn't mean I'll ever run for office again,' Clinton writes. 'It does mean I will speak out on the causes I care about, campaigning for other Democrats, and do whatever I can to build the infrastructure we need to succeed.'" [CNN]. As I've said, Clinton has the skills and aptitudes to run a smallish non-profit, perhaps having to do with childrens' issues. She could actually do some real good doing that.
Health Care
"Cory Booker Co-Sponsoring Bernie Sanders' 'Medicare-for-All' Healthcare Bill" [Fortune]. Along with Elizabeth Warren, Kirsten Gillibrand, Kamela Harris, Chris Murphy, Sheldon Whitehouse, Sheldon Whitehouse, Pat Leahy, Jeff Merkely. It's always a good sign when the opportunists get on the bandwagon. That said, these are Democrats, so need to be watched carefully for signs of betrayal. And of course, we'll need to see the Sanders bill (to be introduced tomorrow). NOTE: I haven't verified the co-sponsors, and the list is evolving.

"The stunning Democratic shift on single-payer" [Vox]. "The rest of the party is getting on board with single-payer — or "Medicare for all," where the federal government would provide health insurance for every American financed through taxes — as well. 117 House Democrats (over 60 percent of the caucus) have co-sponsored HR 676, the Expanded & Improved Medicare For All Act offered every Congress by Rep. John Conyers (D-MI). This is what an emerging party consensus looks like. Over time, some issues become so widely accepted within a party as to be a de facto requirement for anyone aspiring to lead it. No Democrat would run for president, or even for House or Senate minority leader, without supporting the DREAM Act. No Republican would try for a leadership position without supporting repeal of the estate tax. And the way things are going, soon no Democratic leader will be able to oppose single-payer." Well, except "never, ever" Clinton, of course.

"The dam is breaking on Democrats' embrace of single-payer" [WaPo]. "5 of my top 8 potential 2020 Democratic nominees have now come out for the [Sanders] bill — before it is even introduced…. There are 48 members of the Democratic caucus in the Senate. That four of the first five to come out in support of Sanders's bill all came from a relatively small universe of top presidential hopefuls suggests that this will be a litmus test issue in 2020. And any hopeful that doesn't support it is going to stand out like a sore thumb."

"Five bipartisan steps toward stabilizing our health-care system" [WaPo]. Meanwhile, some Democrats work feverishly to save the health insurance industry's bacon….
Realignment and Legitimacy
"It's time to end the myth that black voters don't like Bernie Sanders" [Symone Sanders, WaPo]. "Critics, such as Starr, continue to point to the senator's 2016 primary numbers among older African American voters to claim that his message somehow doesn't resonate with people of color as a whole — and continue to ignore that, according to GenForward, Sanders won the black millennial vote in the primaries…. [W]hy does the myth that black voters don't like Sanders persist? It certainly isn't because black voters can't relate to his focus on the working class. According to the Economic Policy Institute, people of color will form the majority of the American working class by 2032. In other words, the white working class does not have a monopoly on economic marginalization."

"Here's an indisputable fact from the past that should not be forgotten: As the Vietnam war became less popular, so did the increasingly confrontational anti-war movement. The residue of the New Left trailed off into suicidal bravado. One thing that doesn't change is that fringe activists who harbor revolutionary fantasies and shrug off their real-world impact frighten the unaffiliated and win cheers for "law and order," even from citizens who disagree with the president's policies. Demonstrations then were hijacked by flag-burners and arsonists. Today, they're hijacked by window-smashers and go-for-broke black-bloc goons. Armed collisions between racist militias and antifa bullies are all too plausible. As we learned in Charlottesville, the police haven't yet figured out how to dampen the lethal potential" [Todd Gitlin, Bill Moyers].

"A Game-Theory Solution for a Fractured America" [Noah Smith, Bloomberg]. "Once Americans of all stripes realize that the other side is never going away, they'll realize that it makes more sense to find a way of living in harmony… If the prisoner's dilemma gets played only one time, the dread logic of self-interest prevents the good outcome from ever happening. Each prisoner chooses to betray the other, and so both end up losing out. Even if the game is repeated a finite number of times, the outcome is the same — betrayal and disaster, again and again. The prisoner's dilemma would seem to be a good reason to be pessimistic about human interaction. Except that if the game is repeated an indefinite number of times, something amazing happens. People start to cooperate. Because they don't know exactly when the game will end, the players can't plan to screw each other over at the end. And knowing this, as long as they care about the future, they choose to cooperate again and again — leaving both parties much better off in perpetuity."
Stats Watch
NFIB Small Business Optimism Index, August 2017: "The small business optimism index rose 0.1 points in August to 105.3, matching the highest level since the 12-year high set in January. Beating consensus forecasts calling for a small decline from the also surprisingly strong July reading, August's optimism reflected increases in the proportion of small business owners planning capital expenditures and anticipating higher sales" [Econoday]. "Small business owners remained exceptionally optimistic in their expectations of better business conditions ahead, with the reading remaining unchanged at a net 37 percent to maintain its leading position among the components." I don't know if the small business owners are the last to throw in the towel on Trump, or — if they actually go ahead and invest in their businesses — a bizarre case of the Confidence Fairy actually delivering. We live in strange times.
JOLTS, July 2017: "In the latest indications of strong, tight conditions in the labor market, job openings rose to a higher-than-expected 6.170 million in July" [Econoday]. "Openings have been far ahead of hirings for the past several years to indicate that employers are having a hard time filling positions." Since they're unwilling to train, and prefer not to raise wages. And: "There was a slight decline in openings for manufacturing while there was significant growth in trade and transport while openings in the services sector also increased significantly" [Economic Calendar]. "There has been a high degree of optimism surrounding the labour market, but the key uncertainty is whether the tighter labour market will put upward pressure on wages. In this context, there is little fresh evidence in the job-openings survey." And but: "Openings higher than hires tells me employers don't want to pay up, which is also suggested by low wage growth" [Mosler Economics]. "The growth rate of new openings is at stall speed." And but: "JOLTS had been showing little year-over-year job openings growth – and this month is about average for the growth seen in the last 2 years" [Econintersect].
Commodities: "Vancouver-based MGX Minerals says it is possible to get lithium from oil-extraction wastewater in just a few days and not the 18 months that it takes to recover the mineral through solar evaporation" [Mining.com]. "Independent assays of the lithium and other minerals extracted, along with the purity of the resulting water, are still pending." Hmm.
Real Estate: "Leading Index for Commercial Real Estate 'Slips' in August" [Calculated Risk]. "The Dodge Momentum Index moved lower in August, falling 2.4% to 129.1 (2000=100) from its revised July reading of 132.2. The Momentum Index is a monthly measure of the first (or initial) report for nonresidential building projects in planning, which have been shown to lead construction spending for nonresidential buildings by a full year. The decline in August can be attributed to an 8.7% drop in the commercial component of the Momentum Index, while the institutional component rose 7.3%. The commercial component has seen a steep rise over the past year as large projects – particularly office buildings – entered the planning cycle. The August retreat for the commercial component brings planning activity back to a level more consistent with a sustainable pace of development."
Retail: "Home Depot Inc., Lowe's Cos. and other big-box retailers have become increasingly intertwined with recovery efforts after natural disasters [sic]… [T]hey've stocked up trucks and distribution centers near hurricane-prone areas with critical supplies" [Wall Street Journal]. "The focus on the retailers highlights the logistics expertise the companies have gained; Lowe's had an emergency command center in place that moved truck routes as the company tracked Irma's shift to the west. The supply efforts come with a risk since inventory can be damaged and lost, but the retailers also get big gains from the post-storm sales."
Retail: "U.S. chicken producers are trying to find out if they can match the speed of their supply chain to demand. Meatpackers that now slaughter and process about 170 million chickens each week are asking federal regulators for permission to step things up…, raising questions of " [Wall Street Journal]. "Rising sales of shrink-wrapped chicken breasts and deep-fried wings have per-capita chicken consumption in the U.S. on track to hit a record 91.3 pounds this year, with the U.S. meat industry expected to process 41 billion pounds of poultry meat. Any decision could have an impact on trade. The National Chicken Council says faster production would help the U.S. reclaim international chicken-meat sales lost to competitors like Brazil, which in 2010 surpassed the U.S. in terms of chicken export sales." Great issue for DSA chapters in the flyover states, since the Democrats won't do anything..
Retail: "Lego said it would lay off 8 percent of its staff and revamp its business after reporting its first fall in sales in more than a decade on Tuesday" [Reuters]. "The Danish toymaker announced a 5-percent decline in mid-year revenue a month after abruptly removing its chief executive, suggesting it is facing its biggest test since flirting with bankruptcy in the early 2000s."
Shipping: "And as Ocean Network Express chief executive Jeremy Nixon warns, the global investment industry is awash with liquidity, with trillions of dollars looking for opportunities that provide a return on capital above today's depressed bond rates" [Lloyd's Loading List]. "that could bring the recovery to an abrupt halt. What may prevent that happening, though, is industry consolidation that is reducing the number of truly global players to just seven. Furthermore, they are all members of alliances, and that is already bringing greater discipline to the marketplace, as the more stable freight rate environment seems to indicate." Cartels work!
The Bezzle: "The civil claims against Paul Mangione, of Scarsdale, N.Y., come nearly a decade after the financial crisis, and months after Deutsche Bank settled with the U.S. Justice Department for $7.2 billion to resolve related claims about the bank's use of mortgage-backed securities and its lending practices. In a 69-page complaint, prosecutors allege that Mr. Mangione schemed to defraud investors and 'systematically and intentionally misrepresented key characteristics of the mortgage loans securitized by Deutsche Bank,' through two residential mortgage-backed securities, worth $1 billion and $400 million" [DealBreaker]. Ah, a civil case. After Obama, CEOs know they have impunity. They'll never, ever go to jail.
The Bezzle: "Tesla Unlocks Extra Battery Capacity For Owners Fleeing Hurricanes" [CleanTechnica]. "The update unlocks the additional battery capacity for owners of vehicles with software-limited battery capacity — like Model S and X vehicles with '60 kWh' of capacity that actually have 75 kWh batteries installed…. Not surprisingly, the increased range is not permanent. As in Cinderella, the magic will come to an end. In this case, the clock strikes midnight for the increased battery capacity on September 16th, at which point the extra range will be removed. This is yet another example of how Tesla is always on the lookout for innovative ways to be the best company it can be." Ah. "Innovative."
The Bezzle: "Solar-Powered Bitcoin Mining Could Be a Very Profitable Business Model" [GreenTechMedia]. "Bitcoin's algorithm requires that it get more and more difficult over time to mine, as long as mining itself becomes increasingly popular. With an approximately 132-year discovery cycle to mine all 21 million bitcoins, mining power demand will go up exponentially."
The Bezzle: "facebook, you needy sonofabitch" [Brad Frost]. "But lately I've noticed the platform feeling increasingly grabby, to the point where they've broken the fourth wall with me and now the whole experience is no longer enjoyable. They've gotten so brazen in their tactics to keep users engaged (ENGAGED!) I think it's no longer possible to be a casual Facebook user." With screen shots. Nah. My Mom's on WooWoo.
The Bezzle: "Around 47% of the AI companies acquired since 2012 have had VC backing" [CB Insights]. "Over 250 private companies using AI algorithms across different verticals have been acquired since 2012, with 37 acquisitions taking place in Q1'17 alone." And since algorithms are opinions, as MathBabe puts it, one can only wonder what those opinions are.
The Bezzle: "The fight to replace the iPhone and other smartphones is on – here's what to watch for in round one" [MarketsInsider]. What will replace it: "Augmented reality is the technology that projects digital imagery into users' field of vision. It's delivered through special eyeglasses or headgear. In the future, you may access it via customized contact lenses." I'm dubious. I mean who wants to look like this guy?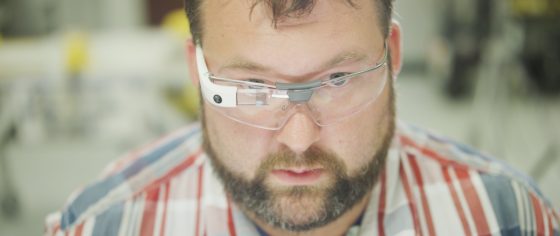 (Yes, that is the photo the editors chose to illustrate the story.) I don't. Because I don't want to look like a glasshole, even if every tech and VC dude in Silicon Valley thinks I do. AR on a screen, fine. As an overlay on the world? I don't think so.
Technical Risk: "Banks face spiraling costs from 50-year-old IT" [Financial News]. Interesting story on Clive's beat. It's not clear to me why, if COBOL is a guaranteed job for life, it's not attractive to enough people to keep these systems going. Of course, we could put all banking up in The Cloud. What could go wrong?
Technical Risk: "Equifax's data breach costs investors a lot more than it will cost the company" [MarketWatch]. "Based on 120.4 million shares outstanding as of June 30, according to the company's latest quarterly filing, the $28.75 decline in the share price means about $3.46 billion worth of market value has been erased since the data breach was announced."
Honey for the Bears: "Cities may be facing a new period of economic stress — even as the national economy continues to improve" [Governing]. "According to a National League of Cities (NLC) report released on Tuesday, municipal finance officers are expecting minimal growth this year — less than 1 percent — after dealing with slower revenue growth last year. If that happens, NLC Research Director Christiana McFarland says it would 'be the first time we are seeing two consecutive years of slowing growth since the start of the recession.' … The report also reveals a decline in public officials' confidence in their cities' finances. This year, 69 percent said they are better able to meet the financial needs of their communities — down from at least 80 percent in each of the last three years. This all may be 'the start of fiscal contraction' for municipalities, the report concludes, and city revenues may never fully recover from the recession before the next economic downturn hits."
Today's Fear & Greed Index: 62 Greed (previous close: 53, Neutral) [CNN]. One week ago: 36 (Fear). (0 is Extreme Fear; 100 is Extreme Greed). Last updated Sep 12 at 12:17pm. Finally!
Our Famously Free Press
"Unfortunately the essential problem here is that after four hours of doing almost nothing except blocking some of the most obnoxious liberal fanatics who follow one of the most slavishly toxic Democratic Party mercenaries in Parkhomenko, I absolutely took the bait and lost my cool; which in turn allowed them to successfully report me. This is of course a very common tactic among Dem Party mercenaries who pretend to be morally superior on social media and frankly I've been using Twitter more than long enough that I shouldn't have walked into this trap; all of that is largely unarguable" [Nina Illingworth]. "I've decided to continue my work here at this website and try one last time to diversify my social media presence so I'm not completely screwed the moment some dweeb at Twitter presses a button. Although the idea of attempting to rebuild a 4,000 follower Twitter account from a few hundred followers is frankly simply fucking exhausting, your letters have made me realize that there are a whole bunch of people out there reading my work who don't really care if I even have a Twitter account."
Gaia
"Water privatisation looks little more than an organised rip-off" [Financial Times]. Captain Louis Renault, courtesy phone! "[W]hat primarily drives the financial incentives offered by these businesses, if not customer service or the wider public interest? The answer is finance. it is harder to see what is in it for the customers, who have to pay the mounting debt interest. Their bills are, in effect, rising to fund the massive shareholder payouts. The utilities insist they are putting in investment. But it all adds up to some very costly infrastructure. Those annual interest bills might be £500m lower if the companies were still in state ownership, according to the Greenwich researchers. Customers also would not have to finance the £1.8bn in dividends. Bundle it all together and that could knock £100 off a £400 annual water bill."
Black Injustice Tipping Point
Two critiques of Ta-Nahesi Coates on "the first white President" (i.e., Trump):
"Idylls of the Liberal: The American Dreams of Mark Lilla and Ta-Nehisi Coates" [Viewpoint]. "Difficult as it is for people of color (including me) to come to terms with, we are not about to get rid of white people. This country is full of them. Coates is not wrong when he implies that insofar as they are caught up in the social formation of 'whiteness,' they are an intrinsically reactionary force. The relevant question is how to subdue this force. Fortunately the answer is clear: the abolition of whiteness. This is not the same thing as the abolition of white people." Which is fine with me; I'm not into SS tatoos, for example.
"The rise of Trump isn't all about racism" [The Week]. "But 'white people' didn't elect Donald Trump. A coalition of 62 percent of white men, 52 percent of white women, 13 percent of black men, 4 percent of black women, 32 percent of Latino men, 25 percent of Latino women, and 27 percent of Asians elected Donald Trump. 'White supremacy' surely played an important role for some of those white voters. But it should be obvious that it can't be a sufficient explanation of the outcome overall — unless we begin to talk in terms of racial false consciousness."
Guillotine Watch
"Former reality star slammed for posting photo of private jet evacuation during Hurricane Irma" [Good Morning America]. "… she and her husband, plastic surgeon Leonard Hochstein…." A plastic surgeon and a reality TV star escape certain doom in a private jet. America!
Class Warfare
"American families finally earn more than they did in 1999" [MarketWatch]. "The Census Bureau reported Tuesday that the poverty rate fell 0.8% to 12.7% in 2016 — meaning 2.5 million people escaped poverty. This is the first time since the recession that the poverty rate isn't statistically different from the 2007 level of 12.5%, a sign of how the U.S. economy has recovered from the Great Recession." And it only took 18 years!
Across the province, more and more people are relying on temp agencies to find work. When they do, statistics show they are more likely to get hurt on the job. I am undercover to investigate why" [Toronto Star]. "Research conducted for the Toronto-based Institute for Work and Health also suggests that companies contract out risky work to temps. When a temp gets hurt, the company is not fully responsible because the temp agency assumes liability at the worker's compensation board — saving their clients money on insurance premiums. This is a crucial financial incentive to use them."
"Why American Workers Pay Twice as Much in Taxes as Wealthy Investors" [Bloomberg]. "Politicians have intentionally set tax rates on wages much higher than those on long-term investment returns. The U.S. has a progressive tax system in the sense that well-paid workers sacrifice much more than poor workers on their "ordinary income." But Americans with so-called unearned income—qualified dividends and long-term capital gains—get a break. A billionaire investor can pay about the same marginal rate as a $40,000-a-year worker, a fact Warren Buffett has famously lamented."
News of the Wired
"What It's Like to Ride Japan's Cat Café Train" [Atlas Obscura].
"'Free wifi for Europeans' plan gains MEPs backing" [EU Business]. "A financial scheme for local wireless access points in the EU, free of charge and offered without discrimination, is on its way, following a vote by the European Parliament Tuesday. The funds will be used in a 'geographically balanced manner' in more than 6000 communities across member states on a 'first come, first served' basis to finance free wireless connections in centres of public life, including outdoor spaces accessible to the general public (libraries, public administrations, hospitals etc." After we get our Post Office Bank, we can put free WiFi antennas on top of every post office facility and blanket the country.
* * *
Readers, feel free to contact me at lambert [UNDERSCORE] strether [DOT] corrente [AT] yahoo [DOT] com, with (a) links, and even better (b) sources I should curate regularly, (c) how to send me a check if you are allergic to PayPal, and (d) to find out how to send me images of plants. Vegetables are fine! Fungi are deemed to be honorary plants! If you want your handle to appear as a credit, please put it in the subject line. Otherwise, I will anonymize by using your initials. See the previous Water Cooler (with plant) here. Today's plant: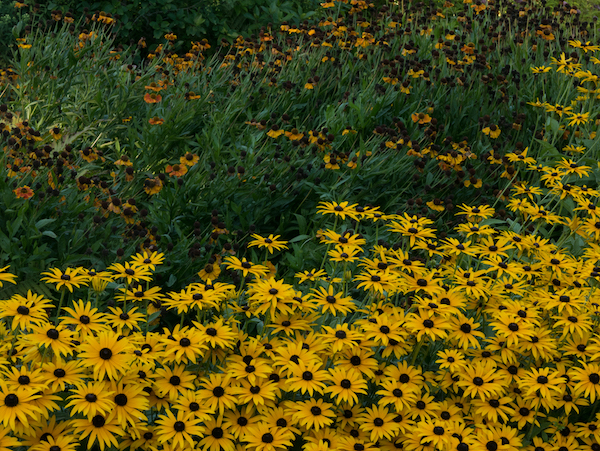 From the Coastal Maine Botanical Gardens. The gardeners manage to create these foreground and background vistas all the time; it's as if they were painters, but with plants.
Readers: Do feel free to use the dropdown and click the hat to make a contribution today or any day. Here is why: Regular positive feedback both makes me feel good and lets me know I'm on the right track with coverage. When I get no donations for five or ten days I get worried. More tangibly, a constant trickle of small donations helps me with expenses, and I factor that trickle in when setting fundraising goals. So if you see something you especially appreciate, please click the hat!