By Lambert Strether of Corrente
Patient readers, f u cn rd ths, I will have anticipated weather-related travel delays successfully by putting together a post earlier than I would have otherwise done. Hence its pantry clear-out/less than current nature. Talk amongst yourselves! –lambert
* * *
Trade
"The U.S. Chamber of Commerce is shining the spotlight this week on seven Midwest states that depend heavily on foreign trade for economic growth by sending one of its top executives on a road trip. The goal is to listen to and share concerns about the future of trade deals like NAFTA and KORUS that President Donald Trump has put in the cross hairs" [Politico]. "'I'm doing this in part because they were very keen to have Chamber people come out to them to talk about trade,' John Murphy, senior vice president for international policy, at the U.S. Chamber of Commerce, told Morning Trade. 'What I want to zero in on is these are red states, in some cases deep red states, that are some of the most trade dependent places in the country.' The seven states – – collectively represent 43 electoral votes. Six of them voted for Trump last year, and Hillary Clinton narrowly won Minnesota's 10 electoral votes. "
Politics
2016 Post Mortem
"As we learn more about how Russia used social media as part of its campaign to help elect Donald Trump, what stands out is how easy it was. Spend $100,000 on Facebook ads, create a bunch of Twitter bots, and before you know it you've whipped up a fog of disinformation that gives Trump just the boost he needs to get over the finish line. [so we don't really know anything, do we?] how many votes it might have swayed, it was one of the many factors [ditto] contributing to the atmosphere of chaos and confusion[1] that helped Trump get elected" [The American Prospect]. It may be that in my absence, a Russki story will break. That said, if all it takes to neutralize a billion plus in Clinton campaign contributions is $100K in Russian Facebook ads and some Twitterbots, then then political class has a lot to answer for in terms of its ROI. And nobody should have the Democratic strategists who dominate the DNC another dime.

"Meet the woman who warned about Russian election meddling years ago—and got death threats" [Quartz]. Very poor (though it shows the resurgence of the "Russian meddling" talking point, no doubt due to Clinton's book tour). First, the warning is thin and hypothetical. Second, the death threats have nothing to do with the meddling!
Health Care
"Unpacking The Sanders Medicare-For-All Bill" [Health Affairs]. "Although there is a fair level of detail about the transitional coverage options, the bill, despite its 96 pages, provides far fewer details about key [Universal Medicare Program (UMP)] standards (such as eligibility and enrollment) and grants significant flexibility to the Secretary of Health and Human Services (HHS) to develop major program components. The Secretary is, for instance, directed to develop policies, procedures, guidelines, and requirements related to eligibility, enrollment, benefits, provider participation standards and qualifications, levels of funding, provider payment rates, medical necessity standards, planning for capital expenditures and health professional education, and regional planning mechanisms."

"Gazette editorial: Is it time for health care for all yet?" [Charleston Gazette-Mail]. "Republicans have fought bitterly against the ACA, and presumably will resist Medicare for All. But we hope the project draws huge public support and becomes unstoppable." Bravo, West Virginia!

A centrist looks at health care:

(Or kill a ton of people for not being rich)

(Then stop #MedicareForAll. We're killing the optimal amount now)

— Peter Douche (@AngryBerner) September 19, 2017

Priorities, priorities. On "Senate overwhelmingly backs sweeping policy bill to pump $700 billion into the military":

Not a single journalist that works at any Serious Outlet is programmed to react here "how do we pay for this" https://t.co/siVlChvYjC

— Hussain (@Chemzes) September 18, 2017

"The Single-Payer Problem Liberals Don't Want to Talk About" [Vice]. "[A]ll of that bloated spending does something else single-payer fans would do well to grapple with: It creates jobs. Often, these are good jobs, especially for people with a modest education. And what happens to those people—who are mostly women—is something Democrats and progressives need to get a handle on if single-payer is ever going to get real traction in Washington." Here is a thread from one such women; and see discussion at NC here. But I'm having a little trouble wrapping my head around the idea of the private health insurance industry as a Keynesian job creator.

"Given the small numbers we are talking about in the context of the entire economy and given the fact that office and administrative skills are fairly portable to other sectors (non-health care establishments employ over 19 million people in such jobs), it is not at all clear that there needs to be any special program for reallocating those made redundant by this change. But even if there does not need to be such a program, single payer proposals generally contain one" [Peoples Policy Project].
Realignment and Legitimacy
"What Do Centrist Democrats Even Stand For?" [The New Republic]. What a lot of mush. "'The left should acknowledge there are ways in which ideological diversity can be beneficial to Democrats in 2018. 'I do think it's really important for people not to impose purity tests,' Kazin, the leftist Georgetown historian, told me. 'You're not going win in North Dakota with the same politics as in California or Massachusetts.'" Totally. North Dakota has a state bank, unlike California or Massachusetts. But we should follow North Dakota's lead and have a United States Post Office Bank. And then make that a litmus test, along with #MedicareForAll.

The greatness that is Twitter:

If @MADmagazine's political cartoonists and art department don't win a Pulitzer this year then we, as a society, have failed. pic.twitter.com/TBDZY2z8Zj

— Ian Brown (@igb) September 17, 2017
Stats Watch
Chemical Activity Barometer, September 2017: "The Chemical Activity Barometer (CAB) remained virtually unchanged in September despite the effects of unprecedented Hurricanes Harvey and Irma" [Econintersect]. "Compared to a year earlier, the CAB is up 2.8 percent year-over-year, a marked pullback from recent year-over-year gains." And but: "This appears to be a leading indicator for industrial production" [Calculated Risk]. "CAB increased solidly in early 2017 suggesting an increase in Industrial Production, however, the year-over-year increase in the CAB has slowed recently."
ATA Trucking For-Hire Truck Tonnage Index, August 2017: "Trucking Data Improves" [Econintersect]. "I tend to put heavier weight on the CASS index which continues to show a moderate improvement year-over-year. The ATA data continues to wander all over the map – and is likely a result of seasonal adjustment issues and a smaller share of shipping now going to ATA members"
Retail: "'Certain larger retailers [Toys R Us] that filed for bankruptcy had burdensome levels of debt resulting from their private equity owners' uses of financing in acquiring the companies,' tax and advisory firm BDO wrote in a September report" [MarketWatch]. "Toys 'R' Us plans to use the bankruptcy to restructure $5 billion in debt and create 'a sustainable capital structure.' The debt, $444 million of which was due next year, stems largely from a $6.6 billion leveraged buyout, led by Bain Capital, KKR & Co. KKR, and Vornado Realty Trust VNO, in 2005." Ka-ching. Somebody should ask Bain's Deval Patrick what he thinks about this.
Retail: "Amazon.com Inc., far from dominating the retail sector, is actually the weakest of the big U.S. players based on operating results, Moody's Investors Service said Wednesday" [MarketWatch]. "Amazon's stock has outperformed rivals, but it's mostly based on the company's growth story, and particularly the success of its cloud business, Amazon Web Services, [Charlie O'Shea, Moody's vice president and lead retail analyst] wrote in a new report." And this: "Estimates for the Amazon Prime membership base are also wildly inflated, O'Shea said, with some pundits betting the figure is as high as 85 million. Amazon itself has never provided a number, other than to say it is in the tens of millions." So why aren't any "activist investors" trying to "unlock value" by spinning off AWS, so the rest of the company can be valued like UPS or Kroger?
Marketing: "UPDATED: FTC Clarifies Rules, Sends Stronger Letters to Influencers and Celebrities" [The Fashion Law]. "While the Federal Trade Commission ("FTC") did not necessarily appear to be doing too much by way of tangible action to follow up on the 90 letters it sent out this spring to remind celebrities, influencers and brands that they must clearly and conspicuously disclose their relationships when promoting or endorsing products through social media (and not by way of a hashtag that reads, 'Partner' or 'Spon'), that is not the case. As of last week, the FTC settled its first ever case against individual social media influencers and sent a new batch of letters to nearly two dozen others."
Supply Chain: "Garment manufacturers rack up $370,000 in labor law violations" [Business Insurance]. "The California Labor Commissioner's Office cited 14 garment manufacturers and contractors $372,135 for labor law and garment registration violations, including seven businesses that failed to obtain workers compensation insurance, the office reported on Thursday…. Investigators also confiscated 5,725 illegally manufactured garments with an estimated street value of $103,000 from six of the businesses, per the release….The agency is also pursuing wage theft investigations on those employers who failed to pay proper wages under the state's labor code, the office announced."
The Bezzle: "Goldman Sachs thinks fintech has as much potential as trading" [Quartz]. "Goldman thinks it can make $1 billion in extra revenue from its consumer lending business over the next three years, as much as it expects for its trading operations. Combined with new lending for the wealthy and companies, the bank expects to bring in $2 billion in additional sales from loans. Goldman co-chief operating officer Harvey Schwartz said it's one of the fastest-growing lending platforms ever launched, even though he says the bank is taking its time with the nascent business. The bank's digital consumer-lending arm called Marcus is expected to have lent out $2 billion by the end of the year. Goldman isn't known for consumer lending, but stricter rules have forced banks to look for new ways to make money." Logo idea: Golden sacks.
The Bezzle: "Vending machine startup hopes to put bodegas out of business" [Boing Boing]. "A vending machine's choice and a grocery store's logistics, with "data" bridging the gulf? Maybe they'll be restocked by Ubers or Amazon drones? Hopeless. But ."
The Bezzle: "This Silicon Valley start-up wants to replace lawyers with robots" [WaPo]. Atrium "founder" and Y-Combinator partner Justin Kan: "In Silicon Valley, we want everything to be transparent." Kidding, right?
The Bezzle: "Social Capital Hedosophia Holdings Corp., a "blank check" company created by venture firms Social Capital and Hedosophia, priced 60 million shares Thursday at $10 a share. The stock rose as much as 4 percent on its first day of trading" [Bloomberg]. "A company for carrying on an undertaking of great advantage, but nobody to know what it is." A little bit frothy, no?
The Bezzle: "[Loftium], a service in Seattle… will provide prospective home buyers with up to $50,000 for a down payment, as long as they are willing to continuously list an extra bedroom on Airbnb for one to three years and share most of the income with Loftium over that time" [New York Times]. "Loftium expects to appeal to young workers and families who are looking to buy their first home for roughly $600,000 or less. The program is being introduced on a small scale in Seattle, but Loftium said it believed there were about 40 other cities where it could give prospective buyers the boost they needed. It hopes to branch out to four more cities — perhaps Chicago, Denver or Raleigh, N.C. — within a year."
The Bezzle: "Monsters of the Financialized Imagination: From Pokémon to Trump" (PDF) [The Transnational Institute]. "The example of Pokémon GO represents not only the monetization of data – the discovery of new ways to commodify and sell it, once collected – but also its financialization: , the selling of future potentials as present-day products. Capitalism today, driven by the FIRE sector, is increasingly fixated on transforming tomorrow's promises into present-day, commodified exposure to risk. It does not so much matter if a start-up has a sustainable business plan or even a product to sell as long as investors can sell its shares for more tomorrow than they bought them for yesterday. Pokémon GO and other products are created thanks to an economic ecosystem eager to capitalize not merely on the prospect of future revenues, but on the value of the promises themselves." As Loftium, just above.
Climate Risk: "For Hurricane Irma, total insured and uninsured loss for both residential and commercial properties, including damage from both flood and wind, is estimated to be between $42.5 billion and $65 billion.* Of this, an estimated $13.5 billion to $19 billion in insured loss is attributed to damage from wind for both residential and commercial properties" [Econintersect]. "Flood loss for residential properties from Hurricane Irma is estimated at $25 billion to $38 billion. This includes storm surge, inland and flash flooding in Florida, Alabama, Georgia, North Carolina and South Carolina. Of this flood total, insured residential flood loss is estimated at $5 billion to $8 billion and uninsured residential flood loss is estimated at $20 billion to $30 billion. As a result, ."
Five Horsemen "Amazon fever just ain't what it used to be" [Hat tip, Jim Haygood].
Health Care
"What We Talk About When We Talk About Single Payer" [Health Affairs]. "Often times, we hear the terms 'universal health coverage' and ;single payer' used interchangeably. This is misleading. Universal health coverage literally means that everyone is covered. According to the World Health Organization, universal health coverage must meet three criteria: equity in access to health services, quality that improves health, and protection against financial risk. In contrast, single payer presumes universal health coverage but also provides insight into specific financing, administration, and delivery characteristics—specifications that are notably absent from the term universal health coverage." And this:
Obamacare's essential health benefits have been hotly debated as part of the recent repeal and replace discussion, and it would be no less controversial in a single-payer system. Single-payer critics often describe this as an example of government rationing of care. But guess what, we already ration care in the United States. We just do it based on price, ability to pay, type of employment, and the color of your skin. In contrast, in countries where the government ensures universal health coverage, that rationing is centralized, both in terms of what is covered and when you can get it. This approach is often achieved with the help of waitlists—a symbol of equitable distribution of resources or government interference in individual decision making, depending on one's perspective.
To put this another way, there's always a line. It's just that in the United States, you can jump the line if you have the money.
"Multi-generational Impacts of Childhood Access to the Safety Net: Early Life Exposure to Medicaid and the Next Generation's Health" [NBER]. "We find strong evidence that the health benefits associated with treated generations' in utero access to Medicaid extend to later offspring in the form of higher average birth weight and decreased incidence of very low birth weight. Later childhood exposure to Medicaid does not lead to persistent health effects across generations. The return on investment is substantially larger than suggested by evaluations of the program that focus only on treated cohorts."
Our Famously Free Press
"Benjaminson talked about tips for reporters. Remember that the flood waters are likely a cesspool of hazards, filled with gas and oil, fire ants and snakes, as well as sewage. Before the storm, get cash from the ATM, which will likely be out after the storm. Bring sunblock, insect repellant, nutrition bars, water, and all the supplies you'll need to make it through days of coverage. Stole, who slept in his car during the Baton Rouge flooding, reminded journalists to bring plastic sealable bags to keep notebooks and phones dry" [National Press Organization]. From reporters who covered Katrina, Sandy, and floods in Baton Rouge.
Black Injustice Tipping Point
How did we ever let uniforms like that take root in this country?
Photo by @LBPhoto1 for @StLouisAmerican of elderly woman & helper trampled by StL cops is, compositionally, a Renaissance painting. pic.twitter.com/8KOyGEnVne

— Charles Jaco (@charlesjaco1) September 16, 2017
Gaia
"In the UK, which is more likely than most countries to escape desertification and mass famine, official and unofficial plans for the future are informed by the idea of a "Lifeboat Britain." This ugly diction isn't meant to suggest that this island could use its relative safety to rescue some of the hundreds of millions fleeing from a brutalized south. Rather, the lifeboat evoked here comes from the grim, self-preserving logic of "lifeboat ethics," which holds that everyone will be jostling for a place on the raft, and some must not be let in" [The Baffler].
Class Warfare
"More bad news for American workers: Pay raises will be dismal next year" [MarketWatch]. "Pay raises for U.S. employees are not expected to improve next year, according to a survey released Monday by global professional services company Aon, based on a survey of over 1,000 companies. Base pay is expected to rise 3% in 2018, up slightly from 2.9% in 2017. Spending on variable pay — incentives or bonuses — will be 12.5% of payroll, low levels not seen since 2013. This suggests a 'pessimistic view of corporate performance in the coming year,' Ken Abosch, a strategy and development analyst at Aon, said in a statement."
"Interactive Infographic: Where Wages Have Risen, Are Rising or Could Soon Rise" [Sourcing Journa]. Interesting. Here' s the map: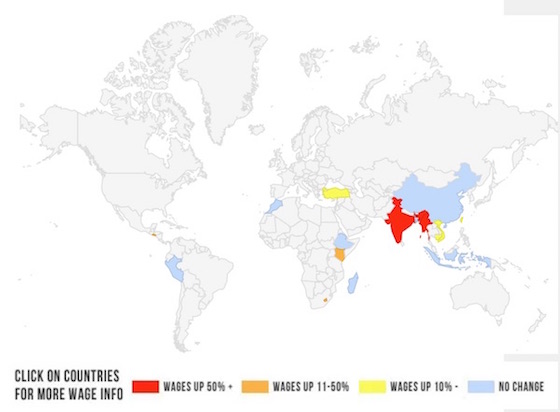 (Data compiled by Sourcing Journal from news accounts and official sources.)
"Model Language for an Anticorruption Citizen Suit Provision in Community Development Agreements" [Global Anticorruption Blog]. More:
Community Development Agreements (CDAs) are contracts between extractive companies and the local communities that reside near their operations. The contracts are designed to funnel some of the financial and non-financial benefits of the project to those who are most likely to be negatively impacted by their inherent destructiveness. , and the World Bank publishes model regulations for CDAs—recommendations that hold significant sway for many developing states. The World Bank's model regulations are often referenced, or adopted wholesale, by countries with capacity constraints.

The World Bank model CDA, and many of the existing national laws which govern CDAs, include required, substantive terms such as monitoring components, dispute resolution systems, etc. However, CDAs have not traditionally included provisions that might allow the contracts to be operationalized in the anticorruption fight.
Sounds like we could have used a CDA with the landfill….
"Irma pushes Florida's poor closer to the edge of ruin" [AP]. "Dimas needs to replace the income from his rental trailer, already condemned after being split open by the wind. Dimas had used that money to help feed his two teenagers and pay for the rescue inhalers he needs for his asthma. Losing it will only make it harder for Dimas to do what he says is one of his favorite things — providing free or cut-rate food to those who have even less." Natural disasters. What's natural about them?
News of the Wired
"One area that [WaPo Senior product manager Joseph Price's] team is currently working on is the upcoming release of notifications on both Amazon's Alexa and Google's Home platforms" [Washington Post]. "For instance, if there's breaking news, the Post will be able to make a user's Echo chime and flash green, at which point the user can ask 'Alexa, what did I miss?' or 'Alexa, what are my notifications?' Users will have to opt in before getting alerts to their device, and they'll be able to disable alerts temporarily through a do-not-disturb mode." So "technology" will have made news delivery both more costly, less informative, and less informative — though possibly more authoritative — than the written word. This nutty project strikes me — like so much of tech these days — as removing affordances, rather than providing them. Agnotology proceeds apace.
"Viral Emmys 2017 Red Carpet Puke Has the Internet Abuzz" [Teen Vogue]. Stress-induced, no doubt. The photo comes from Twitter, and the story hook is 'It was whoever wrote Spicer into the Emmy's,' but what interests me is that "nobody seemed to react to it who was walking the carpet." So how often does this happen, and is our perception of "the Red Carpet" affected in any way?
"For worriers, expressive writing cools brain on stressful tasks" [MSUToday]. "'Worrying takes up cognitive resources; it's kind of like people who struggle with worry are constantly multitasking – they are doing one task and trying to monitor and suppress their worries at the same time,' [Hans Schroder, an MSU doctoral student in psychology and a clinical intern at Harvard Medical School's McLean Hospital] said. 'Our findings show that if you get these worries out of your head through expressive writing, those cognitive resources are freed up to work toward the task you're completing and you become more efficient.'" Works for me! Though I don't have the chops to evaluate the study…
* * *
Readers, feel free to contact me at lambert [UNDERSCORE] strether [DOT] corrente [AT] yahoo [DOT] com, with (a) links, and even better (b) sources I should curate regularly, (c) how to send me a check if you are allergic to PayPal, and (d) to find out how to send me images of plants. Vegetables are fine! Fungi are deemed to be honorary plants! If you want your handle to appear as a credit, please put it in the subject line. Otherwise, I will anonymize by using your initials. See the previous Water Cooler (with plant) here. Today's plant (EU):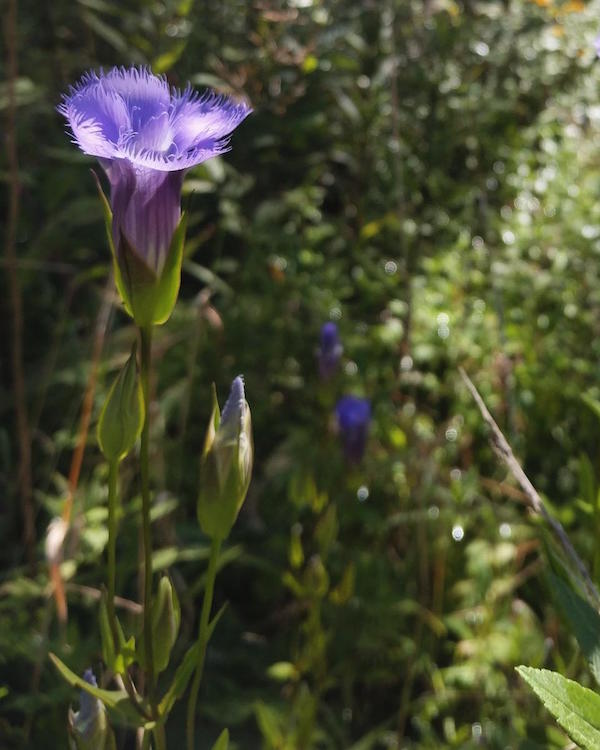 EU writes: "This past weekend I made the pilgrimage to see one of NC's rarest (and most beautiful!) wildflowers (a bit more common up in your neck of the woods), Gentianopsis crinita (fringed gentian). Hope you enjoy them as much as I did!"
* * *
Readers: Do feel free to use the dropdown and click the hat to make a contribution today or any day. Here is why: Regular positive feedback both makes me feel good and lets me know I'm on the right track with coverage. When I get no donations for five or ten days I get worried. More tangibly, a constant trickle of small donations helps me with expenses, and I factor that trickle in when setting fundraising goals. So if you see something you especially appreciate, please click the hat!