By Lambert Strether of Corrente
Trade
https://www.theverge.com/2017/9/22/16351562/solar-energy-international-trade-commission-foreign-trade-lawsuit-suniva-tariff?utm_campaign=theverge.social&utm_content=recode&utm_medium=social&utm_source=twitter
"The veteran trade official [Canada's chief NAFTA negotiator Steve Verheul] said he did not expect the United States to make proposals this round on four hot-button issues: dairy market access, auto rules of origin, investor-state dispute settlement and Chapter 19" [Politico].
"The Trump administration now has a date circled on its calendar: March 21,after which it can sign a renegotiated NAFTA deal. That date was set after the administration officially notified Congress on Friday evening of expected changes to trade remedy law as a result of the negotiation" [Politico].
Politics
2017
Karl Rove: "Roy Moore would be the Todd Akin of 2017 and 2018 for every Republican on the ballot. Republicans will be asked, 'Do you agree homosexuality should be punished by death, do you believe 9/11 was a result of God's anger?' He'll say outrageous things, the media will play it up, and every Republican will be asked, 'Do you agree with that?'" [New York Times]. Pass the popcorn.
2018
"Randy Bryce: Iron Stache or Iron Cash?" [Progressive Army]. Politics ain't beanbag.On the other hand, after the Sanders run, it's hard to see the requirement for the donor class at all.
2020
"Joe Biden's Platform for 2020: Anti-Populism" [Politico]. Please kill me now. Or maybe not? "[Biden announced] his opposition to a 'universal basic income,' that newly vogue policy proposal in which every American would receive a periodic check from the government regardless of their work status. But there's more in the post to decipher. Biden criticized the 'Silicon Valley executives' who have championed universal basic income for 'selling American workers short' and undermining the 'dignity' of work." I don't think there need to be irony quotes round "the dignity of work." And somebody who understands the Jobs Guarantee should get close to Biden. Wouldn't it be a lovely irony if Biden supported it?
Health Care
"Most Americans — 52 percent — disapprove of the Graham-Cassidy health care bill, according to a CBS News Poll conducted between Sept. 21 and 24" [CBS News]. "Only 20 percent of those polled said they approved of the Republican legislation aimed at repealing and replacing the Affordable Care Act signed into law by President Obama."

"Paul outlines demands for yes vote on Graham-Cassidy bill" [The Hill]. "Paul's primary demand, according to his office, is to substantially reduce the central component of the bill: … block grants to states with money to spend on health care… [Paul: "only a significant reassessment of this trillion-dollar spending regime would get my support"]. A "significant reassessment" of the spending, though, is likely to cost the GOP other votes, most notably Sen. Lisa Murkowski (R-Alaska), who is already focused on whether the bill does enough to help people afford coverage. Finding some way to win Paul's vote, however unlikely, is crucial for GOP leaders, given that they can only lose two votes. Sen. John McCain (R-Ariz.) is also against the bill, and Sen. Susan Collins."

"Republican health care bill revised to target key votes" [NBC]. "An internal GOP analysis, circulated to Senate offices, shows spending boosts states like Alaska and Kentucky — data that will almost certainly be used to sell the revised proposal in the days ahead…. In one new provision particularly beneficial to Alaska, the state would receive a 25% boost in federal matching funds for Medicaid due to its defined high-level of poverty."
Trump Transition
"One individual who is familiar with an aspect of the Mueller inquiry but asked to not be named told New York that, unlike other federal probes that he's seen in action, where prosecutors build their cases from clear allegations, this one feels different. 'This is a backward investigation,' the individual said. 'You don't have a crime. You're searching. And so you're not really sure exactly what you're searching for. So you start asking around and you see what comes up. And you start creating a paradigm and you see what else comes up and figure out at some point whether or not there's a crime'" [New York Magazine].

"Ivanka Trump Faces Courtroom Showdown Over $785 Sandals" [Bloomberg]. "'Trump was not aware of the Aquazzura style 'Wild Thing' shoe at the time she signed off on the season line that contained the Ivanka Trump style 'Hettie' shoe,' [Darren]Saunders, her lawyer, argued in a letter to the judge. 'The burden of a deposition of Ms. Trump would far outweigh any likely benefit to Aquazzura.' Saunders added that her . (Trump was appointed to be an assistant to her father in the White House)." Didn't Bill Clinton try something like that?
Realignment and Legitimacy
"Rainbow Coalition or Class War?" [Hard Crackers]. Very important post on Redneck Revolt, race and class, and forgotten lessons of history (Tom Watson). Well worth a read.

"The Democratic Party has experienced an 11 percent drop in support from black women, while 'the percentage of black women who said neither party represents them jumped from 13 percent in 2016 to 21 percent in 2017,' according to the 2017 Power of the Sister Vote poll, conducted by the Black Women's Roundtable, an intergenerational public policy network, in partnership with Essence magazine" [The Root].

"Confidence in Trump drops on Main Street even among conservatives, survey reveals" [CNBC]. "The [CNBC/SurveyMonkey Small Business Survey]s] Small Business Confidence Index fell from 60 in the second quarter to 57 in the third quarter. The index is calculated on a scale from 0–100 and is based on the responses to eight survey questions. A zero indicates no confidence, and a score of 100 indicates perfect confidence. An index value of 57 means that business owners on the whole are more optimistic than they are pessimistic about the direction their business will head over the next 12 months. The slight dip in confidence is the result of sharp decreases in the number of small-business owners who are optimistic about the impact of changes in tax, trade, regulatory and immigration policy over the next 12 months." So, they don't expect Trump to deliver. Because he doesn't and won't. I wonder when this is going to show up in the economics surveys that keep diverging from real data…

A learning organization:

Our Sunday taillight clinic was great! Looking forward to another ?thanks for all the help @NewOrleansDSA pic.twitter.com/1qfNk6HHkj

— DSA Chattanooga ? (@dsa_chatt) September 25, 2017

This is super ugly. Thread:

Militia extremists are being agitated to take up arms against Antifa. 1/

— JJ MacNab (@jjmacnab) September 23, 2017

Agent provocateur cops on both sides, too: Black bloc antifa and the militias; this is Ohkrana-level complexity. Which didn't end well for the Czars.
Stats Watch
Chicago Fed National Activity Index, August 2017: "Hurricane Harvey made its effects felt in the national activity index which fell to minus 0.31 in August for the weakest showing since August last year" [Econoday]. "Negative pull came especially from the production component as industrial production, hit by Harvey dislocations, showed declines for all 3 components — manufacturing, mining and utilities…. Positive contributions came from employment, where August payroll growth was solid at 156,000, and also sales, orders & inventories where a boost came from a sharp inventory build in the ISM manufacturing report. But today's report is about weakness not strength and the prospect of Hurricane Irma's impact on Florida points to similar trouble for the September report." But: "This suggests economic activity was close to the historical trend in August (using the three-month average)" [Calculated Risk].
Dallas Fed Manufacturing Survey, September 2017: "Hurricane Harvey didn't slow down Texas manufacturing at all based on the Dallas Fed's September report which is led by a strong 4.3 point gain in the general activity index to 21.3 for the best result in 7 months" (Huh?) [Econoday]. "The report includes special questions regarding Harvey and among the results, 41 percent say the hurricane had negative effects on revenue and production though only 6 percent see the impact over the next 6 months as significantly negative while 46 percent see no long term effect. And 69 percent see no effect on future employment. The economy will be lucky if Hurricane Irma's impact on Florida proves as light as Harvey's hit on Texas, at least based on today's report where responses are voluntary and sample sizes can be as low as 100." And: "Dallas Fed: "'Growth in Texas Manufacturing Activity Holds Steady' in September" [Calculated Risk].
Retail: "German discount grocer Aldi is taking lean inventory to a new level in its bid for a bigger share of the U.S. market. The company is betting it can win over Americans spoiled by the wide variety in supermarkets by offering way fewer choices than rival retailers. It's an austere proposition at the heart of Aldi's growing business in Europe, the WSJ's Zeke Turner reports, with stocking that puts the company's lean blueprint on stark display on store shelves and offers consumers in exchange deep price cuts at the end of long checkout lines" [Wall Street Journal].
Retail: "In a commentary, Scott Galloway of the NYU Stern School of Business writes that Amazon's growth raises difficult questions about the reasons for its dominance and the company's impact beyond its basic gains in the retail, cloud services and entertainment markets. Amazon has changed the basic compact with financial markets, the marketing professor writes. It has , managing its business to break even while investors bid up its stock price. That's provided the company with what Mr. Galloway writes is a staggering advantage in free-flowing capital" [Wall Street Journal]. Very noble of Mr. Market, I'm sure. Musical interlude…
Retail: "Why is Amazon looking more and more like an old-fashioned retailer? The company's do-it-all corporate strategy adheres to a familiar playbook—that of Sears, Roebuck & Company. Sears might seem like a zombie today, but it's easy to forget how transformative the company was exactly 100 years ago, when it, too, was capitalizing on a mail-to-consumer business to establish a physical retail presence" [The Atlantic]. "Amazon may find, like Sears, that size can be both an advantage and a bull's-eye. Sears evolved to become a microcosm of the American economy, with its corporate operations spanning retailing, manufacturing, marketing, and transportation. Warehouses filled 100,000 orders a day, 16 Sears-operated manufacturing plants built name-brand kitchenware and furniture, and a New York branch concentrated in apparel marketing. Amazon is already on this very road; in fact, on Thursday, the company announced that it is adding several thousand marketing jobs in its New York office."
Shipping: "It's hard to escape the irony in Amazon.com Inc.'s plan to lease space for an 855,000-square-foot fulfillment center where Cleveland's once-mighty, but long closed and now mostly demolished Randall Park Mall once stood. Over the next few years—the Amazon center is scheduled to be operational in late 2018—locals who had once bought stuff at Randall Park will find their online orders fulfilled out of the same property" [DC Velocity]. "Many malls sit on large parcels with flat topographies that would be capable of accommodating the needs of a large [distribution center]. A large number of older malls are in densely populated residential areas, though in some cases the neighborhoods may not be particularly desirable. Many have decent road infrastructure, a holdover from an era when developers and communities invested in roads to entice suburban consumers to shop at the malls." "[A] holdover from an era…"
Shipping: "Will software developers dominate the shipping industry? Part 2" [Splash 247]. "We shouldn't simply rely on software developers, as we now rely on classification societies, banks and insurers, to be there when we need them. We've come to rely on class, our banks and insurers because of centuries of experience. How well are we likely to really know and trust a software company? I've no idea!"
Tech: "Rolls-Royce Holdings PLC is starting to use virtual reality in its manufacturing supply chain. The British aircraft engine maker is using the immersive technology headsets for what it calls the "world's most powerful aerospace gearbox" … highlighting the growing interest in virtual reality in industrial operations from factories to warehouses" [Wall Street Journal]. "Companies have approached virtual reality cautiously, but the Rolls-Royce operation may get a closer look in complicated and manually intensive operations from factories to distribution centers."
The Bezzle: "8 ways to reduce the big threat posed by your 'smart' refrigerator" [MarketWatch]. One way: Don't buy one.
The Bezzle: "MongoDB Looking To Create Unholy Trinity Of Terrible NYC Tech IPOs" [DealBreaker]. "According to its filing, MongoDB pulled down roughly $101.3 million in revenue for fiscal year 2016. That's not too shabby for a subscription-focused data platform play. What does provoke concern though is a net loss of about $86.7 million for the same period. And that hemorrhage does not look to be healing anytime soon. The company is already reporting a net loss of almost $45.8 million for the first six months of FY2017 despite $67.9 million in revenue. So, we've got a 10-year-old startup with nice revenue but a real problem turning that revenue into profit?" And on to the Blue Apron parallels…
The Bezzle: "YC's Essential Startup Advice" [YCombinator]. Looks like Uber followed all this advice…
Rapture Index: Closes down 1 on Tribulation Temple. "The Temple Mount has been relatively quiet the past few weeks" [Rapture Ready]. Record High, October 10, 2016: 189. Current: 183.
Today's Fear & Greed Index: 65 Greed (previous close: 71, Greed) [CNN]. One week ago: 75 (Extreme Greed). (0 is Extreme Fear; 100 is Extreme Greed). Last updated Sep 25 at 1:51pm.
Class Warfare
UPDATE "Hot, isolated, and running out of supplies, parts of Puerto Rico near desperation" [WaPo]. These are US citizens, let us remember. I wouldn't put it past the bondholders who hold Puerto Rican debt to see Maria as an opportunity, exactly as charter advocates and privatizers saw Katrina as an opportunity.
"Washington Just Sued a Giant Private Prison Company for Paying Immigrant Workers $1 Per Day" [Mother Jones]. " Detainees perform "virtually all non-security functions" at the facility, the AG's press release says. No matter how many hours they work, GEO pays them $1 per day or 'in snack food such as chicken, potato chips, soda, and/or candy,' the complaint alleges."
News of the Wired
"Addiction hijacks the brain's neural pathways. Scientists are challenging the view that it's a moral failing and researching treatments that could offer an exit from the cycle of desire, bingeing, and withdrawal that traps tens of millions of people" [National Geographic].
"The challenges and adventures of life on the road, as told by 14 bands" [Vox].
"This ancient mnemonic technique builds a palace of memory" [Aeon]. "Although imagined memory palaces are still used by memory champions and the few who practice the memory arts, they are best known from Greco-Roman times when great orators, including Cicero, used them to ensure their rhetoric was smooth, detailed and flawless. The physical memory palace, usually a streetscape or building interior, would become so familiar to the orator that it was always available to them in their imagination. By 'placing' one piece of information in each site, they could mentally stroll through their memory palace, location by location, drawing out each portion of the speech in the required order without missing any element."
* * *
Readers, feel free to contact me at lambert [UNDERSCORE] strether [DOT] corrente [AT] yahoo [DOT] com, with (a) links, and even better (b) sources I should curate regularly, (c) how to send me a check if you are allergic to PayPal, and (d) to find out how to send me images of plants. Vegetables are fine! Fungi are deemed to be honorary plants! If you want your handle to appear as a credit, please put it in the subject line. Otherwise, I will anonymize by using your initials. See the previous Water Cooler (with plant) here. Today's plant (MG):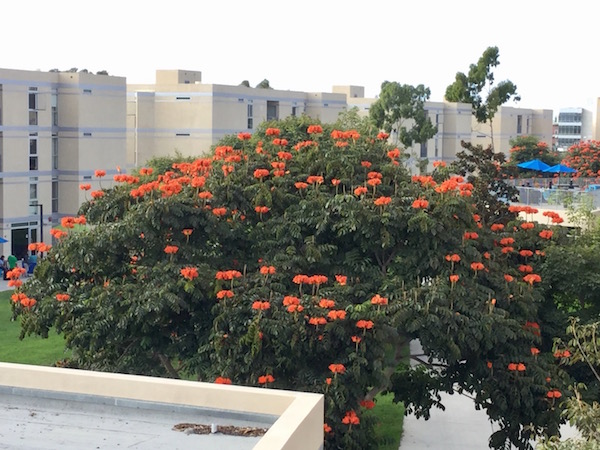 MG writes: "Not sure what these trees are but they are spectacular. At Eleanor Roosevelt College dorms at UCSD."
* * *
Readers: Do feel free to use the dropdown and click the hat to make a contribution today or any day. Here is why: Regular positive feedback both makes me feel good and lets me know I'm on the right track with coverage. When I get no donations for five or ten days I get worried. More tangibly, a constant trickle of small donations helps me with expenses, and I factor that trickle in when setting fundraising goals. So if you see something you especially appreciate, please click the hat!