By Lambert Strether of Corrente
Patient readers, the post I just put up on the health care debate took much longer than I thought; it's been awhile since I put on my yellow waders. Please talk amongst yourselves, while I put together some material. Does anybody have any connections in Puerto Rico? –lambert UPDATE 3:51PM Moar!
Politics
2017
Oopsie:

According to @propublica tracker, Trump has now deleted several tweets that backed Luther Strange pic.twitter.com/0iBk0XoCKT

— Tim Hanrahan (@TimJHanrahan) September 27, 2017

"Moore Nearly Lost a Statewide Race in 2012. Doug Jones Could Beat Him This Time." [The Intercept]. "Best known for his work as U.S. attorney here in Alabama, Jones, in 1998, famously re-opened his office's investigation of the 1963 Birmingham church bombing. Before he left office in 2001, Jones brought murder charges against two of the surviving Klansmen responsible for the attack, ultimately seeing both men convicted and sentenced to life in prison."
New Cold War
These two stories crosses my Twitter feed with the same time-stamp:

"Our Democratic System Is on the Cusp of Failing Before Our Eyes" [Charles Pierce, Esquire]. "Wisconsin is one of 21 states that, last week, confirmed that there were Russian attempts to hack its voting system." But–

"DHS Now Says Russia Didn't Target Wisconsin Voter-Registration System" [Bloomberg]. Attribution is hard. So Pierce can put his pearls down, for now, and wipe off the fainting couch.

* * *

"WPost Pushes More Dubious Russia-bashing [Robert Parry, Counterpunch]. "The article purports to give the inside story of how Facebook belatedly came to grips with how the 'company's social network played a key role in the U.S. election,' but actually it is a story about how powerful politicians bullied Facebook into coming up with something – anything – to support the narrative of 'Russian meddling,' including direct interventions by President Obama and Sen. Mark Warner of Virginia, the ranking Democrat on the Senate Intelligence Committee and a key legislator regarding regulation of high-tech industries." And the beauty part is that this makes it hard for Zuckerberg to run for President! It's a twofer!
Health Care
"With Graham-Cassidy-Heller-Johnson off the table, senators should resume the bipartisan efforts to stabilize the markets that the GOP leadership snuffed last week" [Editorial Board, Los Angeles Times]. Let me know how that works out…

"Yes, Medicare for All is Definitely a Litmus Test for Democrats" [HuffPo].

On my podcast, The Humanist Report, I discussed a town hall that took place in Nevada's 4th congressional district with newly-elected Rep. Ruben Kihuen. An activist named Amy Vilela showed up to ask Kihuen—a self-proclaimed "progressive" and member of the congressional progressive caucus—why he refuses to cosponsor Conyers' Medicare for All bill. More importantly, Vilela's question was accompanied with her daughter's poignant story. Vilela explained to Kihuen that her daughter, Shalynne, died at the young age of 22-years-old because she was denied basic medical screenings that would have undoubtedly saved her life. Shalynne couldn't prove that she had medical insurance and was instead told to go get insurance and find a doctor. But Shalynne's story didn't resonate with Kihuen, apparently. Not only did he refuse to commit to cosponsoring Conyers' Medicare for All bill at that town hall, but even got arguably defensive, as constituents kept pushing the issue further. After reporting on the events that took place at this town hall, and how a so-called progressive couldn't provide his constituents with one good reason why he wouldn't support Medicare for All, my viewers submitted hundreds—if not thousands—of voicemails to both of Kihuen's offices, demanding that he cosponsor Conyers' bill. He still wasn't moved.

So he got primaried. By Amy Vilela. Good. Great!
Realignment and Legitimacy
Hmm:

— Matthew Yglesias (@mattyglesias) September 27, 2017

Bipartisanship is greatly overrated:

Bipartisan Efforts: The Greatest Hits

– 2008 recession
– iraq war
– drone strikes
– shitty healthcare
– welfare reform
– mass incarceration

— Lana Del Raytheon (@LanaDelRaytheon) September 26, 2017
Stats Watch
MBA Mortgage Applications, week of September 22, 2017: "The purchase index rebounded 3.0 percent following the prior week's unusually steep 11.0 percent loss" [Econoday].
Durable Goods Orders, August 2017: "A second straight jump in capital goods leads what is a mostly very strong durable goods report where the August headline rose 1.7 percent. This is only slightly above expectations but not core capital goods (nondefense ex-aircraft) which jumped 0.9 percent vs Econoday's consensus for a 0.3 percent gain" [Econoday]. "This together with a second straight jump in shipments of core capital goods, up 0.7 percent in August, point to business confidence and strengthening business investment and will significantly lift estimates for second-half nonresidential investment." The headline is volatile and sporty aircraft, but "the factory sector did not show any initial effects from Hurricane Harvey's late August hit and, assuming Hurricane Irma's effects proves as slight in September, appears poised for solid year-end acceleration centered in capital goods. The one missing piece in the factory sector, however, is manufacturing production as measured by the Federal Reserve which has remained stubbornly weak including a 0.3 percent fall in the report for August. Note that revisions in today's report are minor compared to the factory orders report when capital goods data from the July advance durables report were sharply upgraded." But: "Our analysis is more negative than the headlines as the rolling averages declined. Civilian aircraft were the main tailwind this month.This series has wide swings monthly so our primary metric is the unadjusted three month rolling average" [Econintersect].
Pending Home Sales Index, August 2017: "Existing home sales have been on the decline as signaled all along by the pending home sales index which is down a very steep 2.6 percent in the latest reading which is for August. Hurricane Harvey's late August hit on Texas didn't help pending sales in the South which fell 3.5 percent but pending sales show across-the-board weakness: Northeast down 4.4 percent, Midwest down 1.5 percent, and the West down 1.0 percent" [Econoday]. "Pending sales nationwide are down a year-on-year 2.6 percent while final sales of existing homes are down 1.7 percent." And: "The rolling averages are in positive territory. The data is very noisy and must be averaged to make sense of the situation. There is no signs of a surge in home sales, and the overall downward trends remain in play" [Econintersect].
New Home Sales: "New home sales ended the summer on a very weak note, and it's time we stopped sugarcoating the truth with this data — the simple fact is that we are severely under-producing housing in this country, relative both to basic demographics and currently high demand from buyers. Inventory is stuck at roughly mid-1990s levels, but the country has grown by more than 60 million people since then" [Svenja Gudell, Zillow]. "What's missing from the equation is a lack of homes actually available to buy at a price point that's reasonable for most buyers, even with today's bump in inventory."
Chicago Fed National Activity Index: A takedown of Dudley's spin, with charts [Mosler Economics].
Shipping: "Suspected mass-spoofing of ships' GPS in the Black Sea" [Naked Security]. On top of yesterday's story about fake ship registrations…
The Bezzle: "PETALING JAYA: The Malaysian Global Innovation and Creativity Centre (MaGIC) has refuted allegations of its involvement in any quid pro quo arrangement with the ride-sharing service Uber" [The Star]. Of course they did. This is Malaysia.
The Bezzle: "Eight Things Cryptocurrency Enthusiasts Probably Won't Tell You" [Wall of Numbers]. Prosecution futrues, as Yves said.
The Bezzle: "A close look at ad blocking reveals a surprising lack of public information about the terms of Google's 'whitelisting' agreements with ad blocking companies, agreements in which Google pays to un-block its ads. Two companies—AdBlock and AdBlock Plus—control over 90% of the desktop ad blocking market in the U.S. and Europe and have the apparent power to interfere with billions of dollars in Google ad revenue. AdBlock was purchased in 2015 by an undisclosed buyer, whose identity remains a closely guarded secret" [Capitol Forum]. So the ad blocker business model is basically extortion, then?
The Bezzle: "7 Questions to Ask Founders Before Joining Their Startup" [Cardash]. "8. Will I be asked to commit crimes?"
The Bezzle: "Church used unemployment scam to stoke funds, ex-members say" [AP].
The Bezzle: "ProPublica Seeks Source Code for New York City's Disputed DNA Software" [Pro Publica]. Important. If "code is law," we'd better be able to see the code.
The Bezzle: "The most important tech skill, then, isn't computers or engineering — It's the art of getting paid to control vast amounts of money. Then you can make programmers build out whatever dumb ideas you like" [Elaine's Idle Mind].
Tech: "The Top 20 Tech Companies by Revenue Per Employee" [Visual Capitalist].
Five Horsemen: "Techs bounce, as Facebook leads and Amazon lags" [Hat tip, Jim Haygood].
Today's Fear & Greed Index: 77 Extreme Greed (previous close: 67, Greed) [CNN]. One week ago: 79 (Extreme Greed). (0 is Extreme Fear; 100 is Extreme Greed). Last updated Sep 27 at 2:14pm. Oh, good!
Water
"Corporations Have Rights. Why Not Rivers?" [New York Times]. " Does a river — or a plant, or a forest — have rights? This is the essential question in what attorneys are calling a first-of-its-kind federal lawsuit, in which a Denver lawyer and a far-left environmental group are asking a judge to recognize the Colorado River as a person." Hoo boy. I understand that water rights are big in Ohio. So if a river is a person, what are water rights? Involuntary servitude?
Guillotine Watch
"How to Build a $60 Million Art Trove While Staying Within Your Means" [Bloomberg]. Step one: Don't start?
Class Warfare
"A study released Tuesday that looked at six Silicon Valley high schools found that one in six students are either in an unstable housing situation themselves or know someone who is — with most of those couch surfing, separated from their family and living somewhere temporarily with other relatives or friends" [San Jose Mercury News]. "'I kept asking researchers we are working with, 'Is this valid?' [Sparky Harlan of the Bill Wilson Center] said. 'We want to make sure it holds up. And we found the results are pretty much in line with other studies — one done in Connecticut also averaged 17 percent.'"
"A disconcerting 43% of adults have trouble making ends meet, according to a new survey released Tuesday by the Consumer Financial Protection Bureau. In the new survey, 43% of respondents said that they experience difficulty paying their monthly bills" [Business Insider]. "More than one-third said that they experienced financial hardship within the past year, defined as running out of food, falling short on rent, or not being able to pay for a medical expense."
"[T]he FBI's data points to sharp geographic disparities in violent crimes in American society, with a few major cities accounting for large portions of 2016's growth in murders and other serious offenses" [The Atlantic].
"Debunking the Stereotype of the Lazy Welfare Recipient: Evidence from Cash Transfer Programs Worldwide" (PDF) [Abhijit Banerjee, Rema Hanna, Gabriel Kreindler, Benjamin A. Olken]. The abstract:
Targeted transfer programs for poor citizens have become increasingly common in the developing world. Yet, a common concern among policy makers – both in developing as well as developed countries – is that such programs tend to discourage work. We re-analyze the data from 7 randomized controlled trials of government-run cash transfer programs in six developing countries throughout the world, and find no systematic evidence that cash transfer programs discourage work.
" [T]he greater Washington area now boasts one of the highest concentrations of wealth anywhere in the United States, much thanks to the ginormous federal bureaucracy and National Security State which has grown exponentially since the 9/11 attacks. As of 2015, fully half of the top 10 highest-income counties in the nation are in Maryland and Virginia, within an hour of the capital. There are probably as many Teslas in Fairfax County as there are in Silicon Valley. None of this, of course, negates the reality that there is plenty of poverty, some of it desperate, right in the shadow of the U.S. Capitol" [The American Conservative]. "If the government should ever shrink, if the financial system should ever truly collapse, or if the military industrial complex stopped turning, this whole region would be depopulated."
News of the Wired
"Dumb Things The Camera Companies are Still Doing" [DSLR Bodies]. "The 1/4″ tripod socket at the bottom of the camera has been there since our ancestors evolved off into a new species millennia ago…. Most importantly, well designed Arca Swiss plates provide a near solid metal-to-metal bond between our camera and support system. That's important, because if the bond isn't 100% solid, you introduce a vibration point in your support system. Trust me on this, I've seen so many camera-on-tripod-via-tripod-socket connections that create a vibration point that if I had a grain of sand for each one, I'd own a beach." Oh, noes…
"The Coming Software Apocalypse" [The Atlantic]. How about some real innovation from Silicon Valley?
In a recent essay, [Bret] Victor implored professional software developers to stop pouring their talent into tools for building apps like Snapchat and Uber. "," he wrote. Instead, they should focus on scientists and engineers—as he put it to me, "these people that are doing work that actually matters, and critically matters, and using really, really bad tools." Exciting work of this sort, in particular a class of tools for "model-based design," was already underway, he wrote, and had been for years, but most programmers knew nothing about it.
No more Juiceros. No more Ubers. Heck, Amazon is all about "inconveniences of daily life," at least in its shipping aspect.
* * *
Readers, feel free to contact me at lambert [UNDERSCORE] strether [DOT] corrente [AT] yahoo [DOT] com, with (a) links, and even better (b) sources I should curate regularly, (c) how to send me a check if you are allergic to PayPal, and (d) to find out how to send me images of plants. Vegetables are fine! Fungi are deemed to be honorary plants! If you want your handle to appear as a credit, please put it in the subject line. Otherwise, I will anonymize by using your initials. See the previous Water Cooler (with plant) here. Today's plant (Re Silc):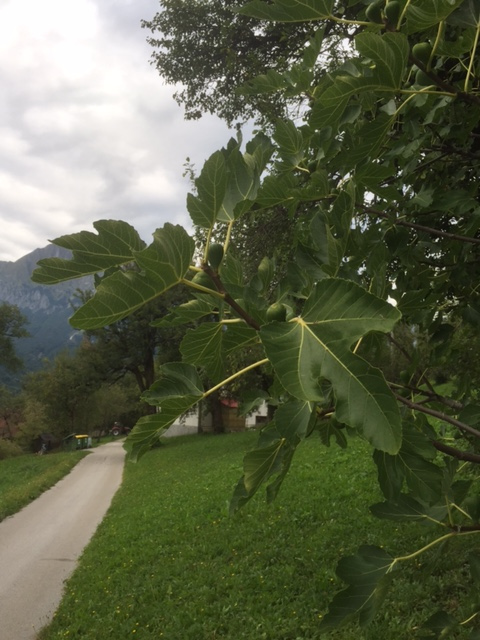 UPDATE Sorry for the unrotated image. Apparently, OS X Preview understands EXIF data and rotates the image, but WordPress does not!
Re Silc writes: "Lots of figs in Slovenia alps." I thought I saw a glint of sun on the mountaintop, but in fact it was a reflection on my monitor. That's practically Zen.
* * *
Readers: Do feel free to use the dropdown and click the hat to make a contribution today or any day. Here is why: Regular positive feedback both makes me feel good and lets me know I'm on the right track with coverage. When I get no donations for five or ten days I get worried. More tangibly, a constant trickle of small donations helps me with expenses, and I factor that trickle in when setting fundraising goals. So if you see something you especially appreciate, please click the hat!