By Lambert Strether of Corrente
Trade
"The Trump administration may fail to meet its own previously stated goal of having all text presented by the end of this month if, as expected, it refrains from offering proposals this round on four hot-button issues: dairy market access, auto rules of origin, investor-state dispute settlement and Chapter 19. But even so, negotiators from Ottawa and Washington alike were upbeat on Monday that talks were moving ahead quickly" [Politico]. "Canadian Foreign Minister Chrystia Freeland also brushed off questions about the lack of U.S. proposals on tricky areas, telling reporters at the Canadian Parliament that 'it is very typical — standard practice — in any trade negotiation to work on the less-contentious issues to begin with.'"
"[T]he Trump administration is expected to put its labor proposal on the negotiating table today in Ottawa, but it's already getting pushback from lawmakers and labor groups who say it does little to improve Mexico's poor labor conditions and low wages" [Politico]. "[Rep. Sander Levin (D-Mich.)], who was in Ottawa over the weekend for the start of the third round of NAFTA talks, said many in the labor movement were urging U.S. negotiators not to put the proposal on the table. As it stands now, it largely mirrors what the U.S. had put forward in Trans-Pacific Partnership talks, Levin said. 'Without dramatic change occurring before voting on a revised NAFTA, I believe there will be virtually no Democratic support in Congress,' he said during the event."
Politics
2016 Post Mortem
"Russian operatives used Facebook ads to exploit America's racial and religious divisions" [WaPo]. Unlike FOX… More:

The batch of more than 3,000 Russian-bought ads that Facebook is preparing to turn over to Congress shows a deep understanding of social divides in American society, with some ads promoting African American rights groups, including Black Lives Matter, and others suggesting that these same groups pose a rising political threat, say people familiar with the covert influence campaign.

If I didn't have more confidence in editorial integrity at the Jeff Bezos shopper, I'd call that a back-handed smear of Black Lives Matter. Maybe we could talk a little more about squillionaire meddling, and a little less about the demon Russkis? Since the former spend millions, and the latter squillions?
Health Care
"Sen. Susan Collins says 'no' to Graham-Cassidy bill, essentially killing Obamacare repeal" [USA Today]. "Republicans, with 52 seats in the Senate, can lose just two votes and still pass the bill introduced by Sens. Lindsey Graham, R-S.C., Bill Cassidy, R-La., Dean Heller, R-Nev., and Ron Johnson, R-Wis." McCain + Paul + Collins = 3, with Cruz attempting to extract concessions.

"The Latest: Analysis says lots of states lose on health bill" [San Francisco Chronicle]. "A new analysis finds that 34 states and Washington, D.C., would lose money under the newest version of the Republican health care bill. This is despite last-minute changes to the legislation. Overall, states would get $205 billion less in federal health care money from 2020-2026, according to the analysis from consulting firm Avalere Health, which was released Tuesday." Oopsie.

"'If there's a billion more going to Maine. . .that's a heck of a lot,' Cassidy said. 'It's not for Susan, it's for the Mainers. But she cares so passionately about those Mainers, I'm hoping those extra dollars going to her state. . .would make a difference to her'" [Bangor Daily News]. Wow, is that tone deaf. And Cassidy must think "Susan" is pretty stupid–

"The painful reality for Cassidy is that even after revisions he and Graham announced yesterday, which redistributed federal block grant funding for states to better equalize their allotments, wasn't enough. Collins wasn't convinced the measure would be good for her state, even after a call from the president yesterday afternoon. Maine would still have lost federal funding overall via cuts to the regular Medicaid program, Collins noted as she announced her intention to vote against the measure" [WaPo]. So Cassidy's "billion more" is from the baseline of his bill, and his bill still nets out negative for Maine, as Collins must have seen immediately. Was Cassidy really expecting Collins to fall for this?

"It was Sanders, however, who took full advantage of the national audience to articulate a position on health care that was more nuanced than his critics—both Democrats and Republicans—often attribute to him. Some Democrats had feared the Vermont independent would allow Graham to goad him into a debate over single payer when the party needed him to focus on defeating the Republican repeal bill" [The Atlantic]. I like that Sanders — unlike liberal Democrats — can walk and chew gum at the same time. That said, what "the party needs" — if "party" be conceived of as representing voters, and not strategists, apparatchiks, and donors — #MedicareForAll is exactly what the party needs. Since ObamaCare won't provide complete coverage, and won't control costs, liberal Democrats who embrace it are embracing a corpse, as time will show.

"One big looming deadline has been motivating Republicans' probably doomed push to repeal Obamacare this week: September 30. On that date — this Saturday — Congress's current "budget reconciliation" instructions, which set up the special process that lets the Senate advance a bill with a simple majority rather than 60 votes, expire" [Vox]. " it's long been thought in Washington that the GOP would finally take this as an excuse to accept defeat on health care and pivot instead to prioritizing a tax reform bill." Then again, they can write a new budget resolution.
Trump Transition
"Trump has been great for the economy. The anti-Trump economy, that is." [WaPo]. "These are boom times for the anti-Trump industrial complex. Fundraising is through the roof for lefty organizations that hadn't been relevant since the Clinton era; the grass roots have never been greener for new activist groups; and political hacks may be sexier than ever. A clique of former Obama speechwriters with a sideline in #Resistance podcasting is selling out 6,000-person concert halls; Rob Reiner, the director of "Spinal Tap," has teamed up with James R. Clapper Jr., the former director of national intelligence, to found the Committee to Investigate Russia; and liberal activists recently surpassed the Guinness world record for the most people on, yes, a conference call." Rob Reiner and James Clapper. Wowsers. What a time to be alive.
Realignment and Legitimacy
"The Minimal Persuasive Effects of Campaign Contact in General Elections: Evidence from 49 Field Experiments" [SSRN]. The abstract:

Significant theories of democratic accountability hinge on how political campaigns affect Americans' candidate choices. We argue that the best estimate of the effects of campaign contact and advertising on Americans' candidates choices in general elections is zero. First, a systematic meta-analysis of 40 field experiments estimates an average effect of zero in general elections. Second, we present nine original field experiments that increase the statistical evidence in the literature about the persuasive effects of personal contact 10-fold. These experiments' average effect is also zero. In both existing and our original experiments, persuasive effects only appear to emerge in two rare circumstances. First, when candidates take unusually unpopular positions and campaigns invest unusually heavily in identifying persuadable voters. Second, when campaigns contact voters long before election day and measure effects immediately—although this early persuasion decays. These findings contribute to ongoing debates about how political elites influence citizens' judgments.

From the body:

Our evidence is silent on several questions. It does not speak to the effects of candidates' qualities, positions, or overall campaign "message." It does not indicate the optimal allocation of campaign spending across voter registration, get-out-the-vote, and persuasion efforts. It also remains possible campaigns could develop more effective persuasive messages. Future experimental research should consider these questions..

(I'd be interested in any assessments readers have of the methodology.) It's interesting to note that the billion Clinton spent went to advertising and campaign contact, whose effects is said to be zero. And the Democrat Party, institutionally, does not regard voter registration or GOTV as a core party function. Of course, advertising provides commissions to consultants….

"L'affaire Fetonte: How an Austin union organizer's work with CLEAT created a schism in America's burgeoning socialist movement" [AustinAmerican-Statesman]. NC readers have been following the Fetonte story for some time, but now it's in the papers. "In early August, at a high-spirited national convention of the Democratic Socialists of America in Chicago, Fetonte was elected to the DSA's National Policy Committee. Barely a month later, on Sept. 8, Fetonte quit not just the NPC but the DSA altogether, after a vitriolic campaign to remove him from the NPC because of his role as a union organizer and negotiator working with CLEAT – the Combined Law Enforcement Associations of Texas, a police union – and his failure to make that association clear in his campaign materials… I have met Danny Fetonte and his wife, Barbara, a few times since I've been here, mostly connected to their role in igniting the Sanders campaign in Austin even before he was a candidate."

Case for the Fetonte defense:

Eugene?Debs ?was ?a?dirty?cop?lover! https://t.co/g9Q01j9Oru pic.twitter.com/osIrilrVNc

— pplswar (@pplswar) September 26, 2017

A learning organization:

Some photos from this weekend's Brake Light Change! Hoping to do more soon! pic.twitter.com/MEFdU2oujq

— Central IN DSA ? (@CentralInDSA) September 25, 2017
Stats Watch
Richmond Fed Manufacturing Index, September 2017: "Manufacturing activity in the Fifth district expanded for the eleventh consecutive month in September" [Econoday]. "The unexpected strength exceeded the range of analysts' forecasts and the consensus of a slight decline to 13. Driving the upsurge in activity in September were shipments, which rose 14 points to a reading of 22, the highest level since December 2010." And: "The Richmond Fed subcategories were positive, The data seems similar to last month" [Econintersect].
Consumer Confidence, September 2017: "Weakness in the hurricane states of Texas and Florida pulled down consumer confidence to 119.8 in September, a level however that is still unusually strong" [Econoday]. "But this report is about strength and despite the hurricane-related downtick in September, the data continue to speak to unusual demand in the labor market and the health of the consumer."
State Street Investor Confidence Index, September 2017: "Global institutional investor appetite for equities continued to wane in September" [Econoday]. "The month's sentiment shifts shows risk appetites in the global regions converging, with Europe still the most risk averse though reviving and Asia moving above the neutral level into net buyer mode, both on the back of improved economic conditions. While the appetite for equities still remains strongest in North America, it is curbed by geopolitical concerns and the possible economic drag of higher interest rates following the Fed's decision to trim its $4.5 trillion portfolio."
S&P Corelogic Case-Shiller Home Price Index, July 2017: "Case-Shiller home prices firmed in July, to a 0.3 percent adjusted gain for the 20-city index. The trend is favorable with the year-on-year rate rising 2 tenths to an unadjusted 5.8 percent and in line with other home price readings which are also roughly at the 6 percent rate" [Econoday]. Leading the list continues to be Seattle, at 13.5 percent, with Portland lagging in 2nd place at 7.6 percent. Tail-enders continue to be Chicago and Washington DC, both at 3.4 percent, with Cleveland and New York City only slightly less weak. Home prices are a principal source of growth in household wealth along with stock prices and much less so for wages." Homes are not wealth, dammit. Nor are houses. And: "Many pundits believe home prices are back in a bubble. Maybe, but the falling inventory of homes for sale keeps home prices relatively high. I continue to see this a situation of supply and demand. It is the affordability of the homes which is becoming an issue for the lower segments of consumers" [Econintersect].
New Home Sales, August 2017: "Weakness in the South pulled down new home sales in August as it did in last week's existing home sales report" [Econoday]. "New home sales fell sharply in the month to a 560,000 annualized rate vs an upward revised rate of 580,000 in July and a downward revised 614,000 in June (revisions total a net minus 7,000)…. Builders, despite late month disruptions in the South, moved houses into the market, up 12,000 to 284,000 for a striking 17.8 percent yearly gain that hints at a glut. But supply had been so thin that the balance is now at a traditional level…. Hurricane effects are likely in the next report for September with the South to continue to suffer. But today's data do mark a shift, one of softening sales nationally, which is a short-term weakness, and a rebalancing in supply which is long-term strength. Yet for the 2017 economy, the housing sector looks to be ending the year in weakness, some of it hurricane related." And but: "This month the backward revisions were mixed, but the rolling averages significantly declined" [Econintersect]. "Still this month was better than last month which was terrible. This data series is suffering from methodology issues which manifest as significant backward revision." More: "Another way to look at this is a ratio of existing to new home sales. This ratio was fairly stable from 1994 through 2006, and then the flood of distressed sales kept the number of existing home sales elevated and depressed new home sales. (Note: This ratio was fairly stable back to the early '70s, but I only have annual data for the earlier years)" [Calculated Risk]. "In general the ratio has been trending down since the housing bust, and this ratio will probably continue to trend down over the next several years."
Apartment Vacancy Rate: "The vacancy rate had been mostly moving sideways for the last few years. However it appears the vacancy rate has bottomed and is starting to increase. With more supply coming on line later this year and next – and less favorable demographics – the vacancy rate will probably continue to increase slowly" [Calculated Risk].
Shipping: "Pitney Bowes, recently unveiled its second-ever ParcelShipping Index, revealing a over the past two years, and estimating annual growth to continue to rise at a rate of 17-28 percent YOY between now and 2021. The study results indicate rising consumer expectations surrounding online shopping are putting pressure on retailers to deliver on convenience, price, and the availability of products from around the world" [Pitney-Bowes].
Shipping: "Labor tensions in expedited transport are heating up as the fall shipping season gets underway. Atlas Air Worldwide Holdings Inc. is accusing unionized pilots of causing 'widespread and significant' flight delays with a work slowdown…. The freighter operator, which this year struck a jet-leasing and investment deal with Amazon.com Inc., is asking a court to order the Teamsters union to end what Atlas says is an illegal job action that includes last-minute sick calls and refusal to work overtime" [Wall Street Journal]. "The dispute is similar to one last year between pilots and Air Transport Services Group Inc., another cargo flier that works closely with Amazon. The airlines and their customers—including United Parcel Service Inc., Deutsche Post AG's DHL and FedEx Corp. —are trying to meet increasingly tough delivery demands that come with the growth in e-commerce. The online sales are pushing out more packages, but the labor unease suggests they're also adding strains to expedited networks."
Supply Chain: "Consumer disappointment with Apple Inc.'s new iPhone offerings is weighing on the shares of key component makers in Asia…, signaling that concerns over supplier earnings are rising as hopes for a boost from Apple's flagship device are fading. Confidence in companies linked to Apple's supply chain had been riding high. But that excitement has given way to some disappointment and criticism of the new devices, and production glitches that have led to shipment delays have added to the problems" [Wall Street Journal]. "The troubles mark a rare stumble in an Apple supply chain known for its precision in linking suppliers of high-value parts and contract manufacturers. Apple has a long reach in the electronics world, of course, but the impact of the new iPhones wasn't what suppliers were expecting."
The Bezzle: "Bank customers fork over $15 billion in fees" [CNBC]. "Almost half of Americans who've had a checking account have been charged an overdraft fee at some point. In fact, the average consumer overdrafts more than twice a year and coughs up $35 in fees each time, according to a study released Tuesday by personal finance website NerdWallet."
The Bezzle: Ka-ching:
Why it took Google so long to end its shady rehab center ads https://t.co/Q2iyyqiDAb pic.twitter.com/YCCBETlI14

— Bloomberg (@business) September 26, 2017
The Bezzle: "After breach, Equifax CEO [Richard Smith] leaves with $18 million pension, and possibly more" [MarketWatch]. "Identity theft can cost consumers hundreds of dollars and take years to clear up." Maybe Smith could put his $18 million into a fund to compensate them.
The Bezzle: "Zombie fleet swells as scammers fake registrations" [Splash 247]. "undreds of vessels around the world are essentially trading as a zombie fleet with scams growing when it comes to registering ships, the International Maritime Organization (IMO) has warned. [Frederick Kenney, director of the legal and external affairs division at the IMO] reported how around 10 flag states had revealed they had ships on their books that they had no idea about, registered from fake offices. As an example, he cited the Democratic Republic of the Congo, which had 90 ships flying its flag that it had not officially registered."
The Bezzle: "Uber threatens to leave Quebec if province insists on stricter rules" [CBC]. "Transport Minister Laurent Lessard agreed to renew that pilot project Friday, but with stricter conditions including a requirement that drivers undergo 35 hours of training, the same amount as traditional taxi drivers. [Uber director Jean-Nicolas Guillemette] said Uber wasn't consulted about the changes, which they consider to be major, and that the requirement is too much for drivers who only work part time." So, I'm crossing the street with a taxi bearing down on me, and if the driver's a part-timer, they'll have less training?
The Fed: "Fed's Bostic, in first speech, says he's skeptical of common excuses for low inflation" [MarketWatch]. "Atlanta Fed President Raphael Bostic displayed an independent streak in his first speech with the central bank on Tuesday, saying he was skeptical of the common arguments that technology and competition are behind recent weaker-than-expected inflation readings. 'The book is still being written on how well various explanations of lower-than-desired inflation hold up,' Bostic said in a speech to the Atlanta Press Club."
Five Horsemen: "How the mighty have fallen in Tech Wreck II. Amazon has underperformed the S&P 500 index (SPY) since April 26th" [Hat tip, Jim Haygood].
Today's Fear & Greed Index: 68 Greed (previous close: 65, Greed) [CNN]. One week ago: 81 (Extreme Greed). (0 is Extreme Fear; 100 is Extreme Greed). Last updated Sep 26 at 12:07pm.
Corruption
"To Wipe Out Corruption, Look to Philadelphia" [Governing]. A headline I never expected to see! "The "Philly shrug" is a local term referring to the grudging way in which residents have been willing to put up with malfeasance….. But [Philadelphia District Attorney Seth Williams] is the first city official convicted or even charged since 2008. What that shows is that the local culture has started to change. Following a pay-to-play scandal in the early 2000s, Philadelphia created an ethics board that actually has some teeth. In addition, the city inspector general's office has been strengthened. Most people working in local government now have a firm sense of what's allowed and what's not."
Class Warfare
"PROPELLED: THE EFFECTS OF GRANTS ON GRADUATION, EARNINGS, AND WELFARE" (PDF) [NBER]. "We estimate the effect of grant aid on poor college students' attainment and earnings using student-level administrative data from four-year public colleges in Texas. To identify these effects, we exploit a discontinuity in grant generosity as a function of family income. Eligibility for the maximum Pell Grant significantly increases degree receipt and earnings beginning four years after entry. Within ten years, imputed taxes on eligible students' earnings gains fully recoup total government expenditures generated by initial eligibility."
News of the Wired
"How to Be Diplomatic" [The Book of Life]. "Diplomacy is the art of advancing an idea or cause without unnecessarily inflaming passions or unleashing a catastrophe. It involves an understanding of the many facets of human nature that can undermine agreement and stoke conflict, and a commitment to unpicking these with foresight and grace."
"The Black Sea Maritime Project (MAP)—a two-year investigation of Bulgaria's Black Sea waters—involved local and international experts who found 60 previously lost shipwrecks spanning 2,500 years in the history of a coastline that has been port to many of Europe's major empires" [Newsweek].
"Meet Shadowsocks, the underground tool that China's coders use to blast through the Great Firewall" [Quartz]. "Leo Weese, a Hong Kong-based privacy advocate, likens VPNs to a professional freight forwarder, and Shadowsocks to having a package shipped to a friend who then re-addresses the item to the real intended recipient before putting it back in the mail. The former method is more lucrative as a business, but easier for authorities to detect and shut down. The latter is makeshift, but way more discreet."
* * *
Readers, feel free to contact me at lambert [UNDERSCORE] strether [DOT] corrente [AT] yahoo [DOT] com, with (a) links, and even better (b) sources I should curate regularly, (c) how to send me a check if you are allergic to PayPal, and (d) to find out how to send me images of plants. Vegetables are fine! Fungi are deemed to be honorary plants! If you want your handle to appear as a credit, please put it in the subject line. Otherwise, I will anonymize by using your initials. See the previous Water Cooler (with plant) here. Today's plant (Ezra):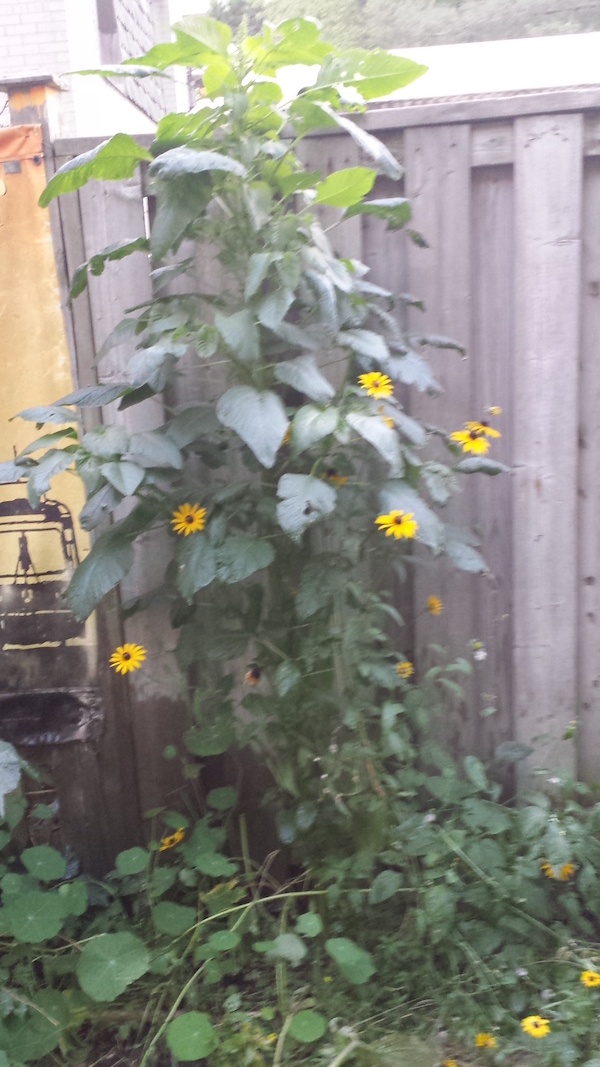 Ezra writes: "I previously sent you a picture of a callaloo. That plant has mysteriously vanished, presumably to fuel the vile lusts of the squirrels and skunks of Redwall. Fortunately, there is another. Here it is the with some black-eyed Susans. It's done quite well with little attention and I've been using the leaves in sandwiches, stews, and stir-frys."
* * *
Readers: Do feel free to use the dropdown and click the hat to make a contribution today or any day. Here is why: Regular positive feedback both makes me feel good and lets me know I'm on the right track with coverage. When I get no donations for five or ten days I get worried. More tangibly, a constant trickle of small donations helps me with expenses, and I factor that trickle in when setting fundraising goals. So if you see something you especially appreciate, please click the hat!