By Lambert Strether of Corrente
Readers, this is September 6, not September 16! My bad! –lambert
Politics
2020
"But there is erosion among voters who backed Barack Obama in 2012 but switched to Trump in 2016. Only 70 percent of those Obama-Trump voters approved of the job the president is doing. And 22 percent disapproved — a rate more than twice the 9 percent of all Trump voters who disapproved" [Politico]. The Obama voters who flipped election to Trump are souring on him, I'd speculate because Trump isn't delivering (as indeed he cannot). So when Joy Reid says: "[T]hose voters are Republicans," she's either perpetrating a terminological inexactitude, or seeking to create a self-fulfilling prophecy.

"'Verrit' Shows Everything Wrong With Clintonism [Current Affairs]. "Verrit" itself, however, turns out to be an unusually illuminating illustration of nearly every single tendency that continues to undermine the party's political fortunes. Rarely does something come along that so neatly captures the problem, and with Hillary herself having enthusiastically endorsed it, it's more obvious than ever why the Clintonian philosophy needs to be abandoned if Democrats are ever going to stand a chance of winning elections again. The Verrit system is remarkable in its embodiment of some of the most self-destructive tendencies of Democratic Party centrists." Verrit's salient characteristics:

A belief that "Facts" can be persuasive by themselves
Lack of any clear unifying values
Further eroding the meaning of "Facts" and "Truth" by using these words ideologically
Complexity for complexity's sake
Confidence in "technology" to solve the world
Arrogance

September 4:

The Edsel was unveiled 60 years ago today by Ford Motor Company: #Getty pic.twitter.com/QtBfo4MzTQ

— Michael Beschloss (@BeschlossDC) September 4, 2017

The same day Verrit (sounds like "Ferret") launched. Coincidence? You be the judge.
2016 Post Mortem
"Democratic Rep. Tim Ryan (Ohio) is going against party leaders and calling for a business friendly agenda ahead of the 2018-midterm elections" [The Hill]. "'To be competitive globally, we have to reduce the corporate tax rate,' Ryan told The Hill in an interview from his Youngstown, Ohio, district office. 'We're just not competitive globally because of that.' Ryan, a fast-rising Democrat from industrial Ohio, is challenging Democrats to take a different approach to big business and work with corporate America to create jobs. 'We can't just be the party of redistribution of wealth; we need to be the party of the creation of wealth in communities all over the country, not to just Silicon Valley, not just Wall Street, but all over.'" Give that man a DLC lanyard!
Gerrymandering and Redistricting
"This report focuses on one of the most egregious of these abuses: the manipulation of district lines to give the party drawing the map a share of seats grossly at odds with statewide election results, thus ensuring that one party is overrepresented and the other underrepresented in a delegation" [Brennan Center for Justice]. "Just seven states account for almost all of the bias. Michigan, North Carolina, and Pennsylvania consistently have the most extreme levels of partisan bias. Collectively, the distortion in their maps has accounted for seven to ten extra Republican seats in each of the three elections since the 2011 redistricting, amounting to one-third to one-half of the total partisan bias across the states we analyzed. Florida, Ohio, Texas, and Virginia have less severe partisan bias but jointly account for most of the remaining net extra Republican seats in the examined states."
New Cold War
"How to Read a News Story About an Investigation: Eight Tips on Who Is Saying What" [Lawfare]. Excellent and useful for decoding the leakage and ownage round anonymous sources for the various post-2016 Russia narratives in the press, well worth a read. However: "Rule No. 1: The Words Describing a Source Should Be Presumed Accurate." Well, I'm sure that's true most of the time. But all the time? What if an inaccurate description yielded stenographer reporter or venue a very great advantage? Would either bend the rules then? Two words: "Judy Miller." In general, that's my problem with very weedy explanations of how the press or the political class or intelligence agencies operate; the assumption by whichever wonk "down in the weeds" is that these institutions follow the rules (and, by implication, in whatever specific case is salient in the news flow). But there's no reason to make that assumption (Brennan, torture; Clapper, pejury; Comey, entrapment). And the greater the potential impact of the story (cf. Judy Miller once again) the less Rule No. 1″ should be presumed to apply. The same goes for all the liberal Democrat whinging about "norms." We live, after all, under neoliberalism. where everything is for sale because markets.
Realignment and Legitimacy
Underlining Joy Reid's politics of tribalism:

Joy says policy doesn't matter. Neither do ideas or personalities. You just support your "tribe", which explains everything about her. pic.twitter.com/XLxQcO1E9V

— William Holt (@wmholt007) September 4, 2017

"The Insane Clown Posse's Juggalo March on Washington, explained" [Vox]. "The Juggalo March is the latest in a years-long campaign by the Insane Clown Posse and its fans to push back at the FBI after it deemed Juggalos a 'gang' [in 2011]… Juggalos are totally in the right on this one: "Juggalos" aren't a gang, like the Aryan Brotherhood or the Bloods or the Latin Kings. A Juggalo is just a fan of the Insane Clown Posse, or perhaps a particularly fervent fan of the group…. That mockery is also deeply bound up in who Juggalos are: largely lower-class whites, particularly in the Midwest and South. "Juggalos tend to be poor and uneducated, from economically depressed small towns and broken homes," cultural critic and self-described Juggalo Nathan Rabin writes… In a way, ICP and the Juggalos are the perfect group to challenge Trumpism. They're a fiercely anti-racist movement based in working-class, mostly white communities. That gives them a legitimacy and credibility in combatting racist sentiment that more traditional political actors lack." We shall see!

"Sex, drugs and hypocrisy: a story of a city council" [East of Billings]. "In the end, seven out of the eleven council members determined it was in the best interest of the community not to allow medical marijuana shops within the city limits. And we were all saved, oops, I mean the people of this imaginary city were all saved from a smell of marijuana and most importantly, the horrendous impacts of people feeling better by smoking or eating pot if they have cancer or another disease."

"Nuts & Bolts: inside a Democratic campaign and bad deals" [Daily Kos]. Handy guide for avoiding scams by Democrat vendors (I mean, beyond the usual). "Whether you are a candidate, a county party or an outside entity, it won't take long after your formation for people to start pitching ideas at you about how to spend money. And it is tempting — after all, people gave your organization or candidate money to spend in hopes of electing more and better Democratic members, right? Still, it is easy for your organization to get trapped into some bad deals. Let's talk about how you can avoid bad deals in your efforts."

"This Labor Day the Struggle Continues" [Bernie Sanders, Medium]. "Labor Day was established in 1894 by President Grover Cleveland, a Democrat, as a concession to the labor movement days after he used federal troops to crush a strike by railroad workers which resulted in 30 deaths and some $80 million in property damages. Workers then, and workers now, were fighting for decent wages and working conditions and the end of human exploitation…. Our job is to bring our people together around a progressive agenda that works for all, and not just the few. Our job is to create an economy based on human needs, not the greed of the billionaire class. We must rebuild the American labor movement and make it easier, not harder, for workers to join unions."

"Here's What The Houston Democratic Socialists Are Doing To Respond To Harvey" [HuffPo]. Two, three, many brakelight projects!

"Students Are Protesting Donald Trump's Presidency With Rallies and Walkouts" [Teen Vogue]. A round-up of university events (which presumes a Red/Blue dichotomy).
Stats Watch
Factory Orders, July 2017 (yesterday): "There's really only good news in the July factory orders report where the headline, at minus 3.3 percent, reflects a slowing in what were strong prior gains for aircraft orders" [Econoday]. "The best news is a 6 tenths upward revision to core capital goods orders (nondefense ex-air) to a 1.0 percent gain and a 2 tenths upward revision to core shipments, now at 1.2 percent. These numbers point to accelerating strength for third-quarter business investment." And: "Manufacturing continues to muddle through" [Mosler Economics].
Purchasing Managers' Services Index, August 2017: "PMI services for final August posted a very strong 56.0, up 1.3 points from July for the highest result since November last year but still down a sizable 9 tenths from the mid-August flash" [Econoday]. "But the story of this report is unquestionably about strength with new orders and employment at 2-year highs and business confidence back on the upswing and at its highest level since January." And: "Both services surveys are modestly in expansion and improved this month" [Econintersect]. Survey, not data…
Institute For Supply Management Non-Manufacturing Index, August 2017: "Not too hot and certainly not cold" [Econoday]. "Delivery times are stable, inventories are on a moderate build and prices are showing welcome pressure. This sample had been running perhaps unsustainably hot through most of the year with the slightly cooler readings for August very favorable. This report, together with this morning's PMI services, point to a solid and impressive second half for the bulk of the economy." And: "This suggests faster expansion in August than in July" [Calculated Risk]. And: "15 of the 18 industries reported growth for the month and the majority of respondents were optimistic about business conditions moving forward" [Economic Calendar]. Survey, not data…
Gallup US ECI, August 2017: "Americans' confidence in the U.S. economy varied in August but was not remarkably different from economic attitudes in July" [Econoday].
International Trade, July 2017: "The nation's trade deficit widened but only slightly" [Econoday]. And: "The data in this series wobbles and the 3 month rolling averages are the best way to look at this series. The 3 month averages are improving. There really was only insignificant change from last month" [Econintersect]. And: "The trade deficit with China increased to $35.6 billion in July, from $30.3 billion in July 2016" [Calculated Risk].
MBA Mortgage Applications, week of September 1, 2017: "The week's uptick in purchase applications keeps alive hopes that cheaper financing could still energize the housing market after a lackluster spring and summer" [Econoday].
The Bezzle: "Facebook digital ads figures differ from census data: analyst" [Reuters]. ", Brian Wieser, a Pivotal Research Group senior analyst, said in a note." Hoo boy. Something I expect from Uber, but not a publicly traded company, eh?
The Bezzle: "The 'demonetized': YouTube's brand-safety crackdown has collateral damage" [Digiday]. "The issue is even more troublesome for news and social issues creators on YouTube. Real Women Real Stories, for instance, is a small YouTube channel that promotes women's rights by producing testimonials in which women share stories of trauma. The charity project relies entirely on YouTube advertising to fund its productions. But since its content focuses on sensitive issues such as rape, sexual abuse and sex trafficking, the Real Women Real Stories channel made $10 in YouTube ad revenue in June, down from $2,000 the previous June, according to channel owner Matan Uziel."
The Bezzle: "NYT Board Member Gets Appointed to Run Uber" [Beat the Press]. "I may have missed it, but . This would seem to be a point worth mentioning in his profiles. It's also an item that we would especially expect to see in NYT pieces on Mr. Khosrowshahi." One big happy!
The Bezzle: "FBI says witnesses in U.S. probe into Malaysia's 1MDB fear for safety" [Reuters]. "A total of $4.5 billion was misappropriated from 1MDB by high-level officials of the fund and their associates, according to dozens of civil lawsuits filed by the U.S Justice Department in the past two years. 1MDB is at the center of money-laundering probes in at least six countries, including the United States, Switzerland and Singapore. Malaysian Prime Minister Najib Razak set up 1MDB in 2009 and served as chairman of its advisory board until last year. He has denied any wrongdoing." $4.5 billion is real money, even these days. I mean, it would fund four Clinton campaigns!
Political Risk: "Travelers complain of steep airfares as they try to escape Hurricane Irma's path" [Yahoo Finance]. "'I logged in and expected to see $160, and frankly if I had seen $260 I wouldn't have reacted. And I logged in and saw, $1,020, and I about had a heart attack,' [John] Lyons told Yahoo Finance in a phone interview on Tuesday afternoon." Looks like hurricane surge pricing…
Rapture Index: Closes unchanged [Rapture Ready]. Record high, October 10, 2016: 189. Current: 182.
Today's Fear & Greed Index: 40 Fear (previous close: 36, Fear) [CNN]. One week ago: 34 (Fear). (0 is Extreme Fear; 100 is Extreme Greed). Last updated Sep 6 at 11:46am.
Police State Watch
"The Bulletproof Mind" [Lt. Colonel Dave Grossman]. Sponsored by CLEAT. More: "A day with 'killology' police trainer Dave Grossman" [WaPo]. This quote had a brief moment of fame, but here it is again:
In the class recorded for "Do Not Resist," Grossman at one point tells his students that the sex they have after they kill another human being will be the best sex of their lives. The room chuckles. But he's clearly serious. 'Both partners are very invested in some very intense sex,' he says. 'There's not a whole lot of perks that come with this job. You find one, relax and enjoy it.'
Yikes.
Class Warfare
"The 'internet of things' is sending us back to the Middle Ages" [The Conversation (CT)]. "One key reason we don't control our devices is that the companies that make them seem to think – and definitely act like – they still own them, even after we've bought them. A person may purchase a nice-looking box full of electronics that can function as a smartphone, the corporate argument goes, but they buy a license only to use the software inside. The companies say they still own the software, and because they own it, they can control it. It's as if a car dealer sold a car, but claimed ownership of the motor. This sort of arrangement is destroying the concept of basic property ownership…. The issue of who gets to control property has a long history. In the feudal system of medieval Europe, the king owned almost everything, and everyone else's property rights depended on their relationship with the king." Important! And in the zeitgeist now, see next–
"But what happens when the things you own start to cheat you?" [Cory Doctorow, Locus]. For example:
You've probably heard stories of inkjet cartridges that under-report their fill-levels, demanding that you throw them away and replace them while there's still plenty of (precious and overpriced) ink inside of them. But that's just for starters. In 2015, HP pushed a fake security update to millions of Officejet owners, which showed up as a routine, ''You must update your soft­ware" notification on their printers' screens. Running that update installed a new, secret feature in your printer, with a long fuse. After six months' wait, the infected printers all checked to see whether their ink cartridges had been refilled, or manufactured by third parties, and to refuse to print with any ink that HP hadn't given its corporate blessing to.

HP is an egregious cheater, and this kind of cheating is in the DNA of any company that makes its living selling consumables or service at extremely high markups – they do their business at war with their customers. The better the deal their customers get, the worse the deal is for the manufacturer, and so these products treat customers as enemies, untrusted parties who must be tricked or coerced into installing new versions of the manufacturer's software (like the iTunes and Kindle ''updates" that have removed features the products were sold with) and using only the manufacturer's chosen consumables.
I could have filed both these links under The Bezzle, but since they're framed in terms of property rights, I put them here.
News of the Wired
"In Texas, college football misery loves company" [San Antonio Express-News]. "Aside from a couple of isolated hot streaks here and there, our programs have been largely mediocre over the past five decades, with only one national championship in the last 47 years." Not a very good return for all those concussions….
"Aging in barrels adds an edge in Maine's crowded craft beer market" [Bangor Daily News]. I know how that barrel feels…
"The scientific literature is now dotted with case studies of older adults performing amazing mnemonic feats, including a septuagenarian who learnt to recite all 10,565 lines of John Milton's Paradise Lost for public performance. Such extended neuroplasticity also seems to be reflected in more recent studies of the brain's anatomy, revealing that the adult brain is far more fertile than expected, and more than capable of sprouting the connections necessary for profound learning" [BBC]. So, you can see the hideous destruction inherent in our evil system of eldercare.
"Search Quality Evaluation Guidelines" [Google]. Page 6: "Your ratings will be used to evaluate search engine quality around the world." So everything isn't algorithmic. Lots of food for thought here…
* * *
NOTE Some readers have expressed a desire for a small meetup in the Bangor area. My dance card for September is pretty full, but Friday, September 15 would work for me. (I realize I'd be "outing" myself to any locals who haven't made the connection, but at this point my online identity is sufficiently gauzy — certainly to a professional — that it probably doesn't matter much anyhow.) If anybody wishes to contact me on this topic, here's my email: lambert [UNDERSCORE] strether [DOT] corrente [AT] yahoo [DOT] com.
* * *
Readers, feel free to contact me at lambert [UNDERSCORE] strether [DOT] corrente [AT] yahoo [DOT] com, with (a) links, and even better (b) sources I should curate regularly, (c) how to send me a check if you are allergic to PayPal, and (d) to find out how to send me images of plants. Vegetables are fine! Fungi are deemed to be honorary plants! If you want your handle to appear as a credit, please put it in the subject line. Otherwise, I will anonymize by using your initials. See the previous Water Cooler (with plant) here. Today's plant (Re Silc):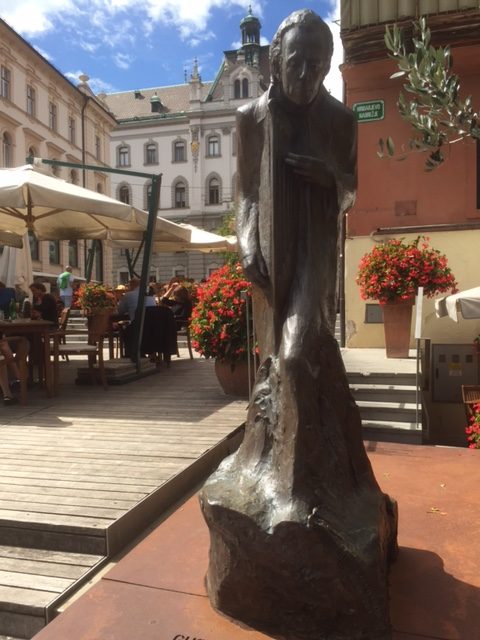 The statue between the flowers is France Prešeren, national poet of Slovenia, says Re Silc.
Readers: Do feel free to use the dropdown and click the hat to make a contribution today or any day. Here is why: Regular positive feedback both makes me feel good and lets me know I'm on the right track with coverage. When I get no donations for five or ten days I get worried. More tangibly, a constant trickle of small donations helps me with expenses, and I factor that trickle in when setting fundraising goals. So if you see something you especially appreciate, do feel free to click the hat!
Query: I got a note from reader J in Massachusetts to which I responded, but AOL bounced it. Can reader J contact me with an address that won't do that, so I do not seem discourteous? Thank you!