By Lambert Strether of Corrente.
In the first part of this two-part series, we looked at two methods of constructing narratives around political campaigns — the poll-driven "horse race," and gaming out the electoral college — and concluded that although these methods were good for humanities majors, revealing as they are of all that is human, they have limited predictive or explanatory value. In this post, I will present an alternative analytical method based on Eliot A. Cohen and John Gooch's wonderful Military Misfortunes: The Anatomy of Failure in War. The Clinton campaign was a cascade of multiple pathways to misfortune. So you can see a sample of their method, here is the introduction to their chapter on "Catastropic Failure: The French Army and Air Force, May-June 1940.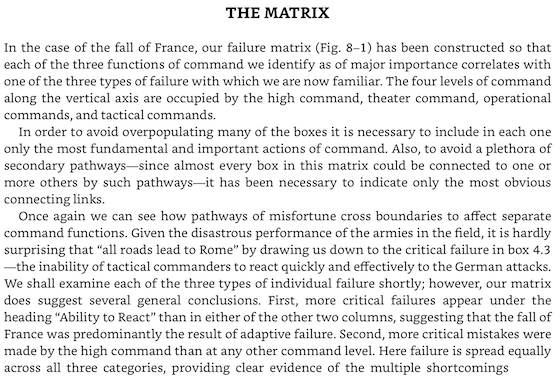 And here is their "matrix of failure:":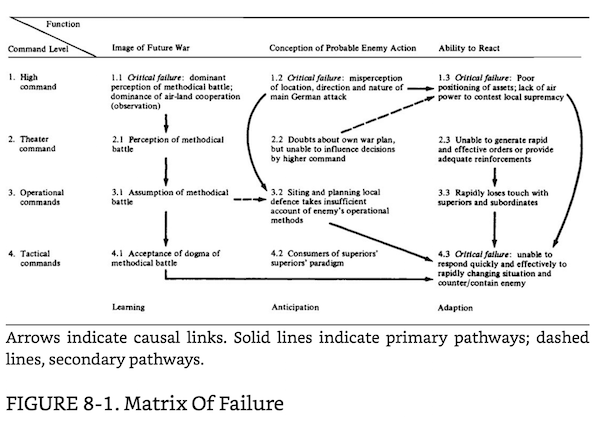 (NOTE: This is not a post on the Battle of France, so please confine your remarks on Cohen and Gooch to issues of historiography or method.)
And here is my matrix of failure for the Clinton Campaign (and let me caveat that I'm sorry my matrix is more complicated than that which describes the Fall of France but I'm not a professional historian, I'm too close to the subject matter, and heck — maybe 2016 is that complicated!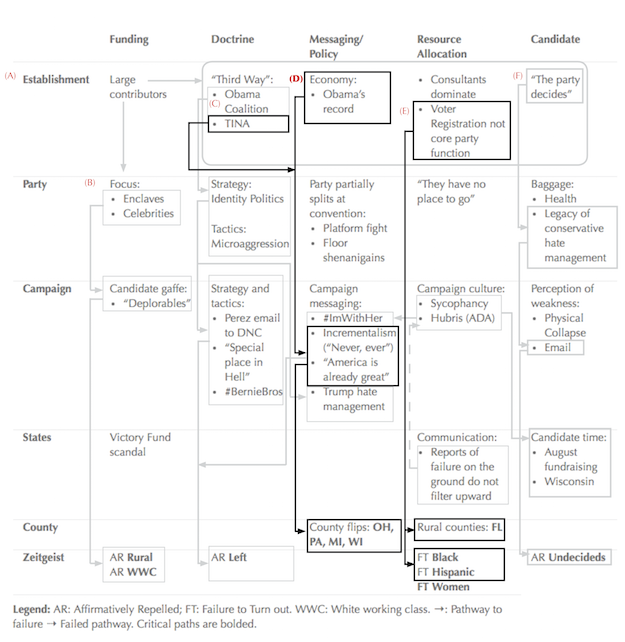 You'll notice right away that the "command levels" I used ("Establishment," "Party," "Campaign," "State," "County") are similar to Military Misfortune's ("High Commend," "Theatre Command," "Operational Commands," and "Tactical Commands") They call them political campaigns for a reason! However, the functions are different (although you can certainly see the similarity between the French high command's "Image of Future War," and the Democrat Party's "Obama Coaliton"). However, the conventions I used are a little different from the conventions Cohen and Gooch used, so let me explain them: Systems on pathways to misfortune are boxes; arrows between boxes represent causation or pathways. Primary or critical pathways and systems are bolded; others are grey.
The matrix I present identifies six pathways to misfortune for the Clinton campaign, two of which are primary or critical. They are:
The Democrat Establishment
Clinton's "Deplorables" Gaffe
Clinton Repels the Left
"It's The Economy, Stupid!"
Voter Registration and Turnout Failure
The Undecideds Break for Trump
(I've labeled the starting point for each pathway on the matrix with a red letter, like "(A)." I'm not discussing the critical pathways first, because it's easier to show the how the matrix works by starting out with simpler cases.) Hilariously, the professionals of the Clinton campaign have yet to produce a matrix of failure all on their own:
Unable to get closure on the party's stunning losses in November, nearly 20 Democratic interest groups, operatives, and state committees have commissioned their own private 2016 election autopsy reports.

The projects, which aim to diagnose the party's ills and pave a path forward, are designed in part to

While Clinton campaign manager Robby Mook and members of his team have been privately presenting their own findings to Clinton and other influential party figures, the absence of a full, public accounting of the factors and forces underlying her shocking loss has generated a cottage industry of projects dedicated to explaining and understanding how things went so wrong for the party in November.
So I'm doing my little bit to help out, here. (Also, if the work were easy — or more precisely, easy to hear — some Democratic strategist would already have done it, and billed for it. Which is my excuse for this post being both longer, and later, than it should be.)
Pathway (A): The Democrat Establishment
Cohen and Gooch were no doubt wise to rule the civilian vs. military politics in the late Third Republic out of scope in their matrix of failure; but I felt I needed to embed the Democrat Party within its larger "Establishment." It's worth noting that none of the other functional characteristics of the Democrat Party — the Third Way combination of identity politics with neoliberalism's TINA, Obama's management of the economy, the focus on "50% plus one"/swing state electoral strategies as opposed to enduring national coalitions driven by the provision of universal programs that provide concrete material benefits to everyone, especially the working class, as well as the dominant role played by party insider Superdelegates in picking the nominee — none of these characteristics, I say, would exist if Democrat Party funders had not wanted them to be exactly as they are. The Establishment standing up and then electing Ellison Perez as DNC chair shows this quite clearly; as does the systematic erasure from the discourse of Sanders' proven ability to run a national campaign without depending on large contributors at all. Every pathway to misfortune, then, that begins at the Establishment level is also a failure by large contributors who dominate and structure that Establishment. So either big Democrat donors are lighting their money on fire and throwing it up in the air, or they're paying the Washington Generals Democrats to lose. Or both!
Pathway (B): Clinton's "Deplorables" Gaffe
The rich are different: They give more money to politicians. And the rich also expect to have the so-gifted politicians explain what they are going to do to the money; how they will provide their investors with a return by getting the canaille to vote for them. Hence it's not surprising that Clinton's "deplorables" gaffe, Romney's "47%" gaffe, and Obama's "bitter"/"cling to" gaffe all occurred at fundraisers; in each case, the politician was sharing their unique insights on voter behavior with funders. So, here the pathway runs from the large contributors, who established the context for the gaffes to take place — enclaves like the Hamptons, celebrity compounds like George Clooney's — to its effect on voters.[1]
I've divided effects on voters generally into two categories: Affirmatively Repelled ("AR"), and Failure to Turn Out ("FT"), and it's clear that some voters were affirmatively repelled by Clinton's remarks (and it's rather remarkable how many categories of voters the Clinton campaign affirmatively repelled). However, it's not clear how many were; there's no county data that I know of which suggests people who would previously have voted for Clinton shifted to Trump because they felt Clinton called them "deplorable." So the effect is in the zeitgeist; real, but not quantifiable. In other words, this pathway is secondary not primary. Clinton no doubt lost some votes, but we don't know how many, or where.[2]
Pathway (C): Clinton Repels the Left
Here too, we have the Clinton Campaign affirmatively repelling voters: Sanders voters and the left generally. Democrats tend not to allocate money to voters they think they own, and that includes the left; the feeling is that "they have no place to go." Two pathways meet in this failure: First, Clintonian incrementalist messaging ("Never, ever" single payer, for example) repels the left; how does one devolve to supporting ObamaCare when Medicare for All was, however briefly, on the table? Second, the Clinton campaign combined its own micro-aggression with a fact-free version of identity politics to come up with #BernieBros, which they then freely applied to all Sanders supporters (and they're still doing it). And then there was the Democratic National Convention. I suppose you can expect to smear your opponents like that in a primary and then claim their vote in the general if, indeed, "they have no place to go," but this year, the left did have places to go: third parties, and write-ins. Here again, we have a zeitgeist effect, and a seconday, not primary pathway. It's clear Clinton affirmatively repelled some left voters, but we don't know how many, or where.[3]
CRITICAL Pathway (D): "It's The Economy, Stupid!"
WaPo does a little post mortem-ing of its own. From November 9:
Donald Trump is the president-elect of the United States of America, and he did it by completely blowing up the electoral map and all of our projections and expectations of it.

To wit:

Trump won his "must-win" states of Ohio, Florida and North Carolina in races that were called on Tuesday night.
He won his other apparent "must-win" state, blue-leaning swing state Pennsylvania, which was called for Trump early Wednesday morning.
Not stopping there, he won at least one and possibly two states in which he didn't even campaign until the final week of the 2016 election: Michigan and Wisconsin. These, like Pennsylvania, are states that have long eluded the GOP's grasp and didn't seem likely to be winnable for Trump.

All of this disproves the idea, which we and everyone else have espoused early and often, that Trump's path to victory was narrow. It wasn't. It was broad. We were wrong. The polls were wrong. We fundamentally misunderstood this election. We thought Hillary Clinton might be winning red states. But Donald Trump won blue states.
What happened? WaPo has the answer for that as well: Counties that voted for Obama in 2008 and 2012, but flipped to Trump in 2016, gave Trump victory in the electoral college. First, I'll present data supporting that claim. Next, I'll present the county data, state-by-state, that explains this critical pathway to misfortune. Then I'll summarize the pathway to misfortune. WaPo has a handy map of flipping counties: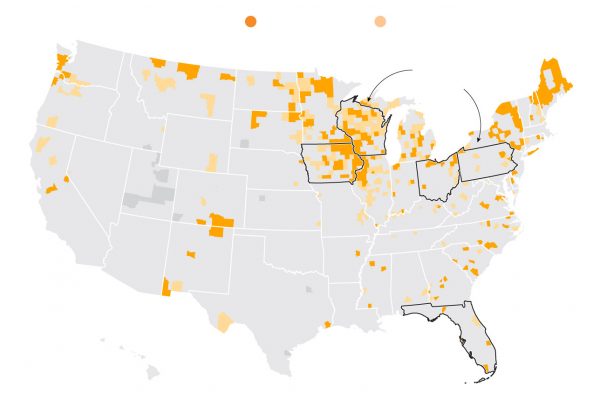 WaPo describes the implications:
The Obama-Trump counties were critical in delivering electoral victories for Trump. Many of them fall in states that supported Obama in 2012, but Trump in 2016. In all, these flipped states accounted for 83 electoral votes. (Michigan and New Hampshire could add to this total, but their results were not finalized as of 4 p.m. Wednesday.)
In other words, losing these states was a primary, critical path to failure by the Clinton campaign. (And note that while there are probably plenty of racists in these counties — like everywhere in American, including coastal enclaves — they voted twice for a Black man to be President.)
Let's look at each state in turn.
* * *
Pennsylania
Obama won Pennsylania in 2008 and 2012. Clinton lost Pennsylania in 2016. From Billy Penn, "How Donald Trump won Pennsylvania, then the White House":
For the first time since 1988, Pennsylvania has elected a Republican presidential candidate despite a Democratic voter registration advantage of nearly a million people. With more than 99 percent of returns in, Trump has carried the state by about a percentage point and more than 60,000 votes.

Why? There are a few reasons — the main one being that the places in Pennsylvania that have historically mattered just didn't this year. The Philadelphia suburbs were not the difference-maker. Instead, it was Trump's utter clean-up in southwest Pennsylvania and his ability to flip several counties that went blue in 2012. Several Pennsylvania counties that went blue in 2012 for Obama flipped to red this year. For example, Trump hugely flipped Luzerne County in northeastern Pa., which elected Obama by 12,000 votes and five points in 2012. This year, Trump won the county by a stunning 20 points and 25,000 votes…. Obama didn't win the counties outside Pittsburgh in 2012. But Clinton was crushed there. Look at Greene County, for example, which went 58 percent to 40 percent in favor of Romney in 2012. This year? It went 69 percent to 27 percent in favor of Trump.
More on Luzerne County:
Like many Americans in 2016, the voters in Luzerne County say they want change. They want lower insurance premiums, an end to illegal immigration and better jobs than those that involve a graveyard shift walking miles on the concrete floor of a cavernous warehouse. More than one in five Luzerne County families with kids live in poverty—5 percentage points over the state average, and 9 points higher than in 2000. Per capita income hovers under $25,000, about $4,500 less than the state average, and unemployment tops 6 percent—also over the state and national rates. Since 2009, the number of manufacturing jobs has dropped by 10 percent, and retail jobs have climbed by 8 percent. "People perceive themselves as worse off," says Thomas Baldino, a political science professor at Wilkes University in Luzerne County.
As I keep saying about the flyover states: It's bad out there. "America is already great" is just not a message that resonates.
Ohio
Obama won Ohio in 2008 and 2012. Clinton lost Ohio in 2016. From Cincinnati.com, "How Donald Trump won Ohio":
Clinton did worse than Obama in all but two Ohio counties, Hamilton and Delaware. And she did better in those by only razor-thin margins.

Even in some of the few counties she won, Clinton missed out on thousands of votes she couldn't afford to lose, because voters didn't turn out, opted for third-party candidates or voted for Trump instead.

In Mahoning County, an industrial center that's been declining since the 1970s, Clinton took 50 percent of the vote to Trump's 47 percent. Obama won the county with almost 64 percent of the vote four years ago.

The trend played out across Ohio, especially in the north. Lorain County, just west of Cleveland, went for Obama by 15 points in 2012, but Trump flipped the county to his column with a narrow win.
More on Mahoning County (Youngstown) from Chris Arnade, "Outside coastal cities an 'other America' has different values and challenges":
Anthony Rice's house in Youngstown, Ohio is a mile away from a river valley once filled with factories offering jobs. Many of those left in the 1980s, and with them, many residents. His home is one of the few occupied on the street. Empty lots or boarded-up homes make up most of the block. … The road itself is a patchwork of potholes. "This street hasn't been paved in like forever. They just don't care about us. But we used to that." Did Trump's win surprise him? "No. Obama promised a lot and only a little came of it. Maybe New York City got delivered promises. This street here is still filled with homes falling down."
It's bad out there.
Michigan
Obama won Michigan in 2008 and 2012. Clinton lost Michigan in 2016. From The Detroit News, "Trump flipped 12 counties to win Michigan":
Twelve counties that voted for Obama in 2012 instead went for Trump Tuesday night. They included Bay, Eaton, Macomb, Monroe and Saginaw counties.

Trump far out-performed historical averages for Republicans in rural areas. The 70-year-old real estate developer received nearly 70 percent of the vote in Montmorency, Kalkaska and Osceola counties, for instance, more than 10 percentage points more than Republican and Michigan native Romney in 2012.
A close look at the number reveals that Trump won Michigan the same way he won Wisconsin, Ohio and Pennsylvania — by way over-performing in working-class communities, which was enough to offset Clinton votes in the urban and surburban corridors.
Wisconsin
Obama won Wisconsin in 2008 and 2012. Clinton lost Wisconsin in 2016. From the Journal-Sentinel, "Difference-makers in Trump's Wisconsin win":
Trump won 22 counties Obama carried four years ago, 18 of them rural.

Much more than others, those voters disapproved of Obama, disdained Clinton and viewed the economy bleakly.

As a group, they weren't in love with Trump.

Half of "non-college whites" in Wisconsin — Trump's demographic base — had an unfavorable opinion of him, according to exit poll data provided by Edison Research.

But of those blue-collar voters who didn't like Trump, almost a third (29%) voted for him.

Blue-collar swing: Whites without college degrees are roughly half the electorate in Wisconsin. Romney won them by 8 last time. Trump won them by 28 this time.

[Edison Research] that showed that "non-college" whites:

Were far more negative than other voters toward Clinton (68% had a negative opinion of her).
Had a bleaker view of the economy (67% called it not so good or poor).
Were much more negative about trade with other countries (61% said it takes away jobs).
Were more negative about immigration (45% said immigrants do more to hurt the country than help).
Many voters who had qualms about Trump set them aside. They didn't do so in Clinton's case. Those who had objections to both broke by large margins for Trump, the "change candidate."

"A lot of those people feel like they got left out of the recovery. Trump really spoke to them," said GOP Gov. Scott Walker.

Dave Obey, who was a Democratic congressman from Wausau for four decades, said that for a lot of workers, "Wisconsin has been slipping for a long time…they're desperate enough to try anything. And Trump is anything."
So Republican Walker and Democrat Obey agree…
Iowa
Obama won Iowa in 2008 and 2012. Clinton lost Iowa in 2016. From the Iowa Center for Public Affairs Journalism, "Clinton Drops 32 Iowa Counties Obama Won In 2012":
The loss of 32 Iowa counties that voted Democratic in 2012 gave the Republican nominee Donald Trump the state's six electoral votes.

While Barack Obama was able to win the state with 38 counties in 2012, Democratic nominee Hillary Clinton claimed just six, an IowaWatch review of the Tuesday's preliminary vote shows.
Here's Clinton campaigning in Cerro Gordo County, which Obama won in 2008 and 2012, and Trump won. From the Boston Globe, May 22, 2015:
There is a drumbeat growing in both parties that could move the highly personal, painful matter of heroin and opioid drug addiction, which has metastasized into an epidemic, higher on the national agenda than at any time since the rampant crack crisis more than two decades ago.

On Monday in Mason City, Iowa, Hillary Rodham Clinton addressed drug abuse before she commented publicly on the Trans-Pacific trade deal, one of the central economic policy questions of the day. Calling it a "below the surface" issue, Clinton said she was "now convinced" that she needed to talk about it on the trail.

One Clinton campaign aide told the Globe that hearing about meth in Iowa and heroin in New Hampshire had prompted Clinton to ask her policy team to begin working on what she has previously called a "quiet epidemic."
Gee, that never did happen, did it? I guess that's because deaths in the flyover states don't, well, matter.
* * *
"It's the economy, stupid!" was, of course, the catchphrase James Carville used to keep his campaign team focused in the 1992 election that first elected Clinton. So, it's ironic that the Clinton campaign of 2016 forgot Carville's motto, but the matrix of failure shows us why. The Clinton campaign faced a fundamental contradiction. On the one hand, they were deeply committed (personally, and by their funders) to the idea of TINA: There Is No Alternative to the (neoliberal, austeritian) policies practiced by Democrats. On the other, they had to run on Obama's record, which to voters in the flyover states just wasn't that great, as the quotes above, many reports, and your own eyes (if you live in one, as I do) show. Obama's economic record includes job creation exclusively in part-time, precarious jobs (see the comment on warehouse jobs from Pennsylvania). Obama's tenure has been marked by rising mortality rates, an AIDS-level epidemic of excess "deaths from despair" due in part to an opioid epidemic. These are all economic issues, and Obama's record is terrible. Clinton attempted to wriggle out of the contradiction in two ways: First, she began by proferring incremental changes and endless bullet points, and then shifted to focusing on Trump's flaws as a candidate and a man.[4] In either case, it was crystal clear she had no sense of how bad it was out there, or any real idea of what to do (unlike Sanders, who explicitly framed his program as an economic one). Trump's slogan: "Make American Great Again." Clinton's riposte: "America is already great!" Really? The counties that voted for "hope and change" in 2008, and gave Obama a second chance in 2012, weren't buying it, nor should they have. They decided to vote for "change" again in 2016. And why wouldn't they?
CRITICAL Pathway (E): Voter Registration and Turnout Failure
Turnout failure is often framed as voter suppression, and Republicans are blamed. Salon, in one example of many:
Voting in the U.S. isn't equal for all groups. Black voters, who are often concentrated heavily in inner-city areas, are forced to endure the nation's longest lines, ones that may discourage them from voting altogether. A study from the Joint Center for Political and Economic Studies showed that black voters wait twice as long as white people to cast a ballot, with the longest wait times being in South Carolina, Florida and Maryland. Harvard researcher Stephen Pettigrew found that African-Americans were six times more likely than members of demographic groups to spend more than an hour in line in order to vote.

Part of the problem is the resources allotted to polling places in predominantly black communities. Those districts have fewer poll workers to assist voters and guide them through the process and have fewer voting machines on hand to process voters in a timely manner.
I agree, but the truth is very partial. I think the pathway to low voter turnout begins with the Establishment, who have never made voter registration a core party function, something that goes on 24 hours a day, 7 days a week, 365 days a year. (Instead, it's done by the campaign when some squillionaire can be induced to spend some money registering a protected group.) Restoring the franchise isn't a matter of more voting machines or polling places; it begins with political clout. And the only way to do that is to get voters registered. Yes, that would cost moeny. Maybe next time the Democrats have a billion bucks, they can put some of it to this use, instead of jamming it down the toilet of the next Clinton campaign, and flushing.
What is true for blacks is true for Hispanics. In Florida:
Hillary Clinton won 66% of Latino voters on Election Day, according to updated National Election Pool exit poll data, a level of Democratic support similar to 2008, when 67% of Hispanics backed Barack Obama. However, Clinton's share of the Latino vote was lower than in 2012, when 71% of Latinos voted to re-elect Obama. (This year's Latino voter turnout, which has historically trailed other groups, won't be known until sometime in 2017 when the U.S. Census Bureau publishes its report on U.S. voting.)
"[H[istorically trailed"? What kind of alibi is that? The Democrats had sixteen years to get serious about expanding their voter base; that's how long it's been since Jebbie tried to steal Florida for his little brother by purging the voter rolls of Black people.
Anyhow, Obama won Florida in 2008 and 2012. Clinton lost Florida in 2016. From the Orlando Sentinel:
Clinton had lots of support in Florida: 4.5 million votes. And she did better than President Barack Obama did in Florida when he won re-election in 2012, increasing his total by 5.9 percent.

But Trump did even better at improving on Republican Mitt Romney's 2012 performance. Trump's 4.6 million votes was 10.6 percent higher than Romney's total.

"She came pretty close to wining Florida," said Robin Rorapaugh, a Democratic Party political consultant from Hollywood who's run multiple statewide campaigns in Florida and was Texas state director for Bill Clinton in 1992, the year he first won the presidency. "She was massacred in smaller counties up and down the Panhandle and in Central Florida."

Clinton won just nine of the state's 67 counties, including the five largest. Rorapaugh said the map clearly shows Clinton failed at "holding together the Obama coalition and the absolute hunger to burn down the house in so many small communities in Florida was exhibited at the ballot box."

The three most populous counties in the state — Broward, Palm Beach and Miami-Dade — gave Clinton a big victory. She had a margin of 678,000 votes over Trump in South Florida.

"South Florida performed very well," Rorapaugh said. "Democrats turned out. They turned out in large numbers and gave her large margins." But not large enough to offset Trump's surge elsewhere in the state.
So Florida is not a flipping counties story. As it turns out, Trump out-organized Clinton:
But in the rural and "exurban" counties – including Lake, Marion, Volusia, Brevard and especially Hernando and Citrus outside Tampa – Trump exceeded Romney's 2012 numbers by the tens of thousands, allowing him to pull ahead of Clinton in Florida by more than 100,000 votes.

[Josh Kivett, the Republican National Committee's Southeast regional political director] said the key was the RNC's strategy of dividing Florida into 254 unique "turfs," each staffed by people with real knowledge of those communities.
Florida is a "rural votes" story, but it's also a story of Clinton not increasing Black and Hispanic voters enough. And to me, that's a voter registration story.
Pathway (F): The Undecideds Break for Trump
Trump won big among voters who decided at the last moment. FiveThirtyEight:
In all, Trump picked up 4.0 percentage points among people who hadn't been with him in mid-October, and shed just 1.7 percentage points for a net gain of 2.3 points. Clinton picked up a smaller fraction — 2.3 points — and shed 4.0 points for a net loss of 1.7 points. That's certainly consistent with Trump gaining steam in the race's final weeks.
As to why Trump gained steam, the ObamaCare rate hike seems not to have shown up in the numbers, and of course there is the Comey letter ("4 pieces of evidence showing FBI Director James Comey cost Clinton the election"). But to me, that's too short a pathway; it's like saying the German's won the Battle of France because the Belgians didn't block the roads in the Ardennes; I view the Comey letter as the last pebble in an avalanche of fail. Follow the chain upwards. Why was the letter so damaging? Because it reinforced existing perceptions about Clinton. Why did those perceptions exist? Because of Clinton's own behavior: Nobody forced Clinton to privatize her email server! Why was Clinton's behavior so damaging? Because twenty years of strategic hate management by conservatives (some based on truth, but by no means all or even most) provided a narrative that fit the facts of the case. Why was such a risky candidate nominated? Because the Democrat Establishment wanted her ("the party decides"). A narrative like "… cost Clinton the election" is just a little simple-minded, surely?
Conclusion
I hope the matrix of failure is a useful tool; I enjoyed fitting as much as possible of what I remember happening into it's framework. To me, though, the election turned out to be pretty simple:
1) "It's the economy, stupid!", and
2) "Change vs. more of the same"
Clinton was the "more of the same" candidate in a change year when the economy was the issue. That's why the Obama counties flipped. So she lost! Oh, and you can argue that zeitgeist issues like the Comey letter "lost Clinton the election." But arguments like that depend on national polling. What you've got to do is show that your zeitgeist issue of choice would unflip the Obama counties that went for Trump. Seems unlikely.
NOTE
This post slipped out a few minutes early, if a post so sprawling can be said to slip. Sorry about that, It's all here now.
NOTES
[1] I might also have added an additional secondary pathway from "identity politics" and "microaggression" to "deplorables." I didn't, because Romney committed the same sort of gaffe, and he's not ideologically committed to identity politics in the way that the Democrats are.
[2] The difference in votes between two candidates must always depend on how many voted, and how many did not vote; it's like an accounting identity. So explanations like "Low voter turnout in a few key states may have helped Donald Trump" or "Rustbelt Catholics Voters Put Trump over the Top" are necessarily partial. As it turns out, in this post there are two complementary pathways to misfortune: (d), "the economy" flipping votes to Trump, and (e) lack of voter registration leading to a voter turnout fail.
[3] It's not enough to show that Green Party vote totals; the issue is how many Green voters were repelled by Clinton, and what difference did that make? If there is data on this, I haven't seen it. See the final paragraphs in this Billy Penn story, for example.
[4] This could even have reinforced Trump's appeal: "If she hates him that much, he could be OK!"