CalPERS has yet again confirmed its preference for cronyism and convenience over good governance. It changed its election procedures in 2016, resulting in a process that violates both the California constitution and specific election statutes.
It is already troubling that CalPERS, a state agency, also administers the elections for its board members. Unlike state and local governments, where elections are a major element in their activities, elections are an afterthought for CalPERS, and it shows.
Last year, CalPERS changed ballot procedures, turning a formerly secret voting process into one that makes how participants voted visible. As we will describe, it also may be possible for the vote-counting process to be exploited to the advantage of incumbents and organizations like unions that have the resources to get out votes.
Even worse, in this election, CalPERS has also implemented voting by Internet, which is explicitly against the law in California.
Elections for two board seats, with the winners serving as officials of the State of California, are now underway and will conclude on October 2. CalPERS changed the procedures for this election that effectively ended secret voting for ballots sent by mail, which is how the overwhelming majority of responses will be filed. This has reduced the process to standards below those of countries like Syria that the US regularly criticizes as being undemocratic.
This outcome is contrary to the California Constitution. Section 7 of Article II flatly states: "Voting shall be secret."
The Secretary of State, in the Guide to Absentee Ballots, describes how absentee ballots, which are sent in by mail, are verified while maintaining voter secrecy:

Notice two things:
1. The signature is key to the verification process
2. Once the signature is verified, it is separated from the ballot. The ballots contain only votes and no information about the voter.
By contrast, see this completed CalPERS ballot: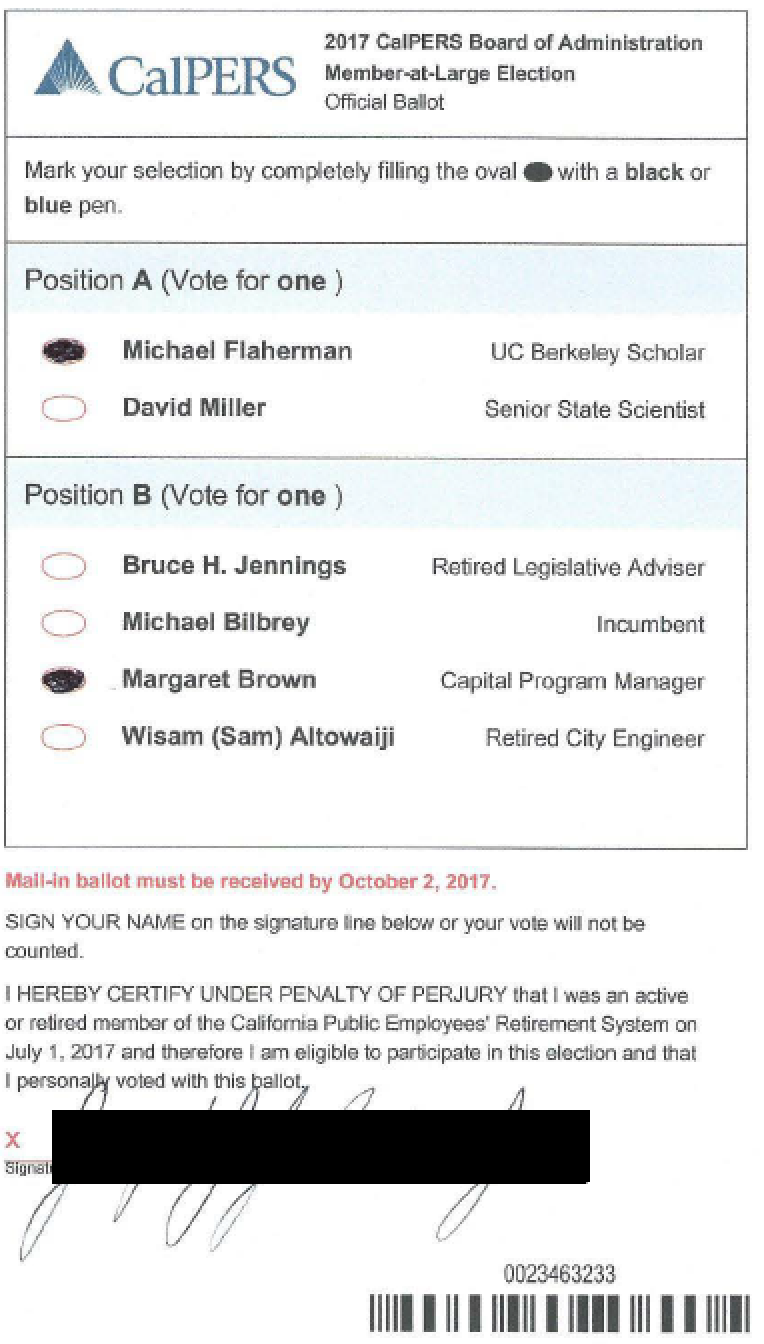 Yes, sports fans, the signature of the voter is right there for any interested party to read. And in case you thought that having an illegible signature might protect you, the bar code on the ballot must be specific to the voter if it is to prevent vote fraud. That implies votes can be tied two ways to individual voters.
And make no mistake, CalPERS staff and board decided in 2016 to move to third world standards. See this 2014 ballot, taken from the CalPERS voter booklet "2014 CalPERS Board of Administration State Member Election":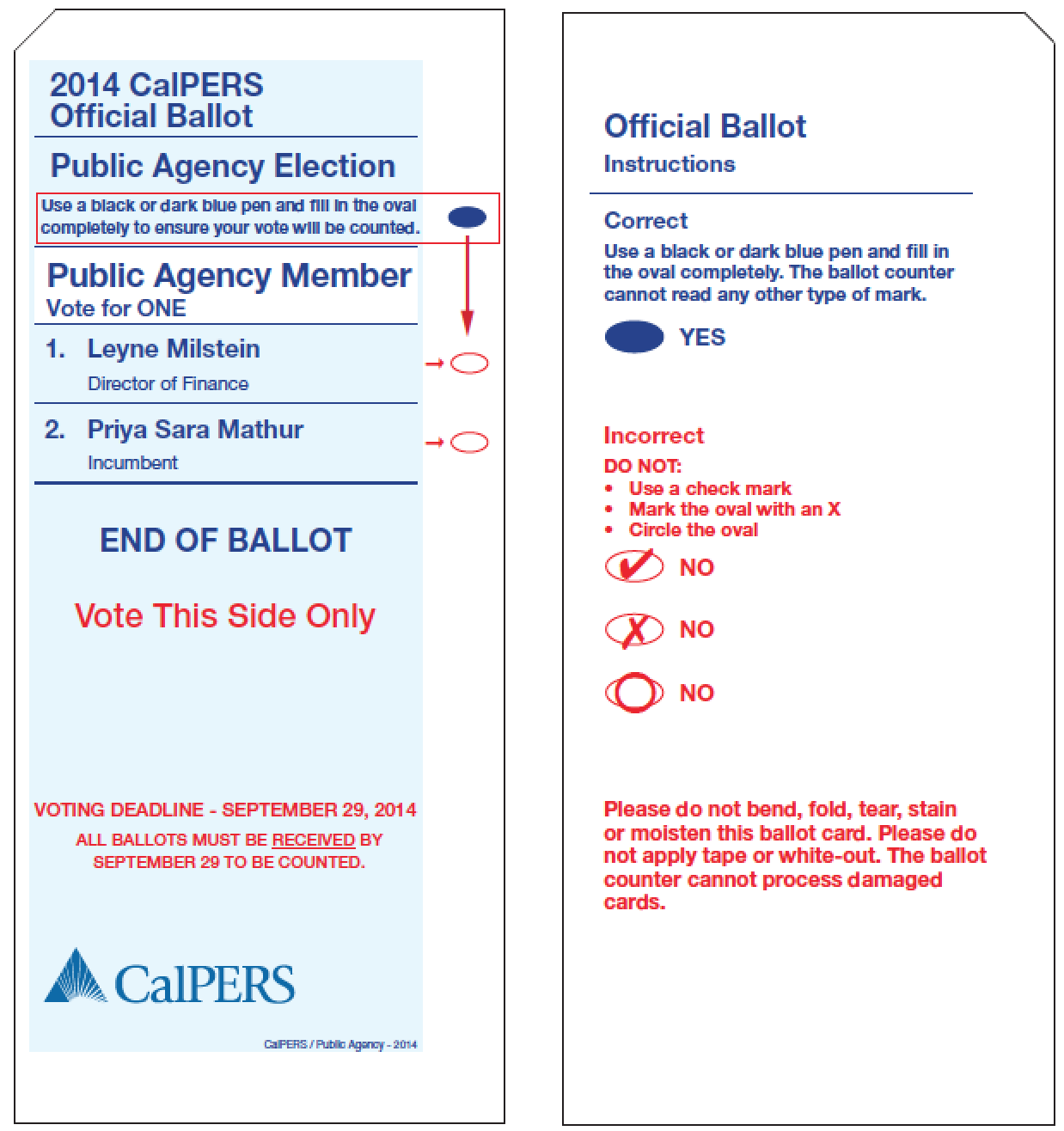 As you can see, the ballot shows the vote only.
And the instructions from 2014 show that the voter identifiers, the bar code and the signature, were on the mailing envelope. That allows for them to be separated, conforming to the absentee ballot procedure stipulated by the Secretary of State: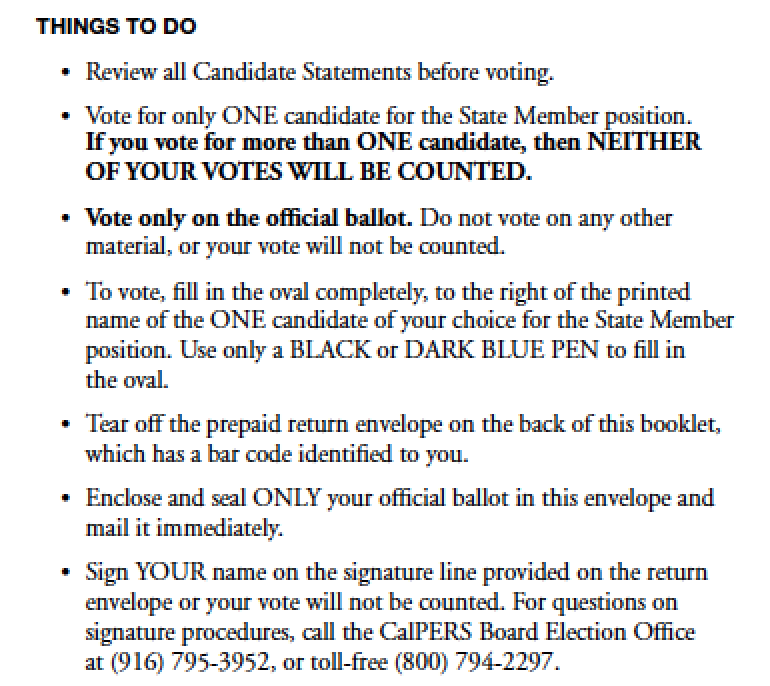 Have no doubt that this change was deliberate. It was voted on in the Finance and Administration Committee in September 2016. The then-existing Code of Regs 554.5a (last amended 8-24-98) as shown in the 2016 Public Employees Retirement Law provided (emphasis ours):
Marked ballots shall be returned to the location designated by PERS in the postage paid return envelope provided by the System, or another comparable envelope, and the reverse side shall be signed by the voter certifying under penalty of perjury that the voter is eligible to vote in the election; otherwise the ballot shall not be valid.
Here is the revised Code of Regs 554.7a (as amended 11-10-2016) as shown in the 2017 Public Employees Retirement Law:
…Paper marked ballots shall be returned to the location designated by CalPERS in the postage paid return envelope provided by CalPERS, or another comparable envelope, and the ballot shall be signed by the voter certifying under penalty of perjury that the voter is eligible to vote in the election; otherwise the paper ballot shall not be valid.
You will note that the regulation is silent on the matter of where the even more important identifier, the bar code, appears. It appears that staff took advantage of the ambiguity and moved the bar code, along with the signature, to the ballot proper.
Anyone with an operating brain cell will recognize that this is no longer a secret ballot. At a minimum, a person with a legible signature will have their name clearly identified with their vote. Moreover, in many, if not most, jurisdictions, voters sign books at their polling stations when they vote, and the election workers compare the signatures with the ones they have on record to verify identity. So a signature alone can identify a voter. And recall the Secretary of State's instructions for absentee ballots: the signature is an identifier.
More subtly, the appearance that a ballot is not secret, whether or not confidentiality has actually been breached in practice, can have a chilling effect on elections. For instance, Venezuela introduced fingerprint scanners to verify voter identity and fight election fraud. But as the Atlantic noted:
In practice, the machines are meant to buttress the (inaccurate) perception that the government not only knows you, but also who you vote for…The device preys on well-founded fears of retaliation against opposition voters.
Now CalPERS is not Venezuela, but the agency has a long-standing history of unions using their muscle in campaigns. The reason CalPERS went to an exclusively mail-in voting system in 1994 was due to union abuses. Before, ballots for CalPERS elections would be distributed to government employees at work. Union officials would be on premises that day, telling members how to vote.
In the transcript of the September 2016 Finance and Administration Committee meeting where the board approved the new regulation, board member JJ Jelincic pointed out that the draft presented to the board the month prior did not include the language having the voter's signature appear on the ballot, and he objected to that. Here is the response he received:
Operations Support Services Division Chief Kim Malm: ….the signature is on the ballot only for the purposes to validate that there's a presence of the signature. Okay. So you could sign XXXOOO, and it would still be valid, because we do not have a signature database of our membership to validate it against. It's just there to acknowledge it's on the perjury statement, that you have seen the perjury statement and you have done something on that line to acknowledge that you've seen that.

The data regarding the member is stored in the bar code on the ballot, just like it was – just like it is currently. And the data that's stored on there is just demographic data that the Board gets, reports on after the election, age, employer, gender.

The information that is captured is only that the person voted, not that the person – or not how the person voted. And so we need to have that information in order to ensure that somebody doesn't vote more than one time. But that information, again, it's all captured by the third-party vendor. It is not – it is not here. We have no access to any of it. But again, all they're capturing is that the person voted and not how they're voted – or not how they voted.

The IVS everyone counts ballot facility is certified by the California Secretary of State. In addition, they process – they audit their processes every two years with a third-party vendor.
This is disingenuous. First, as we indicated, a legible signature will identify a voter. Second, the idea that the bar code contains only demographic information cannot be accurate if CalPERS is to be sure that there are no duplicate votes cast. Either the process is ripe for fraud via duplicate votes or the bar codes are specific to each voter and hence can identify how each CalPERS member voted. It is thus reasonable to assume that each bar code number is unique to a particular voter, otherwise the election cannot have any integrity.
And as for the vote count process, that does not appear to be as squeaky clean as Malm suggested. Board candidate Margaret Brown asked CalPERS how she could watch the counting of the mailed ballots at the end of the month-long election process, which is something election monitors and interested parties routinely do in primaries and general elections. As she said via e-mail:
When I asked the question about watching the vote count I was told it took place in Washington over a period of time. I was left with the impression they would count before the October 2nd voting deadline.
This would suggest that votes are actually being tallied, as opposed to envelopes being counted but not opened until the election period was over.
Why is this particularly troubling? For both board seats, this campaign features a sharp split between reform-minded candidates, Mike Flaherman and Margaret Brown, both of which have been endorsed by retiree organizations, versus the union picks, David Miller and incumbent Mike Bilbrey. Note that retirees vote at proportionately higher levels than current employees and historically have accounted for most of the votes. However, the unions have infrastructure to get out their votes.
Another factor to keep in mind is that CalPERS staff has abused election procedures to favor incumbents1 and also aligned with unions against reform efforts. For instance, Governor Jerry Brown attempted to change the criteria for the board members that the governor designated to sit on the CalPERS board. His intent was to increase their expertise and allow for better oversight. CalPERS staff and the unions succeeded in stymieing Brown.
It is bad enough that the ongoing logging of ballots prevents independent oversight. One way this process could favor one side is if it were given information about running vote totals. If it were behind, it could engage in more concerted "get out the vote" efforts to try to reverse a possible loss.2 The unions have the infrastructure and information to contact their members, so this sort of information would be particularly useful to their candidates.
CalPERS does offer other methods of voting, via the Internet and phone. It is difficult to see how a vote by phone would be secret. In addition, this is the first year that CalPERS has provided for online voting.
However, voting by Internet is very rare in the US and is explicitly illegal in California. From the Secretary of State's website:
Additionally, pursuant to Elections Code section 19205, no part of a voting system shall be connected to the internet at any time. Nor shall any part of a voting system electronically receive or transmit election data through an exterior communication network of any type.
Indeed, the statue is terse and the Secretary of State had cited it word for word in his overview:
No part of the voting system shall be connected to the Internet at any time.
As Thomas Ferguson, professor emeritus of political science at the University of Massachusetts, Boston, said:
It is hard to understand the CalPERS process as a secret ballot. Have the Secretary of State and Attorney General weighted in on this? And if not, why not?
If CalPERS can't be bothered to conduct elections that conform to California law, then the Secretary of State needs to step in and operate them until CalPERS demonstrated it is willing and able to comply.
I hope CalPERS beneficiaries and California citizens will demand answers, since taxpayers ultimately backstop CalPERS pensions. Please e-mail or call these state officials, since the Treasurer and Controller also sit on CalPERS board.
Mr. Alex Padilla
California Secretary of State
1500 11th Street
Sacramento, CA 95814
secretary.padilla@sos.ca.gov
(916) 653-6814
Mr. Xavier Becerra
Attorney General's Office
California Department of Justice
Attn: Public Inquiry Unit
P.O. Box 944255
Sacramento, CA 94244-2550
Facebook Messenger contact: https://www.facebook.com/XavierBecerra#
(916) 952-5225
Mr. John Chiang
California State Treasurer
Post Office Box 942809
Sacramento, CA 94209-0001
john.chiang@treasurer.ca.gov
(916) 653-2995
Ms. Betty Yee
California State Controller
P.O. Box 942850
Sacramento, California 94250-5872
b.t.yee@sco.ca.gov
(916) 445-2636
Please cc your Assemblyman and Senator for any messages you send (contact information here), and to the editor of your local paper. Past experience shows that e-mails and letters from Naked Capitalism readers have had an impact.
Again, thanks for your interest and help!
_______
1 In the 1998 board election, Jim McRitchie opposed incumbent Bill Crist. At that time, candidates submitted a ballot statement by a set deadline that would then be printed in the election booklet mailed to all eligible voters (there was no amendment or addendum process). McRitchie provided a hard-hitting statement laying out shortcomings in Crist's performance. Crist pressured staff to let him revise his statement after the deadline to address McRitchie's criticisms, a clear violation of election procedures.
2 As Brown noted by e-mail:
In other mail-in elections, the Registrar lets us know who has returned their ballot. Thay way we can track and focus our "get out the vote" on supporters that have not mailed them in. But in no event are the ballots opened and counted until election day.

Another issue is that I cannot find out who gets a ballot. As a candidate in any other public election in California, you can request the voter data and history file. This way you can target high propentsity voters. CalPERS regulations prohibit the release of any member's information. So as a candidate I have no idea who is voting or even if they should be voting. No way to check the rolls.