In June, we exposed how CalPERS had engaged in massive copyright fraud. As we anticipated, the publishers from which CalPERS has taken the most articles, Dow Jones and the New York Times, are aggressively pursuing their claims. Both publishers have made clear that they expect CalPERS to write very large checks. Bloomberg also contacted CalPERS. They are willing to speak to us about the current status but due to a scheduling mishap on my end, I did not connect with them yesterday. I'll provide a short update or separate post when I have further information.
By way of background, from our second post on this story:
In the early morning on June 9, we reported that CalPERS had engaged in systematic copyright infringement by operating a daily news site that had published the full text of news stories from many publications for years.

Because CalPERS refused to take down its website even after it was caught out, we set out to determine the full extent of the misconduct.

From the inception of the site on August 2, 2009 through June 9, 2017, CalPERS has published the full text of over 50,000 articles. These articles were on an internet address open to any member of the public. All the articles were in a standardized format. None had any indicators that the CalPERS had paid the license fees to allow it to present them to its roughly 2,700 employees and board members, such as notices of copyright that publishers typically require for authorized republication.

To perform our analysis, we downloaded and archived all of the articles from the CalPERS site. At the end of this post, we have embedded a page from one of them, along with a second document with full list of publication names and the number of articles per name.

Here are the sources from which CalPERS heisted the most articles: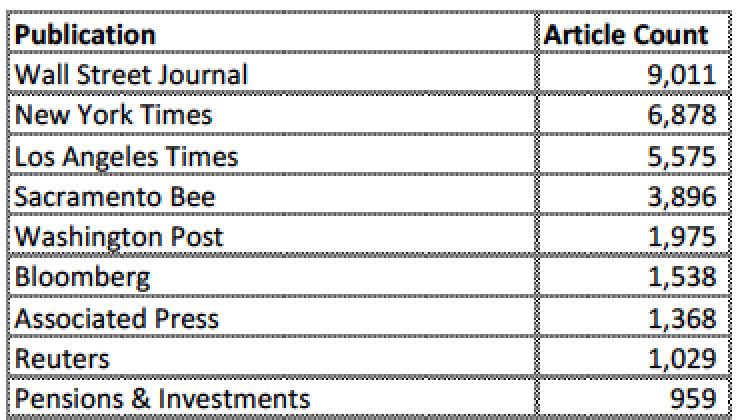 …As we explain in more detail, every lawyer with copyright or intellectual property expertise that we consulted said that for publications that registered their copyrights, CalPERS has no defense.
The New York Times was the first to act and read us its cease and desist letter, which only demanded that CalPERS remove the purloined articles within three business days or face further action. Based on both its history and input from knowledgeable parties, we expected that Dow Jones, from which CalPERS had taken the most stories, would pursue its claims against CalPERS aggressively and seek large monetary damages.
We made a Public Records Act request to CalPERS. The thin response nevertheless makes for lively reading. It shows that both Dow Jones and the New York Times are loaded for bear. If nothing else, be sure to read the letter from Dow Jones' litigation counsel, Patterson Bellknap Webb & Tyler, which starts on page 4 of the PDF embedded at the end of this post.
Even though the records are largely self-explanatory, let us offer some observations:
The Dow Jones nastygram is in a league of its own. I've seen quite a few demand letters in my day, and I've never seen anything remotely like this one. Neither have any of the lawyers and legally-savvy people I've asked to look at it. And even though the New York Times didn't lay down the law in such explicit detail, the short note from its counsel to CalPERS CEO Marcie Brown was also exceedingly firm.
The reason for such aggressive postures, as we've set forth longer form in earlier posts, is that copyright law is extremely favorable to copyright holders. It is inconceivable for CalPERS to get out of this mess if the publishers pursue their claims, and Dow Jones and the New York Times have already started down that path.
CalPERS is looking at easily $30 million of damages. An expert had said that Dow Jones had gotten eight figure settlements in similar cases. We had compared the CalPERS violation to a 2003 case, Lowry's Reports, Inc. v. Legg Mason Inc, in which Lowry's was awarded $19.2 million in damages. If you read a recap of the legal issues, you will see that Lowry's pursue copyright claims only, which allow for damages of up to $150,000 per violation for willful infringement.
If you read the letter from Patterson Bellknap to CalPERS, it asserts another basis for damages in addition to copyright infringement, which allows publishers to seek either statutory damages of $750 to as much as $150,0000 in the case of willful infringement per copyrighted work.
CalPERS is also liable for damages due to having stripped out "copyright management information" under the Digital Millennium Copyright Act. The damages are up to $25,000 plus attorney's fees per each stripping of the copyright information from a copyrighted work. As mind-boggling as additional damages of up to $25,000 per copyrighted work seems, the language suggests that it might be possible to have more than one stripping of copyright management information per work, depending on how the publisher incorporated it. .
Having the Attorney General represent CalPERS looks like damage control. Even though state agencies, including CalPERS, sometimes have the attorney general act as their legal representative, it looks particularly odd for CalPERS to have fobbed this hot potato off on the Attorney General given that its general counsel Matt Jacobs is himself a litigator. As one insider said, "The CEO Marcie Frost realizes that this is a slow-motion disaster unfolding and threw it over to the AG both because she is trying to get as far away as possible from it and also because she has probably lost faith in Jacobs."
CalPERS is engaging in settlement talks. In the Public Records Act response embedded below, CalPERS has taken the position that it does not have to produce any documents after June 29, when it turned over the matter to the Attorney General (not to worry, we plan on having another go, since one attorney deemed the response to be "beyond outrageous"). CaLPERS' failure to reply to some of the inquiries looked like stonewalling.
The New York Times was kind enough to give us an update:
We continue to negotiate with CALPERS in an effort to resolve this matter. There is no question that our copyright was violated, and we remain optimistic that CALPERS will do the right thing and compensate us for the use of our articles.
The party most responsible for this fiasco is the general counsel, Matt Jacobs. CalPERS will probably try to make its head of Communications & Stakeholder Relations, Brad Pacheco, the fall guy. That would be a miscarriage of justice. The internal news service started long before Pacheco became head of communications function in 2015. Unlike Pacheco, his predecessor had a law degree. Pacheco would therefore have good reason for thinking that whatever legal issues there might be in operating the so-called Daily News Summary had been sorted out long ago.
By contrast, Jacobs came in as general counsel in 2014. As we stressed earlier, one of the things an incoming general counsel routinely does is either review asset audit procedures or conduct an asset audit if the processes might be inadequate.
The purpose of an asset audit is to make sure that the organization has a record of its assets and has also made sure it has the rights to use any intellectual property, such as having paid up software licenses. An asset audit would have raised red flags about the Daily News Summary and led to it either being halted or reconfigured to links only so that CalPERS would not be impermissibly republishing copyrighted content.
CalPERS is going to pay a very high price for hiring someone who was obviously unqualified for the job. Jacobs had been only a litigator for his entire career. He had never worked in a general counsel's office nor served in a capacity at a law firm where he would be working on general corporate matters. If CalPERS does not replace him promptly, it will send a very bad message to all its employees that egregious incompetence is acceptable.
PRA 3285 - Final Production