When Birds Flock Around a Sphere, Beautiful Things Happen The Wire
SEASON OF SMOKE The Intercept. Naomi Klein.
Massive sunspots and huge solar flares mean unexpected space weather for Earth The Conversation
MIT readapts ancient firebrick technology to boost profitability of renewables Treehugger
Voynich manuscript: the solution Times Literary Supplement
Remembering Attica Jacobin
Cambridge University set to scrap written exams because students' handwriting is so bad Independent
What Football Crisis? In Alabama, the Game's Hold Only Gets Stronger WSJ
Sea salt around the world is contaminated by plastic, studies show Guardian
North Korea
China
Going cash-free: why China is light years ahead in the online-payment revolution SCMP

Why Beijing's plan to stop producing petrol and diesel cars could be a game-changer for the industry? SCMP
India
Why is India's Soft Power Still Untapped? The Wire

'Is raid raj now unavoidable?': Ten reads from Left and Right on the costs of demonetisation Scroll.in
KILL ALL, BURN ALL: THE JAPANESE WAR TACTIC USED ON THE ROHINGYA BY MYANMAR'S MILITARY SCMP
Syraqistan
Trump Transition
Class Warfare
Graydon Carter Didn't Want to Axe Vanity Fair Staff, So He Left Daily Beast

"We started it": Atul Gawande on doctors' role in the opioid epidemic Vox
TURN ON, TUNE IN, DROP BY THE OFFICE 1843 Magazine
Dr. Pfau's Leprosy Miracle Truthdig
Democrats in Disarray
Hillary Hates Again Counterpunch
Kill Me Now
Jamie Dimon ventures beyond Wall Street to have a say in Washington Reuters. Don't tell me he's testing the waters too.
Equifax
Equifax's apparent effort to strip consumers of their right to sue was brazen even for corporate America Quartz

How Equifax hackers could file taxes in your name and get a refund from the IRS MarketWatch

Either Equifax's Execs Have Some Explaining To Do Or Equifax's Other Execs Have Some Explaining To Do Dealbreaker
Sarbanes-Oxley, Bemoaned as a Burden, Is an Investor's Ally NYT. Gretchen Morgenson.
Brexit
EU immigration offer could lead to Brexit reversal, claims Adonis Guardian

Tony Blair gets tough on migrants 13 years after opening doors The Times
Health Care
Elizabeth Warren Joins Kamala Harris in Co-Sponsoring Bernie's Landmark 'Medicare-for-All' Bill AlterNet
Police State Watch
Journalists bristle at a new police policy in Vermont Columbia Journalism Review
Big Brother IS Watching You Watch
A Former DACA Recipient Explains All the Data ICE Can Use to Go After Dreamers Motherboard
Hurricane Alley
The Most Deadly Atlantic Hurricanes Of The Last 50 Years vs. Irma International Business Times

Irma Slams the Keys; Florida's Southwest Coast at Risk of Major Storm Surge Weather Underground

Hurricanes Irma, Harvey to cast pall over U.S. economy for months and even years MarketWatch

'You cannot survive this,' Gov. Scott warns of Irma's expected 12-foot storm surge Miami Herald

Hurricane Irma: Rich can sit pretty while poor wait and pray Irish Times (martha r). Despite the warnings, the poor may not be able to flee….

Hurricane Irma Smashes Into the American Dream Daily Beast

Scramble to flee Hurricane Irma underscores rich, poor divide Tampa Bay Times (martha r)

I've seen the reality of what happens after disasters like Hurricane Irma – it's different to what you've been told. Independent. Patrick Cockburn. The deck: Because of an over-focus on empty gestures and a queasiness about money, the response to natural disasters in the US is all too often inadequate. The army and the National Guard are on standby in South Florida – but if Hurricane Andrew taught us anything, it's that they aren't as much use as you'd think

Flooding Threatens Toxic Sites as Irma Nears CBS Miami

As Irma approaches nuclear plants in Florida, lessons from Andrew resonate Ars Technica

Houston councilman tells residents not to donate to Red Cross Houston Chronicle:

Houston City Councilman Dave Martin, who represents hard-hit Kingwood, had a message for the public about the American Red Cross.

"I beg you not to send them a penny," he said at Wednesday's council meeting. "They are the most inept unorganized organization I've ever experienced."

US forecast models have been pretty terrible during Hurricane Irma Ars Technica

A Requiem for Florida, the Paradise That Should Never Have Been Politico

Hurricane Irma is literally sucking the water away from shorelines WaPo (KW)

And, reader BC writes:

If you have been following the adjustments to the predicted track of Hurricane Irma, you will know that it's predicted track has shifted substantially westward. Several days ago, it appeared to be headed straight towards Miami. Many predictions had variances along a more eastward trajectory. If you are a ship at sea, these predictions are often the the basis of bets you place your life on.

Over the past days and hours, I have been monitoring how sea traffic and air traffic have changed due to Hurricane Irma. For sea traffic there is an app called MarineTraffic that collects the transponder beacons of all large ships globally. The change in Irma's track seems to have horrifying ramifications for three cruise ships that all had been in the Miami path of the storm and chose to steam at full speed to the west. Using the app you can also verify the paths of each. There are three cruise ships that are in great danger from Irma seen below (in blue) in a capture made at 7pm Eastern time.

God speed and prayers to all souls onboard.

Jerri-Lynn here: The three ships are: Enchantment of the Seas, Grand Celebration, and Majesty of the Seas.
Antidote du jour: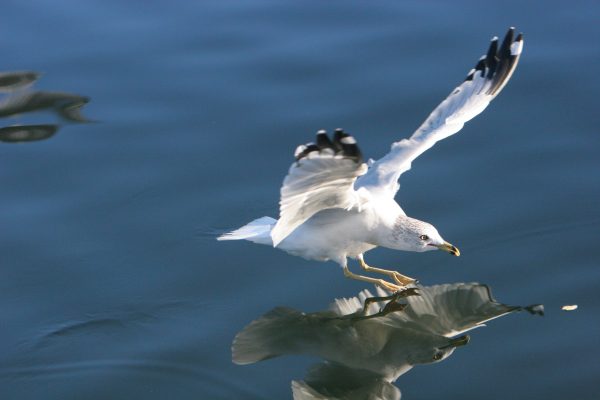 See yesterday's Links and Antidote du Jour here.