Cassini: The Grand Finale NASA Jet Propulsion Laboratory
Are Earth's oldest trees losing the race in a warming climate? Treehugger
Snow leopard no longer 'endangered' BBC
Equifax Isn't A Data Problem. It's A Political Problem. Matt Stoller, HuffPo
I called Equifax with a simple question. This is what happened. WaPo. Sounds like everything is working as designed.
Equifax used the word 'admin' for the login and password of a database CNBC
Electric car dream collides with reality on profits FT
Portland probe finds Uber used software to evade 16 government officials Reuters. Greyball.
Court reveals another overseas-data fight between Google and feds Politico
Google hit with class action lawsuit over gender pay AP
Are Index Funds Communist? Bloomberg. Betteridge's Law…
Hurricane Alley
Florida's Poop Nightmare Has Come True TNR

Florida Is Short on Insurance Adjusters, and That Could Stall Recovery Efforts WSJ

Zoned for Displacement City Lab
'Los Zetas Inc.' Author on Why Mexico's Drug War Isn't About Drugs Texas Observer
AP Explains: Brazil president charged, and what comes next Miami Herald
Brexit
Brexit transition offer 'key' to settling EU divorce bill FT

Britain will regret leaving the European Union: Juncker EU Business

This single speech shows that the Tories aren't taking Corbyn or Brexit seriously The New Statesman
Grenfell Tower inquiry judge vows to find out truth as witnesses could be forced to give evidence Evening Standard (MR).
EU Worries Grow over U.S. Economic Chaos Der Spiegel
In the Centre of the Centre LRB. Angela Merkel.
Catalonia kicks off banned independence referendum campaign Deutsche Welle
Ukraine's Imperiled Press Freedom Project Syndicate
EU report on weedkiller safety copied text from Monsanto study Guardian (MR).
North Korea
North Korea fires another missile over Japan, deepening regional tensions Reuters

US demands China take 'direct action' after North Korea fires another missile over Japan South China Morning Post
In a first, Myanmar's 'ethnic cleansing' unites Suu Kyi's party, army and public Reuters
The oil economics and land-grab politics behind Myanmar's Rohingya refugee crisis Quartz
China?
Hong Kong's opposition politicians get chance at game-changing comeback next March South China Morning Post

Bitcoin crashes as China closes in Macrobusiness
Trump Transition
DC socialite Sally Quinn, 76, says she is psychic and killed THREE people with CURSES Daily Mail. Yes, this is what the Village is like, if you couldn't tell from Clinton's book.
Imperial Collapse Watch
Former acting CIA director quits Harvard over Chelsea Manning post Yahoo News and CIA Director Cancels IOP Appearance After Manning Appointment Harvard Crimson. Morrell's pro-torture. Pompeo gave Morrell, and all the torturers, a Get Out of Jail free card. Good riddance to all of them.

Tenting the Homeless and Bleaching the Streets: How San Diego Is Fighting a Hepatitis Outbreak Governing. Welcome to the Third World.
CDC official sends troubling message to employees about media questions CJR
Health Care
'Everyone Covered, No One Goes Broke': Sanders Introduces Medicare for All Bill Common Dreams

Trump would veto single payer:

…I told Republicans to approve healthcare fast or this would happen. But don't worry, I will veto because I love our country & its people.

— Donald J. Trump (@realDonaldTrump) September 14, 2017

Anybody who's against single payer is pro-Trump. Those are the rules.

Why Bernie Sanders' single-payer push is great policy and even better politics The Week
Big Brother Is Watching You Watch
News you can use: "Just saw something come across my FB feed which is truly disturbing: With the new facial recognition, a cop can arrest you, handcuff you, then shine your phone in your face, unlock it, and delete any recordings you have made of that cop breaking the law. Scary. Big time scary." Hat tip: JM. I guess FB is good for something after all…

Another threat to your privacy: the way you write Privacy News Online. Le style c'est l'homme même…
Crime in 2017: A Preliminary Analysis Brennan Center. "The overall crime rate in 2017 is projected to decrease slightly, by 1.8 percent. If this estimate holds, 2017 will have the second-lowest crime rate since 1990."
Class Warfare
Welfare for Wall Street: fees on retirement accounts Real-World Economics Review (MT).

Union Power Is Putting Pressure on Silicon Valley's Tech Giants Bloomberg (MR).
Heroin in Cincinnati: This is what an epidemic looks like Cincinnati Inquirer
Prior expectations induce prestimulus sensory templates PNAS
The flaw of averages The Economist
Insurance companies should collect a carbon levy Nature
The great nutrient collapse Politico
Antidote du jour (Chris):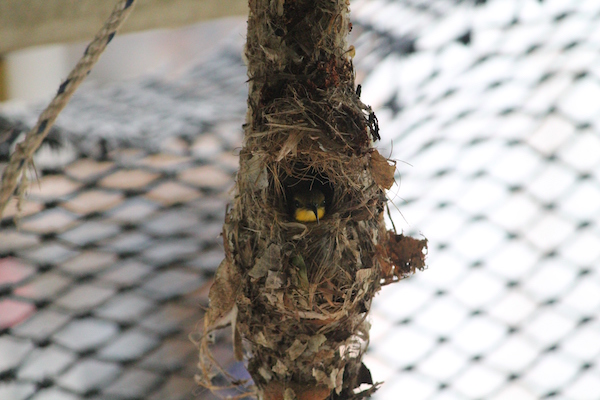 Chris writes: "Attached is close up of a female sunbird on the nest – probably one egg, we shall see."
See yesterday's Links and Antidote du Jour here.