Grizzly bears go vegetarian due to climate change, choosing berries over salmon Telegraph (original).
Doubts raised about CRISPR gene-editing study in human embryos Nature
The company that makes Jack Daniel's is skirting accounting rules, experts say Francine McKenna, MarketWatch
98.5 Percent Of Original Comments To The FCC Oppose Killing Net Neutrality Above The Law
Global growth still at record rates for this expansion FT
North Korea
China?
5 Things to Watch Out for at the Chinese Communist Party Congress The Diplomat

China tightens restrictions on dissent, porn and gambling online Asian Correspondent
India
I left because there was no offer on the table from the govt: Raghuram Rajan Times of India (J-LS). Excellent article on demonetization (despite the headline).

India PM Narendra Modi shakes up his top team FT. "Reshuffle comes amid outcry over disappointing data on banknote ban."
Syraqistan
Brexit
Brexit: UK to be 'educated' about consequences, says Barnier BBC

Mark Thompson: 'A second Brexit referendum risks seeming like a stab in the back by the elite' Guardian

It's Back to Work (and Brexit) for Britain's Parliament Bloomberg
Merkel survives challenger's onslaught to win election TV debate Reuters
Merkel: 'Turkey should not become an EU member' FT
How Angela Merkel speaks The Economist
'I've Never Seen So Much Hate' Der Speigel
Hurricane Harvey
This 1,000-year-old oak tree survived Hurricane Harvey Popular Science (Re Silc).

Hurricane Harvey Destroys Up to a Million Cars in Driving-Dependent Houston WIRED (Re Silc).

Texas faces environmental concerns as wastewater, drinking water systems compromised WaPo

There's nothing 'natural' about a natural disaster Red Pepper

Imperial Collapse Watch

Navy destroyer collides with building in downtown Houston Duffel Blog

Make no mistake, the latest US thuggery is a sign of weakness, not strength The Saker (MT). An important bill of particulars.
New Cold War
Russia: U.S. closure of diplomatic sites a 'blatantly hostile act' Reuters

On the Lawfare over the Steele Dossier emptywheel
Trump Transition
* * *
In Berkeley, Attacks by Antifa Turn 'Alt-Right' Trolls into Fox News Heroes The Intercept (ChiGal).
The Homecoming WaPo. (Lyrics to "Stealing Cinderella.").
Democrats in Disarray
Thank you @HillaryClinton for endorsing Verrit! https://t.co/2wH0GjoGVe

— Verrit (@verrit) September 3, 2017
Monopoly Power
LePage calls for emergency legislative session after feds balk at Maine food sovereignty law Bangor Daily News. Agreed by both parties (!).
Guillotine Watch
European Castles: Easier to Buy Than You Might Think WSJ
Class Warfare
Disturbed sleep patterns may be key to ADHD, study finds Guardian
Why I miss antenna TV The Week
The Looming Decline of the Public Research University Washington Monthly
Antidote du jour (via):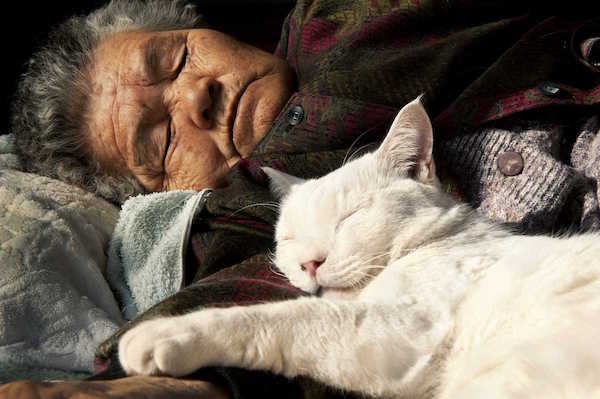 Miyoko Ihara's grandmother and her cat, Fukumaru.
See yesterday's Links and Antidote du Jour here.