By Lambert Strether of Corrente.
I wouldn't have imagined two or even one year ago that Senator Bernie Sanders would introduce a Medicare for All Bill with sixteen co-sponsors (highlighted below). Here's the cover page of the bill, just for the happy dance: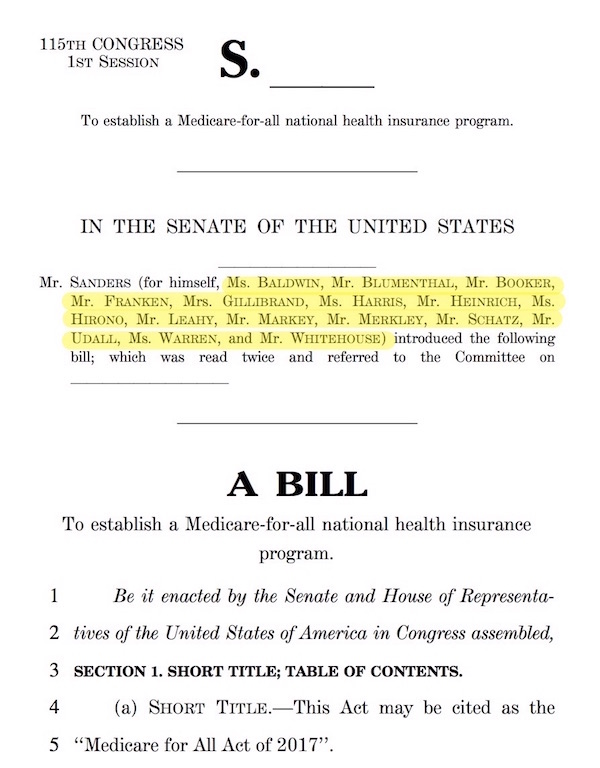 (Shaheen and Whitehouse came on board after the bill was introduced, so they don't appear in this image.) Frankly, I'm so unused to good things happening that I'm a little bit gobsmacked, and don't know quite what to say!
In this post, I'll look briefly — and probably simplistically, because I'm gobsmacked — at the politics of the "Medicare for All Act of 2017" ("BernieCare," as I suppose we must call it). First, I'll look at the co-sponsors; then, I'll look at the coverage, and lastly, I'll look at funding.
Politics of the Co-Sponsors
First, I looked at the co-sponsors of the bill, to see if they had, as we say, "skin in the game." In one important sense, they do. From MapLight:
Democratic Holdouts On "Medicare For All" Have Received Twice As Much Insurance Industry Cash As Sponsors

, MapLight has found.

The insurance industry has donated an average of $23,600 since 2010 to senators who have co-sponsored Sanders' bill, according to a MapLight review of campaign finance data compiled by the Center for Responsive Politics. Democratic senators who have not yet supported his legislation, including Sen. Angus King, a Maine independent, have received an average of $55,500 from the industry.
So, the 16 co-sponsors are leaving money on the table. Moreover, they're risking the insurance companies (and perhaps health care trade associations, and Big Pharma) funding their opponents. The co-sponsors are indeed taking a risk. But how big a risk? Consider the following table:
Table 1: Political Risks of Medicare for All Co-Sponsors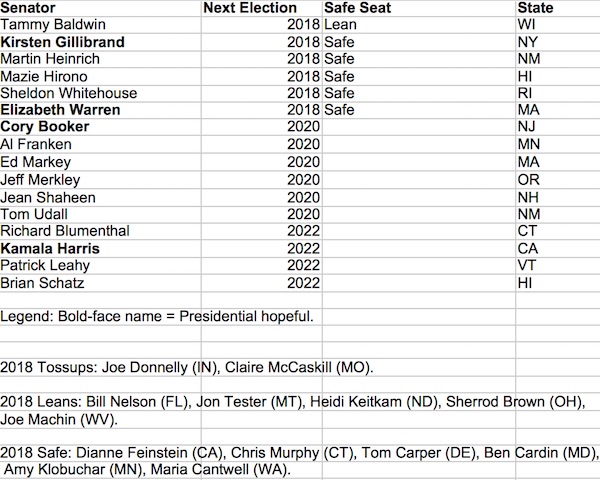 (The data is from 270 To Win, whose "Safe Seat" evaluation is from Larry Sabato.) From the table, we can see that only one Senator — Tammy Baldwin — is putting her "Leans Democrat" seat at risk by endorsing BernieCare; all the Senators either have safe seats, or are not up for election in 2018 at all. We can also see a gaggle of Democrat liberals in safe seats — looking at you, DiFi! — who don't support BernieCare, presumably because markets. And we can see some leans in the Swing States, especially Sherrod Brown, who may perhaps doubt their ability to sell the bill (oddly).
I'd argue, then, that the 16 co-sponsors have concluded that the left finally has real power in the party; that is, "they have no place to go" is no longer operative (as indeed it would not be with Obama voters flipping to Trump, Sanders voters going for Trump, voters staying home, and pressure from the left from Our Revolution and DSA). So for these 16 Senators, there's no downside in appeasing the new power. The New Yorker's John Cassidy writes:
And, as a number of progressive groups have already expressed support for the Sanders bill, anyone looking for their support in 2020 would be taking a risk by not falling in line.[1] A poll taken during the summer by the Kaiser Family Foundation indicated that sixty-four per cent of self-identified Democrats now support a single-payer system. A more recent survey from Gallup produced similar results. These are the voters who will decide who wins the Democratic primaries.
(Yes, poll results vary by the question. It's up to the political class to structure and drive the questions.) I'd speculate that if Jon Ossoff had won his race in GA-02, we wouldn't be seeing this. The Ossoff race was, in essence, the beta test for a Clinton campaign in 2020 except without Clinton: Media-driven, appeal to wealthy suburban Republicans, "Just look at the other guy," enormous amounts of spending, mushy centrist politicies, and throwing the left under the bus. Ossoff was, of course, against single payer, and Sanders called him out for it. Had Ossoff won, I don't think BernieCare would have its 16 co-sponsors. But Ossoff failed, as did Clinton.
Of course, that doesn't mean that the co-sponsors are "sincere," as clearly Sanders is, but I don't see that as bad. If opportunists like Booker see BernieCare as an opportunity, what's not to like?[2]
Politics of the Coverage Provisions in the Bill
Now I want to call out a couple of provisions in the bill. As far as those covered:
Moreover, during the first year, between the ages of 0-18 would become eligible to enroll in the Universal Medicare program.
Besides being the right thing to do, enrolling children immediately is politically very smart; it "builds on" the ACA, which allowed children to extend their coverage on their parent's policy. So why not cover every child, without reservation? Second, for those families who are provided with this universal concrete material benefit, it creates the endowment effect that ObamaCare benefitted from in the fight against repealing it; it's going to be hard to roll back the program when children already benefit from it; and it's going to be hard not to keep rolling it out when people can see the benefits in their own families.
Hospital services, including inpatient and outpatient hospital care, 24-hour-a-day emergency services and inpatient prescription drugs.
Ambulatory patient services.
Primary and preventive services, including chronic disease management.
Prescription drugs, medical devices, and biological products.
Mental health and substance abuse treatment services.
Laboratory and diagnostic services.
Comprehensive reproductive, maternity, and newborn care, .
Pediatrics.
, audiology, and vision services.
First, ZOMG!!! Dental!!!!!! Besides being medically bad for you, poor teeth are a class marker that make it hard to get a job. I don't think the Acela riders know what a huge difference dental would make in the flyover states, out in the colonies. To me, this is huge (and an obvious vote-getter; who wants to depend on charity or the ER for dental care? So pay attention, Sherrod!) Second, the more complex issue of abortion provisions. From ReWire:
Under Title VII, "Universal Medicare Trust Fund," the text of Sanders' bill appears to reference Hyde as one of the "restrictions that shall not apply."

Specifically, "any other provision of law in effect on the date of enactment of this Act restricting the use of Federal funds for any reproductive health service shall not apply to monies in the Trust Fund"—meaning that Hyde couldn't apply to Medicare funds.

Another section of the bill includes "comprehensive reproductive, maternity, and newborn care" within the scope of Medicare for All's coverage. Reproductive rights and justice advocates in August told Rewire that it's just as important for universal health care proposals to spell out abortion care within the scope of covered services as it is to end Hyde. Their consensus now is that the bill's "comprehensive reproductive care" includes abortion care, and they praised Sanders for it.

"Insurance coverage of abortion is critical to ensuring women can access the services they need, helping to protect women's health and economic security," Rachel Easter, the National Women's Law Center's counsel for reproductive rights and health, said in an email.

That recognition emerged during the drafting of the bill, which was "written to cover abortion, explicitly," a Sanders staffer told Rewire Editor-in-Chief Jodi Jacobson.
From a purely political standpoint, one can only wonder what Clinton supporters who were able to swallow Clinton's "never, ever" on single payer feel about abolishing the Hyde Amendment (which the ACA did not do, as Obama signed an Executive Order making sure the Hyde Amendment applied to Federal subsidies in his signature legislation). I'd think they'd get on board the BernieCare train immediately, but what do I know?
Politics of the (Lack of) a Funding Proposal
Finally, BernieCare has been criticized because it lacks an explicit funding mechanism. VT Digger:
.

Gerald Friedman, an economics professor at the University of Massachusetts who has worked with Sanders on this issue, said that though he sees it as positive that many senators are getting behind single-payer, it is not very meaningful without a funding plan.

"Honestly this is not serious," Friedman said. "It's a bumper sticker that 'We want single-payer.'"

Without a proposal, he said, critics will say that Sanders is not serious about the proposal, that it's so expensive that supporters don't want to discuss it, or that proponents couldn't come up with a way to fund it — which, Friedman said, is not true.

"If you put out numbers, you'll be criticized," Friedman said. "If you don't put out numbers, it's even worse."
(As far as Friedman's "not serious" comment, I hope you are convinced from the rest of the post that BernieCare has been carefully crafted to achieve the ends it achieved. Another way of saying that is to ask: "Would sixteen Senators have signed onto the bill if the funding mechanism were there?" I think the answer is no.) I disagree, for several reasons. First, Friedman is wrong; the Sanders white paper that accompanies the bill proposes several serious options. Second, when making a sale, the price is part of the close. You don't lead with it (unless, I suppose, that's your only selling point, which is not the case with BernieCare). Third, the whole "PayGo" discussion, by design, is a recipe for setting winners and losers against each other from the start, which isn't a recipe for passing the bill. Fourth, as MMTers know, the political class doesn't understand how taxes work anyhow. If straightening them out is prerequisite for passing the bill, we'll never get anywhere. Fifth, this is an objection that can't possibly be made in good faith: Every other industrial nation has been able to afford universal health care, and several have adopted the single payer approach; last I checked, Canada hasn't collapsed from fiscal exhaustion induced by funding its Medicare program. So we can do it. Let the detail people figure out how.
In summary, I think it makes very good sense to take an approach programmers call "separation of concerns"; separate what the bill can do (save hundreds of billions of dollars and thousands of lives) from how to pay for it (a Beltway discourse that has any number of pathologies). And if there are any wonks out there who operate in good faith, they'll be getting on the BernieCare train by proposing funding mechanisms themselves, instead of whinging that Sanders didn't pick one.
Conclusion
In summary, BernieCare could be said to be aspirational; after all (even though a reasonable number of Republican voters support Medicare for All, too) the bill won't pass this year or even next year. But I'm amazed and happy to see that single payer is finally "on the table" in the Senate, after Obama and the career "progressives" successfully kept it off the table in 2009. For the next few months, at least, that's victory enough. In my next post, I'll take a more detailed look at BernieCare as policy.
NOTES
[1] As Ian Welsh wrote: "The left must be seen to repudiate Obama, and they must be seen to take him down. If the left does not do this, left wing politics and policies will be discredited with Obama." That didn't happen with Obama. It did happen with Clinton.
[2] Of course, there's always the scenario where the Democrat establishment, having hazed over the distinction between Medicare for All and "universal health care," conclude with a sigh that BernieCare is such a "heavy lift" they can't pass it , and "reluctantly" go with some horrid bipartisan compromise, hoping to kick the can down the road for another eight years like Obama successfully did. But politics ain't beanbag! If the left has real power, betrayals will be seen as punishable, even by opportunists. (In retrospect, it was good that the left roughed Booker up on his pro-Big Pharma vote on drug importation.)