Since June 30th 2016, UK companies have been required to identify the people who control them ("Persons of Significant Control", "PSCs"), by submitting filings to the public PSC register at Companies House. This year the scheme was modified to ensure that the information stays as fresh as possible: any time the PSC changes, companies must submit a new filing, within two weeks. Belatedly, the scandal-ridden Scottish Limited Partnerships were also added to the scheme.
The Big Idea of the PSC register is to improve trust and transparency: hidden control of UK companies facilitates illegal activities.
The Big Problem of the PSC register is that if you can't trust what's on the register to begin with, you can't particularly trust the PSC statement, either. Let us illustrate the point, as verbosely as possible.
This week's giant British black money scandal is a $3Bn Azerbaijaini moneylaundering and corruption scheme flushed out by the OCCRP. It was based on just four UK business entities: Hilux Services and Polux Management, based at two Glasgow mailboxes; south of the border we have Metastar Invest, based at a mailbox in Birmingham, and LCM Alliance, at a mailbox in Hertfordshire. None of these entities has an identifiable, readily traceable, accountable person in its public records. A fellow with a Latvian-looking name has signed off some bogus accounts for one of them. Each partnership shares its address with hundreds of other equally opaque entities.
The two English addresses already have some pretty significant form as hangouts for dodgy companies. Nomirex Trading Limited, at the Birmingham address, surfaced as early as 2011 as part of another giant money laundering scheme:
Nomirex is part of an international money laundering platform identified by the Organized Crime and Corruption Reporting Project (OCCRP) and used by several major criminals.

The Hermitage Capital case caused an international furore after Hermitage's lawyer Sergei Magnitsky was allegedly tortured to death by Russian authorities after he named high ranking members of the tax authorities in the scam.

In all, US$365 million passed through the Nomirex bank account, according to account statements obtained by OCCRP. Most of the money is unaccounted for and comes from phantom shell companies or even Asian criminal groups.

…

An ongoing case in a Romanian court points to Nomirex's connections to an Asian group indicted for laundering more than €600 million (US$800 million) and for organized crime activities in Romania.

Romanian prosecutors seized computers belonging to the group and found out that the financial organizer of the group, a Vietnamese citizen by the name Ngo Trong Tu, wired money to the same Nomirex bank account in Trasta Komercbanka, Riga, Latvia.
The Hertfordshire address has a more recent claim to fame. Deutsche Bank's $10Bn money laundering blooper, for which it was fined a total of $630Mn by US and UK regulators in January 2017, involved two more anonymous Hertfordshire partnerships, Chadborg Trade LLP and ErgoInvest LLP. Ed Caesar at the New Yorker has the story.
Both the partnerships were dissolved early in 2017 by compulsory strikeoff. As far as one can tell, that was the extent of the enforcement action taken by UK authorities. They seem to have acted because neither partnership had filed its bogus accounts by the due date, rather than out of any concern about multibillion dollar moneylaundering. Apparently there is no official desire to pursue the miscreant Designated Members of the partnerships, which is a pity, because each Designated Member currently fronts another hundred-odd equally dubious UK partnerships. Disqualifying the Members would have inconvenienced whoever it is who keeps registering these things. That would have been a little more than a routine wrist slap for a missed filing deadline, but then, $10Bn of money laundering is a bigger deal than a missed filing deadline, except as far as Companies House is concerned.
The wrist slap certainly had little effect. The eclipse of Ergoinvest LLP was brief. Dissolved on 21st February 2017, it was reborn on 29th June 2017, as Ergoinvest LP of Glasgow. I'd conjecture that there's an Ergoinvest bank account somewhere on the planet, or shell companies directed by Ergoinvest, and the easiest way to regain access is to whistle up a clone company just a single plausible mistyped character away from the defunct original.
To go with the reduced quota of letter "L"s in the partnership name, there are a couple of other minor differences.
The old Ergoinvest had Designated Members, Kenmark Inc and Ostberg Ltd, that are anonymous companies registered in the Commonwealth of Dominica and have controlled, at one time or another, hundreds of other entities in the UK and Panama. The new Ergoinvest, in Glasgow, has Partners, Dexberg Inc and Montbridge Inc that are anonymous companies registered in the Marshall Islands and control hundreds of other UK entities. Those include 150 Glasgow-based Scottish Limited Partnerships recently registered at two addresses to remember: Office 1, 145 Kilmarnock Road, Glasgow, G41 3JA, home of 600+ shell companies all told, mostly created since 2014, and Suite 1, 103 Byres Road, Glasgow, G11 5HW, where another 169 Scottish Limited Partnerships have been created in a flurry of activity since April 2017.
Closing the loop, Dexberg and Montbridge are also Designated Members of an LLP registered at the very same Hertfordshire mailbox that was the home of the original Ergoinvest.
Thus, between 21st February 2017 and 29th June 2017, we have got right back to where we started; except with another 769 unexploded Scottish Limited Partnerships to worry about, and no formal record of the person creating them, because that is not a required registration particular in the UK. The UK Company register doesn't publish the name of formation agents on its filings, nor even record them systematically.
Hats off to the sleaze-ridden Panamanian register, then, which identifies the formation agent behind the Dexberg entities, INTERNATIONAL OVERSEAS SERVICES (PANAMA). Its eminence grise, Philip Burwell, is not based in Panama, but in Ireland. He gets a writeup here in 2013, but the list of his clients' exploits has continued to lengthen. Here I am, this time last year, trying to get my arms around the whole story, and failing. Amid the blogger verbiage, note the multiple successive incarnations of the Burwell master company, Ireland and Overseas Acquisitions Ltd, in three different jurisdictions: just like Ergoinvest LLP and Ergoinvest LP.
Another little difference that makes no difference: the original Ergoinvest never got around to divulging its Person of Significant Control, but the regime has got a little bit stiffer this year. Accordingly, the new Ergoinvest has been obliged to make a PSC statement, and this is what it says:
How obliging of Companies House to provide a little box which you can mark with an x if you wish to make no PSC disclosure whatsoever! How obliging of the legislators to leave such a loophole!
Can we trust this declaration? Here's who made it, a Mr Squiggle, who claims, unverifiably, to represent Dexberg, a company in a secrecy jurisdiction, the Marshall Islands; in turn, that Marshall Islands company, if it exists at all, is most likely fronted by nominees in yet another jurisdiction: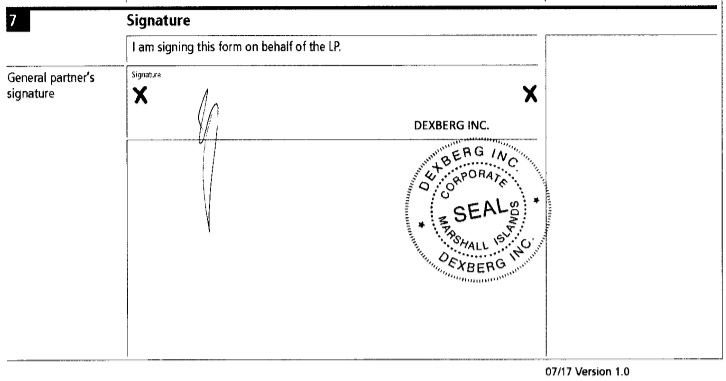 Mr Squiggle's been a fairly busy boy. 6 more Dexberg SLPs hand out the "no registrable person" brush-off, as above; 38 play for time, like this: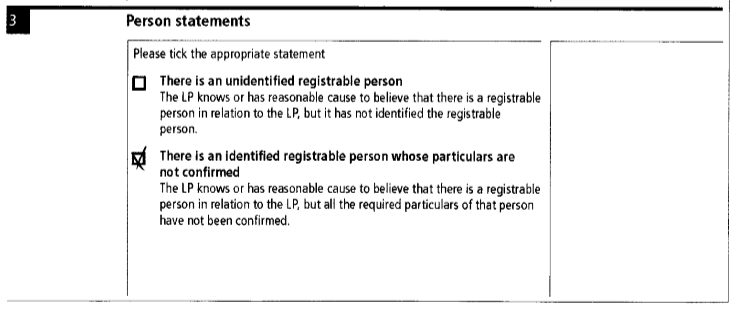 26 more Dexberg SLPs haven't responded at all, and have now missed the filing deadline. Ignoring the practicalities of recovering fines from anonymous Marshall Island companies, these SLPs would be suitable subjects for investigation and potential prosecution, if Companies House only had the manpower and data to follow up. But Companies House already has its hands full with 90-100,000 Companies and LLPs that haven't made timely PSC filings. It might be a while before they get to the SLPs.
Mr Squiggle has at least volunteered the names of individuals resident in Poland, China, Romania, Russia, Belarus, Ukraine, Slovakia, Uzbekistan, Kazakhstan and Azerbaijan as PSCs for 21 of the Dexberg SLPs. As to whether any of them even know they are UK PSCs, or even, whether any of them exists at all, one would have to do rather a lot of investigation to find out. Trust, much?
Two other Dexberg-related PSC filings are a bit more illuminating, if not about the people controlling the SLPs, then at least about the extent of Mr Burwell's current shell company empire in the UK and the eyepoppingly slapdash verification policies of Companies House.
The first concerns Fortline Industrial L.P., of Office 1 145 Kilmarnock Road, Glasgow, Scotland, G41 3JA. Fortline Industrial's General Partner is our Dexberg Inc of the Marshall Islands: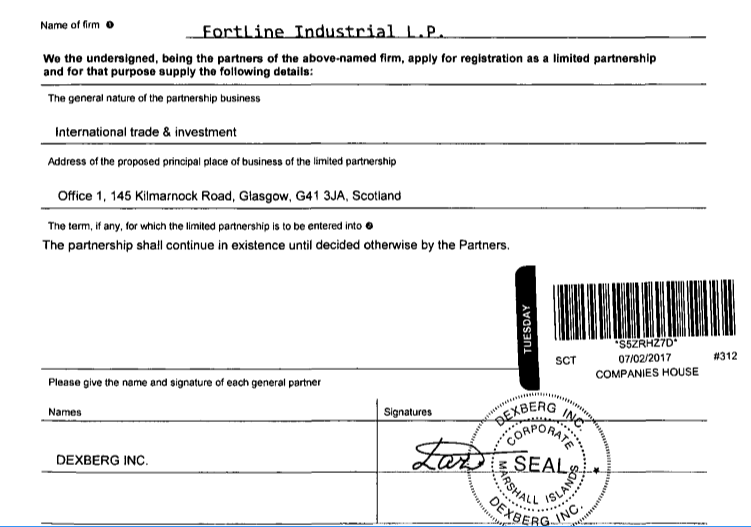 Fortline Industrial's PSC statement was submitted on the 26th August 2017 by a different member of the Squiggle dynasty:

And if you are really paying attention, you will have already noticed that this Dexberg Inc isn't the Marshall Islands Dexberg Inc that I've been wittering on about, that is Fortline Industrial LP's registered General Partner, but quite another Dexberg Inc, in Dominica, altogether a different part of the planet.
So: what business does Dexberg Inc of Dominica have, making statements about the PSC of Fortline Industrial, whose General Partner is Dexberg Inc of the Marshall islands?
We have another Doppelgänger company, like the two Ergoinvests and the three Ireland and Overseas Acquisitions clones. Fair makes the head spin, doesn't it? That's probably the point…or maybe the Second Mr Squiggle just forgot which line he was meant to be pushing when he made that PSC statement, or the wrong Mr Squiggle was detailed off by Central Control, wherever that is, and stuck to the wrong script.
Whichever, it's not at all obvious why Companies House thought the Dominica Dexberg Inc was in any way authorised to make PSC statements for Fortline Industrial's LP, whose General Partner is the Marshall Islands Dexberg Inc. Can anyone rock up to Companies House with a piece of paper and say anything they like about any old company? I have a horrible feeling the answer must be, more or less, "yes".
Fortline Industrial's PSC is another SLP, Fortshield Inter L.P., which shares its address at 1/2 35 Taits Lane, Dundee, Scotland, DD2 1DZ with another 700 anonymous SLPs. You can add them to the Burwell list.
The dodgy PSC statement isn't even informative. Whoever controls Fortshield Inter LP of Dundee indirectly controls Fortline Industrial LP of Glasgow, right? Oh dear: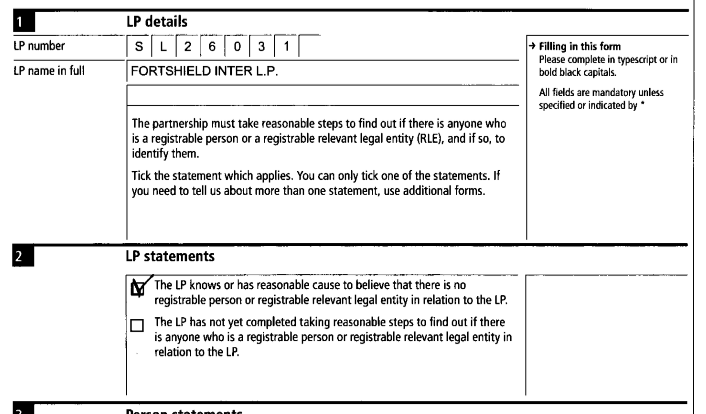 So now there are two LPs doing the PSC bait and switch, and two Dexberg Incs claiming to know what's going on. What nonsense all this is.
Finally there is Dexberg Inc's Astronet Trade L.P. This time a Third Mr Squiggle has avoided the vexed question of which jurisdiction the registering Dexberg is located in, by not stating a jurisdiction at all. This Dexberg could be anywhere. The filer of the PSC statement has plumped for Dominica, and does appear to be the Second Mr Squiggle again, albeit with a racier, more angled squiggle. Once again Companies House has accepted his claim without demur, and once again without evidence that he's speaking for the right Dexberg. They were never told which was the right Dexberg, but registered it anyway.
Astronet's Person of Significant Control is a UK Limited Company, Wallingford Projects Ltd, based in Farringdon, London, whose sole flesh-and-blood director is a South Korean, Youngsam Kim, who directs 486 other UK companies: a good old-fashioned stooge director, in other words. To no-one's great surprise, Wallingford Projects Ltd "knows or has reasonable cause to believe that there is no registrable person or registrable relevant legal entity in relation to the company". Wallingford Projects is the PSC of 4 other SLPs, and 11 LLPs based at three North London addresses that host hundreds more anonymous LPs and LLPs:
Suite B, 11 Churchill Court, 58 Station Road, North Harrow, Middlesex HA2 7SA (example)

Unit 5 Olympia Industrial Estate, Coburg Road, London, N22 6TZ (example)

175 Darkes Lane, Suite B, 2nd Floor, Potters Bar Hertfordshire, EN6 1BW (example)
The last of these addresses is of course the former home of Ergoinvest LLP, Deutsche Bank's moneylaundering nemesis. Such is the Burwell Experience: we are back to square one yet again, except with yet another thousand-plus dodgy firms in tow. Where are we now, around 2,500 of them? There will be more.
The PSC scheme, I venture to suggest, does not and cannot get us very far towards transparency and trust, all by itself. As it currently stands, and as illustrated above "in the wild", there are at least three perfectly legal ways to thwart its intentions:
Deny that there is a PSC
Put forward, as PSC, a UK LLP or SLP that has no PSC
Put forward, as PSC, a UK Limited Company, with an offshore stooge director, that has no PSC.
Eliminating the 25% threshold below which "Control" is not "Significant" would be a start: that's the basic loophole exploited by these three wheezes. But the idea that the intrinsically untrustworthy Companies House register could be made trustworthy by requesting another type of filing was never going to work. It's just a glorified honesty box at the moment: the dishonest will have their wicked way with it.
A less unpromising but arduous strategy might be to require submitters of company filings to provide identity evidence that would stand up in a court of law. Then there would at least be the vague threat of accountability, even if actual enforcement remained as nonexistent as it is now. Back in the era of UK-local business and wet-ink signed forms, with careful handwritten printed letters decoding the squiggle and providing a UK address, that level of accountability was taken for granted. In the globalised digital era, it is suddenly much more difficult to attain.
As for the multiple Dexbergs, well…one to remember, eh, Companies House?