By Jerri-Lynn Scofield, who has worked as a securities lawyer and a derivatives trader. She now spends much of her time in Asia and is currently working on a book about textile artisans.
With the magnitude of the damage from Hurricane Harvey becoming increasingly clear, I wasn't altogether surprised to see this message from the New York Yankees pop into my in-box the other day.
The New York Yankees and Boston Red Sox today announced that they will partner to raise money for Hurricane Harvey relief by auctioning off various items of autographed team memorabilia from tonight's matchup at Yankee Stadium. All of the proceeds raised through this joint initiative will go to support hurricane relief efforts.
While I believe that disaster relief is certainly a core government function, I'm by no means opposed to raising private funds to support the storm's victims. Yet there were a number of things that bothered me about this solicitation.
Before I discuss those, allow me to reproduce the rest of the message:
"The effects of this crisis have been felt across the country, including in our own clubhouse where the hearts of many of our players have been with their family and friends who call Texas home," said Red Sox Chairman Tom Werner. "Tonight, we put our rivalry aside and team up with the Yankees to bring support, attention, and funds to help relief efforts in the aftermath of this tragedy."

"In difficult times such as this, we stand united with our traditional rival in helping those affected by the hurricane," said Yankees Managing General Partner Hal Steinbrenner. "We hope that fans are inspired to support the hurricane rescue and recovery efforts in whatever way they can."

Yankees items, including game-used jerseys from all players and coaches from tonight's game vs. Boston will be available to be bid upon at www.steinersports.com/harvey. Additional items at the website will include a non-game-used home plate signed by the entire Yankees team, along with non-game-used autographed caps from every Yankees player and coach.

Red Sox items, including game-used jerseys from all players and coaches from tonight's game at Yankee Stadium, will be available to be bid upon at www.redsox.com/harvey. Additional items at the website will include a non-game-used home plate signed by the entire Red Sox team, along with non-game-used autographed caps from every Red Sox player and coach.

Both websites are currently live and accepting bids.

Prior to tonight's game, there will be a pregame home plate ceremony with Yankees Manager Joe Girardi and Red Sox Manager John Farrell to kickoff the fundraising efforts.
What Happens to the Funds?
Let me outline some of my objections here. First, the message is noticeably short on details of what happens to the proceeds to be raised by these auctions. The Yankees' email message says, "All of the proceeds raised through this joint initiative will go to support hurricane relief efforts." But before forking over a donation, it's not unreasonable to ask for some more details on exactly what hurricane relief efforts will get the support, and who will administer them.
Looking closely at the website, Steinersports.com/harvey, for sale of the Yankees memorabilia, I've been unable to garner any more information on where the proceeds of the auction will go. The website seems to be a third party website that the Yankees allow to handle the sale of their memorabilia, as I've learned by clicking on About Steiner Sports:
Started by Brandon Steiner in 1987 with $4,000, a Mac computer and an intern, Steiner Sports is now the largest company of its kind in America. The company specializes in helping companies use the power of sports to grow their business and has spent over 25 years building relationships with more than 2,000 athletes, national relationships with the major sports leagues and partnerships with the best teams in sports. These relationships are the foundation for the unique sports experiences they provide. Steiner Sports is also the leading producer of authentic hand-signed collectibles. Steiner Sports is part of the Omnicom Group (NYSE: OMC)
The Red Sox site, by contrast, appears by name, www.redsox.com/harvey to be controlled by the Red Sox themselves. At no place on that website did I find text that discussed where the auction proceeds will go. But unlike the Yankee auction site– which includes a photo of each item for sale– individual items are not pictured on the Red Sox site, which instead includes this graphic for each item instead: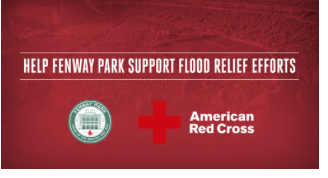 From this graphic, it appears that the American Red Cross will be disbursing the funds raised though the auction on the Red Sox site. I have no idea what the Yankees will do. But I should mention in passing that the American Red Cross has had a poor track record in dealing with some natural disasters– such as Hurricane Sandy– as Yves discussed further here— and also has a tendency to take advantage of disasters to hoover up funds,
How About Direct Donations from the Sox, the Yanks, Their Players?
The Yankees and Red Sox baseball teams make vast sums of money.  Many of their players earn large salaries too. I'm amazed that neither organisation initially stepped up to the plate and committed to any outright donation of funds. Instead, the responsibility for contributing was passed onto the fans of each team.
This wasn't exactly an original thought, as HaliNS commented on the Yankees.com site under the headline Rivals come together to help Harvey victims:
Are we supposed to congratulate them for donating some sweaty jerseys? I get that they are worth money (to some people) but you think the teams could at least match the money the memorabilia brings in.
The whole effort seems to me to be phoned-in, not thought through– including the solemn flag  ceremony that Yankee manager Joe Girardi and Red Sox manager John Farrell participated in. I include a link to the video. Apologies for my not being able to figure out how to embed the video, but it's worth clicking on the link, as the ceremony was conducted with an upside-down Texas flag. Oops! (For which some commentators– particularly those from Texas– justifiably took exception.)
I think I must not have been the only one muttering about the inadequacy of the direct team response and that of its players, as just before I was scheduled to publish this post, the Yankees released the following press release, Yankees contribute to hurricane relief efforts in Yankees contribute to hurricane relief efforts:
The New York Yankees today announced that the organization will donate $100,000 to support the relief efforts associated with Hurricane Harvey with $50,000 going to the Red Cross and $50,000 to the Salvation Army.

Additionally, the entire Yankees Major League roster has pledged to collectively donate $9,000 after every win for the remainder of the regular season.

"It is vital that we maintain our efforts to support the countless people and communities impacted by Hurricane Harvey," said General Partner / Vice Chairperson Jennifer Steinbrenner Swindal. "Our thoughts and prayers continue to be with all those affected by this terrible storm."

"Hurricane Harvey was a devastating storm that has affected so many lives across Texas and Louisiana," said Chase Headley. "It's been inspiring to see the overwhelming number of people who have made a positive impact in that region as it begins its long recovery, and we wanted to play a small part in that process."
Markets, Markets, Markets
Does everything now have to pass through a market? I get it that auctions might maximize the amount of revenue one can get for a bunch of sweaty jerseys, some caps, and home plates, but still, I repeat, must every endeavor now begin and end with markets?
At the time of writing, there are still more than 5 days left to run in what will be a one-week auction. So it's a fool's game to predict how much money may be raised by hawking memorabilia. Yet I wonder whether even if the teams chose to offload the bulk of their support for relief onto fans rather than ponying up big sums themselves, if more money would have been raised by direct solicitation– say by encouraging every fan who shows up at games through the end of the season to contribute to hurricane relief.
Why rest all on the memorabilia market?  This embeds two terrible ideas. First, that one should get something for making a charitable contribution. And second, only those who win the auction need contribute to the cause. Even if the teams genuinely believe a memorabilia auction is the best means to raise substantial sums of money, it's only one potential way of raising funds for hurricane relief. How about a a broader effort to encourage people to make contributions, whether or not they choose to bid on memorabilia? One that would include more members of the community, for example?
It wasn't all that long ago, IIRC, when after 9/11, both New York baseball teams, the Yankees and the Mets, made substantial donations to relief funds, and some members of the New York teams– Paul O'Neill, Derek Jeter, Mike Piazza, spent significant time with families of victims and with first responders– as Rudolph Giuliani recalled in an interview with MLB.com on the impact of 9/11.
Transaction Costs
Look, let me come out and admit here that I'm a third generation Yankee fan.  We Scofields take our Yankees very seriously indeed.  If you were ever to have met my Brooklyn-born Grandpa Scofield in the last couple of decades of his nearly 95-year life, he would almost certainly have shared with you some of the highlights of that life, e.g., he kept his job and worked throughout the Depression, he sailed through the Panama Canal, he survived being on a cruise ship that sank. Top of that list, however, was always that he saw Babe Ruth play. And a treasured piece of family memorabilia is a Babe Ruth autograph inscribed to my Uncle Don.
Yet in checking the websites for the progress of these auctions for Hurricane Harvey relief, I confess I'm amazed at the amount of money people are willing to pay for sweaty baseball jerseys.
The cynic in me is also alive to the transaction costs that might be folded into this ostensibly charitable endeavor, and I wondered whether anyone was going to make a buck or two off of the memorabilia sales. So I nosed around a bit and looked at the fine print.
Looks like the Red Sox are fairly clean on that score. Take this representative headline describing one item for sale– e.g., Red Sox Foundation Hurricane Harvey Relief – Blaine Boyer Game-Used and Autographed Jersey– which specifies to what purpose the proceeds will be directed. When one clicks onto Auction Details, there's no mention of Hurricane Harvey, but a charity, the Red Sox Foundation– which seems to promote education, and youth sports– is named.  I think failing to mention hurricane relief is just an oversight; it's clear that these bids are destined for charity. There's no mention of any buyer's premium associated with a bid on any of the Harvey memorabilia, although how shipping costs, and sales tax, will be assessed, is clearly spelled out.
Sad to say, not so, apparently, on the Steinersports.com/harvey. When I clicked on the Auction Rules link above NY Yankees Hurricane Harv, this is part of what I see:
BUYER'S PREMIUM:
Bid prices are also referred to as hammer prices. A Buyers premium is added to the hammer price. The buyers premium for the Auction is 20% if payment is made by bank certified check, cashiers check or wire transfer within 7 days of date of invoice. The buyers premium for the auction is 22.5% or $10, whichever is greater if paid by credit card. All bidders must pay buyer's premiums, no exceptions. For example if the winning bid is $40 the actual total is $50.
Say it ain't so! Taking a buyer's premium on a charitable bid? Shame on them. Yes, I understand this is a third-party website. But I think, at minimum, the Yanks should have covered these auctioneer fees– or shamed Steiner into donating their buyer's premium to the hurricane relief cause– in addition to donating the sweaty jerseys and handful of home plates.
Perhaps I've got it wrong here, but the language above is what one sees when one clicks on the Auction Rules link, and if there's an exception here, it's not apparent in the plain text, which instead asserts: "All bidders must pay buyer's premiums, no exceptions."
Goosing the Memorabilia Market
One other thing bothers me about channelling charity through this market mechanism. Auctioning memorabilia increases demand, and perhaps price, for these goods. So that I would think that the teams ultimately benefit from a more buoyant memorabilia market by promoting auctions such as these.
As a consequence, not only do I think the teams should themselves make generous direct donations, but if they want to promote a memorabilia auction as a way of raising funds for hurricane relief, they themselves should donate further direct funds in recognition that this auction also somewhat gooses the price of their memorabilia.
Bottom Line
Relying on an auction to raise funds for hurricane relief moves charity away from being a response to a need, and instead turns it into the pursuit of a benefit, which must be mediated through a market mechanism. You donate not so much to give to those in need, but at least in part, to get something for yourself. What about the welfare of the community?  Am I the only one so bothered? Perhaps the infection of market-based thinking has proceeded so far that not  many others will share my disquiet with this fundraising scheme – nor notice the sleight of hand by which the teams sought to shift the fundraising burden away from themselves, and onto their fans, while taking credit for their generosity.