Polly Want a Xanax? Neurotic Parrots Can Drive Their Owners Crazy WSJ
Ancient footprints in Crete challenge theory of human evolution – but what actually made them? The Conversation
Ravens OL John Urschel Retires After CTE Study, Continues Pursuit of MIT Ph.D. Bleacher Report (Chuck L)
Alibaba launches 'smile to pay' facial recognition system at KFC in China CNBC. Creepy.
Sunk by a Tsunami, Underwater Archaeologists Finally Find the Ruins of the Roman City Neapolis Ancient Origins (The Rev Kev)
Gideon Levy calls out Israel's fundamental, racist religion: Zionism Mondoweiss. Chuck L: "Curious (or maybe encouraging?) that such an op ed appeared in Haaretz."
While NV Energy decries rooftop solar "cost shift", it is over-profiting from its customers by tens of millions Energy And Policy Institute (Micael)
Who is Actually Harmed by Predatory Publishers? Triple C (Micael)
Experiment reveals evidence for a previously unseen behaviour of light Clipboard (David L)
Kenya to hold fresh presidential election on October 17 Al Jazeera
Brexit
India
Narendra Modi pushes for early creation of a Brics rating agency to counter western institutions Scroll.in

Demonetisation is a Clear Case of How Public Policy Should Not be Made The Wire

After the floods, the threat of leptospirosis and other infections looms large in this Mumbai slum Scroll.in

If Anything, Demonetisation Slowed the Rate of Increase in Income Tax Base The Wire
China
Man jailed for selling VPNs to evade China's 'Great Firewall' SCMP

The Rohingya Of Myanmar – Pawns In An Anglo-Chinese Proxy War Fought By Saudi Jihadists Moon of Alabama

What is an ICO, and why is China's central bank banning it? SCMP
New Cold War
US crassness in Russia spat goes back to Snowden humiliation Asia Times
Democrats in Disarray
Sanders single-payer bill poses dilemma for 2020 Dem hopefuls The Hill

Bernie Sanders: Labor Day Is a Reminder That We Can Win Fights That Seem Impossible AlterNet

Democrats Put Eric Holder, Best Friend of Wall Street Banks, in Charge of Winning Back Main Street America AlterNet
Trump Transition
Economics in Wonderland Real-World Economics Review Blog (Micael)

Pessimism abounds on Trump tax reform effort The Hill

Schwarzenegger's bipartisan next political act: Terminating gerrymandering  San Fran Chronicle. Hmm. Headline includes two standard tells for bullshit: "bipartisan", and a celebrity endorsement. I don't share the article's optimism that the last action hero will sort the situation.

Sessions to make DACA announcement Tuesday The Hill

How big business is trying to convince Congress to save the 'Dreamers' from Trump WaPo

Report: Obama Ready To "Speak Out" If Trump Cancels DACA Hot Air

From Cicero to Trump, They're All in Plutarch's 'Lives' WSJ

Internet Censorship Bill Would Spell Disaster for Speech and Innovation Electronic Frontier Foundation (Chuck L)

Summer employers hired American amid Trump visa squeeze Politico. The deck: What happens when guest-worker visas run out? The lead: "President Donald Trump's harsh criticism of immigration programs and Congress' refusal to lift a cap on work visas meant many seasonal businesses had to hire American this summer — and pay their workers more."

Latest Nafta Talks Near End Without Major Breakthroughs Bloomberg
Class Warfare
Threat Increasing for Cuba, Florida from Intensifying Irma Weather Underground
Hurricane Harvey
Kill Me Now
Hillary Clinton promoted a news website 'for the 65.8 million' — here's what its founder says it's all about Business Insider. That picture is scary.
Starbucks Opening in Turkmenistan is Fake News Eurasianet. Micael: "A country without Starbucks is a good thing." Moi:  The one and only time I was in Turkmenistan– summer 2008– I was really impressed by the local markets, especially those of Turkmenbashi and Ashgabat. Amazing smoked fish– various types of sturgeon– and soft fruits– luscious cherries, apricots, peaches, plums. I ate very well from those markets.
Last thing they need IMHO is processed food and  Western franchises.
10 THINGS MOST AMERICANS DON'T KNOW ABOUT AMERICA Mark Manson (martha r)
Grenfell Tower Inferno Aftermath
Architects must take back power after Grenfell, says new Riba chief Guardian
North Korea
Guillotine Watch
Build-a-Bunker: the bespoke nuclear burrows on offer for the wealthy New Statesman
Antidote du jour.
One of my favorite birds, the magnificent frigate bird, in a rare close-up. Usually, birders are lucky to see this bird soaring high overhead. Magnificent indeed!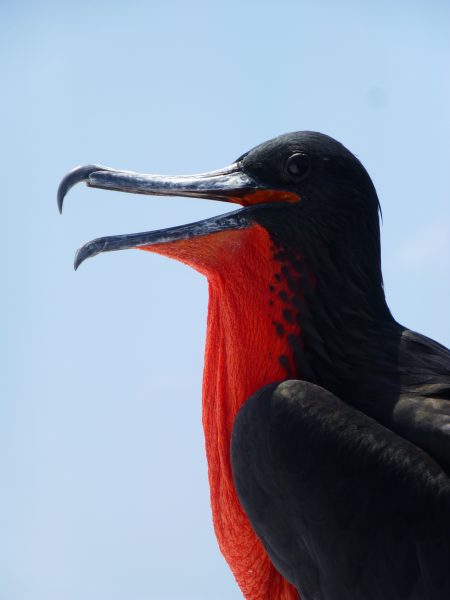 See yesterday's Links and Antidote du Jour here.