This is Naked Capitalism fundraising week. 360 donors have already invested in our efforts to combat corruption and predatory conduct, particularly in the financial realm. Please join us and participate via our donation page, which shows how to give via check, credit card, debit card, or PayPal. Read about why we're doing this fundraiser, what we've accomplished in the last year and our current goal, more meetups and travel. 
By Lambert Strether of Corrente
Readers, I was slow finishing the post on Puerto Rico, so I'm going to put News of the Wired up, and then be back with more in a bit. In the meantime, talk amongst yourselves! –lambert. UPDATE 3:26PM. Moar.
Trade
"This year is the fifth anniversary of Russia joining the world trade body. The U.S. has not brought a case against Russia at the WTO, despite trade and diplomatic friction stemming from Moscow's annexation of Crimea and other interventions in Ukraine" [Politico]. Hint, hint.
Politics
2018
"Democrats, Please Get Ready to Lose" [Frank Bruni, New York Times]. I can't imagine better sourcing on how the Democrats can win back the House in 2018 than Howard Wolfson and Hillary Rosen.

"Democrats [which ones?] have long been terrified that the Sanders-Clinton slugfest of 2016 would set off a prolonged civil war in the party, forcing incumbents to fight off primary challengers from the left in Senate and gubernatorial races. It hasn't happened" [Politico]. "Democrats have escaped the brunt of their own party's populist fury largely because they're heading into the midterms in a defensive crouch, with 10 of their incumbent senators on the ballot in states that voted for Donald Trump. So instead of going after their own senators, progressive activists are focused on gaining Republican-held seats in the House."
2016 Post Mortem
"Last November, while most of the country was either cheering Donald Trump's presidential win or making an appointment with their therapist about how to cope with the results, New Englanders in four out of the region's six "blue" states — Vermont, New Hampshire, Massachusetts and Maine — woke up the next morning with four Republican governors" [Politico].
New Cold War
Outside agitators:

CNN suggests "Russian-bought Facebook ad" is responsible for Ferguson and Baltimore uprisings, not centuries of racism and police brutality pic.twitter.com/F8zvkyw8DK

— Ajit (@aparajito_) September 28, 2017
Trump Transition
"Promise the moon, deliver tax cuts for the wealthy" [Los Angeles Times]. "It didn't take long to find the most obvious losers: taxpayers in high-tax states like California, New York, New Jersey and Illinois, who would lose the deduction for state and local taxes. All those states went for Hillary Clinton in the 2016 election, making them easy targets for the Trump administration. But it turns out high-tax states have Republican members in Congress too — many of them from affluent districts where people pay, and deduct, income and property tax bills."

"White House press secretary Sarah Huckabee Sanders says the day after the deadliest mass shooting in the nation's history is not the time to renew a debate over gun control" [AP News]. "Sanders was asked Monday during the press briefing that there is a "time and place" for a debate but that is 'not the place we're in at this moment'"
Health Care
Realignment and Legitimacy
"If America's democratic socialists learned anything from watching Bernie Sanders' deep run in the Democratic primary last year, it's that they don't have to be losers anymore" [Politico]. "They want to win. And to do it, socialists are dispensing with their penchant for symbolic protest votes and their principled disdain for an electoral process they believe can't deliver meaningful change. Sanders' ability to run well in primaries across the country, say new DSA members, proved that democratic socialism isn't destined for the kind of third-party tokenism that bedevils the Green Party and World Workers Party, among others. And it has opened their minds to an electoral strategy that was until very recently considered heretical. 'The only viable electoral strategy is to work with the Democratic Party,' says Michael Kazin, the editor of leftist magazine Dissent. 'There is no viable third party.'" I don't think a lot of those new DSA members read Dissent, though.

"The GOP's rabid faction" [The Week]. "On one side are those like McConnell, who uphold Zombie Reaganism, applying to every area of domestic and foreign policy precisely the same ideological formula that has guided the party for the past 37 years. On the other side are the revolutionaries (Bannon has described himself as a 'Leninist,' and the term is apt) who have turned Reaganite skepticism of big government against the institutional Republican Party itself." I wonder if matters are that binary. I'm having a hard time throwing The American Conservative into either the Zombie Reagan bucket, or the Leninist bucket.

"'A white girl had to die for people to pay attention': Heather Heyer's mother on hate in the US" [Guardian]. The article is much better than the headline.

"America might see a new constitutional convention in a few years" [The Economist]. " There are now 27 states in which the legislatures have passed resolutions calling for a convention that would propose a balanced-budget amendment. The two-thirds-of-the-states threshold for calling a convention is 34. And, as it happens, there are seven states which have not yet called for a convention to propose a balanced-budget amendment, but in which Republicans control both houses of the legislature. The earliest all seven could plausibly make the call is 2019, because Montana's legislature is not in session again until then."
Stats Watch
Institute for Supply Management Manufacturing Index, September 2017: "[A]lready running well beyond strength in factory data out of Washington, is accelerating even further" [Econintersect]. "Hurricane effects are evident in input prices, rising 9.5 points to 71.5 and confirming similar strength in this morning's PMI manufacturing report. This is another 6-1/2 year high as are backlog orders which are likely piling up in part due to the delivery delays. Inventory data are stable…. It's important to remember that reports like the ISM are, in contrast to government data, based and all responses are voluntary." And but: "Overall, surveys do not have a high correlation to the movement of industrial production (manufacturing) since the Great Recession" [Econintersect].
Purchasing Managers' Manufacturing Index, September 2017: "The PMI manufacturing report continues to report no more than moderate conditions, much more in line with trends in national data out of Washington than other private and regional reports that have been reporting extremely strong conditions" [Econintersect]. "Hurricane effects are hard to find in the data except for input costs which accelerated sharply to the fastest rate in nearly 5 years. These prices are being passed through to selling prices but only to a limited extent. Another hurricane effect may be delivery delays which slowed the most since February last year."
Construction Spending, August 2017: "The construction spending report is often volatile and today's results are an example. The headline is up a solid 0.5 percent in August but July's decline, initially at 0.6 percent, has been downgraded sharply to minus 1.2 percent" [Econintersect]. "Public building has been weak all year though educational building did rise 3.5 percent yet is still down 2.8 percent from a year ago. Federal spending fell 4.7 percent in the month for an 8.3 percent decline. Overall construction spending shows only a 2.5 percent year-on-year rise despite a very favorable 11.6 percent increase in residential construction. Yet residential starts and permits have been uneven pointing to the risk of slowing in the months ahead." "Public building…" Too bad Trump's not going to deliver on infrastructure…. And: "This was above the consensus forecast of a 0.3% increase for August, and spending for previous months were revised up slightly. A solid report" [Calculated Risk]. But: "The headlines say construction spending was up and near expectations. Our view is that this does not factor in inflation" [Econintersect]. "The rolling averages declined."
The Bezzle: "Want your company's stock to climb? Consider mentioning "bitcoin" in the press release" [Bloomberg]. "In the late 90s all it took was a dot-com in the name, back in the 60s 'tronics' was good enough to double a share price. In 2017, the moniker sure to stoke investors' appetite is any variation of 'digital currency.'… Betting that cryptocurrencies will ultimately revolutionize the world just as electronics and the internet did, investors are now casting a wide net to try to find the next Amazon.com — with perhaps not enough scrutiny to avoid this era's Pets.com."
The Bezzle: "After initially filing a formal complaint with the Federal Trade Commission ("FTC") in August 2016, which focused exclusively on the Kardashian/Jenners' consistent failure to observe federal labeling requirements in connection with paid-for social media posts, Truth in Advertising Inc. ("TINA") has yet again called foul on America's most famous reality television family, alerting the Kardashian/Jenners' legal counsel and FTC" [The Fashion Law]. Influencers have impunity, I guess…
The Bezzle: "Mattel Gadget Listens to Babies, Setting Off Privacy Alarms" [Bloomberg]. "'The kid tech industry sees kids' bedroom as an economic bonanza,' said Jeff Chester, executive director of the Center for Digital Democracy, a Washington-based policy group that advocates for privacy protections. 'They can get all kinds of profile information — the kid likes to eat this kind of food, the kid likes to listen to this kind of music, and we'll have this kind of information that we can share with partners and advertisers.'" Cradle to grave, too. I'm putting this under The Bezzle because this practice ought to be outlawed. I hope Mattel loses a very great deal of money on it.
The Bezzle: "Amazon prides itself on its almost pathological focus on what its customers want, rather than what its competitors are doing. But its new Alexa products are clearly a response, at least in part, to new smart speaker offerings from Google and Apple. Amazon is betting that it can defend its franchise by using an old trick — aggressive pricing — and by finding ways to embed Alexa's hooks more deeply into customers' lives" [New York Times]. "Hooks." Oh.
Concentration: "Elsevier Launching Rival To Wikipedia By Extracting Scientific Definitions Automatically From Authors' Text" [TechDirt]. "It's typical of Elsevier's unbridled ambition that instead of supporting a digital commons like Wikipedia, it wants to compete with it by creating its own redundant versions of the same information, which are proprietary. Even worse, it is drawing that information from books written by academics who have given Elsevier a license — perhaps unwittingly — that allows it to do that. The fact that a commercial outfit mines what are often publicly-funded texts in this way is deeply hypocritical, since Elsevier's own policy on text and data mining forbids other companies from doing the same. It's another example of how Elsevier uses its near-monopolistic stranglehold over academic publishing for further competitive advantage. Maybe it's time anti-trust authorities around the world took a look at what is going on here."
The Fed: "So the Fed sees all this, and indicates that they are leaning to another rate hike in December, as they continue to forecast increases in inflation that, after many years of similar forecasts, have yet to materialize. And they list every reason for the low inflation indicators, except for a lack of aggregate demand (low spending), when all of the above charts support a low demand story, as does all of the other weak data released last week- personal income, housing starts and sales, etc." (charts) [Mosler Economics]. "In this 10 year chart you can see how the growth in lending suddenly slowed back in November 2016."
MMT: "New (free) epub version of 'The 7 Deadly Innocent Frauds of Economic Policy" [Warren Mosler, Google Drive].
Rapture Index: Closes up one on drought. "Drought conditions have gotten worse in the central and North U.S." [Rapture Ready]. Record High, October 10, 2016: 189. Current: 184.
Today's Fear & Greed Index: 89 Extreme Greed (previous close: 85, Extreme Greed) [CNN]. One week ago: 65 (Greed). (0 is Extreme Fear; 100 is Extreme Greed). Last updated Oct 2 at 2:33pm. Wow, that is getting Extreme. Hurricane reconstruction?
Class Warfare
"During the period of steep manufacturing losses from 1979 to 1983, industrial heartland incomes fell to 3.4 percentage points below the national average, but this disadvantage gradually declined to 0.7 percentage points by 1997. During the 2001 to 2010 period, however, the gap between the industrial heartland's income level and the income levels of the other two groupings of MSAs widened considerably, as shown in figure 5. In 2000, the industrial heartland [Metropolitan Statistical Areas] MSAs had an average per capita income that was 2.4 percentage points below the national average, but by 2007 this had ballooned to 6.8 percentage points. Relative to the other manufacturing-intensive MSAs, the industrial heartland's income level was more than 8 percentage points lower in 2007. Since 2008, small relative gains in the income levels of the industrial heartland have been realized, but the gaps between the industrial heartland and both the nation and the other manufacturing-intensive MSAs were still large in 2015: 5.7 percentage points and more than 8 percentage points, respectively" [Federal Reserve Bank of Cleveland]. Includes a map outlining "the industrial heartland."
News of the Wired
"Non-interactive proofs of proof-of-work" (PDF) [Aggelos Kiayias, Andrew Miller, and Dionysis Zindros]. This paper is not refereed, and I'm not equipped to evaluate it technically. (Skimming it, I don't think it's a parody.) If true, important, for blockchain performance gains.
Zuckerberg on identity (via):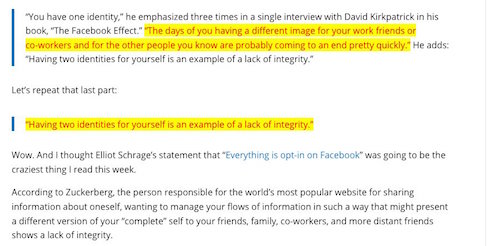 And: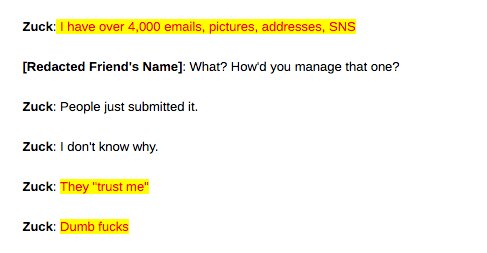 Just in case Zuckerberg ever does run for President.
"The Karl Polanyi 1940 Bennington Lecture series in one go" [Prime Economics]. For more on Polanyi, see NC here.
UPDATE "Can Neuroscientists Measure Free Will?" [Big Questions Online]. "[E]ven if we accept that [University College London neuroscientist Patrick Haggard] has discovered a genuine neural precursor to volitional action, this finding hardly commits us to a deterministic view of free will, or to the view that our conscious minds are merely spectators or troubadours of the brain's sovereign play."
* * *
Readers, feel free to contact me at lambert [UNDERSCORE] strether [DOT] corrente [AT] yahoo [DOT] com, with (a) links, and even better (b) sources I should curate regularly, (c) how to send me a check if you are allergic to PayPal, and (d) to find out how to send me images of plants. Vegetables are fine! Fungi are deemed to be honorary plants! If you want your handle to appear as a credit, please put it in the subject line. Otherwise, I will anonymize by using your initials. See the previous Water Cooler (with plant) here. Today's plant (EM):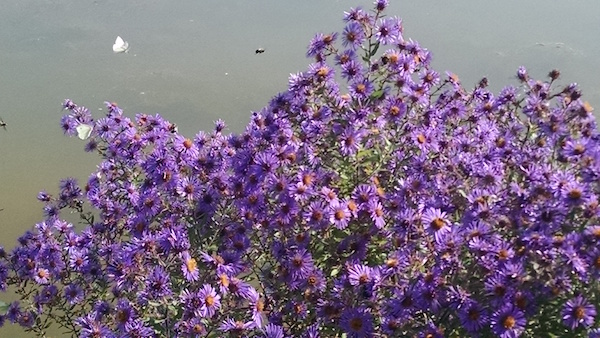 EM writes: "[B]ees and butterflies working on breakfast." Happy pollinators!