By Lambert Strether of Corrente
Sorry an incomplete version slipped out at 2:00PM; I got reading an interesting article and forgot to press the Submit button! –lambert
Trade
"Finishing [NAFTA] by year's end is 'very very optimistic, very very difficult,' [US. Trade Representative Robert Lighthizer] continued. 'But there are reasons to do it. So when there are reasons to do it, we have a lot of motivation.' Those reasons include reducing business uncertainty caused by the renegotiation of the pact, he noted. Still, 'I can't make that prediction,' Lighthizer admitted" [Politico]. "Admitted" is an odd choice of words.
"Lighthizer is taking a controversial new approach toward vetting NAFTA proposals among various government agencies and it isn't winning him much praise in other parts of the government. Various ideas that the Trump administration has considered, for instance, have been advanced to Congress and even as far as the negotiating table without obtaining the usual consensus from other agencies through a long-standing, staff-driven process, leading to friction over how the USTR office is handling trade issues, according to sources close to the process" [Politico]. Critics say that without thorough vetting, U.S. proposals are exposed to legal risk, and the truncated process generally undermines the long understood leverage that U.S. proposals represent an airtight, unified consensus among the executive agencies." Uh oh. "The interagency." And see below for a "Reply All" controversy….
"The US Department of Commerce said on Tuesday that it will impose a 220 per cent tariff on imports of 100-150 seat civil aircraft manufactured by the Canadian firm Bombardier" [Independent]. "This was in response to a petition from Boeing, a rival aircraft manufacturer to Bombardier, which claimed that the Canadian firm had received illegitimate public sector subsidies for the manufacture of the aircraft in question, the C-series regional jet, enabling it to sell them in the US at below cost price."
"Jobs in Belfast could be at risk after the US opted to impose a 220% import tariff on Bombardier's C-Series jet." [BBC]. "Canada's Bombardier is one of Northern Ireland's biggest employers and the threat to jobs there could jeopardise the Conservatives' pact with the Democratic Unionist Party."
Bombardier exposes post-Brexit realities" [Financial Times]. "The Bombardier case gives the lie to the notion that, outside the EU, the UK will find the behaviour of its leading non-European trade partners more benign."
"Ontario Set to Connect Carbon Market with Québec, California Next Year" [International Centre for Trade and Sustainable Development]. "'Sub-national climate change action continues to go from strength to strength across North America,' said [International Emissions Trading Association] CEO and President Dirk Forrister in an official statement."
Politics
Puerto Rico
"US waives Jones Act for Puerto Rico" [Lloyd's List]. "Waiver takes effect immediately for 10 days and covers all products."

"Nearly 6,000 shipping containers with relief supplies have landed in San Juan but getting the critically needed materials beyond the port is proving a major challenge" [Wall Street Journal]. "The head of[Crowley Maritime Inc's] operations there says many roads around the capital are damaged or flooded, and that many paths to towns beyond San Juan are impassable."

"Our lack of attention to the poverty of Caribbean nations has left their people incapable of investing in the kind of infrastructure that might better withstand a natural disaster. That general neglect has been coupled with a more specific one in Puerto Rico's case: In recent years, as part of sweeping cuts to the government budget, many public services were slashed, including preventative maintenance of the electricity network. That meant — with disastrous results" [BuzzFeed]. Not a bug, but a feature, at least in shock doctrine terms.

"Cash demand soars in Puerto Rico after hurricane hit ATMs, card systems" [Reuters]. If you think that so-called natural disasters will increase in the future, then eliminating cash is very bad public policy.
2016 Post Mortem
"Michelle Obama scolds female Trump voters" [BBC]. "'Any woman who voted against Hillary Clinton voted against their own voice,' she said." Oh.
2017
"A special election to fill a vacancy in Florida State Senate District 40 took place on September 26, 2017. The seat became vacant following the resignation of incumbent Frank Artiles (R) after he used a racial slur in front of two black state senators" [BallotPedia]. "The special election featuring Annette Taddeo (D), Jose Felix Diaz (R), and independent Christian "He Man" Schlaerth was held on September 26, 2017. Taddeo won the election."
2018
"[A] test of party strength in a mid-term is the so-called generic ballot test where voters are asked if they'd like to see Republicans or Democrats in control of Congress, or if they will support a Democrat or Republican in the upcoming congressional election. According to the Huffington Post pollster average, Democrats have a seven point lead on the question (41 percent to 34 percent). That's a healthy lead, but not quite as significant as the lead Democrats had going into 2006 election. According to RealClearPolitics, Democrats had an 11.5 percent lead right before the election where they picked up 32 seats and control of Congress" [Cook Political Report]. Given the structural advantages in the GOP's favor: gerrymandered congressional lines and geographic self-sorting (i.e. Democrats choosing to live in urban/inner suburban areas), plus the increase in party-line, straight-ticket voting, Democrats likely need a double-digit lead on the generic ballot going into Election Day. Moreover, enthusiasm and generic ballot advantages are not created equal. Turning out a bunch of energized Democrats in Democratic-leaning districts isn't of much help to Democrats' chances at winning the House. Republicans staying home in heavily GOP seats isn't much of a threat to their majority."
2020
"More than 50 million ballots were cast by Floridians in the seven presidential elections from 1992 through 2016. If you add them all up, only 18,000 votes separate the Republicans from the Democrats" [WaPo]. "So it could be quite politically significant that tens of thousands of Puerto Ricans, maybe more, are expected to permanently move into Florida as the result of Hurricane Maria."

"California Seeks More Sway By Moving Up Presidential Primary" [Bloomberg]. "California, home to 11 media markets, is an expensive state to campaign in, potentially giving well-funded candidates an edge." A change in firewalls. Which makes me wonder how many superdelegates Kamala Harris collected in the Hamptons.
New Cold War
"The Crazy Imbalance of Russia-gate" [Robert Parry, Consortium News]. Lambert here: Assuming arguendo that Russian "election meddling" — "meddling," such a usefully capacious word — affected election outcomes, what's the policy response? Is "election meddling" a casus belli? Even with a nuclear power? If it's not, then what? Removing Trump from office, followed by proxy war in Ukraine or the Baltic? Yet more sanctions? Or — just spitballing, here — couldn't we act like the great power we tell everybody we are, including ourselves, and man up, fix the broken systems — hand-marked paper ballots, hand-counted in public is a simple fix for any vote hacking — and stop "meddling" in other countries' elections, which we induce blowback by constantly doing? Anybody remember Obama endorsing Macron? If that's not "meddling," what is?

"A Republican on the Senate intelligence committee says Russian internet trolls are using the controversy over NFL players kneeling during the national anthem to stir up unrest in the United States" [NBC]. Everybody into the pool! (Also, notice how easily liberal tropes get hijacked by conservatives.)

"Zuckerberg fires back at Trump's 'collusion' claims, says Facebook is what 'all ideas looks like'" [FOX]. "'Trump says Facebook is against him. Liberals say we helped Trump. Both sides are upset about ideas and content they don't like. That's what running a platform for all ideas looks like,' Zuckerberg wrote…. Zuckerberg also cited the company's 'get out the vote' campaign, which he said helped at least two million people register to vote. 'To put that in perspective, that's bigger than the get out the vote efforts of the Trump and Clinton campaigns put together,' he said. 'That's a big deal.'" I note the weasel word "helped," but more importantly, the pathetic performance of both parties. Why, you'd almost think they don't want to expand the electorate!
Trump Transition
"But if you widen the lens to other areas [than legislation], it turns out that Trump and his administration have made, and are likely to continue to make, an enormous impact on public policy. You can agree or disagree with the substance of what the Trump administration has set out to do, just as you can like or dislike Trump himself, but it's hard ignore the significance what is happening" [Charles Cook, Cook Political Report]. "First look at policy and regulation. Trump dropped out of the Trans-Pacific Partnership, he wants changes in the Paris Climate Accord, and he's renegotiating the North American Free Trade Agreement. The vast majority of policy decisions are not made in the Oval Office but rather in the bowels of Cabinet departments, agencies, and commissions. The administration is beginning to dismantle President Obama's regulatory framework, and it's not too much of an exaggeration to say that virtually every controversial Obama-era regulation and policy is in jeopardy." And then there are seats on the Supreme Court, and the courts generally, as well as the Federal Reserve. Been saying this for months. Now it's conventional wisdom (because Cook is the very embodiment of conventional wisdom, not that there's anything wrong with that).

"[N]ew rules proposed by the Consumer Finance Protection Bureau are expected to require lenders to verify key information from prospective borrowers, such as their income, borrowing history and whether they can afford the loan payments" [Governing]. "Diane Standaert, a payday loan expert for the Center for Responsible Lending, a North Carolina advocate for reform, calls the rule "a significant first step" that recognizes the debt trap the short-term, high-interest loans can create for low-income people."

"One lawmaker says the president pointed to one signature example of private investment, the Indiana toll road, as an example of a failed public-private partnership. Lawmakers say Trump told them he believes such partnerships are "more trouble than they're worth." The administration has been pressing such investment as a way to leverage federal spending—and to help turn management of infrastructure over to states and private companies. Mr. Trump's new view may upend the administration's strategy, but it also may make it easier to strike a deal with congressional Democrats who are leery of privatization" [Wall Street Journal].

"What really caught our eye however was the total absence of the phrase 'carried interest' in the [Trump tax plan] document. Trump leaned in very hard on the notion of punishing those paper-pushin' 'hedge fund guys' during the election, but this tax plan doesn't specifically eliminate the carried interest loophole and in fact generally actually benefits anyone still running a hedge fund. So it now seems that Trump's populist rage against asset managers has officially abated" [DealBreaker]. "But why, you ask? In addition to the fact that this administration has the ideological follow-through of an armless man swinging a heavy bat, the reprieve for hedge funders in this plan likely exists because it was formulated by a hedge fund veteran (Mnuchin), and a man destined to open his own hedge fund in the very near future (Cohn)." Not sure I'd go to DealBreaker for tax analysis, but they sure are a fun read. And sometimes things really are simple.
Health Care
"Why the War Over Health Care Isn't Over" [John Cassidy, The New Yorker]. A classic. Cassidy manages to survey the state of play in health care without mentioning #MedicareForAll (or Sanders' S1804, or Conyers HR676) once. I'm so old I remember when The New Yorker used to be good…

Lindsay Graham on health care: "'I thought everybody else knew what the hell they were talking about, but apparently not,' Graham clarified, adding he had assumed 'these really smart people will figure it out.'" Not The Onion! [The Intercept]. More: "The crash course in health policy has been a romp, Graham said. "I've enjoyed this more than anything. I've learned so much about health care in other states — Pennsylvania, Alaska, Ohio," he said, adding that he even learned about his own state. "South Carolina, we have 11 predominantly African-American counties that have unique health care needs and one size doesn't fit all, even within your state. I looked at the history of welfare reform, and I think we can replicate that here." Nice to see Bill Clinton's reputation is not dead; this is the Republican equivalent of Obama praising Reagan's good ideas.
Realignment and Legitimacy
"In the aftermath of the election, Manchin has acted as a sounding board for, and bridge between, his party's leadership and conservative, rural, white voters. A few days after Trump's inauguration, Democrats turned to Manchin to help understand where they had gone wrong. In late January, the senator facilitated a conversation with Trump voters at a retreat for Senate Democrats in Shepherdstown, West Virginia" [The Atlantic]. The author manages to write a whole article pushing Manchin's centrism without noting that Sanders won West Virginia. Toothless white rural voters gather round a burning cross: "Yeah, we gotta get us a Socialist Jew in the White House." Dear Lord.

"Bernie is not even a Democrat, so why is he ripping our party apart?" [The Hill]. "The power to destroy a thing is the absolute control over it." –Frank Herbert, Dune.

"Not once during the last Supreme Court term did a justice appointed by a Democratic president speak at an event hosted by the conservative Federalist Society, and not once did a justice appointed by a Republican president address a gathering of the liberal American Constitution Society" [USA Today].
Stats Watch
GDP, Q2 2017 (Final): "Second-quarter GDP proved strong, at an as-expected 3.1 percent annualized rate for the third estimate driven by consumer spending at a 3.3 percent rate" [Econoday]. "Nonresidential fixed investment, at a 6.7 percent rate, was also a strong contributor and offsetting a 7.3 percent decline for residential investment. Government purchases, at minus 0.2 percent, were a slight drag on the quarter while both net exports and inventories were slight positives. GDP prices, like other inflation measures, were soft, up 1.0 percent overall and 1.1 percent for the core."
Corporate Profits, Q2 2017 (r): "Corporate profits, at an annualized rate of $1.77 trillion in the second estimate for the second quarter, rose 7.4 percent compared to second-quarter 2016" [Econoday].
International Trade in Goods, August 2017 (preliminary): "The nation's trade gap in goods, at $62.9 billion vs July's $63.9 billion, narrowed sharply in August which will be a positive for third quarter GDP" [Econoday]. "Exports, boosted by a jump in consumer goods and also capital goods, rose 0.2 percent in the month to nearly reverse July's 0.3 percent decline. Imports fell 0.3 percent in August with down drafts in industrial supplies, capital goods, and also food products."
Retail Inventories, August 2017(Advance): "Retail inventories rose a sharp 0.7 percent in August and are led by a 1.2 percent build in vehicle inventories which, following the month's weak vehicle sales, hints at overhang" [Econoday]. "Replacement demand following Hurricane Harvey, however, should soak up some of the inventory."
Wholesale Inventories, August 2017(Advance): "Wholesale inventories rose a very sharp 1.0 percent in August, split evenly between a 1.0 percent build for durables and a 1.2 percent build for nondurables" [Econoday].
Kansas City Fed Manufacturing Index, September 2017: "There's no visible impact from Hurricane Harvey on the Kansas City manufacturing region" [Econoday]. "Factory inventories in the region are building at a steady and healthy rate, at least based on this sample. Yet there is one telling sign of possible hurricane impact as delivery times have slowed sharply this month but the effect may prove temporary. In sum, this report along with other regional reports are pointing to year-end strength for the factory sector." And: "Based on these regional surveys, it seems likely the ISM manufacturing index will be strong again in September (to be released Monday, Oct 2nd)" [Calculated Risk].
Jobless Claims, week of September 23, 2017: "Hurricane effects are apparent in weekly jobless claims data but are far from overwhelming" [Econoday]. And: "The recent increase in claims is due to the hurricanes" [Calculated Risk].
Vehicle Sales: "A WardsAuto forecast calls for U.S. light-vehicle sales to reach a 17.5 million-unit seasonally adjusted annual rate in September, following August's 16.0 million SAAR and ending a 6-month streak of sub-17 million figures. In same-month 2016, the SAAR reached 17.6 million" [Wards Auto]. And: "Looking like an uptick here, some of it weather related?" [Mosler Economics].
Commodities: "Researchers from the Department of Biology and Geoscience at the University of Akron, in the United States, say that communities of microorganisms play a role in the formation of unique iron ore caves, which make up only about one per cent of caves worldwide" [Mining.com]. "Microbes living there use iron within the rock to respire, in a similar way that humans use oxygen. This respiration causes the rust-like iron oxides that make up the cave to become soluble." Cool!
Commodities: "Florida's famous orange juice industry is being squeezed to death. Pressed by hurricanes, international competition and a disease called "citrus greening," crops are withering and juice processing plants are closing down" [Wall Street Journal]. "Hit by the bacteria, this year's crop will likely be the smallest since the 1940s, extending a downturn that's seen the state go from 53 processing plants in 1977 to just seven today. The cut in production of Florida oranges has helped drive the beverage's price at stores up more than 50% since 2004. It also cuts into one of the goods trucking companies have counted on for outbound business from Florida, potentially straining overall shipping costs. Scientists working at a secret grove are trying to engineer an orange resistant to greening—which also hurts other citrus—but that may not reach the market until 2022." Scientists at a "secret grove"? Huh?
Shipping: "It is still too early to call an end to containership oversupply, said Paris-based Alphaliner in its latest weekly report" [Llloyd's Loading List]. "The report also noted that demand would need to grow by more than 8% each year for the overhang to be cleared in 2018, while an annual growth rate of less than 5% each year will see the overhang extend into 2020."
The Bezzle: "Uber is facing what amounts to a stock-drop lawsuit, prior to the public offering and subsequent trading malaise that typically (and, uh, by definition) precedes one" [DealBreaker]. "The plaintiffs, the Irving (Texas) Firemen's Relief & Retirement Fund, invested $2 million in Uber back in 2016 through a fund operated by Morgan Stanley. Since then, the lawsuit claims, Uber's private valuation has dropped $18 billion. So they're suing."
Five Horsemen: "Alphabet catches a break, as Amazon struggles to swallow Whole Foods" [Hat tip, Jim Haygood].
Today's Fear & Greed Index: 80 Extreme Greed (previous close: 77, Extreme Greed) [CNN]. One week ago: 73 (Greed). (0 is Extreme Fear; 100 is Extreme Greed). Last updated Sep 28 at 11:39am.
Health Care
"The Return of the Doctor House Call" [Governing]. "According to the Centers for Disease Control and Prevention, almost 5 million people were enrolled in a home health-care agency in 2013. And the Bureau of Labor Statistics predicts that 1.3 million additional jobs will be added to the field of home health care by 2020, a 69 percent increase from today. That makes home health care the fastest-growing health-care industry — and one of the fastest-growing workforce industries in any field."
Guillotine Watch
"That Time the French Aristocracy Was Obsessed With Sexy Face Stickers" [Collectors Weekly]. "The heightened artifice of beauty patches also called attention to the larger ritual of transforming one's face and body for maximum desirability. In France, this practice was known as the 'toilette,' which evolved from a term for the bit of cloth or 'petit toile' that covered a dressing table. In the late 17th century, the morning toilette of France's upper crust imitated the decadent dressing customs of royalty, who would sometimes entertain guests as they put the finishing touches on their makeup and outfits, along with help from a horde of servants." Today, we have "influencers"…
Class Warfare
"Recent Trends in Wealth-Holding by Race and Ethnicity: Evidence from the Survey of Consumer Finances" [Board of Governors of the Federal Reserve System]. "Although most families do have some wealth, the number with zero or negative net worth (having debts that exceed assets) is nontrivial and varies by race/ethnicity. Nearly one in five black households has zero or negative net worth. The share of white households without any wealth is considerably smaller, at 9 percent. Hispanic and other households fall somewhere in between white and black families on this measure…. In addition to the differences in the levels and types of wealth previously described, the data also indicate substantial variation by race/ethnicity in many of the factors that are associated with the accumulation of wealth."
"Sex work is one of the more unusual ways that adjuncts have avoided living in poverty, and perhaps even homelessness. A quarter of part-time college academics (many of whom are adjuncts, though it's not uncommon for adjuncts to work 40 hours a week or more) are said to be enrolled in public assistance programs such as Medicaid" [Guardian]. If only the Deans knew!
"Even having a conversation about the imbalance of emotional labor becomes emotional labor" [Harpers Bazaar].
News of the Wired
"There's Evidence That ADHD Could Be a Type of Sleep Disorder" [Science Alert].
"Too much Facebook causes 'virtual autism' claim experts" International Business Times]. "Psychologists at the University of the Sunshine Coast in Australia found that users, particularly children, who plug themselves into social media, browsing the likes of Twitter and Facebook showed an inability to read facial emotions and had a poor friendships as a result."
"Celebrities Remember Hugh Hefner for More Than Just the Articles" [New York Times].
* * *
Readers, feel free to contact me at lambert [UNDERSCORE] strether [DOT] corrente [AT] yahoo [DOT] com, with (a) links, and even better (b) sources I should curate regularly, (c) how to send me a check if you are allergic to PayPal, and (d) to find out how to send me images of plants. Vegetables are fine! Fungi are deemed to be honorary plants! If you want your handle to appear as a credit, please put it in the subject line. Otherwise, I will anonymize by using your initials. See the previous Water Cooler (with plant) here. Today's plant (JB):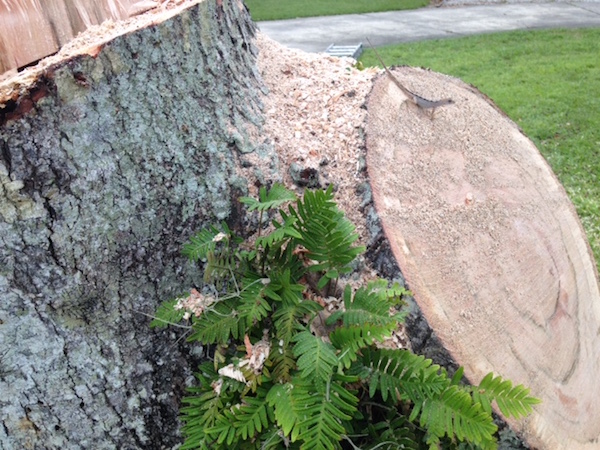 JB writes: "Hurricane Irma split the maple tree in the front circle of our driveway in half. We finished taking it down over the weekend. This little guy didn't see the humor in it and stood his ground until the very end and when I subsequently put my hand near him, he jumped aboard for a trip to a large oak on the side of our property. Funny thing wild life, it was as if he knew I wouldn't hurt him."
* * *
Readers: Do feel free to use the dropdown and click the hat to make a contribution today or any day. Here is why: Regular positive feedback both makes me feel good and lets me know I'm on the right track with coverage. When I get no donations for five or ten days I get worried. More tangibly, a constant trickle of small donations helps me with expenses, and I factor that trickle in when setting fundraising goals. So if you see something you especially appreciate, please click the hat!