By Lambert Strether of Corrente.
Politics
2016 Post Mortem
"Jimmy Carter Unleashed: Russians Didn't Alter Election, Obama Didn't Deliver, We Didn't Vote For Hillary" [Daily Wire]. An accurate headline for Modo's catty interview with Jimmy Carter.
2018
"McSally Outraises All Her Democratic Opponents Combined" [Roll Call]. "The two-term Republican raised nearly $1 million from July through September for her re-election campaign in Arizona's 2nd District. That's more cash than her five Democratic opponents managed to raise combined. McSally will need all the dollars she can get in what is expected to be one of the tightest House races in the country in 2018."

"Sen. Dianne Feinstein's challenges come from the left" [Orange County Register].
Realignment and Legitimacy
"Trump voters are not animals to be studied by elitists on 'safari'" [The Week]. Sure they are. The study was by Third Way, right? Anyhow:

In the small town where I live, I know one man, a veteran, who has three flagpoles at his house, one for the POW-MIA flag, one for a University of Michigan banner, and one for "hanging that son of a bitch McCain." I know a charming older lady who is the secretary of her Presbyterian church's historical society who drives a Saab that is older than I am and hoards sugar packets from the diner downtown. I know two high-school kids who complain about their Indian-American instructor at a nearby community college where they go for advanced credit because they "can't understand him" while trading memes about the awfulness of white privilege on Facebook. I know a man who dips a can of Grizzly Wintergreen every day who enthusiastically supports gay marriage because gay people "should be miserable like the rest of us." I know a businessman who thinks all welfare should be eradicated and donates hundreds of thousands of dollars a year in goods to his local food pantry. Only two of these people — the veteran, a Democrat who went for Trump, and the Saab lady, a Republican who switched for Clinton — are regular voters.

"Paying the price for Trump Derangement Syndrome" [Washington Times]. "[Democrats] spent three quarters of the year luxuriating in Trump Derangement Syndrome, regaling each other with tales of how much they despise the man who beat them last year, playing the game of 'show me yours and I'll show you mine.' Every Democrat thinks his hatred of the president is bigger, brighter and better than anybody else's. But now it's time, like it or not, to start thinking about suiting up for the midterm congressional elections, and how to build a little momentum for the long slog toward Nov. 8, 2020. The early measurement everybody watches is money — 'the mother's milk of politics.' Even milk just this side of sour is acceptable, and so far this year the Republicans are scarfing up most of it." Well, that's why Perez put all those corporate shills on the DNC, right? Think!

"Democrats' George W. Bush Nostalgia Smacks of Political Opportunism" [Real Clear Politics]. Bush is a war criminal who should have been impeached for his program of warrantless surveillance, which involved multiple felonies. [Genuflects] Pelosi, of course, immediately took impeachment off the table after energy fro from the left won the Democrats the House and Senate in 2006. And here we are!

'"Question the generals? Hell, yes" [Sun-Sentinel]. Westmoreland. MacArthur. The Bay of Bigs. And: "Then there was the lackluster Gen. George McClellan, whose incompetence likely extended the Civil War before President Lincoln finally dumped him."
Stats Watch
Purchasing Managers Index Composite Flash, October 2017: "Advance indications are picking up increasing signals of growth including the PMI composite" [Econoday]. "Strength in the manufacturing sample is centered in new orders and employment. Of special note are unusual delivery delays, which help lift the composite indexes and are the result of lingering disruptions and stretched workloads following Hurricanes Harvey and Irma. … Note that private and regional reports are based on small sample sizes and offer no more than a directional signal for economic change."
Richmond Fed Manufacturing Index, October 2017: "Manufacturing activity in the Fifth District expanded for the twelfth consecutive month in October though at a slower than expected pace" [Econoday]."Today's report points to a deceleration in Fifth District manufacturing activity to a more moderate growth pace, but optimism among manufacturers remains undaunted and may even be on the rise. It also offers a small shred of evidence to the Fed that wage pressures may be on the rise."
Retail: "Baby-food suppliers may have found the formula for growth in China, at least for a while. Following a succession of health scandals, the world's largest infant-formula market is booming again… with global dairy giant Danone reporting big sales gains and other providers including Mead Johnson and Nestle also noting improvements. The suppliers are benefiting from a brief upturn in Chinese births that's unlikely to last" [Wall Street Journal]. Our horrible Western diet attacks Asia…
Commodities: "GOP Senators, Fueled by Industry Cash, Propose Bill to Expedite Small Scale LNG Exports" [DesmogBlog (GF)].
Commodities: "Only 4% of U.S. farms produce $1 million or more in annual sales, and those sites now produce two-thirds of the country's agricultural output. The big operators are using their scale make farming more efficient and minimize risk, while managing vast acreage that can fill thousands of tractor-trailers a year. The growth of such farms is restructuring traditional supply chains built over decades around farmer-owned cooperatives. Instead, large farmers often seek to buy chemicals and materials from suppliers with direct links to manufacturers, and increasingly handle grain storage and sales themselves" [Wall Street Journal].
Shipping; 'For the first time since 2006, the shortage of commercial truck drivers has become the top-ranked issue facing the North American trucking industry" [DC Velocity]. If only there were some deus ex machina to solve this, some sort of invisible hand…
The Bezzle: "Dharma is the protocol for tokenized debt issuance on blockchains. We're building an ecosystem of tools, standards, marketplaces, and smart contracts for originating, underwriting, and crowd-funding debt. Blockchain technology is reshaping the financial system, and we're on a mission to build the base-layer infrastructure for the debt markets of tomorrow" [Dharma]. Please kill me now.
Honey for the Bears: "Apartments index, JOLTS chart, Rig count chart" (charts, all bad) [Mosler Economics]. All real economy stuff.
Five Horsemen: "Facebook and Microsoft are the big winners as the Five Horsemen approach the six-month mark, while the triple-A crowd (Alphabet, Apple and Amazon) are mostly market performers" [Hat tip, Jim Haygood].
Today's Fear & Greed Index: 87 Extreme Greed (previous close: 85, Extreme Greed) [CNN]. One week ago: 78 (Extreme Greed). (0 is Extreme Fear; 100 is Extreme Greed. Last updated Oct 24 at 1:25pm. Back down to the 80s. Sad!
Health Care
"Single-payer would drastically change health care in America. Here's how it works." [WaPo].
"Rural Oklahoma hospitals say Blue Cross demands deep rate cut" [The Oklahoman].
Imperial Collapse Watch
"The DEA Says It Came Under Fire During a Deadly Drug Raid. Its Own Video Suggests Otherwise" [Pro Publica (UserFriendly)].
Class Warfare
"How Does U.S. Income Inequality Compare Worldwide?" [Federal Reserve Bank of St Louis]. "When we analyze countries within each group separately, interesting patterns emerge. For instance, income inequality in the U.S. is large, despite the U.S. having one of the highest levels of income per capita in our sample. Specifically, the Gini coefficient of the U.S. was 40.46 in 2010, very close to the average Gini coefficient of African countries in our sample."
"Should tech companies run our cities?" [The Week]. No.
"America Has a Monopoly Problem—and It's Huge" [Joseph Stiglitz, The Nation]. "Let's begin with a simple question: Is there any reason why US telecom prices should be so much higher than in many other countries and service so much poorer?"
News of the Wired
"Macroscopic Evolutionary Paradigm" [Doc Huston, Medium (UserFriendly)]. Fun. More than fun? Readers?
"Coda is a next-generation spreadsheet designed to make Excel a thing of the past" [The Verge]. Excel haters, the tool for you?
"Try quickly typing 1 + 2 + 3 into the iOS 11 Calculator. I bet you won't get 6" [Reddit]. Yeah, but the calculator is thin!
* * *
Readers, feel free to contact me at lambert [UNDERSCORE] strether [DOT] corrente [AT] yahoo [DOT] com, with (a) links, and even better (b) sources I should curate regularly, (c) how to send me a check if you are allergic to PayPal, and (d) to find out how to send me images of plants. Vegetables are fine! Fungi are deemed to be honorary plants! If you want your handle to appear as a credit, please put it in the subject line. Otherwise, I will anonymize by using your initials. See the previous Water Cooler (with plant) here. Today's plant (MF):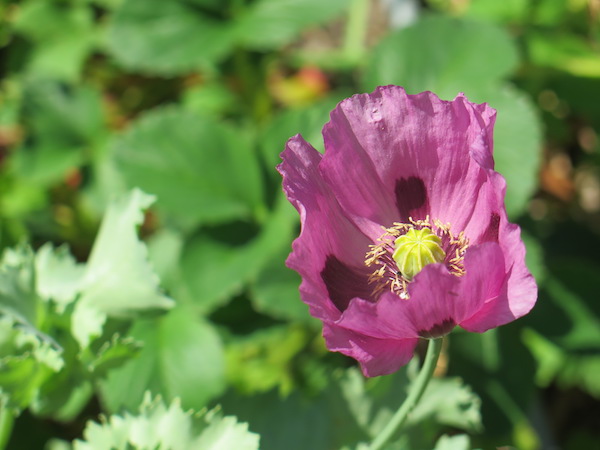 Poppies are especially hard to photograph, because they almost seem engineered to catch the slightest breeze! Since for me, an exposure lasting a second or so is practically street photography, I don't take many serious pictures of flowers.
* * *
Readers: The Naked Capitalism fundraiser is over, and let me express my personal thanks to all those who have helped keep Naked Capitalism getting better and better. Water Cooler, however, is a standalone entity not covered by the NC fundraiser. So do feel free to use the dropdown and click the hat to make a contribution today or any day. Here is why: Regular positive feedback both makes me feel good and lets me know I'm on the right track with coverage. When I get no donations for five or ten days I get worried. More tangibly, a constant trickle of small donations helps me with expenses, and I factor that trickle in when setting fundraising goals. So if you see something you especially appreciate, do feel free to click the hat!