By Lambert Strether of Corrente.
Trade
"How a group of Florida tomato growers could help derail NAFTA" [WaPo]. "As the United States, Canada and Mexico prepare to wrap up a fourth round of talks Tuesday about revisions to the North American Free Trade Agreement, there is growing fear that the talks could collapse around one of several "poison pill" provisions. Those include the demands of the Florida tomato growers, who say Mexico is selling tomatoes in the United States at artificially low prices. With the support of some berry, melon and pepper producers, the Florida producers are pushing for stronger anti-dumping measures — an idea that has been soundly rejected by the Mexicans." Hope none of these growers are from Immokalee…
Politics
2016 Post Mortem
"Facebook and Google Helped Anti-Refugee Campaign in Swing States" [Bloomberg]. But apparently social media embeds in political campaigns are not unusual? To put this another way, if Facebook and Google were not embedded in the Clinton campaign, was Robbie Mook worth what they were paying him?
2020
"Cory Booker Explains Why He's Making Legal Weed His Signature Issue" [Vice]. "My bill is focused on understanding that it's not just about ending prohibition. It has to be about retroactively expunging records. It has to be about community repair and addressing the generational damage that's been done by stripping communities of their economic strength."
2018
"In his first public campaign appearances since leaving office, Barack Obama today stumps for two Democratic gubernatorial candidates: Phil Murphy in New Jersey and Ralph Northam in Virginia" [NBC].

"Obama Returns to Campaign Trail to Rally Black Voters" [New York Times]. "President Barack Obama will hit the campaign trail on Thursday to rally black voters behind candidates for governor in Virginia and New Jersey amid stern warnings that African Americans may not come out in force on an Election Day that is just three weeks away."
Trump Transition
"The silver lining of Trump's rank cynicism" [The Week]. "We all understand that Trump's relationship with his evangelical base is entirely transactional." Not just that! Everything!
Realignment and Legitimacy
"J.D. Vance joins forces with Steve Bannon" [Craig Calcaterra]. Unsurprisingly. Of course, Vance love is bipartisan.

"Silicon Intersectionality" [Current Affairs]. "In particular, the language of "intersectionality" (the theory that different people are oppressed in different ways, and that these differing oppressions compound and intersect differently) has been keenly embraced by elements in the corporate world. Once confined to activist and academic discourse, intersectionality is now being used by some tech companies as a way to publicly demonstrate their liberal credentials. Tech risk assessment and management consultancy Deloitte's web magazine asked "What if the road to inclusion were really an intersection?" (Even accepting the premise of intersectionality, this question makes no sense.) Deloitte urged its clients that an "intersectional approach that reaches all facets of corporate life is often more fruitful." Michael Graham: "Nothing is more intersectional in American life than money."

"Whatever his impact may be on the country or the world, Donald Trump's presidency imperils the future of his party, and there isn't a serious-minded Republican in Washington who would tell you otherwise, privately" [Matt Bai, Yahoo News]. "For as much time as I have spent around politicians, and I have been writing about national politics for a good 20 years now, this is the one mystery I have never come close to solving. I will never understand what it is about the job — congressman, senator, city alderman — that makes so many politicians willing to sacrifice all self-respect just to keep doing it." Ka-ching….

"The Senate's top climate advocate explains why Congress is doing nothing about global warming" [Vox]. Sheldon Whitehouse on the differences between the politics of Medicare for All and the politics of a carbon tax bill.
Stats Watch
Leading Indicators, September 2017: "Hurricane-driven spikes in jobless claims pulled down the index of leading economic indicators in September which, at minus 0.2 percent, came in well below Econoday's low estimate" [Econoday]. "But September's index was also pulled lower by building permits where strength has been uneven all year and also 2 indicators on the factory sector: the workweek and capital goods orders." And: "Leading Indicators Post First Drop in Over a Year" [247 Wall Street]. "The 'leading' aspect of this number is also not as leading as outsiders might expect due to the reading having almost a full one-month lag." But: "Because of the significant backward revisions, I do not trust this index. This is a leading index, and hurricanes should not have any effect" [Econintersect].
Philadelphia Fed Business Outlook Survey, October 2017: "The Philly Fed report continues to post very unusual levels of strength" [Econoday]. "This report together with Empire State's report on Monday are extensions of what have been unusually strong indications from regional reports, results that contrast sharply with much less strength in factory orders and outright contraction in manufacturing production. It's important to remember that regional reports are based on small sizes where responses are always voluntary. Still the strength of the regional reports, if nothing else, is pointing squarely at improvement ahead, at least to some degree, for the nation's factory sector." And: "This suggests the ISM manufacturing index will show solid expansion in October" [Calculated Risk]. But: "Consider this a weaker report than last month because of the decline of the key internals" [Econintersect]. "Econintersect believes the important elements of this survey are new orders and unfilled orders . Both new orders and unfilled orders remain in expansion but declined."
Bloomberg Consumer Comfort Index, week of October 15, 2017: "Last week's consumer sentiment report showed a big uptick at mid-month as does the consumer comfort index" [Econoday]. "Both the sentiment and comfort indexes had been ebbing off long-term highs before popping back this month. Full employment, the rally in the stock market, and solid home-price appreciation are all pluses for confidence measures."
Jobless Claims, week of October 14, 2017: "Jobless claims have mostly returned to pre-hurricane levels" [Econoday]. "Hurricane effects are ebbing with Texas and Georgia back to pre-hurricane levels though Florida, at just over 11,000 in the latest week, is still running about 4,000 to 5,000 higher. Puerto Rico, which for the past 2 weeks has reported its own data and has not had to be estimated by Washington, is also at pre-hurricane levels though the jury is still out whether claims in the territory will move higher as displaced workers, amid the dislocations, get themselves to the unemployment office."
Commodities: "The Supply Chain Can't Handle Skyrocketing Demand for Lithium-Ion Batteries" [Vice]. "In short, the researchers estimated that over the next 15 years, there will likely be enough raw materials available to meet lithium-ion battery demand. But if we don't work out supply chain issues, production could slow down—essentially delaying some of the world's most promising alternative energy technologies…. Aside from the element in their name, lithium-ion batteries also also composed of other elements, including manganese, nickel, graphite, and cobalt. The researchers found that cobalt—which is also used in iPhones—was most vulnerable to potential supply chain issues."
Retail: "Retailer Supreme is carving out a bigger role in apparel by turning traditional inventory and distribution strategy upside down. The underground streetwear brand has just 11 stores yet is valued at more than teen retailer Abercrombie & Fitch Co. and its global network of 900 outlets" [Wall Street Journa]. "Limited distribution is its virtue as Supreme builds a following based on the scarcity of its products. The seller of skateboarding T-shirts, hats and sweatshirts has tapped into the zeitgeist of teens seeking hard-to-get looks that run counter to the mass-produced goods that fill big industrial supply chains." Somebody's been reading their William Gibson; Pattern Recognition's Macguffin is just such an entrepreneur.
Shipping: "Both freight spend and shipment levels for the third quarter showed both quarterly and annual gains, according to data issued in the U.S. Bank Freight Payment Index, a new report form Minneapolis-based U.S. Bank" [Logistics Management]. "Looking at the shipment data, [American Trucking Associations Chief Economist Bob Costello] said that he looks at drivers of freight shipments as 'buckets' in a way, with the 3.5 buckets being: consumer (1); factory output (2); construction with a housing focus (3); and the .5 bucket being the inventory cycle…. 'For the first time, really, since 2014, those buckets of freight are all looking good or better, and that is why there have been three consecutive quarters of at least 3.3% quarter-to-quarter shipment gains,' he explained."
Shipping; "Analysis: is FedEx planning to put its stamp on a vulnerable Royal Mail?" [The Loadstar].
The Bezzle: "The most recent sign that recent IPO Blue Apron Holdings Inc. is in deep trouble is that the company announced it will lay off employees. It has only been public since June 29. Its shares trade at $5.30, down from an all-time high of $10" [247 Wall Street]. "CEO Matthew Salzberg clearly cannot rally investor support to what is seen as a broken business model."
The Bezzle: "How the Frightful Five [See "Five Horsemen of the Techpocalypse," below] Put Start-Ups in a Lose-Lose Situation" [New York Times]. "Because today's giants are nimbler and more paranoid about upstart competition than the tech behemoths of yore, they have cleverly created an ecosystem that enriches themselves even when they don't think of the best ideas first. The Five run server clouds, app stores, ad networks and venture firms, altars to which the smaller guys must pay a sizable tax just for existing. For the Five, the start-up economy has turned into a heads-I-win-tails-you-lose proposition — they love start-ups, but in the same way that orcas love baby seals."
Five Horsemen: "Apple is looking decidedly sickly on this BTFD [Buy The Fabulous Dip] day, as is Amazon." [Hat tip, Jim Haygood].
Today's Fear & Greed Index: 78 Extreme Greed (previous close: 78, Extreme Greed) [CNN]. One week ago: 82 (Extreme Greed). (0 is Extreme Fear; 100 is Extreme Greed. Last updated Oct 19 at 12:39pm.
Gaia
"C-sections might be relaxing the evolutionary pressure against big babies" [Ars Technica]. Evolution works fast (so I wonder what effect markets are having).
Health Care
"State governments, which run CHIP, are continuing to cover children with money left over from earlier appropriations and with emergency infusions from the federal government. But 11 states are expected to run out of federal funds by the end of December and 20 states and the District of Columbia will get to that point in the first three months of next year, according to the Kaiser Family Foundation. CHIP, created in 1997 to cover lower-income families who could not get Medicaid, helped lower the uninsured rate for children to 5 percent, from 14 percent. Most children in CHIP are from families with incomes below twice the poverty level, or $49,200 for a family of four" [New York Times]
Class Warfare
"Chipotle downgraded by Bank of America on concerns that labor is still too expensive" [CNBC]. "Bank of America Merrill Lynch downgraded Chipotle and cut its earnings targets for 2018 and 2019, saying the struggling restaurant chain will have trouble cutting back labor costs any further than it already has…. The company has been testing new products and initiatives to drive traffic to its restaurants after its struggles with food safety outbreaks and subsequent setbacks." I'm not sure how cutting wages is going to promote food safety…
"The Social Life of Opioids" [Scientific American]. "In the story of America's opioid crisis a recent tripling in prescriptions of the painkillers is generally portrayed as the villain. Researchers and policy makers have paid far less attention to how social losses—including stagnating wages and fraying ties among people—can increase physical and emotional pain to help drive the current drug epidemic. But a growing body of work suggests this area needs to be explored more deeply if communities want to address the opioid problem. One study published earlier this year found that for every 1 percent increase in unemployment in the U.S., opioid overdose death rates rose by nearly 4 percent." This is a good wrap-up; many other studies on "deaths of despair" are listed; no direct reference to Case-Deaton, interestingly enough.
News of the Wired
"Because every always-on microphone in your home should be able to identify individual targets, Alexa can now recognize different users as well" [New York Magazine].
Here is the video answer to the reader query I posted yesterday:
Not as good as I remember, the reader commented.
"You Think With the World, Not Just Your Brain" [The Atlantic]. "It's been shown that spiders can use their webs to process and store information, essentially "outsourcing" mental processes to physical structures. Why is it, Clark and Chalmers ask [in their landmark paper "The Extended Mind"}, that mentally rearranging Scrabble tiles is considered a 'part of action' rather than a 'part of thought'?… [T]he world of inert objects might think too, in slow and strange ways which we can only borrow for a moment, and which disappear again into what sounds like silence." I should have saved yesterday's shroom picture for today!
* * *
Readers, feel free to contact me at lambert [UNDERSCORE] strether [DOT] corrente [AT] yahoo [DOT] com, with (a) links, and even better (b) sources I should curate regularly, (c) how to send me a check if you are allergic to PayPal, and (d) to find out how to send me images of plants. Vegetables are fine! Fungi are deemed to be honorary plants! If you want your handle to appear as a credit, please put it in the subject line. Otherwise, I will anonymize by using your initials. See the previous Water Cooler (with plant) here. Today's plant (MF):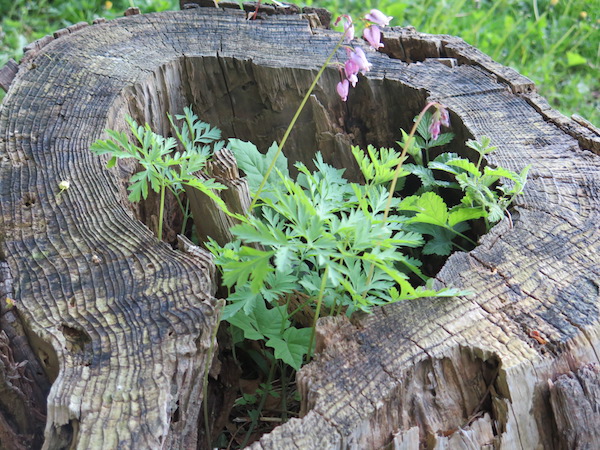 * * *
Readers: The Naked Capitalism fundraiser is over, and let me express my personal thanks to all those who have helped keep Naked Capitalism getting better and better. Water Cooler, however, is a standalone entity not covered by the NC fundraiser. So do feel free to use the dropdown and click the hat to make a contribution today or any day. Here is why: Regular positive feedback both makes me feel good and lets me know I'm on the right track with coverage. When I get no donations for five or ten days I get worried. More tangibly, a constant trickle of small donations helps me with expenses, and I factor that trickle in when setting fundraising goals. So if you see something you especially appreciate, do feel free to click the hat!