By Lambert Strether of Corrente.
Politics
2017
"Virginia Governor – Gillespie vs. Northam" [RealClearPolitics]. The average of all polls: Northam 3.3% (Yesterday: 2.8%). Quinnipiac weighs in, with Northam +17 (!!).

"Sanders, who gained his national following by running for the 2016 Democratic presidential nomination, has refused to endorse the Democratic candidate, Ralph Northam, a mainstream progressive. This signals the left-winger's determination to set ideological litmus tests for Democrats" [Bloomberg]. "Bannon, the former top strategist for President Donald Trump, is on a mission to destroy the Republican Party establishment. In Virginia, he's helped pressure Republican Ed Gillespie, a quintessential establishment figure, to embrace immigrant-bashing and race-baiting."
New Cold War
It's Manafort. And Papadopoulos. Two (2) documents were unsealed: Manafort's indictment, and Papadopoulos's plea deal. Here they are:

1) Manafort: United States of America v. Paul J. Manafort and Richard W. Gates, III (PDF). (The PDF, via DK, is a searchable PDF as opposed to a scan.)

2) Papadopoulos: United States of American v. George Papadoplous (PDF).

As readers know, I haven't been following the ins and outs of all this with complete attention, but as best I can tell, the Manafort indictment is designed to get Manafort to flip, and the Papadopoulos plea signals the inducement for him to do so.

Taking Manafort first, the indictment looks like an especially florid scheme to evade Federal taxes on confulting fees paid to entities controlled by Manafort by Viktor Yanukovych and his Party of Regions, by laundering it through nominees in Cyprus into real estate (and rugs). There's nothing in the indictment about election "meddling," and the Russians appear only at a second remove (as the ultimate backers of the Party of Regions). The Feds are also indicting Manafort for acting as an unregistered agent of a foreign goverment (in this case, Ukraine) which would probably apply to half the Beltway, but never mind that.

Papadopoulos is juicier, from the Russki standpoint. Here is the salient paragraph, in which Papadopoulos is charged with making false statements (rather a warning shot to the rest of the players in this affair):

Now, the details of the Papadopoulos story are almost clownishly stupid — a Russian "professor," Putin's "niece," Papadopoulos communicating with his Russki interlocutor via Skype (!) — so it's hard to know how serious an attempt this was. And if what the Russian professor says is true (we don't know that), we don't know which email is at issue. Still, some Russians could have been doing some "meddling," and some person in the Trump campaign knew about it. Who else knew? Manafort? During the four months he headed Trump's campaign? Presumably, Mueller can follow up the food chain. All this is, of course, very far from Clinton's original claim that Trump is a Russian "puppet," a claim which moreover had and has the ultimate goal of treating as treason advocacy for a policy that is surely not prima facie crazed: That is, the idea that a Clintonite cold war with Russia, or a hot proxy war in the Ukraine, might not be the best idea in the world. Nevertheless, this was not a good day for the Trump administration.

"How to Interpret Robert Mueller's Charges Against Paul Manafort in the Russia Investigation" [WIRED]. This is excellent (and recommended by emptywheel, who I would link to except I'm getting CloudFlare errors from her site). This:

For all the talk of Russian collusion, there isn't really a federal crime that matches what the press, critics, and Capitol Hill lawmakers have been calling collusion, a word that refers legally to a narrow segment of antitrust law. And there's almost zero chance anyone will be charged with treason, a charge that's only available to use against enemies in a declared war.

In other words, we can forget about the frothing and stamping of the parties which I can say relieves me no end. And if readers with experience in complex Federal criminal prosecutions want to chime in, great! Musical interlude….

UPDATE Reading the Manafort indictment again, I noticed several mentions of the European Centre for a Modern Ukraine, for whom Manafort was a lobbyist. It turns out they gave the Podesta Group $900,000 over two years (including 2012?). "However, the source of the funding remains unclear since ECFMU listed its budget for the financial year ending in November 2012 as only 10,000 euros." Here's a handy chart of the ECMU's connections, from Muckety.

Always good to see bipartisanship!
Health Care
"How Democratic Socialists Convinced a Congressman to Sign Onto Single-Payer Health Care Bill" [The Intercept].
Realignment and Legitimacy
"Meet the Black Woman Candidate Who'll Talk to Men in Confederate-Flag T-Shirts" [Joan Walsh, The Nation], "The very fact that Carroll Foy even attempted to reach a man in a Confederate T-shirt—just 95 miles away from where white supremacists menaced counter-protesters and where one of them murdered Heather Heyer with his car two months earlier—felt like a victory of sorts." Walsh seems to be doing a little rebranding. I mean, talking to deplorables… Eeeeew!

"Antifa History and Politics, Explained" [Teen Vogue]. "in its modern form, militant anti-fascism in the U.S. can really be dated to the creation of Anti-Racist Action in the late 1980s, which moving into the 1990s had thousands of members. They focused on tracking down far-right groups but also defending reproductive rights and organizing against the far right in a broader sense. They sometimes toured with punk bands and alternative rock bands to try and promote anti-racist politics among youth. The Anti-Racist Action network declined somewhat into the 2000s, but the modern antifa movement that we see today is really the successor of that lineage."

"Nina Turner on the Recent Reports of Workplace Harassment: 'I'm Surprised That We're Surprised'" [Cosmopolitan]. I'm surprised (in a good way) to see Nina Turner in Cosmo.

"Sexual Misconduct in California's Capitol Is Difficult to Escape" [New York Times]. Hard, then, to see how Pelosi, Feinstein (and Harris) have done anything other than make their peace with it. Eh? "Special place in hell," and all that.

"Florida Senate's top Democrat resigns after admitting affair with lobbyist" [McClatchy]. The affairs, I don't care about. It's when the Democrats (Max Baucus) let the lobbyists (WellPoint's Liz Fowler) write the bills (ObamaCare).

"Bitter feud divides Berkeley College Republicans as the club's future hangs in the balance" [Mercury-News]. Lee Atwater and Karl Rove cut their milk teeth in College Republicans, so there's a history here…

"The Democratic Party Continues to Ignore Its Voters" [Progressive Army]. Little new, but a good wrap-up.

Mr. Lee's Greater Hong Kong at last?

all Amazon has to do is promise people a fresh start, kill old loans/med bills/etc and folks will pay to join their nation state

— jinx (@jinxisajinx) October 29, 2017
Stats Watch
Personal Income and Outlays, September 2017: "Core inflation remains lifeless in an unwanted highlight of an otherwise solid income and spending report" [Econoday]. "[U]nless wage pressures can extend their emerging gains, inflation readings are not going to be climbing in the direction of the Federal Reserve 2 percent goal. Also helping spending in September was a sharp 5 tenths decline in the savings rate to 3.1 percent and a 10-year low in what, however, is likely to be another hurricane effect that will be quickly reversed." But: "The savings rate worsened – and historically is extremely low. Consumer spending is far outpacing income – not good news" [Econintersect].
Dallas Fed Manufacturing Survey, October 2017: "The Dallas manufacturing report never did show any ill effects from Hurricane Harvey and now readings are accelerating during October" [Econoday]. "This report falls in line with other regional surveys that are pointing, with heightened emphasis, to a strong upturn underway in the factory sector. Watch for factory payrolls in October's employment report followed by factory orders for September, both on Friday." And: "This survey improved and remained well into positive territory with both new orders and unfilled orders improving" [Econintersect].
Shipping: "New ATA report takes a deep dive into the ongoing truck driver shortage" [Logistics Management]. "[C]arriers are by no means turning a blind eye to it, as they are being proactive to make a bad situation better. This is happening, [ATA Chief Economist & Senior Vice President Bob Costello] explained, in the form of along with offering other incentives, fleets working to improve both the image and lifestyle of truck drivers, policy efforts focused on lowering the driver age as part of a graduated licensing system, and easing the transition for veterans to get into the driver's seat." Pay increases for drivers?!
Credit: "Still getting worse" (charts) [Mosler Economics].
Retail: "Amazon.com Inc.'s prospective move into the $412 billion pharmacy business provides a prescription for a dramatic makeover in pharmaceutical supply chains already undergoing big changes. Amazon is considering entering a business that appears ripe for restructuring through e-commerce" [Wall Street Journal], "But medicines are highly regulated, and Amazon would have to go through insurers since patients typically don't pay directly for prescription drugs. For now, Amazon is building up in healthcare through business-to-business operations—selling medical supplies for professional use. Experts say the surest path for the company could be buying an existing drug supplier, a plan that would also come with a supply chain already built in."
Retail: "Music News: Southwest Airlines adds live concerts to in-flight amenities" [The Current]. I guess the concerts are an "amenity" if they drown out the crying babeis…
Shipping: "McKinsey report on container shipping in 2067 predicts autonomous 50K TEU vessels" [DC Velocity]. Business predictions 50 year out? Really? More: "The authors acknowledge that secular changes in consumer behavior—notably a desire to favor consumption of services over goods—mean that global trade growth will not significantly outpace global GDP as it has for decades. However, as long as global economies seek growth, there will be always be stuff available to fill the boxes, they said."
Shipping: "There is a legal obligation on ship captains to rescue people who are in peril at sea (makes eminent sense to me – we want people rescued right away if they are struggling at sea), it is not clear who is to pay this cost" [Credit Slips]. "The question of allocation is particularly tricky when someone charters a ship and crew to transport goods from point A to point B. If that ship has to take a detour along the way to rescue refugees they find struggling on the ocean, who is to bear the extra cost of the additional journey? The charter-party or the ship owners? As an aside, it appears that the penalties on the ship captains for failing to rescue promptly can be quite substantial (there were 'failure to rescue' issues with respect to the Titanic that received immense publicity)." Examples: The Rohingya in the Andaman Sea, and migrants/refugees in the Mediterranean from Africa or Syria.
Shipping: "U.S. economic growth is hitting a sweet spot for shipping companies. The 3% annual rate of growth in gross domestic product in the third quarter gave the U.S. its strongest six-month expansion since mid-2014…and was built on the solid consumer and business spending on goods and shipments of American products abroad that help fill trucks, trains and ships" [Wall Street Journal]. "Consumer spending on durable goods such as appliances rose at an 8.3% annual rate in the third quarter, and business spending on equipment rose at an annual 8.6% pace. That spending, along with strong expectations for holiday sales in the fourth quarter, has companies restocking: inventory replenishment made up nearly three-quarters of a percentage point of GDP."
Tech: "Apple's iPhone X: The First Field Report" [WIRED]. Last line: "Those who shell out the cash for this device will enjoy their screen and battery life today. But the real payoff of the iPhone X might come when we figure out what it can do tomorrow." But you pay the $999 today.
The Bezzle: "Musk's Plant Makeover Even More of a Long Shot as Model 3 Lags" [Bloomberg]. "Tesla's plan to make half a million cars next year became all-the-more ambitious after the sluggish start the company got off to with its most important electric vehicle yet, the Model 3 sedan. Musk may be confident about solving the unspecified bottlenecks holding back production. But to meet his 2018 goal, he would have to transform one of North America's lowest-volume auto factories into the second-highest output plant in the region…. In trying to make more cars at the plant than ever before, Tesla is relying on a bigger workforce than the factory has ever seen. The plant — which the United Auto Workers has been trying to help employees organize — has more than 10,000 workers, almost double the 5,500 who worked there in 2006."
The Bezzle: "This Guy Documents Nearly A Year Of Quality Problems With His Tesla Model S" [Jalopnik]. I'm not an auto geek — I've never owned a car — but if I had to speculate about the source of this guy's many, many problems with his Model S (for example, "a crooked steering wheel when driving straight") I'd speculate that the new Model 3 isn't the only Tesla model where a lot of manual work is being done on a supposedly automated assembly line. Readers, especially Car Talk listeners, when there was Car Talk?
The Bezzle: "Millennials — who purchase only about 11 percent of new cars today — are less nervous about the fledgling technology, with nearly two-thirds willing to own a self-driving vehicle within the next decade. 'The continued advances in autonomous technology should coincide with millennials' long-awaited mass entry into the market,' Edmunds said in a report published Monday" [Bloomberg]. With chart showing willingness to purchase a robot car by age bracker. The "advance" trope conceals the fact that moving from Level 4 to Level 5 — from driver-assisted to fully autonomous — is a qualitative leap, not an incremental change. Further, the "Levels" trope implies for some a teleology; that is, "advance" from one level to the next is, like "progress," inevitable.
The Bezzle: "Tesla's Tiered Pricing Is a Hurdle, but a Fair One" [New York Times]. "Tesla, Elon Musk's pioneering electric car company, originally offered its Model S sedan in two variants. The difference was a few lines of software code that restricted the energy available from one version's battery. A simple, over-the-air change in that code could instantly render the two cars' battery output — and cruising range — identical. Yet the sticker price for the unrestricted model was thousands of dollars higher."
Rapture Index: Closes down 1 on Israel. "Israel has been generally peaceful the past few months" [Rapture Ready]. Record High, October 10, 2016: 189. Current: 184.
Today's Fear & Greed Index: 67 Greed (previous close: 74, Greed) [CNN]. One week ago: 85 (Extreme Greed). (0 is Extreme Fear; 100 is Extreme Greed. Last updated Oct 30 at 11:37am,
Our Famously Free Press
"Whaddya Know, the Bezos-Owned Washington Post Is Publishing Amazon Press Releases and Pretending It's Journalism" [Alternet].
Health Care
Thread (slightly NSFW):
Fuck. Fuck. Fuck. Fuck. Fuck. Fuck. Fuck. My insurance company is literally killing me over $5000/month. I don't know what's going to happen pic.twitter.com/veFTU2Aa9F

— Coffee Spookie (@coffeespoonie) October 26, 2017
There is a happy ending, but really, things just shouldn't be like this.
Black Injustice Tipping Point
"Park Service cancels Black Panther legacy project at Cal amid conservative outcry" [San Francisco Chronicle]. The Panthers were big supporters of the right to bear arms, so I don't see what the problem could have been.
"'I Can't Breathe': An Excerpt From Matt Taibbi's New Book on the Eric Garner Killing" [Rolling Stone].
Guillotine Watch
"Look Inside the Most Expensive House on Earth" [Bloomberg]. "The grounds are considered among the top 10 botanical gardens worldwide, but unlike others, these are private, competing with those owned by towns and universities." The gardens look lovely, but the interior?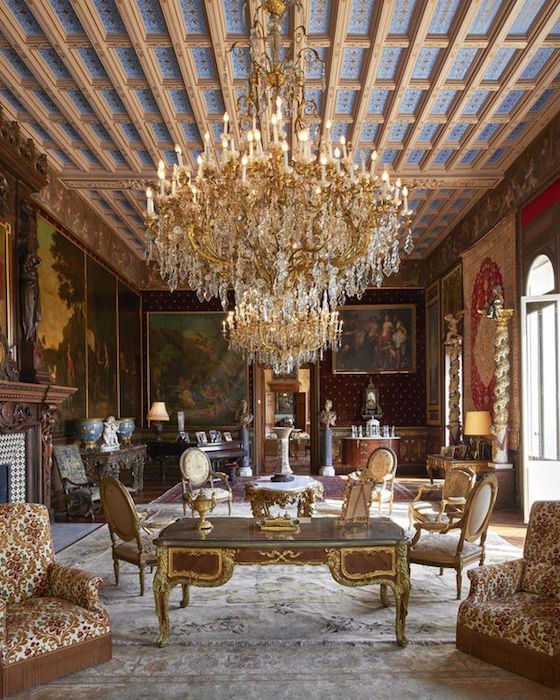 Tacky, gaudy, boring, shameless. Elite.
Class Warfare
"In the five years I've worked here [at the Los Angeles Times], I've had five publishers; I've already outlasted four of them. When you look back on the past fifteen or twenty years, the culture of this organization and its prestige has been kept alive by the workers and the journalists, many of whom feel as if they've been forgotten about by the owners" [Jacobin]. Interview with union organizers. "Forgotten" is putting it kindly.
"AP-NORC poll: Most have little fear of robots taking jobs" [AP]. "Fifty-seven percent of respondents said they thought it unlikely that they or someone in their household will be replaced at work by automation within the next 10 years, the survey found. A nearly identical proportion — 56 percent — said they consider it at least somewhat likely that their job will be improved by automation. Many think, for example, that such technology has made jobs safer…. A wide gap also exists in how people with different levels of education respond to such questions. Americans without college degrees are twice as likely as those with degrees to say it's very likely automation will cost them or someone in their household a job. That is in line with studies that have found that lower-skilled work is more likely to be automated."
"An average of nearly 500 calls a day rang into Cincinnati's Center for Addiction Treatment (CAT) in September. The website caught 1,100 visits a day" [Cincinatti Enquirer]. "The phone and web traffic for CAT's services are two measures of how many people want help for heroin addiction. Problem is, immediate treatment is hard to get."
"Authoritarians and the Ideology of Love" [Human Iterations]. "Why do so many authoritarians on Twitter have anime girl avatars?"
News of the Wired
"Read the CIA's Simple Sabotage Field Manual: A Timeless, Kafkaesque Guide to Subverting Any Organization with "Purposeful Stupidity" (1944) [Open Culture] (PDF).
The thing about social media is that it's social:
Move fast and break things. https://t.co/SMQE7xKKcI

— Matthew Yglesias (@mattyglesias) October 25, 2017
"The 2017 Halloween Candy Hierarchy: Definitely Not Fake News" [Boing Boing]. With large chart of candy types, suitable for framing.
* * *
Readers, feel free to contact me at lambert [UNDERSCORE] strether [DOT] corrente [AT] yahoo [DOT] com, with (a) links, and even better (b) sources I should curate regularly, (c) how to send me a check if you are allergic to PayPal, and (d) to find out how to send me images of plants. Vegetables are fine! Fungi are deemed to be honorary plants! If you want your handle to appear as a credit, please put it in the subject line. Otherwise, I will anonymize by using your initials. See the previous Water Cooler (with plant) here. Today's plant (SR):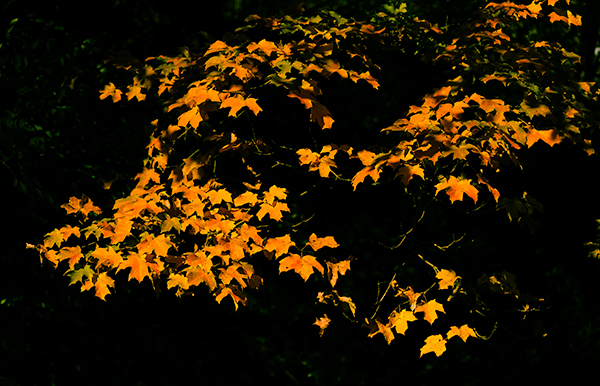 A lovely sugar maple.
Also, it would be nice to have more pictures of people's gardens buttoned up for the winter, for those of you for whom winter is coming. And fall foliage, ditto.
* * *
Readers: The Naked Capitalism fundraiser is over, and let me express my personal thanks to all those who have helped keep Naked Capitalism getting better and better. Water Cooler, however, is a standalone entity not covered by the NC fundraiser. So do feel free to use the dropdown and click the hat to make a contribution today or any day. Here is why: Regular positive feedback both makes me feel good and lets me know I'm on the right track with coverage. When I get no donations for five or ten days I get worried. More tangibly, a constant trickle of small donations helps me with expenses, and I factor that trickle in when setting fundraising goals. So if you see something you especially appreciate, do feel free to click the hat!