This is Naked Capitalism fundraising week. 1255 donors have already invested in our efforts to combat corruption and predatory conduct, particularly in the financial realm. Please join us and participate via our donation page, which shows how to give via check, credit card, debit card, or PayPal. Read about why we're doing this fundraiser, what we've accomplished in the last year and our current goal, burnout prevention.
By Lambert Strether of Corrente.
Trade
"The 11-15 October [NAFTA] round will come just one fortnight after officials wrapped up their third negotiating round in Ottawa, Canada…. 'Negotiators are now working from consolidated texts in most areas, demonstrating a commitment from all parties to advance discussions in the near term,' said a trilateral statement from the three countries" [International Centre for Trade and Sustainable Development]. "Ministers generally affirmed, however, that the challenging parts of the NAFTA negotiations are yet to come, even with the progress seen in the third round. Officials have noted, for example, that tough areas like rules of origin for major products such as automobiles, and dispute resolution between investors and governments as well as for trade remedies, are likely to take longer to resolve."
"The World Doesn't Care About TPP" [Clyde Prestowitz (!), The American Prospect]. "Since the Trump administration's decision not to ratify the Trans-Pacific Partnership (TPP) so-called free trade agreement, it has become an article of faith of the U.S. foreign policy elite and pundit class that this inaction is causing a decline in American global influence…. This view—a common cliché among policy elites—is profoundly and dangerously wrong. TPP would not have contained Chinese influence, and was not really designed to. In considering all this declamation, it's important to keep in mind that those making this claim are the same sorts of people who insisted that winning the Vietnam War was essential for maintaining America's global influence. They are also the same crowd that said Saddam Hussein had weapons of mass destruction. Their assertions were not true in the past and neither is their new argument that the end of the TPP means the end of American power."
Politics
New Cold War
"Thomas Friedman and David Brooks might as well write for the Onion" [Chris Hedges, Truthdig]. Fun interview, but Hedges means the old Onion, which was actually funny, not the current formulaic and greyish-colored Onion, owned by Clinton donor Univision.
Trump Transition
"The baffling assumption in Washington and in the markets these days is the persistent optimism that major tax reform or a big tax cut will be enacted this year or next. Why should anyone think this is realistic?" [Charles Cook, Cook Political Report]. "The landmark Tax Reform Act of 1986 was the last time that Congress successfully grappled with country's jerry-built revenue system… It was a centrist, bipartisan piece of legislation, with a political all-star team behind it…. Flash forward 31 years. Does the party in power have large majorities? No. If not large, is the majority cohesive enough to get something big and consequential passed? No. If not, is there a cooperative minority party willing to help? No. Do the current leaders have as much influence as the 1986 heavyweights? No. Is the president strong enough to ram something through on his own, or does he have close enough ties with members to persuade them to back a major reform? No." And then there are the dozen or so Republicans in California and New York who would have to face the voters after eliminating deducations for (their high) state and local taxes.

"Donald Trump is playing zero-dimensional chess" [Chris Cilizza, CNN]. "Hitting everyone who hits you, of course, isn't a strategy. It's a tactic. And, not a very good one at that. Based on all of the evidence of Trump's first nine months in office, it's impossible to conclude that he has any sort of comprehensive strategy or theory of the case. He acts (or reacts) and sees what happens. There's no bigger plan that we're not privy to. There's really no plan at all."
New Cold War
Russia hysteria:

"Google uncovers Russian-bought ads aimed at influencing the 2016 election." This is like saying a casino finds an unauthorized bingo game

— Pinboard (@Pinboard) October 9, 2017
2020
"Let's dispense with this fiction that Mark Zuckerberg isn't running for some kind office. He's running for office" [Jacobin]. "There is, of course, his well-publicized, impeccably documented, and sumptuously photographed apple pie tour of all fifty states, which, as most people will tell you, is something all thirty-three-year-old billionaires suddenly decide to do with no ulterior motive. But even beyond that, we also know Zuckerberg engineered the company's rules so that he could remain in control of Facebook even while serving in government indefinitely. The endgame here is not particularly hard to figure out."
Realignment and Legitimacy
"L.A. Podcast Festival Returns, Now With More Socialism" [LA Weekly]. Lists podcasts on the left, "all of which riff on politics, pop culture, media and history from various modern American leftist perspectives. (Leftist, meaning recently disenfranchised Democrats who moved left during and post Obama, anarchists, Marxists, communists, antifa — basically anyone who doesn't identify with the duopoly and believes capitalism is fundamentally flawed.) And many of these podcasters organize in or support organizations such as Democratic Socialists of America (DSA)" (Note the "*.") That seems to me to be a less than analytical definition of the left; I prefer to think of the left as putting the working class first (a positive definition, instead of considering the left as a sort of residuum of the two-party system). Neoliberals — that is, liberals and conservatives — put markers first, though in different ways.

"Nothing Divides Voters Like Owning a Gun" [New York Times]. "Over all, gun-owning households (roughly a third in America) backed Mr. Trump by 63 percent to 31 percent, while households without guns backed Mrs. Clinton, 65 percent to 30 percent, according to SurveyMonkey data. No other demographic characteristic created such a consistent geographic split."

"Why "privilege" is counter-productive social justice jargon" [Black Youth Project]. "'Privilege' is a lackluster concept because it centers individual behavior over systemic failure, and suggests that changing these behaviors is a sufficient way to dismantle oppression. Further, 'privilege' is a minimal acknowledgement that calls for the most basic of actions that are easily undone and difficult to scale. 'Privilege' innately derails productivity in our fight for Black Liberation because it forces us to reckon with whether or not it is an organic good. When we hear 'privilege,' we are compelled to determine if privilege is an asset or an attainment; do we need those with 'privilege' to use that privilege to co-conspire, and/or are marginalized people fighting for a society in which they amass social privilege themselves?"
Stats Watch
This is Columbus Day, so there are no official stats.
Employment Situation: "[Friday's] negative headline jobs report followed a record 83 consecutive months of positive jobs reports" [Calculated Risk]. "This negative headline jobs report followed a record 83 consecutive months of positive jobs reports. A couple of comments: 1) If we adjust for the 2010 Census hiring and firing (data here) the streak of consecutive positive jobs reports was actually 90 months long. It makes sense to adjust for the Census hiring and firing since that was preplanned and unrelated to the business cycle. 2) There is a reasonable chance that the recent streak isn't over – and that the September jobs data will be revised up."
GDP: Looks like we've been getting a bit of help from corporate 'deficit spending' which works to support gdp growth,-to the extent it's ultimately spent on goods or services- while it lasts. And while this may have further to go, it is not, as Wynne Godley used to say, a sustainable process" [Mosler Economics]. See the interesting chart: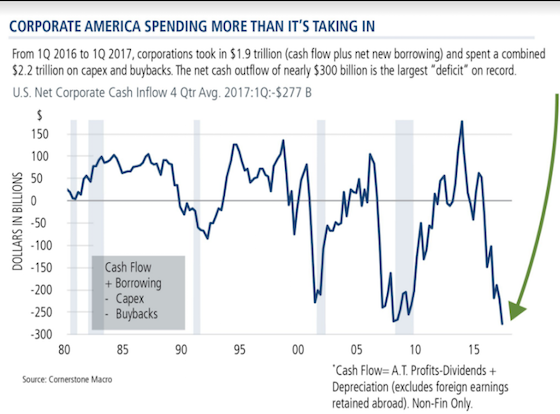 Energy: "Solar power grew faster than any other source of fuel for the first time in 2016, the International Energy Agency said in a report suggesting the technology will dominate renewables in the years ahead" [Bloomberg].
Retail: "Enter the new night market. Open until the small hours, packed with a variety of delicious street food, enlivened by music and other entertainments, lubricated by cocktails and beer, they cater for people with diverse tastes in one place" [The Economist]. "At Model Market, , diners can pick up a plate of crispy fried squid from Ink, laced with coriander, bright with lime, hot with chilli and spring onion, accompanied by a pastel trio of miso, wasabi and ginger mayonnaises." The Economist seems to have confused actual night markets, ubiquitous in Asia, with a corporate, upscale version of the same.
Retail: "'We want sauce': police called over McDonald's Rick and Morty promotion" [Guardian]. "A McDonald's public relations stunt has ended in chaos and acrimony after the fast food chain promised fans of the TV show Rick and Morty a limited edition, long-out-of-production Szechuan dipping sauce and then swiftly ran out." If #FightFor15 could do this… Personal note: I kept seeing edge of this story on the Twitter in the form of jokes and meta-style irony, but the original context was completely opaque to me, since (a) I don't go to McDonald's, and not owning TV or watching any digital equivalent (b) am insulated from McDonald's advertising and (c) have no idea who Rick and Morty are. It was a rather disorienting experience. One does try to keep up. I mean, I scan Teen Vogue.
Retail: "As Walmart seeks to leverage its enormous network of stores — as well as launch two-day shipping and pickup services — to become a bigger player online, the distinction between e-commerce and brick-and-mortar is falling away. The customer is interacting with just one brand: Walmart" [Business Insider]. "Walmart, which has estimated that 90% of the US population lives within 10 miles of one of its more than 4,700 stores, is hoping customers who prefer to return items easily in-store will choose the retail chain over its online-only competitors." Hmm. I'm going to choose my retailer for its returns policy? Have the good really become that crapified?
Retail: "Nothing is slowing down the logistics hiring surge for the holidays. Warehousing and storage companies added 4,800 jobs from August to September and parcel carriers also boosted payrolls" [Wall Street Journal]. "[A] tight U.S. labor market is already accelerating seasonal recruiting efforts and calling for higher pay in warehouses.:"
Retail: "Mexico City's Street Food Vendors Regroup and Return After the Earthquake" [Eater]. "The ongoing gentrification in Condesa and the nearby Roma neighborhood started back in the early 2000s and, as the demographics have changed, street vendors have struggled to maintain their place in the social and economic structure of the community. Just last summer, the [idiotic] government issued an order to shut down at least 200 food stands in the area close to the nearby subway stations. Nonetheless, street-food vending is an essential part of Mexico's culture, and in Condesa, it's not uncommon to see stands on the corners of the main avenues."
Shipping: "More than a year after completing the $5.4 billion, nine-year project to expand locks to meet the maritime world's drive toward mega-ships, the canal is helping reshape trade flows and supply chains. …[T]he bigger Panama Canal has handled more than 2,000 vessels that couldn't fit through the older canal, adding tens of millions of dollars in new tolls and triggering a trading boom at U.S. East Coast ports" [Wall Street Journal]. "The bigger Panama Canal instead appears to be drawing business away from the Suez Canal, [and] to be drawing some container volume away from the West Coast."
The Bezzle: "Self Driving" [XKCD (DM)]. DM: "Note that on xkcd cartoons, you need to hover the cursor over the cartoon to access an additional comment/gag."
The Bezzle: "[A]s a former finance guy who played around with credit derivatives on the London trading floor of Goldman Sachs during the financial crisis of 2007 and 2008, I know that most of what is happening with [Initial Coin Offerings (ICOs)] now has happened before. And it did not end well" [Creandum]. "So yes, I guarantee you, we are in an ICO bubble. It's not driven by fundamental value creation. It's driven by unsophisticated investors with no clue, who are really excited about the prospect of getting rich quick, and by a separate group of very sophisticated investors and founders very skillfully exploiting the unsophisticated ones, and making a lot of money in the process — this time completely legally."
The Bezzle: "Part of the charm of Amazon CEO Jeff Bezos is his ability to say that earnings barely matter if Amazon is growing and spreading into new promising business. That allows him to excuse away quarters when the company posts red ink. It is, to his mind, an investment, on top of nearly countless investments in the past" [247 Wall Street]. "Charm."
The Bezzle: "The Brazilian government plans to fine local conglomerate Andrade Gutierrez S.A.impose $12.7-billion to settle claims related to its participation in a graft scheme, Newsline reported citing media sources. The fine, based on calculations from Brazil's Office of the Attorney General and the Office of the Comptroller General, is a condition for signing a leniency agreement that would allow the firm to continue bidding for government contracts. Andrade Gutierrez is among 10 companies being investigated since March 2015 for kickbacks from executives to politicians in return for government contracts" [Business Insurance]. That seems like rather a lot. Although one can't help but notice executives in Brazil have impunity from criminal prosecution, exactly as here.
Banking: "Asked whether Amazon, which is run by CEO Jeff Bezos, should be allowed to own a bank, a former top regulator replied, "It's a tough decision that we are going to have to make one of these days" [American Banker].
The Bezzle: "Right out of the proverbial box, the Google Pixel Buds will sport a nifty integration with the Google Translate app so you can use it as something like a universal translator. Your speech gets translated into, say, French, and the other person's French gets translated to English — right in your ears. It's nifty and, based on my brief test, seems to work decently well" [Business Insider]. In my experience, Google Translate is at best very uneven. Although as the article points out, this is cooler than Apple's Ear Buds.
Mr. Market: "A Volatility Trap Is Inflating Market Bubbles" [Bloomberg]. "What appears to be a Goldilocks economy could in actuality conceal a low-volatility trap, a situation where excessive monetary stimulus keeps asset prices rising and volatility low across markets even though real-economy risks are rising. On one hand, central bank stimulus directly lowers risk premiums and volatility in rates and credit markets, pushing investors into riskier assets to generate sufficient returns. On the other hand, politics have become less stable as inequality rises, as the recent elections in the U.S., U.K. and Europe show, and the number of geopolitical hotspots continues to rise. And yet, markets continue threading higher and volatility remains at record lows."
Rapture Index: Closes unchanged [Rapture Ready]. Record High, October 10, 2016: 189. Current: 184.
Today's Fear & Greed Index: 87 Extreme Greed (previous close: 92, Extreme Greed) [CNN]. One week ago: 89 (Extreme Greed). (0 is Extreme Fear; 100 is Extreme Greed). Last updated Oct 9 at 11:58am.
Black Injustice Tipping Point
49ers safety Eric Reid, who began kneeling alongside Colin Kaepernick more than a year ago on Pence: "'My honest reaction … Does anybody know the last time he's been to a football game?' Reid said, via a video from Jennifer Lee Chan of Niners Nation. "With that being said, he tweeted out a three-year old photo of him at a Colts game so with the information I have the last time he was at a Colts game was three years ago. So this looks like a PR stunt to me. He knew our team has had the most players protest. He knew that we were probably going to do it again. This is what systemic oppression looks like. A man with power comes to the game, tweets a couple of things out and leaves the game with an attempt to thwart our efforts. Based on the information I have, that's the assumption I've made" [NBC Sports].
Big Brother Is Watching You Watch
I hate all this:
#Travel #US https://t.co/towFxOikKo pic.twitter.com/5FJpPZU3oM

— Incident Alerts (@Incident_Alerts) October 7, 2017
"Darknet market hazard: blackmailed by the dealer you gave your address" [David Gerard]. Don't try any of this at home…
Class Warfare
"About half of today's working-age households will not be able to maintain their standard of living in retirement. Social Security will provide less relative to pre-retirement earnings; 401(k) balances are meager; and half the private sector workforce does not have an employer-sponsored plan. At the same time, with rising life expectancy the number of years spent in retirement has increased dramatically, health care costs are high and rapidly rising, and interest rates are at historic lows" [MarketWatch].
"[I]if you were to believe that "taxation is theft" — because it's maintained through force of government — then you'd also have to believe capitalism itself is theft, since private ownership is maintained through force of government" [Extra News Feed (GF)].
"One type of marriage that's most likely to end in divorce — according to a relationship scientist" [Business Insider]. All the way at the end: "What I think is going on is it's really difficult to have a productive, happy marriage when your life circumstances are so stressful and when your day-to-day life involves, say three or four bus routes in order to get to your job."
"How Did Marriage Become a Mark of Privilege?" [New York Times]. "Currently, 26 percent of poor adults, 39 percent of working-class adults and 56 percent of middle- and upper-class adults ages 18 to 55 are married… A big reason for the decline: Unemployed men are less likely to be seen as marriage material. 'Women don't want to take a risk on somebody who's not going to be able to provide anything,' said Sharon Sassler, a sociologist at Cornell who published 'Cohabitation Nation: Gender, Class, and the Remaking of Relationships' with Amanda Jayne Miller last month." Cum grano salis, since the study comes from right-wing think tank AEI…
"Photographer Barbara Peacock's 'American Bedroom' explores who are as individuals and a nation" [RealClearLife]. Interesting project, placed in the "Class Warfare" bucket for obvious reasons…
News of the Wired
"The Real Christopher Columbus" [Jacobin]. Not a nice person at all.
"Lenovo's 25th anniversary Thinkpad corrects years' worth of wrong turns" [Boing Boing]. Now if only Apple could fix the MacBook Pro. They could start by bringing back the MagSafe connector.
"People walked slightly different in Medieval times" (video) [Boing Boing]. "Before structured shoes became prevalent in the 16th century (and apparently in those places where they never have) people walked with a different gait, pushing onto the balls of our feet instead of rocking forward on our heels."
* * *
Readers, feel free to contact me at lambert [UNDERSCORE] strether [DOT] corrente [AT] yahoo [DOT] com, with (a) links, and even better (b) sources I should curate regularly, (c) how to send me a check if you are allergic to PayPal, and (d) to find out how to send me images of plants. Vegetables are fine! Fungi are deemed to be honorary plants! If you want your handle to appear as a credit, please put it in the subject line. Otherwise, I will anonymize by using your initials. See the previous Water Cooler (with plant) here. Today's plant (SR):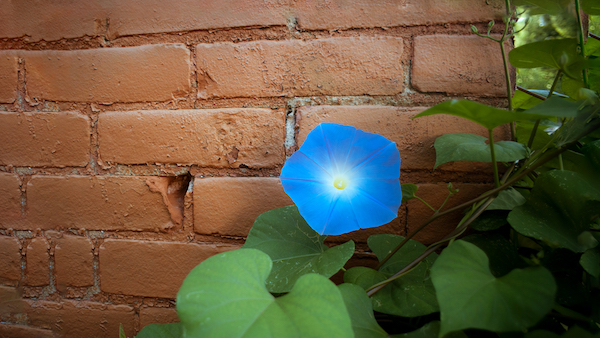 I love morning glories!
Readers, thanks for the nice pictures of plants! Now I have a little bit of a stash.