This is Naked Capitalism fundraising week. 616 donors have already invested in our efforts to combat corruption and predatory conduct, particularly in the financial realm. Please join us and participate via our donation page, which shows how to give via check, credit card, debit card, or PayPal. Read about why we're doing this fundraiser, what we've accomplished in the last year and our current goal, supporting the comments section.
By Lambert Strether of Corrente.
Trade
"The United States imported more than $8.1 billion worth of solar cells from around the world last year, including $2.4 billion from Malaysia, $1.5 billion from China, $1.3 billion from South Korea, $854 million from Mexico, $519 million from Thailand, $513 million from Singapore and $204 million from Taiwan" [Politico].
"The U.S. auto industry says it's a "steep curve" on the amount of domestic content (defined as parts made in the U.S. or Canada) when comparing American automobiles made by U.S. companies and those manufactured by foreign companies" [Politico]. "'While American auto suppliers produce hundreds of billions of dollars worth of parts each year, they are used in a comparatively small portion of American vehicles,' the American Automotive Policy Council said in a report out this month. 'Only one in five models contains more than 55% domestic content. More than half of them contain 10% or less domestic content.'"
Politics
2020
"Mark Cuban is 'actively considering' a run for President—7 other billionaires, CEOs and celebs may be too" [CNBC]. Please kill me now.
2016 Post Mortem
"How Ivanka Trump and Donald Trump, Jr., Avoided a Criminal Indictment" [The New Yorker]. By using Clinton's argument that if there's no quid pro quo, there's no corruption. Naturally.

"Exclusive: Russian-linked Facebook ads targeted Michigan and Wisconsin" [CNN]. Still struggling with the concept that a $100K Facebook buy neutralized the donor class. I mean, that puts the Presidency in range for the DSA, no?
Trump Transition
"[O]ver the past few years, one of the most positive things involving the federal government and technology has been the success of two similar (but also very different) organizations in the US government: US Digital Service (USDS) and 18F. If you're completely unfamiliar with them there are plenty of articles describing both projects, but this one is a good overview. But the really short version is that both projects were an attempt to convince internet savvy engineers to help out in the federal government, and to bring a better understanding of modern technology into government" [TechDirt]. "And it's been a huge success in a variety of ways — such as creating federal government websites that are modern, secure and actually work. And even though both programs are associated with President Obama, the Trump administration has been adamant that it supports both organizations as well, and they're important to continuing to modernize the federal government. The offices are not politicized, and they have been some of the best proof we've got that government done right involves smart, dedicated technologist." I pulled out the background material, but the thrust of the article is that Oracle doesn't like anything about this.

"In partisan times, chief justice worries about the court's image" [CNN]. After Bush v. Gore. Help me.
Stats Watch
ADP Employment Report, September 2017: "Hurricanes didn't scramble ADP's sample too much in September with their private payroll estimate at 135,000 which is very close to Econoday's consensus for 140,000" [Econoday]. "The result is down sharply from August but is still constructive and consistent with a strong labor market, especially given the disruptions in Texas from Hurricane Harvey and in Florida from Hurricane Irma." And: "below the consensus forecast" [Calculated Risk]. And but: "This month the rate of ADPs private employment year-over-year growth remained in the tight range seen over the last year" [Econintersect]. "When the goods sector of the economy is gaining more workers than historically – it is a warning that something is wrong. This is the second month in a row of the service sector weakness."
Institute For Supply Management Non-Manufacturing Index, September 2017: "Orders and employment continued to rise through September in ISM's non-manufacturing sample which is showing no worrisome effects from Hurricanes Harvey and Irma" [Econoday]. "Hurricane effects slowed deliveries very sharply, up 7.5 points to 58.0 and are a major contributing factor to the strength in the headline index (slower deliveries are positives in the index's calculation). Input prices also show hurricane effects, up more than 9 points to 66.3 for the highest reading in 5-1/2 years. Inventories continued to build but at a slightly slower pace in a likely effect tied to hurricane-related transportation snags." And: "This suggests faster expansion in September than in August" [Calculated Risk]. But: "Both services surveys are in expansion. The real question is why did employment come in so poorly the last two months from ADP? Did reality separate from these survey's?" [Econintersect].
Purchasing Managers' Services Index, September 2017: "Hurricane effects did little to slow down Markit's U.S. service sector sample whose final September index, at 55.3, is up 2 tenths from the mid-month flash and down only 7 tenths from August" [Econoday]. "Production held at solid and sustained levels and new orders, driven by domestic demand, are near a 3-year high… Business confidence is still described as "robust" yet the level is the lowest in 7 months."
Supply Chain: "Although it may be too early to collect any data from this second major hurricane in three weeks, Noel Perry, Partner at FTR and Senior Economist for Truckstop.com says the impact will be significant" [Logistics Management]. "Houston is a major manufacturing town, with the chemical plants right down on the water. In Florida, it's mainly consumer activity. So, the effects in Texas will be heavily tank truck and railcar related, while in Florida it will be dry vans full of consumer goods and flatbeds full of wall board. Together Florida and Texas represent about 15% of the U.S. economy. The storm interruptions of those two economic engines, 4th and 2nd respectively among the states, will cost U.S. GDP about .5% in the third quarter of 2017.The two states account for about seven percent of U.S. trucking activity on a typical day and affect another four percent as important parts of truck trip circuits."
Shipping: "Parcel, a technology-based, same-day and last-mile delivery company that specializes in delivery to clients in New York City is the latest addition to Walmart's growing e-commerce business" [Supply Chain 247]. "Parcel also provides services like scheduled evening delivery and custom text message notifications for high-growth e-commerce companies looking to differentiate their customer experience."
Shipping: "Wal-Mart Stores Inc. has had little success in trying to open stores in some of the largest U.S. cities. In 2014, the company had no stores in New York City, San Francisco, Detroit, Seattle or Boston. It still doesn't" [247 Wall Street]. "We examined some of the reasons Walmart was not able to build stores in some cities back in 2014. They range from union opposition, reluctant city councils and vocal voter opposition. In fact, New York City even sent a letter to the company requesting that Walmart stop making charitable contributions in the city. That was harsh…. But can New York ban Walmart from owning distribution centers outside (or inside) the city from which deliveries are made? Can unions win protests against opening warehouses outside the unions' spheres of influence in large U.S. cities? Doesn't seem likely to us."
Shipping: "European Union antitrust regulators are moving aggressively to retrieve several hundreds of millions of euros in allegedly unpaid taxes from Amazon as Brussels cracks down on sweetheart tax deals that governments have granted to multinationals" [Wall Street Journal]. "The move against Amazon is over taxation in Luxembourg that was set in a 2003 tax deal with Amazon, one that regulators believe amounts to illegal state aid. The case highlights the complicated efforts multinationals are undertaking to rein in costs even as they expand internationally. That's a big concern for Amazon as it looks to bulk up its presence in the U.K. and spread out across Europe." Handy diagram:
Almost three quarters of Amazon's profits were not taxed https://t.co/iLeycXkkns pic.twitter.com/wtHXVgLj0Z

— EU Competition (@EU_Competition) October 4, 2017
Shipping: "America's top investor is placing a long-haul bet on trucking. Warren Buffett's Berkshire Hathaway Inc. is taking a nearly 40% stake in the operator of Pilot and Flying J travel centers…, and plans eventually to take control of a business Mr. Buffett says is tied to the intractable need to move more goods 'to more people.' It's the latest investment in traditional transportation at Berkshire" [Wall Street Journal].
Shipping: "New research has valued the global container fleet market at US$14.4 billion by 2025, up from $8.8 billion in 2016" [Port Technology]. "Transparency Market Research (TMR), a market intelligence company, has found [sic] that the compound annual growth rate (CAGR) will be 5.70% during the period from 2017 to 2025…. With a share of more than 20%, the automotive industry surfaced as the leading end user of container fleets across the world."
Shipping: "Rolls-Royce joins forces with Google in autonomous ship quest" [Splash 247]. "Rolls-Royce has signed a deal with Google to develop further its push for autonomous ships. The agreement, believed to be the first in the marine sector, was signed today at the Google Cloud Summit in Sweden. It allows Rolls-Royce to use Google's Cloud Machine Learning Engine to further train the company's artificial intelligence (AI) based object classification system for detecting, identifying and tracking the objects a vessel can encounter at sea."
The Bezzle: "Fully driverless cars could be months away" [Ars Technica]. "According to Efrati, Waymo's service is likely to launch first in Chandler, a Phoenix suburb where Waymo has done extensive testing. Waymo chose the Phoenix area for its favorable weather, its wide, well-maintained streets, and the relative lack of pedestrians. Another important factor was the legal climate. Arizona has some of the nation's most permissive laws regarding self-driving vehicles." A-a-a-n-n-n-d, six paragraphs in, here's how they're gaming "fully driverless":
According to the Arizona Republic, a 2015 executive order from Gov. Doug Ducey 'allows universities to test vehicles with no driver on board so long as a licensed driver has responsibility for the cars and can take control remotely if the vehicle needs assistance.'

Waymo is getting ready to take the same approach. . The ability to remotely monitor vehicles and give timely feedback on tricky situations will be essential if Waymo hopes to eliminate the human driver from its cars.
So, the car is "fully driverless" except when it's a drone. (And on the choice of snowless, pedestrian-free Arizona, see my comment yesterday on programmers trying to control their inputs when they can't make their algos work.
The Bezzle: "6 Fresh Horrors From Equifax CEO Richard Smith's Congressional Hearing" [WIRED]. "It's hard to even hold all the failures and missteps in your mind at once, but each revelation makes the overall picture seem that much uglier." So, naturally the administration awards them a no-bid contract with the IRS. They're just toying with us, aren't they? And good clean fun at the hearing:
Someone dressed like the Monopoly guy is photobombing the Senate's Equifax hearing https://t.co/zrZzUYh0nH pic.twitter.com/Vnd14kQFam

— Steve Kopack (@SteveKopack) October 4, 2017
The Bezzle: "Shareholders shrugging off Tesla Inc.'s plodding start with its newest electric car were backed up by the newest analyst to start covering the company, who instantly became the biggest bull on Wall Street" [Bloomberg]. "Investors excused Elon Musk for failing to deliver on another ambitious target. While the slower-than-expected initial production of Model 3 means a longer wait for reservation holders, it's more important that the company get its first mass-manufactured car out without quality or safety issues than rush output to meet the chief executive officer's lofty goals." 260 cars, though? For perspective, Swiss watch manufacturer Patek Phillipe produces about 40,000 of its extremely expensive models per year. Maybe the Model 3 has lots of additional, er, complications…
Climate Risk: "The loss of economic activity from the twin storms will subtract 1.2 percent from the nation's third-quarter gross domestic product growth, according to [consultancy IHS Markit]. However, recovery and rebuilding efforts should boost GDP growth in subsequent quarters, it said" [DC Velocity]. "'The difference in cooperation between all parties this time versus earlier storms, such as Katrina, was very dramatic; most everyone was as prepared as possible, and relief efforts were well coordinated,' said Charles W. Clowdis Jr., director-industry consulting for IHS. 'Federal, state, local authorities, volunteers and other groups learned from the lessons of Katrina and were better prepared despite the uncertainty of both storms and the lingering rain from Harvey.'"
Mr. Market: "Dow adds to record rally as Tillerson dismisses 'petty nonsense' over 'moron' remark and recommits to Trump agenda" [MarketWatch]. It was fascinating to watch the latest episode of hysteria flower on the Twitter. First the scoop, then the punditry, then the death watch by the press… And all for naught. At least today. I can't wait for tomorrow.
The Fed: "Trump is reportedly down to a final 5 in his search for the next Fed chair" [Business Insider]. Janet Yellen, Gary Cohn, Kevin Warsh, Jerome Powell, and John Taylor
Five Horsemen: "Big Tech is locked in a holding pattern, as the mania rotates to other sectors" [Hat tip, Jim Haygood].
Today's Fear & Greed Index: 90 Extreme Greed (previous close: 92, Extreme Greed) [CNN]. One week ago: 77 (Extreme Greed). (0 is Extreme Fear; 100 is Extreme Greed). Last updated Oct 4 at 11:49am.
Gaia
"According to a report by the World Economic Forum, 8m tonnes of plastic is dumped in the sea every year" [Splash 247]. "'If we continue doing so, by 2050 there will be more plastic than fish in the ocean,' [Trond Lindheim, owner of SpillTech] warns, adding that the waste could enter and disrupt the food chain globally." Sure, he's talking his book. But…
"How did life on Earth begin? A study out Monday backs the theory that meteorites splashing into warm ponds leached essential elements that gave rise to the building blocks of life billions of years ago" [Agence France Presse]. "The life-giving potential of these so-called 'warm little ponds' was raised by the famed biologist Charles Darwin, who developed the theory of evolution, in a letter to a friend in 1871. 'But if (and oh what a big if) we could conceive in some warm little pond with all sorts of ammonia and phosphoric salts, light, heat, electricity et cetera present, that a protein compound was chemically formed, ready to undergo still more complex changes,' he wrote at the time."
"What fruits and vegetables looked like before we domesticated them" [Business Insider]. "Wild carrots were likely cultivated around the 10th century. They were purple or white, very thin, with a very distinct, powerful flavor. Modern carrots are orange, thicker, brighter, and crunchy."
Class Warfare
"What's Behind America's Disappearing Workforce?" [Supply Chain 247]. Not much in the article, but includes this handy chart: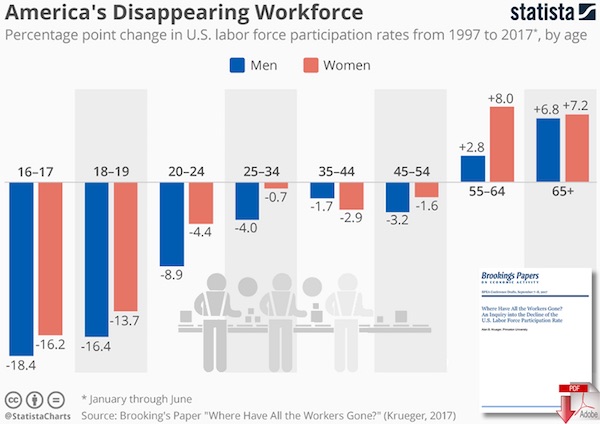 "The States Cutting Their Government Workforce" [Governing]. "Nationwide, state governments employed just over 2.4 million workers as of March 2016, according to data released last week by the U.S. Census Bureau. That figure, which excludes education, started to drop with the onset of the Great Recession and currently mirrors employment levels from the early 1990s…. Looking back further, most areas of state government have experienced much deeper reductions since total employment peaked in 2009. Social insurance administration, which includes agencies providing unemployment assistance and job services, is down 12.5 percent over the seven-year period. Highways and corrections similarly incurred steep job losses that have yet to rebound. The one segment of the workforce that appears to be headed in the opposite direction is higher education."
News of the Wired
"Physicists find we're not living in a computer simulation" [Cosmos]. "In a paper published in the journal Science Advances, Zohar Ringel and Dmitry Kovrizhi show that constructing a computer simulation of a particular quantum phenomenon that occurs in metals is impossible – not just practically, but in principle… The researchers calculated that just storing information about a couple of hundred electrons would require a computer memory that would physically require more atoms than exist in the universe. The researchers note that there are a number of other known quantum interactions for which predictive algorithms have not yet been found. They suggest that for some of these they may in fact never be found. And given the physically impossible amount of computer grunt needed to store information for just one member of this subset, fears that we might be unknowingly living in some vast version of The Matrix can now be put to rest." So, the Silicon Valley elites are not only crazypants, they're, well, morons, to use a word that's very popular today. I hope these clowns do make it to Mars, and leave the rest of us alone.
There's something very creepy about "Stimulus," as opposed to "Stimulants":
I only stay at Pacifica Golden pic.twitter.com/ofPTNqdGSn

— Simon Stålenhag (@simonstalenhag) September 27, 2017
* * *
Readers, feel free to contact me at lambert [UNDERSCORE] strether [DOT] corrente [AT] yahoo [DOT] com, with (a) links, and even better (b) sources I should curate regularly, (c) how to send me a check if you are allergic to PayPal, and (d) to find out how to send me images of plants. Vegetables are fine! Fungi are deemed to be honorary plants! If you want your handle to appear as a credit, please put it in the subject line. Otherwise, I will anonymize by using your initials. See the previous Water Cooler (with plant) here. Today's plant (Chris):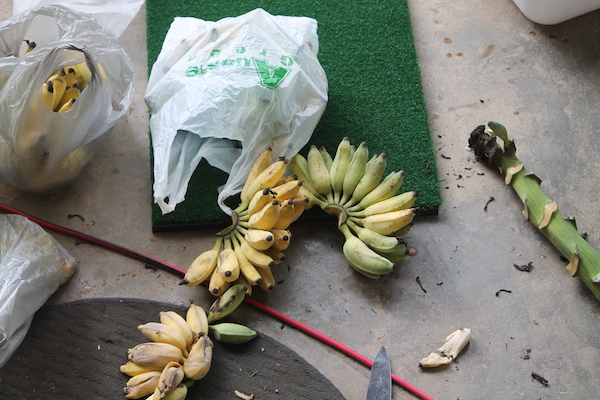 Chris writes: "Second crop of bananas were much better and a green branch (what do you call them) full of hands has been sitting for three weeks since I cut it down. I noticed this morning that almost the whole lot were just ready to eat, so time to bag and go around the neighbours."