This is Naked Capitalism fundraising week. 1445 donors have already invested in our efforts to combat corruption and predatory conduct, particularly in the financial realm. Please join us and participate via our donation page, which shows how to give via check, credit card, debit card, or PayPal. Read about why we're doing this fundraiser,what we've accomplished in the last year and our current goal, more original reporting.
Thanks to your generous responses to our fundraiser, we've been able to schedule more meetups. And if you haven't yet given, please visit our Tip Jar, which tells you how to give via check, credit card or debit card, now! Every donation, whether $5, $50, or $5000, helps us get to our goals.
We've doing meetups relatively close to New York first due to the greater ease of travel, but rest assured, we'll also be visiting the heartlands and the West in the upcoming year.
For our inaugural Boston meetup next Thursday, October 19, Outis will also be joining us, so I hope those of you who attend will have the opportunity to chat with him.
Details:
Time
5:00 PM to 8:00 PM (based on past experience, we'll almost certainly go later)
Thursday October 19, 2017,
Location
49 Social
49 Temple Place
Boston, MA 02111
617-338-9600
https://www.49social.com/
We have reserved the upstairs. Please thank reader phaedras25 for the suggestion.
As you can see below, 49 Social is near stops for the Red, Orange and Green lines.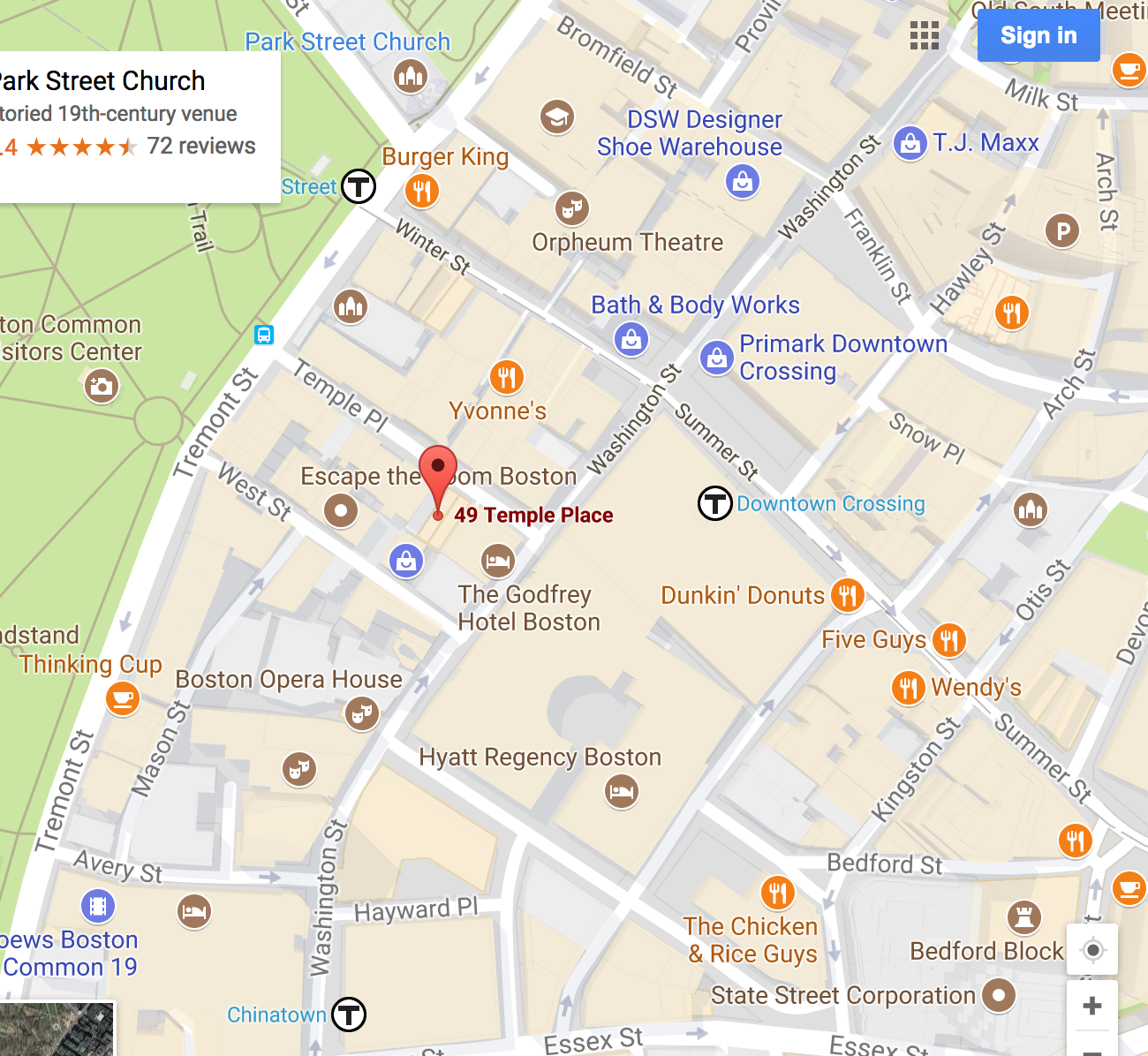 I'll be getting in that afternoon, hopefully in plenty of time, but in case I am delayed, please enjoy mixing with the members of the NC community! Most people who come to our meetups do so for the stimulating conversation and to mix wwith like-minded people.
Our next meetups are:
New York City Tuesday October 24. Slainte is out that night. I could try Ten Bells, although it's a bit difficult to get to (in the Lower East Side) and the room layout makes it difficult to mix (everyone winds up sitting at long tables). But it does have an excellent selecton of beers and the noise level is low. Ww've also had meetups upstairs at the Old Town Bar, where they again set up the room with tables, but table-hopping seems a bit easier. Any other ideas?

Philadelphia Thursday November 2

Atlanta Thursday November 15
We could also do a meetup in Birmingham, Alabama on Monday November 20 (I will be recovering from dental work but I don't think that will interfere with imbibing with readers). I know we have at least a couple of readers in Birmingham, so let me know if you expect to be in town then.