This is Naked Capitalism fundraising week. 1443 donors have already invested in our efforts to combat corruption and predatory conduct, particularly in the financial realm. Please join us and participate via our donation page, which shows how to give via check, credit card, debit card, or PayPal. Read about why we're doing this fundraiser,what we've accomplished in the last year and our current goal, more original reporting.
Trade
"Delta has no intention of paying 300% Bombardier jet tariff" [CNN]. ""We do not expect to pay the tariffs and we do expect to take the planes,' said Delta Chief Executive Ed Bastian on Wednesday morning on the company's earnings call. 'We will not pay tariffs that are being discussed and debated.' Bastian cautioned that there may be a delay in starting delivery of the first [C Series] jets from Bombardier, which are due to arrive in spring of 2018. But he anticipated there would be a conclusion to the trade dispute between Bombardier and Boeing over the next 12 months."
Long-time aerospace industry analyst, Richard Aboulafia: "Let's look at [Boeing's] motivation. First thing that happened when Trump took office was he tweeted at them. It was an attack. He went after Air Force One to 'cancel order.' Simultaneously he threatened to impose a 45% tariff on Chinese imports which would have closed off [Boeing's] biggest single export market by way of retaliation. At the same time he criticized the Super Hornet effectively as a piece of junk. If I were Boeing management, I would be scared stupid. And frankly I think [Boeing] reacted by doing everything they can to help [Trump] pander to his economic nationalist base" [MarketWatch].
"Boeing a 'Subsidy Junkie,' U.K.'s Labour Says in Bombardier Spat" [Bloomberg (Re Silc)]. "'Boeing has absolutely been sucking at the milk of corporate welfare in America for far too long,' [Labour's trade spokesman Barry Gardiner] said on Bloomberg TV. 'They need to understand that the way in which they are playing this does not sit well with U.K. parliamentarians.'" Good clean fun, but one does not "suck" "at" "the milk." Block that metaphor!
"The U.S. stance calling for provisions such as a "sunset" clause on the trade deal that would raise uncertainty for businesses over whether the trade pact will even last. The administration is trying to change economic calculations for companies as they consider where to place manufacturing and investment, and potentially shift today's cross-border supply chains into the U.S." [Wall Street Journal].
"Business groups like the U.S. Chamber of Commerce and the Business Roundtable that have long provided the bulk of the support to get trade agreements through Congress are increasingly alarmed about the Trump administration's plans for revamping NAFTA" [Politico]. "an ad hoc coalition of business groups that includes National Association of Manufacturers, the National Foreign Trade Council, the Coalition of Services Industries, the American Farm Bureau Federation and the National Pork Producers Council hit Capitol Hill on Wednesday to enlist lawmakers in their campaign against the Trump administration's new approach to trade policy."
"Trump was tight-lipped about the progress of the trade talks, but he raised the possibility of pursuing a trade deal with Canada if the three-way NAFTA pact were to fall apart. 'It's possible we won't be able to reach a deal with one or the other. But in the meantime, we'll make a deal with one,' Trump told reporters in the Oval Office on Wednesday. However, Trump added that 'we have the chance to do something very creative that's good for Canada, Mexico and the United States.'" [Politico].
"As Battle Over NAFTA Investor Protections Heats Up, Trinational Coalition Delivers 400,000 Petitions Demanding Elimination of Corporate Rights and Tribunals" [Public Citizen]. "Growing public opposition to the expansive corporate privileges at the heart of the North American Free Trade Agreement (NAFTA) took center stage as the fourth round of NAFTA talks began today in Washington, D.C. U.S., Mexican and Canadian civil society organizations delivered more than 400,000 petitions demanding that NAFTA's expansive corporate rights and protections and Investor-State Dispute Settlement (ISDS) be eliminated during renegotiations." And: "While just 50 known ISDS cases were launched in the first three decades of this shadow legal system, corporations have launched more than 50 claims in each of the past six years. More than $392 million in compensation has already been paid out to corporations to date after NAFTA ISDS attacks on oil, gas, water and timber policies, toxics bans, health and safety measures, and more. More than $36 billion in NAFTA ISDS attacks are pending."
Politics
Puerto Rico
Trump tweets:

…We cannot keep FEMA, the Military & the First Responders, who have been amazing (under the most difficult circumstances) in P.R. forever!

— Donald J. Trump (@realDonaldTrump) October 12, 2017

Why not? We're going to be in Afghanistan forever.

Meanwhile:

The EPA cites reports of Puerto Ricans "obtaining, or trying to obtain, drinking water from wells at hazardous waste "Superfund" sites" pic.twitter.com/UW4ZW7RBUG

— David Begnaud (@DavidBegnaud) October 11, 2017
Trump Transition
"EPA's Repeal of Obama's Clean Power Plan Won't Happen Overnight" [Governing]. "Proposing a rule to undo a regulation takes the same time-consuming, pain-staking, research-based, legally-defensible process used to adopt the very rule targeted for elimination."
2017
"Obama to Campaign in Virginia Gubernatorial Race" [Bloomberg]. "But Virginia is one of only two states electing new governors this year and the swing state's contest is viewed as a possible early referendum on President Donald Trump, who has tried to undo many of Obama's signature legacies." I'm told that Democrat Ralph Northam is not a single payer supporter. Do you suppose Obama will ever campaign for anyone who supports Medicare for All?

"'There are certainly a number of Democrats who wish Ralph Northam were more liberal, but there's little evidence that they're willing to see Gillespie become governor in order to send a message from the Democratic left,' says Stephen Farnsworth, a political scientist at the University of Mary Washington. 'When politics are as partisan as they are, you're looking at a situation where the other side is so unappealing that whatever differences that existed in the primary are papered over to make sure your prevails.'" "Tribe." Hmm.

"Undisclosed deal guaranteed Roy Moore $180,000 a year for part-time work at charity" [WaPo]. "[T]he Foundation for Moral Law." I love the effrontery.
2020
"How Elizabeth Warren Became the Soul of the Democratic Party" [The New Republic]. Since she's co-sponsoring S1804, maybe. Or maybe not: "Warren, unlike Sanders, is a loyal partisan who represents a consensus between her party's left-wing economic populists and groups aligned with the establishment like the Center for American Progress, where she keynoted an Ideas Conference earlier this year. The establishment feels more comfortable with Warren's mission of reforming and 'unrigging' existing economic and political systems, compared to Sanders's approach of indicting and supplanting these systems altogether. 'Warren is a party person,' Howard Dean, the former Vermont governor and ex-chair of the Democratic National Committee, told me. 'Bernie is an iconoclast.'" Poor HoHo. Our Revolution is getting people to run all over the country, and supporting winning candidates, too. That's being "a party person," just not Dean's version of it.

"Bernie Sanders to deliver opening-night speech at Women's Convention" [USA Today]. That should cause some Clintonite heads to explode.
New Cold War
"The shock and outrage over Facebook and Google 'embedding' people in the Trump campaign is dumb" [Business Insider]. "Marketers that spend a lot of money with a given media partner get special treatment."
Realignment and Legitimacy
"Yes, Florida's pool of voters is shrinking. Here's why" [Tampa Bay Times]. Pesky voters:

In the nation's largest swing state, the scrubbing of the roll results in more Democratic voters being listed as inactive than Republicans.

That statistical reality — in a state where the 2016 presidential election and the past two races for governor have each been decided by about 1 percentage point — suggests that Democrats have a larger group of voters who are on the move or who are not engaged politically.

"," said Steve Schale, a Democratic political strategist who played a key role in Barack Obama's victory in Florida in 2008. "We keep seeing these peaks and valleys in voter registration. We're not as engaged as Republicans, and a lot of our folks drop off. ."

If that were a priority, the Democrat Party would have done it (thereby defeating CrossCheck, which had a far greater impact on election 2016 than the so-called "Russian meddling" they're so hysterical about).

"It is time for Barack Obama to join the Trump Resistance full-time" [Charles Pierce, Esquire]. Why? Do the Democrats have another thousand seats to lose? Another three branches of government?

"According to Cornell Belcher, a prominent Democratic pollster who worked for President Barack Obama, attempts to win white working class votes in presidential elections should not be the Democrats' top priority" [Thomas Edsall, New York Times]. More from Belcher:

Heightened tribal [there's that word again'. polarization is the primary hurdle to Democrats' ability to better compete and win white non-college voters. Avoiding that isn't going to work. We can't solve for that with a promise to simply help make college more affordable [even if the most popular politician in America disagrees –lambert]. Until we can better that lessens their very real about the changes that are happening in the country and about how we all together or divided we will certainly lose it to our competitors, Democrats will struggle mightily to compete for white non-college voters broadly and particularly in The South.

(I've helpfully underlined the bullshit tells). What a steaming load. As I've pointed out, conceptualizing politics as tribalism is a recipe for punching sideways. Which is exactly what liberals — and conservatives — want. 50% + 1 elections as far as the eye can see, fought out in "battleground states" with squillions of dollars to consultants. Both party establishments love that. It's win-win!

"City joins suit to prevent armed citizen mobilizations" [Daily Progress]. Charlotteville. "The complaint names more than a dozen individuals and organizations as defendants, including the Pennsylvania and New York chapters of the Light Foot Militia, the Virginia Minutemen Militia, Redneck Revolt and the Socialist Rifle Association [!]."

"Is This Small City the Future of Democratic Engagement in America?" [The Nation]. Lancaster, PA. "Hines introduces herself and then asks the crucial question: "What do you think of the political establishment?" "It sucks!" says the woman at the door….

"An impossibility theorem for gerrymandering" [Short, Fat Matrices] (original). "The U.S. Supreme Court is currently deliberating over whether a proposed mathematical formula [the "efficiency gap"] should be used to detect unconstitutional partisan gerrymandering. We show that in some cases, this formula will only declare bizarrely shaped districts as constitutional."
Stats Watch
Jobless Claims, week of October 7, 2017: "With Puerto Rico still a wildcard, hurricane effects appear to be dissipating in initial jobless claims" [Econoday]. "Aside from the distortions from Puerto Rico, where claims may well spike in the coming reports, levels are returning to their pre-hurricane levels and pointing to great strength in the labor market." And: "This was below the consensus forecast. The recent increase in claims is due to the hurricanes" [Calculated Risk]. And but: "The unwillingness to quit could be a factor holding back better wage growth, reflecting workers' relative lack of bargaining power" [Wall Street Journal]. "The quits rate is trending at levels recorded before the recession began, but below 2001 rates. That could suggest that years of steady hiring and labor shortages reported in several industries have not yet made workers feel as if they're likely to find something better if they leave their current jobs."
Producer Price Index (Final Demand), September 2017: "A rebound for services and also hurricane-related increases in energy prices fed an as-expected 0.4 percent gain in producer prices for September. When excluding food and energy and also trade services, the gain moderates to only 0.2 percent which is also expected" [Econoday].
Bloomberg Consumer Comfort Index, week of October 8, 2017: "keeps retreating but remains at a very strong level" [Econoday]. But: "The Producer Price Index surged year-over-year. I would assume this is a hurricane affect" [Econintersect]. "I suspect the impacts are much broader than to just energy prices."
Retail: "General Motors Co. (NYSE: GM) will temporarily close its Detroit-Hamtramck assembly plant for the final six weeks of the year as the company tries to winnow its supply of low-selling passenger cars" [247 Wall Street].
Retail: "Woman Trades McDonald's Szechuan Sauce for a Car" [Eater]. "Rachel Marie of Macomb, Wisconsin, managed to get her hands on one packet of the stuff, and listed it up for trade on a Facebook group for swapping pins. Somehow, she instead managed to exchange it for a red 2004 Volkswagen GTI."
'Credit: "Families making between $25,300 and around $43,000 devoted 15.6 percent of their income to paying their debts last year, the first increase since 2010, and a factor that may be contributing to rising consumer default rates, according to Moody's Investors Service" [Bloomberg].
Shipping: "New ocean freight digital players 'over-hyped'" [Lloyd's List]. I'm shocked. "Virtual forwarders and e-commerce firms offering only 'fragmented' and 'piecemeal' services, says analyst Alphaliner."
The Bezzle: "Google is permanently nerfing all Home Minis because mine spied on everything I said 24/7 [Update x2]" [Android Police]. Nerfing: Reducing the power of. But surely what is nerfed (through a firmware update) can be unnerfed (through a second firmware update)? I find the fact that the functionality exists at all a little unsettling.
The Bezzle: "The World Must Spend $2.7 Trillion on Charging Stations for Tesla to Fly" [Bloomberg]. "To support half a billion EVs, the projected investment will require a mix of private and public funding across regions and sectors, and any auto company or government with aggressive targets will be at risk without the necessary infrastructure, the report said." "Require a mix." Why?
Five Horsemen: "Amazon shares hover just under $1,000 as GOOGL (the Alphabet shares with superior voting rights) remain just over $1,000." [Hat tip, Jim Haygood].
Today's Fear & Greed Index: 81 Extreme Greed (previous close: 83, Extreme Greed) [CNN]. One week ago: 95 (Extreme Greed). (0 is Extreme Fear; 100 is Extreme Greed). Last updated Oct 12 at 12:07pm.
Life in the Colonies
"A federal judge ruled Wednesday that the Dakota Access oil pipeline can continue operating while a study is completed to assess its environmental impact on an American Indian tribe" [AP]. Sentence first, verdict afterwards….
"Nestlé Makes Billions Bottling Water It Pays Nearly Nothing For" [Bloomberg]. "The company's operation in Michigan reveals how it's dominated the industry by going into economically depressed areas with lax water laws." Just like their Poland Springs operation in Maine.
Dear Old Blighty
Corbyn assaulted from the left (DD):
Mhairi Black telling it like it is. pic.twitter.com/nI45EAKo6n

— Angry Scotland (@AngryScotland) October 10, 2017
Police State Watch
This looks super-nasty (though the tweet is wrong; it's not DHS, but Portland, Oregon police):
DHS police put hoods/headphone on another protester as they're working to break the duct tape/tube link pic.twitter.com/NONaC0V54o

— doug brown (@dougbrown8) October 12, 2017
Reminds me of techniques used on CIA rendition flights. And it's creepy that the police had these accouterments ready-to-hand.
Guillotine Watch
Ugly and vulgar:
An exclusive tour of the most expensive house on Earth https://t.co/LiZVVtqUWt pic.twitter.com/7d0hiUCBh6

— Bloomberg Pursuits (@luxury) October 12, 2017
Class Warfare
"Visiting working class America" [Brookings Institute]. "We came away with a lot of respect for the professionals we met … We talked to professionals from several programs…" And but much further down:
We knew going in but were still surprised by the diversity of the working class, which our study group defines as people with a high school diploma but no four-year degree, between the 20th and 50th earnings percentiles. In the western Ohio River Valley, they are all races, all ages, working and not working and more varied in origin and outlook than we could have imagined.
And:
[I]t was hard in many cases not to feel that we as a nation have failed the working class and that they need better solutions from both the private and public sectors.
Since this is a year-long, [genuflects] "bipartisan" effort, I'm sure we'll hear more of this.
"Unemployment is contagious" [The Week]. "Pavlina Tchervena, a professor at the Levy Economics Institute of Bard College, wrote a paper arguing that the mechanics by which unemployment spreads are literally those of a disease or epidemic." An animated map:
"[I]f we look at unemployment as a dangerous disease that's always threatening to turn into an epidemic, a lot of U.S. macroeconomic policy looks perverse. It's the explicit goal of monetary policy to maintain a certain level of unemployment to control inflation." So, maintaining a certain level of gastroenteritis to… to…
"The politics of depression: Mark Fisher on mental health and class confidence" [RS21]. "Magical voluntarism is the dominant ideology and unofficial religion of contemporary capitalist society, [Mark Fisher] argues, pushed by reality TV experts and business gurus as much as by politicians…. This knock-on effect of magical voluntarism – the way in which it reinforces our powerlessness – is why the happy clappy self-delusion inevitably fails and flips over into a depression that makes us feel like helpless individuals. We are told we can do anything if we want it enough. But we know that this is not true. We end up paralysed, unable to want anything but equally unable to escape the "pull your socks up" voice in your head." Interesting, but surely there is a biological aspect to depression as well. (For a materialist, how could there not be, but Fisher's explanation strikes me as handwaving. Still, I like "magical voluntarism"!)
"USC medical school dean out amid revelations of sexual harassment claim, $135,000 settlement with researcher" [Los Angeles Times]. Scratch another overpaid administrator… And it looks like the researcher had impunity because he brought in the grant money. Neloliberal U!
"States Hand Out Corporate Subsidies As Their Pensions Suffer" [International Business Times]. "A study released Wednesday by the advocacy group Good Jobs First and the National Public Pension Coalition spotlighted the connection between those two fiscal issues. Among a dozen states where the costs of providing public pension benefits have become a point of political contention, in nine of those states, those costs are dwarfed by how much they spend on corporate subsidies or lose through business tax breaks and loopholes, such as offshore tax havens, on an annual basis. Three dealt with annual pension costs around one and a half times the size of the revenues they've forgone through such loopholes." A "Good Jobs First" study, so perhaps cum grano salis, but they do track this data.
News of the Wired
"Scientists find gold worth $2 million in Swiss sewage" [CNN]. Leaching out of the toilet paper, no doubt.
"Why Are More American Teenagers Than Ever Suffering From Severe Anxiety? [New York Times]. This being The Times, the article is about teenagers at a $910-a-day therapy center, so whatever these kids are anxious about, it's most likely not getting shot, or working three sh*t jobs, or having a relative on opioids. But whatever. To answer the question: The gaslighting? The Jackpot?
"Top secret information about Australia's military hacked" [news.com]. You guessed it: "The admin password, to enter the company's web portal, was 'admin' and the guest password was 'guest'."
* * *
Readers, feel free to contact me at lambert [UNDERSCORE] strether [DOT] corrente [AT] yahoo [DOT] com, with (a) links, and even better (b) sources I should curate regularly, (c) how to send me a check if you are allergic to PayPal, and (d) to find out how to send me images of plants. Vegetables are fine! Fungi are deemed to be honorary plants! If you want your handle to appear as a credit, please put it in the subject line. Otherwise, I will anonymize by using your initials. See the previous Water Cooler (with plant) here. Today's plant (AL):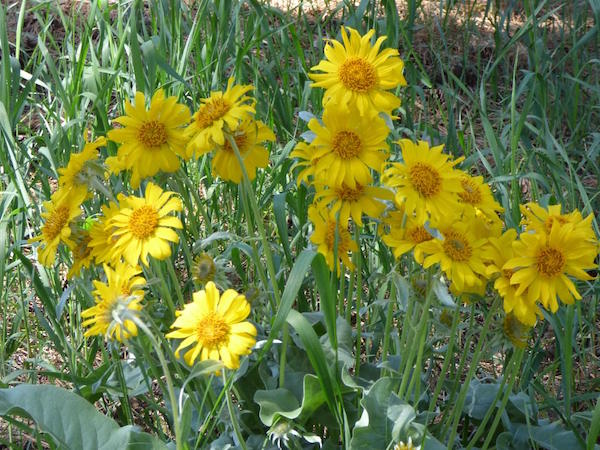 Arrowleaf balsamroot.
Readers, thanks for the nice pictures of plants! Now I have a little bit of a stash.