Baby talk in any language: Shifting the timbre of our voices Science Daily
Airbus Corruption Scandal May Lead Straight to the Top Der Spiegel
Kobe Steel's continuing scandals raise major compliance issues Japan Times
Saudi Aramco considers shelving international IPO FT. It seems like this deal has been hanging fire longer than Uber and Softbank.
The Amazon Effect: How taxpayers are funding the disruption of the U.S. economy The Business Journals
Google Has Made a Mess of Robotics Bloomberg. More money than sense.
Is AI Riding a One-Trick Pony? MIT Technology Review
Self-driving cars are on a collision course with our crappy cities The Verge
Driverless cars: the digital revolution, part two Gillian Tett, FT. Shockingly close to outright PR.
Puerto Rico
Will Puerto Rico Require Substantial Debt Forgiveness? Forbes

Puerto Rico Sets Goal of 95% Power Restoration in December NBC

General Details Progress, What Remains to be Done in Puerto Rico U.S. Department of Defense

How the Pentagon Spun Hurricane Maria Bloomberg

When Cartography Meets Disaster Relief City Lab

These Volunteer Nurses In Puerto Rico Fear FEMA Is Failing HuffPo.

New York Firefighters Clear the Way for Rebuilding in Puerto Rico The Daily Beast. If you factor out the oozing "feel good" triumphalism and sanctimony, there's a lot of good data here, about stuff like clearing trees, and honey bees "confused" because "the hurricane had scoured" all the "nectar-bearing blooms."

Masked and Armed With Rifles: Military Security Firms Roam Streets of San Juan Latino Rebels. Like Katrina…

Puerto Ricans put out of work by hurricane can't even apply for unemployment benefits MarketWatch

Trump's pick for DHS chief was at center of Katrina disaster WaPo. Of course, Katrina wasn't a disaster for everyone…

Elon Musk Is Not the Hero Puerto Rico Needs In These Times. Buries the lead: "As a result of Maria, the [Fiscal Control Board] has also invoked Title V of PROMESA, the bill that put the board in charge of the island. That provision gives broad mandate to a board-appointed official, revitalization coordinator Noel Zamot, to solicit and approve public-private partnerships without much public or environmental review, bypassing the island's regulatory process almost entirely." So, privatizing the Puerto Rico Electric Power Authority (PREPA), would be straight out of Naomi Klein's disaster capitalism playbook.
The Recovery n+1. "Disaster capitalism in Mexico City."
North Korea
Engagement, Not Sanctions, Deserves a Second Chance 38 North

How Can North Korea Possibly Build Nukes? Because They Have 15,000 CNC Machines Core77 (Re Silc). Re Silc: "[W]e're now seeing the true power of digital fabrication technology, perhaps not in a way that its creators intended."
Brexit
Nuclear industry scrambles to avoid Euratom cliff edge The Telegraph

MPs move to block May from signing 'no deal' Brexit Guardian

Hillary Clinton suggests the Tories lack 'empathy' in warning over 'divisive' Brexit rhetoric Independent. Hilarity ensues.
The Anatomy of a Failed Campaign Der Spiegel. Interview with SDP leader Martin Schulz.
Victory in Stagnation? Jacobin
Syraqistan
China?
China Backs Egypt's UNESCO Leadership Bid While the US Withdraws Completely The Diplomat (Re Silc).

Xi Jinping's debt-relief recipe: how China's biggest bond defaulter unloaded its liabilities South China Morning Post
Trump Transition
The Case Against Using the 25th Amendment to Get Rid of Trump New York Magazine (Re Silc). Idea: Win elections?
Democrats in Disarray
Centrist Democrats' biggest dilemma: Where are the big ideas? McClatchy. DLC grifters put out the begging bowl.

Birmingham's New Mayor Randall Woodfin on How to Win the Political Revolution Down South (interview) In These Times. Important.

Bernie Sanders Isn't Winning Local Elections for the Left The New Republic. Headline far less nuanced than the article, whose thesis is that "all politics is local." Editors write the headlines….
Wary of Hackers, States Move to Upgrade Voting Systems NYT. In other words, Putin Derangement Syndrome feeds the e-voting grift. Well played, all.
Health Care
Big Brother Is Watching You Watch
GOP private-police bill could unleash mercenaries on Michigan towns | Editorial Detroit Free Press

The future of surveillance is hidden in airport ads Engadget
Imperial Collapse Watch
U.S. Losing Legitimacy as Corruption Fighter, Experts Say Foreign Policy
Class Warfare
Genes for Skin Color Rebut Dated Notions of Race, Researchers Say Portside (original).

The Union Option Jacobin. "Collective action is the best avenue to fight sexual harassers like Harvey Weinstein."

Women Should Not Have to Choose Between Employment and Safety: In Garment Factories They Do The Fashion Law

GOP Backed-Privatization Brings Rural America To Its Knees Rannt (GF).

More Americans Are Getting Their Electricity Cut Off Bloomberg

Has the Left given up on Economics? The Disorder of Things

All Worked Up and Nowhere to Go The Baffler
Landscape architects now design for mass shootings The Verge (Re Silc). "If you build it, they will come…."
20 of America's top political scientists gathered to discuss our democracy. They're scared. Vox
Antidote du jour (via):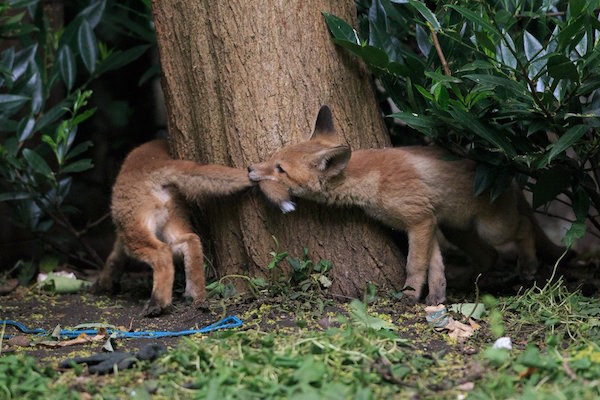 Beat that, hedgehogs!
See yesterday's Links and Antidote du Jour here.
.