Scientists to discuss new developments in gravitational-wave astronomy National Science Foundation. Sometimes I feel like we're living in one of those eco-collapse science fiction stories, where brilliant science is being done (generally by the protagonists) at the same time the world is blowing up.
Doctor's research could buy time for snake bite victims AP (DL).
Calm before the storm? Major central banks must act fast to prevent another global crash South China Morning Post (Furzy Mouse).
Nobody should fear further slowdown in ECB's asset buys: Villeroy Reuters
Ordinary people Reuters. "IndusInd, a large private sector bank, has agreed to buy Bharat Financial Inclusion – the country's poster child of niche lending – in an all-share deal for $2.4 billion."
Climate meetings pose serious test in the Trump era Nature
Severe flaw in WPA2 protocol leaves Wi-Fi traffic open to eavesdropping Ars Technica
Brexit
Brexiteers fear 'Swiss Trap' trade deal Politico

May urges Merkel to end stand-off over Brexit FT. Uh oh, Merkel's going to another dinner… See today's post.
Europe Could See Another Brexit-Like Rupture—Beyond Spain Bloomberg
Venezuela vote dispute risks rekindling unrest, sanctions Reuters
Catalonia
Puigdemont doesn't clarify if he declared independence and proposes two months of dialogue The Local

Catalan leader fails to declare independence before deadline FT

Infighting threatens to derail Catalonia separatists in Spain AP
It's time to put 'Austria First'; says its new (and very young) leader Unherd. "The prospect of a centre-right alliance combining smaller, business-friendly economic measures with a nationalistic 'Austria First' cultural policy may frighten cosmopolitan elites in Brussels, London and other capitals of influence throughout the world but it is what nearly 60% of Austria chose today."
Opinion: A right-wing coalition in Austria threatens the EU Deutsche Welle
The Meteoric Rise of Sebastian Kurz Der Spiegel
Interview with Emmanuel Macron: 'We Need to Develop Political Heroism' Der Spiegel. Here's the first question:
DER SPIEGEL: Mr. President, since entering office in May, you have made significant waves around the world. The German philosopher Georg Wilhelm Friedrich Hegel, who you read during your university studies, once described Napoleon Bonaparte as "the Weltgeist ("world spirit") on horseback." Do you believe that a single person can, in fact, steer history?
Hoo boy. Neera Tanden: "I disagree with some of Macron's policies but it's refreshing to see a deep thinker lead a country, at least after these last 9 months."
Mogadishu blast: 'We have never seen such devastation' Al Jazeera
Syraqistan
Iran: We will stick to nuclear deal if Europe does Deutsche Welle

Iraqi forces launch operation for Kurdish-held oil fields, military base WaPo
North Korea
Park, Putin agree to restore trans-Siberian vision Korea Herald

North Korea not ready to meet with South Korea in Russia: agencies Reuters

What drives Russia's Korea policy? Lowy Interpreter
China?
China's next five years: 'Only Xi is indispensable' FT

China places bet on yuan-denominated crude oil futures Asia Times (Re Silc).
New Cold War
Clinton Compares Russian Interference in Election to 9/11 Newsweek. I imagine there are Manhattanites who would take issue with this comparison. And then, of course, there's the warmongering aspect, since Bush (and Clinton's) response to 9/11 was the AUMF, and the ensuing Iraq and Afghanistan debacles. Speculating freely: We are getting a sketchy picture of what a Gibsonian stub or parallel universe would look like, where Clinton won…

'I'm worried' says Hillary Clinton as she attacks Trump and Putin in Cheltenham Literature Festival talk Gloucestershire Live (also, avocado sandwiches).

Exclusive: Even Pokémon Go used by extensive Russian-linked meddling effort CNN. "CNN has not found any evidence that any Pokémon Go users attempted to enter the contest."
Trump Transition
Democrats in Disarray
Bernie Sanders Isn't A Democrat — Thank God Current Affairs. "Political parties aren't sports teams. Politics are about principles and results, not tribalism." Joy Reid would disagree; see NC here.
California secessionists think their path to independence is easier than Catalonia's McClatchy (Re Silc).
President Clinton Looks Back at President Grant Bill Clinton, NYT. Oddly, the Big God devotes no time to Grant's skills as a strategist; see at NC here.
Downed PG&E power lines investigated as potential cause for North Bay wildfires Daily Californian. Apparently, it's not Boris and Natasha. At least so far.
Health Care
Police State Watch
How DPS's Occupation of a Border Town May Have Crippled Its Economy Austin Chronicle (MF). DPS: Texas Department of Public Safety.
Sports Desk
Until youth soccer is fixed, US men's national team is destined to fail The Conversation

U.S. kids don't play soccer with bare feet on hardscrabble barrio fields where creativity dominates the action and with few grownups in sight.

Instead, too many American kids play soccer in high-tech cleats on manicured suburban fields, where they stand around quietly until an adult (often paid) runs them through repetitive drills – all to prepare for an expensive tournament three states away.

Commercial components permeate every aspect of the youth game. Research presented in my recent book on college and youth sports shows that family income is highly correlated with youth soccer participation. About 25 percent of American families have incomes over US$100,000 annually, yet they produce 35 percent of youth soccer players.

As the Duke of Wellington did not actually say: "The battle of Waterloo was won on the playing fields of Eton." That idea doesn't seem to be working out so well for us. I wonder why?

The NFL Protesters Are Getting Their Message Across HuffPo

Colin Kaepernick's Collusion Claim: Does He Have a Case? Sports Illustrated
Class Warfare
The Decline of the Midwest's Public Universities Threatens to Wreck Its Most Vibrant Economies The Atlantic (Re Silc).
Women face creeps like Harvey Weinstein everywhere – not just in Hollywood, writes Anita Hill NY Daily News (and not in the Times or WaPo, oddly).
On the political uses of evil Elizabeth Bruenig, Medium
Richard Wilbur Poetry Foundation (obituary). "Love Calls Us to the Things of This World."
Antidote du jour (JU):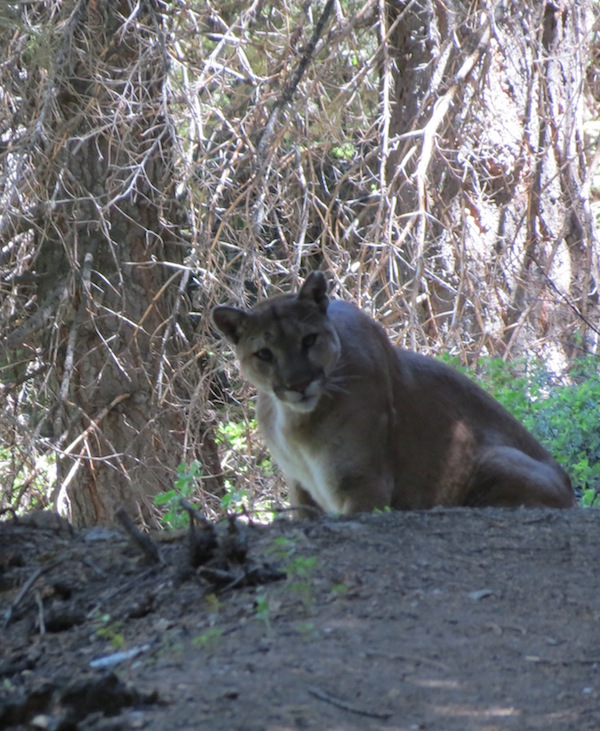 JU writes: "Here's some mountain lion photos my friend R. took during his encounter, if you want to use one of em'…"
Good kitty….
See yesterday's Links and Antidote du Jour here.
.