The Massively Friendly World of Competitive Giant Pumpkin Growing Atlas Obscura (Carla)
Crushingly Sad Photos of One of America's Oldest Pet Cemeteries Vice
Surprising monkey study finds bad times do not cause group members to change behavior PhysOrg
The Return Of Deepwater Oil OilPrice
A surge of sites and apps are exhausting your CPU to mine cryptocurrency ars technica
A big bitcoin investor thinks it might go to 0, but he's riding the rally anyway Wolf Richter (David L)
Algorithm can identify suicidal people using brain scans The Verge. This study is complete crap. 17 subjects and 17 controls. Way way too few to conclude anything. Plus despite calling them "subjects" and "controls" it's well known that study subjects tend to show results that please the researchers. The researchers must have somehow screened for people with suicidal ideation. Those people must have inferred they were hoped to produce some result when told depressing words. Think they might have been able to work themselves into some sort of upset state, particularly when the instructions were to concentrate for 30 minutes???? It really offends me when stuff like this gets picked up by the MSM as if the findings were reliable.
North Korea Prepares City Evacuations, Blackout Drills as US Threat Increases Defend Democracy
Beijing warns US against trying to contain China's rise Financial Times
Canadian Donald Trump is Coming Benjamin Studebaker (UserFriendly)
BUSINESS AND CONSUMER SURVEY RESULTS European Commission. Sentiment indicators of all sort meeting or beating highest levels since 2001.
France says taxes on US tech would 'restore balance' Financial Times
Brexit
Bank of England believes Brexit could cost 75,000 finance jobs BBC

This could shake things up:

The Mark Garnier sex toy story is- erm- titillating. But these allegations in Sunday Times are more sinister still. Tip of the iceberg. pic.twitter.com/AcoGeiyqG5

— Lewis Goodall (@lewis_goodall) October 29, 2017

UK to push for more flexibility in Brexit talks Politico. Reported in NC comments section already, IIRC, by Colonel Smithers, who said Barnier had offered the UK three additional meetings before the December session but the UK had not taken him up on it.

Another week, another round of #Brexit negotiations. Here's a handy guide for EU officials struggling to understand their UK counterparts. ? pic.twitter.com/1WVD2Ccxjc

— ??Martin Mycielski (@mycielski) October 30, 2017
Reverse cuts or backing for universal credit may collapse, says thinktank Guardian (JTM)
France Is Running Out of Butter for Its Croissants Bloomberg. Resilc: "Vermont is on standby by for a possible invasion by France."
Catalonia
Spanish prosecutor accuses sacked Catalan leader of rebellion Reuters (Oregoncharles)

Spain's top lawyer files rebellion charges against Catalan leaders Politico

Puigdemont to speak in Brussels amid asylum speculation Financial Times
Climate change could force more than a billion people to flee their homes, says major health report Independent
Adrift in Algiers: African migrants marooned in a new transit bottleneck Guardian. Resilc: "People flows just getting started with climate change and endless wars."
New Cold War
Russian content on Facebook may have reached 126 million users — internal document says Washington Post. This is the same Facebook that greatly overstates its number of readers:

It is remarkable that advertisers and investors have not come down harder on Facebook for the grotesque overstatement of its audience. As the report shows, every way you cut the data, Facebook claims to have considerably more viewers in every age group than exists in the population. For instance, Facebook's "potential reach" for the 18-34 year old cohort in the US is 97 million, versus an actual population of a mere 75.3 million. That means Facebook says it can get ads in front of 34.2% more people in that age group than actually exists. A
Imperial Collapse Watch
Chicken Littles Insist U.S. Military Is Too Old, Too Small American Conservative (resilc)

Tillerson, Mattis Say Terror Wars Don't Need Congress's Approval Bloomberg
Big Brother is Watching You Watch
BlackBerry CEO Promises To Try To Break Customers' Encryption If The US Gov't Asks Him To TechDirt

Calgary police cellphone surveillance device must remain top secret, judge rules CBC
Manafort Indictment
Mueller's Trump Collusion Road Map Signaled in Guilty Plea Bloomberg

(THREAD) Paul Manafort and Rick Gates are now indicted. This thread analyzes legal and political aspects of their indictment and surrender. pic.twitter.com/Ir8zKaA1F2

— Seth Abramson (@SethAbramson) October 30, 2017

Today's Not a Good Day to Be George Papadopoulos on Twitter Wired (resilc)

Mueller's Moves Signal Broad Scope Wall Street Journal

Manafort, Gates Get House Arrest After Not Guilty Pleas Bloomberg

George Papadopoulos's Plea Deal Is Very, Very Bad News for Attorney General Jeff Sessions Intercept

Mueller strikes with first charges The Hill. FWIW, I happened to be up when the story broke and I clicked first on the WSJ news alerts. Comments were coming in fast and furious (I'd never seen anything like this) and they were overwhelmingly contemptuous, of the "So what does this have to do with Russia?" variety. Note that I have not seen anywhere near this level of Trump support at the WSJ recently. A lot of comments are regularly contemptuous of his antics, his relationship with Congress, his policy waffles. But my take is that the Rs increasingly see Russia scaremongering as Democrat conspiracy theory.

Here's why Ukraine paid Manafort insane amounts of money VICE (resilc)

Mueller blindsides Congress' Russia investigators Politico

The sudden fall of Washington's ultimate powerbroker Politico. Lead story at this hour.
Trump Transition
The Democratic Law Firm Behind the Russian Collusion Narrative American Conservative. Resilc: "We have a junta running the executive branch, John Birchers in control of the judicial and Crips and Bloods the legislative side. What could go wrong?"

Hillary Clinton Shouldn't Go Away. She Should Embrace Her Role as Trump's Nemesis. New Republic. That didn't work out so well for Captain Ahab.
Google's Dominance in Washington Faces a Reckoning Wall Street Journal
The Vanishing Pavilions: The Gutting of the Government and the Loss of Oral Tradition Richard Bookstaber
Sarah Huckabee Sanders Explains the Tax System in Beer Charles Pierce, Esquire (resilc).
The DNC shrugged off the qualms of independents & progressives in 2016. Unfortunately, it appears they haven't learned from their mistakes. pic.twitter.com/8cfzA3hHcc

— Tulsi Gabbard (@TulsiGabbard) October 30, 2017
Rep. Tulsi Gabbard Openly Criticizes DNC For Casting Out Progressives Real News Network. This is getting some traction.
Jeff Flake Considers Independent Senate Run in Arizona US News (furzy)
Prisons are important pieces in Ohio gerrymandering: Out of Line: Impact 2017 and Beyond, Cleveland.com (Carla R)
Does NYC Mayor Bill de Blasio Deserve the Second Term He's Getting? Vice
Socialism or Amazonism Glen Ford, Black Agenda Report (resilc)
Autonomous robots gain foothold as private security guards McClatchy
Source tells WSJ that the FBI is investigating Whitefish Energy and its $300M Puerto Rico contract Boing Boing
The Fed Chair Should Be a 'Principled Populist' Paul McCulley, New York Times
Class Warfare
Antidote du jour. Further proving how Russians are ruining the body politic, Margarita sent us this subversive image from Sputnik: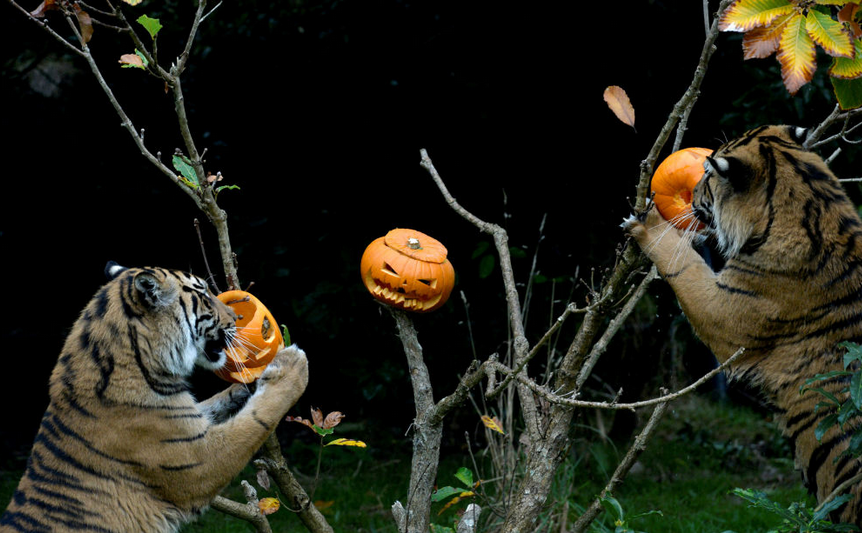 And, horrors, a second!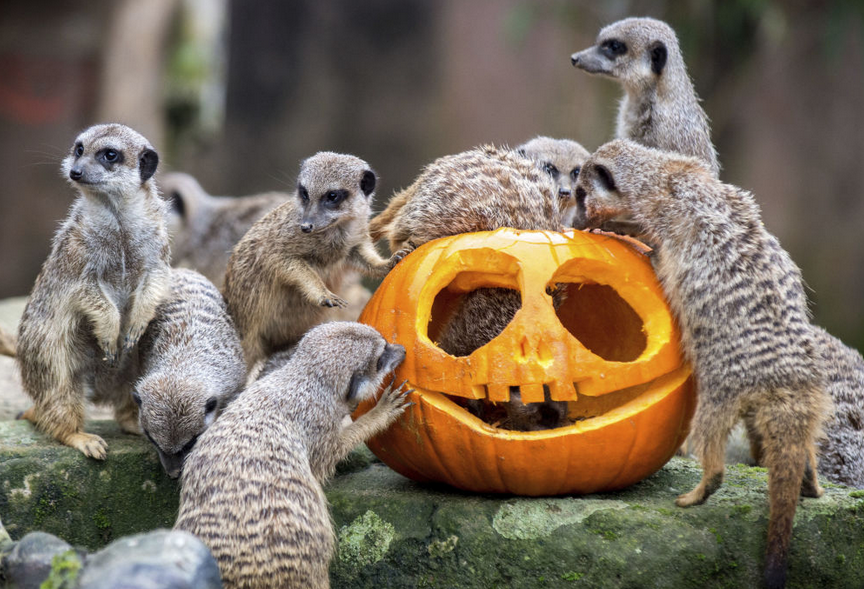 But not to worry, Tracie H shows we can find perfectly fine Thanksgiving images from safe US sources: "Juvenile Jumping Spider with iridescent green chelicerae watching me water plants (and, inadvertently, weeds) in the front yard."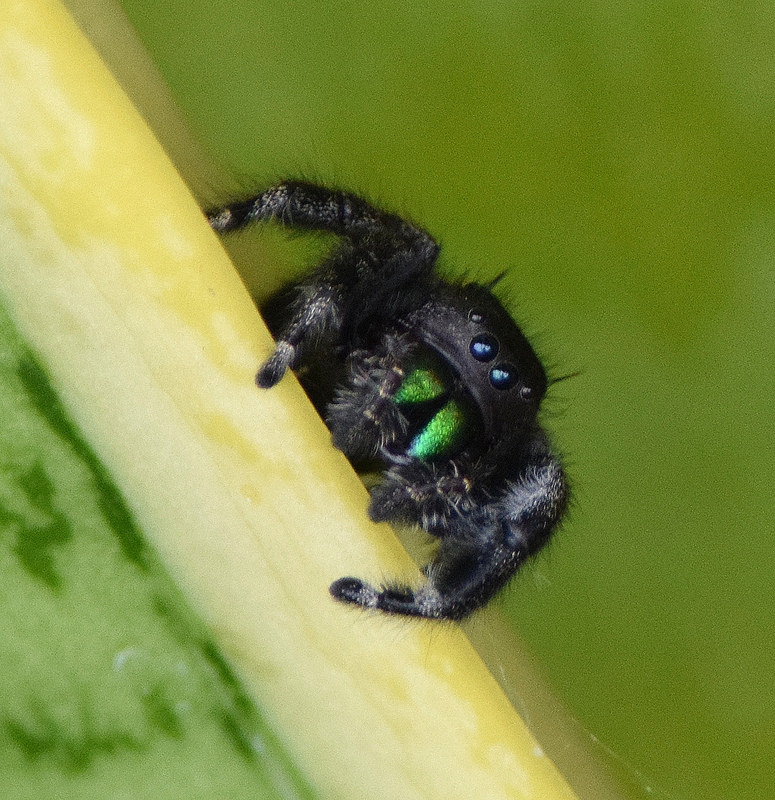 See yesterday's Links and Antidote du Jour here.
.