By Lambert Strether of Corrente.
Trade
"U.S. farmers spent nine patient months indulging President Donald Trump's desire to renegotiate NAFTA with the promise that he would 'do no harm.' Now, with Trump growing more bold with his threats to issue a formal intent to withdraw from the deal, farming groups say it's clearer than ever that their pleas to save the pact are barely registering with a president intent on its destruction" [Politico]. "'I've come to believe this administration is determined to end NAFTA,' said Gordon Stoner, a fourth-generation Montana wheat farmer who leads the National Association of Wheat Growers."
"As Presidents Donald Trump and Moon Jae-in prepare to meet this week, civil society organizations from Korea and the United States issued a statement reiterating their long-standing opposition to the U.S.-Korea Free Trade Agreement and calling for its repeal. The statement was issued by Citizens Trade Campaign, a U.S.-based coalition of labor, environmental, family farm, consumer and faith organizations together representing more than 12 million Americans, and thirty-three different Korean organizations" [Citizens Trade].
Politics
2016 Post Mortem
"NBC/WSJ Poll: In 'Trump Counties,' More Say U.S. Is Worse Off Than Better Off" [NBC News]. That's not the interesting part. First, though, here's the map:

And now some numbers. These voters give Trump 48% approval rating, 50% negative. Obama: 48%/37%. Sanders: 42%/31%. Clinton: 23%/60%. Taegan Goddard says: "That suggests Democratic prospects in these areas are actually quite good. They just had the wrong candidate in last year's election." I'd put it more forcefully: Bernie would have won. And woud win again.

"Experts have spent months shoehorning Trump into ill-fitting criminal provisions. Some have argued that he can be charged under Section 371, which prohibits conspiracies to defraud the United States "in any manner or for any purpose." Former federal prosecutor Randall Eliason has argued, "Running a free and fair presidential election is a core lawful function of the federal government. Any agreement to secretly and dishonestly attempt to interfere with a federal election would fall squarely within Section 371's prohibition on conspiracies to defraud the United States" [Jonathan Turley, The Hill]. "If Clinton gained critical control over the primary in a secret deal, how was the election "free and fair" for the purposes of Section 371?… The point is only that a sharp disconnect exists between the interpretive approaches given to allegations about Trump as opposed to those about Clinton. A presumption of criminality exists for one, and for the other, a virtual immunity. A concerted effort is being made to get the law to fit the conduct, at considerable risk to our legal system."

"BuzzFeed has subpoenaed the Democratic National Committee for information related to the Democratic hack [or leak] — its latest salvo in the media company's efforts to defend itself against an ongoing libel suit connected to its publication of the infamous Steele dossier" [Foreign Policy]. "Aleksej Gubarev, a Russian technology executive, has sued BuzzFeed for libel for its decision to publish a series of memos authored by the former British spy Christopher Steele…. BuzzFeed is trying to figure out if the allegations relating to its libel suit are true as part of its defense strategy that could end up revealing details of the dossier and the DNC hack that have not been made public…. In addition to the DNC, Buzzfeed has also subpoenaed the cybersecurity firm Crowdstrike, which investigated the breach at Democratic Party headquarters, for technical information related to Russian hacking attempts."
2020
"O'Malley has been unusually open about his interest in running again, visiting Iowa three times since the November election to campaign and raise money for other Democrats, and telling NBC News in January that he 'just might' run. Other possible contenders have followed a more traditional path of keeping their plans quiet — rather than polling or visiting the early states — wary of being seen as too calculating or overly ambitious" [Politico].
2017
"Virginia Governor – Gillespie vs. Northam" [RealClearPolitics]. The average of all polls: Northam 3.3% (Friday: 3.3%). No new polls. Rating: Tossup.

"D-Day in Virginia Governor's Race: What to Watch For" [RealClearPolitics]. "'Virginia is this unique warning system for what direction the country is headed as we approach the midterms, and it will do that again,' says Jesse Ferguson, a Democratic strategist with Virginia ties. 'The state is such a petri dish of voters. It has a little bit everything.'" I pull this out because I linked to Jesse Ferguson yesterday; he's the Romney voter-seeking dude who wrote that pathetic "OPEN LETTER" signed by 216 Clinton staffers. Expect to hear much more of him if Northam pulls out this squeaker, and expect to see Virginia become the Clintonite template for victory in 2018 and 2020 (since Ossoff didn't work out).

"The inevitable question is what the outcome of this gubernatorial contest will mean for the 2018 midterms. In truth, it might not mean much, though a Gillespie upset would cause panic in Democratic circles and probably give Republicans a false sense of security. The state legislative races, particularly in light of special elections that have taken place around the country, might be more telling" [Cook Political Report]. And: "The races that could best harbingers of November 2018 aren't likely to get much national coverage at all: all 100 seats in the Virginia House of Delegates are up for election this November" [Cook Political Report]. "The five likeliest Democratic pickups are all in the : two are open seats (the 2nd and the 42nd) that are near-certain to change parties, and three more involve GOP incumbents who have only narrowly won in the past few cycles…. Think of it this way: if Democrats pick up five seats or less, Republicans would breathe a sigh of relief. If Democrats pick up five to ten seats, it would suggest Democrats are in contention for the House next year. If Democrats pick up 10 to 15 seats, it would be a strong sign they're on track to pick up the House majority next year. If Democrats pick up more than 15 seats, we're looking at a potential tidal wave in 2018."
Trump Transition
"The Wall" [Brookings Institute]. "Why the DHS believes that a 30–foot tall wall cannot be scaled and a tunnel cannot be built deeper than six feet below ground is not clear." There's a lot about the what the DHS believes that's not clear.

"I remain skeptical that a major tax bill will be enacted. A savvy Democratic lobbyist made the case to me that if Republicans try to rush their proposal through this year, it will likely fail, but if they handle it carefully and methodically, they might pull it off. Of course, a deliberative approach flies in the face of the GOP's belief that the package has to be enacted before the election year begins in January" [Charles Cook, Cook Political Report].
New Cold War
"The social media ads Russia wanted Americans to see" [Politico]. Sorry I missed this. Here are some of the ads:

Yes, those are the ads. That's what all the hysteria is about. That's where we are. And if $55K of ads like this could neutralize Clinton's $1.4 billion, Robbie Mook has some explaining to do, as do all Democratic strategists.

I'm sure it would very entertaining if the liberal Democrats came after Erica Garner:

Ive worked with RT because they let me say what CNN or MSNBC won't. When I tried to drag DeBlasio on MSNBC I haven't been invited on since.

— officialERICA GARNER (@es_snipes) November 2, 2017

I wish Garner would run for the Senate. And not the New York State Senate, either.

Oh noes:

The Russians got to Feinstein!

Feinstein: No Evidence Trump Campaign Paid Russians For "Dirt" On Hillary Clinton https://t.co/27BHHR0utN

— Morgan A 🌹 (@ZippersNYC) November 6, 2017
Realignment and Legitimacy
"Liberalism has leapt over the Democratic Party. Liberalism has its eye on a new beginning, while the mainstream party is stuck looking backward and bickering. The Resistance isn't part of the old Democratic Party; The Resistance is the new Democratic Party, or at least its future" [Charles Blow, New York Times]. Hmm. Last I checked, "The Resistance" (at least the version I see propagated by Neera Tanden on her Twitter feed) was solidly against #MedicareForAll. If that's the future of the Democrat Party, great, at least blow is honest about what liberalism is, but I hope and believe it's not.

"Democrats have a classism problem" [Krystall Ball, The Hill]. "We shouldn't be surprised. The two parties are led by remarkably similar groups of people. There are lawyers, of course. But out of 535 members, 273 are business execs and owners. Precisely zero come from the service sector jobs most commonly held by Americans. In Congress today, there are as many rodeo announcers as there are trade union members."

"Keep It Simple and Take Credit" [Democracy]. From February, and I can't believe I missed it. Key paragraphs:

Peoples' lives are hard enough without tax credits and savings accounts and eligibility forms and government phone calls that determine whether one's household income puts one in the bracket for this or that plan or benefit or subsidy and on and on. No voter is thanking anyone who puts them on this road, even if there's a small pot of money at the end of it.

And forget the annoyance—the amount of immense mental energy and social capital required to keep track of, comprehend the eligibility requirements of, and then successfully apply for these benefits is a de facto regressive tax on people whose lives are too materially difficult to deal with arcane bureaucratic bullshit. That is, those people that need the help the most.

So what to do? No more savings accounts, no more cleverly hidden help that people won't even notice, no more tax-preferenced, means-tested, government-monitored, website-reliant, bronze/gold/platinum-benefits-so-long-as-you-apply-during-open-enrollment. .

Universal concrete material benefits, especially for the working class. Well worth a read, especially for the hilarious description of the centrist alternative to universal paid leave. The ObamaCare diagram is good, too.

"In cities across the South, Socialism is on the ballot" [Scalawag Magazine]. More a list of candidates than analysis; but quite a list.

"The Black Bloc: Inside America's Hard Left" [Vice]. Philly.
Stats Watch
Gallup Economic Confidence Index, October 2017: "Americans' confidence in the U.S. economy was positive in October" [Econoday]. "The ECI is the average of two components — how Americans rate current economic conditions and whether they feel the economy is improving or getting worse…. Last month, 34 percent of Americans described the economy as "excellent" or "good," while 22 percent described it as "poor." This resulted in a current conditions component of plus 12 for October — consistent with the plus 11 to plus 14 range this component has remained within since July. Meanwhile, a majority of Americans said the economy was "getting worse" (51 percent), compared with a smaller 44 percent who said it is "getting better." As a result, the economic outlook component equaled -7 in October, one of the lower readings in the past year."
JOLTS, September 2017: "September job openings edged up slightly to a very abundant 6.093 million from a revised 6.090 million in August" [Econoday]. And: "Job openings are mostly moving sideways at a high level, and quits are increasing year-over-year. This is another strong report" [Calculated Risk].
Housing: "September 2017 CoreLogic Home Prices Reveal Nearly Half of the Nation's Largest 50 Markets are Overvalued" (with table) [Econintersect]. Here's the table with the over-valued metropolitan areas sorted by state, with HIP change in parens: CA, Los Angeles-Long Beach-Glendale (7.1%); CO, Denver-Aurora-Lakewood (8.4%); DC-VA-MD-WV, Washington-Arlington-Alexandria (4.6%); FL, Miami-Miami Beach-Kendall (5.5%); NV, Las Vegas-Henderson-Paradise (9.7%); NY-NJ, New York-Jersey City-White Plains (4.5%); TX, Houston-The Woodlands-Sugar Land (3.3%).
Retail: "The new agreement signed just ahead of President Donald Trump's visit to China offers an area of cooperation as Mr. Trump is expected to bring a tough message on the balance of trans-Pacific trade" [Wall Street Journal]. "Distribution of prescription drugs is sure to be more complicated than delivery of conventional consumer goods. But with CVS's sales already declining, the company can't afford to be a holdout in the push toward home delivery that is taking in most of the retail world."
Shipping: "The consolidation of the U.S. trucking industry is picking up speed, with big trucking companies and private equity funds scooping up smaller firms as a U.S. regulatory mandate is set to go into effect and as drivers push for higher wages" [Reuters]. "There have been 44 publicly announced freight movement and logistics deals within the U.S. so far this year, according to Thomson Reuters data, already topping the 38 deals announced in 2016. And the total is likely much higher because most deals are private, said Todd McMahon, managing director at investment bank Capstone Partners." The mandate for electronic logging devices is said to pressure "razor thin margins" at smalller trucking firms.
Shipping: "Wilbur Ross's shipping investments at the centre of the Paradise Papers" [Splash 247]. "Ross has a stake in Navigator Holdings, which has contracts with Sibur, a Russian gas company part-owned by Kirill Shamalov, the husband of Putin's daughter Katerina Tikhonova. Two major Sibur shareholders are under some form of US sanctions. Another Navigator customer has been PDVSA, the Venezuelan state oil company. It was targeted by US sanctions this year."
Supply Chain: "Federal Aviation Administration signed a pact with Chinese regulators that effectively opens the door for China-made aircraft and parts to be sold around the world. Although real sales remain a long way off, …. the agreement advances Beijing's hopes of eventually becoming a global aerospace supplier and breaking into a market nominated by Boeing and Airbus" [Wall Street Journal]. "The new agreement signed just ahead of President Donald Trump's visit to China offers an area of cooperation as Mr. Trump is expected to bring a tough message on the balance of trans-Pacific trade."
Supply Chain: "Stefan Larsson on Why Simplicity Should Supersede Speed in the Supply Chain" [Sourcing Journal]. ""If you have bad products and you rush them, then it doesn't make any difference," [Stefan Larsson, who's the former global president of Old Navy where he successfully led a turnaround at the company, part of the leadership team that built H&M into an industry giant, and most recently CEO of Ralph Lauren] said speaking at the opening session of the Decoded Fashion New York Summit 2017 Wednesday. Speed without the right brand strategy, the right brand story, means little and it won't make consumers buy your product. "Speed is just one component," Larsson explained, adding that if you're clear on why your brand resonates with the consumer and if you're clear on having great products, then speed is everything because it allows you outlearn your competitors."
The Bezzle: "Waymo is first to put fully self-driving cars on US roads without a safety driver" (headline) [The Verge]. And the subead: "Going Level 4 in Arizona" (good for The Verge, to clarify this). And the body: "A Waymo employee will remain in the vehicle for now. But instead of being in the front seat, that employee will likely sit behind the driver's seat. (Waymo says that won't always be the case, though.) The cars won't have free rein over Arizona's roads. They'll be geofenced within a 100-square-mile area of the town of Chandler, a suburb of Phoenix — though Waymo says it plans to expand to areas beyond that as its cars collect more data and conduct more trips. And the cars won't be available to just anyone who wants to go for a ride. Members of Waymo's Early Rider program, which has been in operation in Chandler since last April, will be the first to experience the new technology." So, when Waymo CEO John Krafcik says: "Fully self-driving cars are here," he's just…. Well, he's just flat out lying, isn't he?
The Bezzle:
Looked at another way, Fake Accounts is Facebook's third largest population. No biggie. @MikeIsaac @ScottShaneNYT https://t.co/5knUo3u1Pt pic.twitter.com/pcXs9TKucp

— Jason Kint (@jason_kint) November 6, 2017
Tech: "MINIX: ​Intel's hidden in-chip operating system" [ZDNet]. No, really! "Buried deep inside your computer's Intel chip is the MINIX operating system and a software stack, which includes networking and a web server. It's slow, hard to get at, and insecure as insecure can be." More:
We do know that with it there:

Between the operating system and the hardware are at least 2 ½ OS kernels (MINIX and UEFI)
These are proprietary and (perhaps not surprisingly) exploit-friendly
And the exploits can persist, i.e. be written to FLASH, and you can't fix that

In addition, thanks to Minnich and his fellow researchers' work, MINIX is running on three separate x86 cores on modern chips. There, it's running:

TCP/IP networking stacks (4 and 6)
File systems
Drivers (disk, net, USB, mouse)
Web servers

MINIX also has access to your passwords. It can also reimage your computer's firmware even if it's powered off. Let me repeat that. If your computer is "off" but still plugged in, MINIX can still potentially change your computer's fundamental settings.

And, for even more fun, it "can implement self-modifying code that can persist across power cycles". So, if an exploit happens here, even if you unplug your server in one last desperate attempt to save it, the attack will still be there waiting for you when you plug it back in.
Holy moley!
Tech: "Apple Recommends Temporary Workaround for Autocorrect Bug in iOS 11.1" [MacRumors]. "An issue with Apple's autocorrect feature emerged over the weekend after users began updating to iOS 11.1. First noted by Reddit user The Cravin, typing the letter 'i ' can result in autocorrect replacing it with the uppercase letter 'A ' and a question mark symbol. The problem isn't universal, but is affecting enough users for Apple to publish a support document that offers a workaround until it can be resolved in a future update." Sigh.
Tech: "How Level 3's Tiny Error Shut Off the Internet for Parts of the US" [WIRED]. A configuration error. Naturally.
Five Horsemen: "Amazon pips Facebook and Apple for second place as the ponies round the curve" [Hat tip, Jim Haygood].
Today's Fear & Greed Index: 68 Greed (previous close: 66, Greed) [CNN]. One week ago: 65 (Greed). (0 is Extreme Fear; 100 is Extreme Greed. Last updated Nov 5 at 7:00pm.
Gaia
"Buried within every cell of every organism on the planet, from bacteria to barnacles to Britons, is a living, working version of the earliest life on Earth – a time machine that allows us to peel away those 4 billion years of history and work out how it all began [rather like Minix in an Intel chip!]. 'We can stop bullshitting about the origin of life,' says Loren Williams, a biochemist at the Georgia Institute of Technology in Atlanta. 'We can see it.' What he and his colleagues are discovering is turning our view of life's origins on its head" [New Scientist]. Sadly, behind a paywall.
"For Amazon tribe, rainforest is a whole world" [Agence France Presse]. "'We don't depend on commerce or money,' Japarupi Waiapi says, explaining the tribe's ancient, self-sufficient way of life, living in isolation from Brazil's white settlers…. Akitu Waiapi, 24, stopped every 20 yards (meters) to point out the benefits of yet another tree. The bark from one helps cure diarrhea, another lowers fever, while a third aids the scarring process…. 'There are a lot of medicinal elements in the forest and when people need them they just come and get them,' Akitu Waiapi said." Can't have that! What's wrong with these people? (In other words, the Amazon contains an edible forest, the world's largest horticultural project, just as urged by Charles Mann in his wonderful 1491.)
News of the Wired
"almost everything on computers is perceptually slower than it was in 1983" [@gravislizard]. See especially the commentary on Google maps.
"Anger is temporary madness: the Stoics knew how to curb it" [Aeon]. With handy tips.
This video makes me happy and optimistic (apparently from the Astros victory parade):
This lady dropped her hat, and Houston came in clutch to get it back up to her #earnedhistory pic.twitter.com/1thxzO7B6i

— enokez (@AlanEnokian) November 3, 2017
* * *
Readers, feel free to contact me at lambert [UNDERSCORE] strether [DOT] corrente [AT] yahoo [DOT] com, with (a) links, and even better (b) sources I should curate regularly, (c) how to send me a check if you are allergic to PayPal, and (d) to find out how to send me images of plants. Vegetables are fine! Fungi are deemed to be honorary plants! If you want your handle to appear as a credit, please put it in the subject line. Otherwise, I will anonymize by using your initials. See the previous Water Cooler (with plant) here. Today's plant (JTee):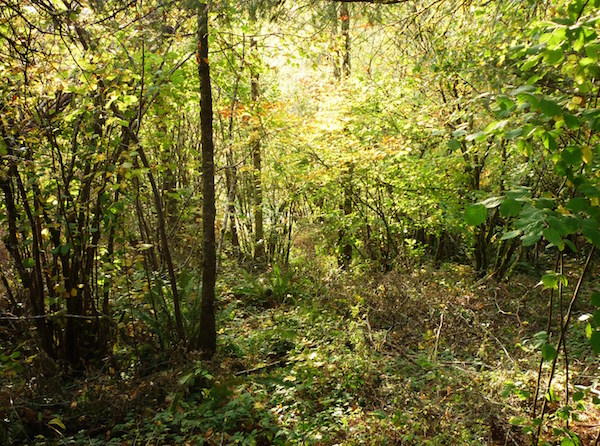 I just love that feeling of coming into a sunny clearing in the woods; JTee's photo captures that feeling very well.
Also, it would be nice to have more pictures of people's gardens buttoned up for the winter, for those of you for whom winter is coming. And fall foliage, ditto. Looks like most of the country is past the peak, but maybe people have some images sitting in their camera's memory…
* * *
Readers: Water Cooler is a standalone entity not covered by the NC fundraiser. So do feel free to use the dropdown and click the hat to make a contribution today or any day. Here is why: Regular positive feedback both makes me feel good and lets me know I'm on the right track with coverage. When I get no donations for five or ten days I get worried. More tangibly, a constant trickle of small donations helps me with expenses, and I factor that trickle in when setting fundraising goals. So if you see something you especially appreciate, do feel free to click the hat!